The old "never go back" saying is only ever trotted out when people are about to do just that, and it seems to be becoming less and less relevant in modern football.
When things aren't quite going a player's way, of course he's going to yearn for older, simpler, better times, either through temporary or permanent moves, but often that desire is one-sided. While the player has been away, his old club have rebuilt, reinvested and moved on. Why should they suddenly rip up their plans because an old friend wants to return?
All of that might well be going through the minds of Diego Simeone and the Atletico Madrid hierarchy when they read stories—such as this one in the Metro—that Diego Costa wants to come back to the Spanish capital in the summer.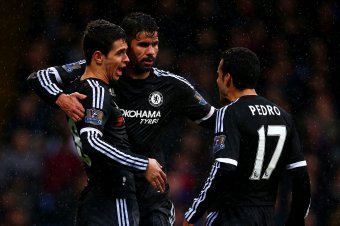 Paul Gilham/Getty Images
What's more, the same report indicates that Chelsea's Costa could well bring his team-mate Pedro with him, as the former Barcelona forward gives up on English football after just one almost universally miserable season.
Chelsea's awful campaign has already seen the jettisoning of Jose Mourinho, and with Champions League football looking beyond them in 2016/17 (unless they remarkably win it this season) then there are only likely to be more exits come the summer.
At least Costa had the comfort of his excellent 2014/15, when his 20 Premier League goals fired the Blues to the title and he looked to be the prototype forward for English football, bullying and snarling at opponents as he fired in goal after goal.
Slowly but surely, though, the bullying, snarling and often stamping took over the actual goalscoring, and Costa became almost a caricature of himself when he returned overweight and underprepared for the current season.
He can still turn it on on occasion, but it would be a slightly bitter and damaged Costa that Atletico would be getting back should they make a move for their former favourite in the summer.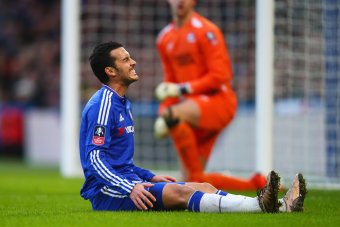 Clive Rose/Getty Images
Pedro, too, looks chastened by his Chelsea experiences.
Unlike Costa, he doesn't have the warm memories of a championship-winning season to take from his English football odyssey, which until now has featured scrapping away at the bottom end of the table, where Chelsea find themselves sitting in between West Bromwich Albion and Bournemouth in 14th.
His experience has hardly been a unique one, there are many, many excellent footballers who have failed to adapt to the rigours of Premier League life, but the fact that his struggles have been allied to Chelsea's almost complete implosion makes it seem all the more remarkable.
Maybe he could go back to Barcelona to sit on the bench and watch Lionel Messi, Luis Suarez and Neymar do their thing, but to do so would be a startling admission of defeat from a truly gifted footballer, who is still just 28 years old.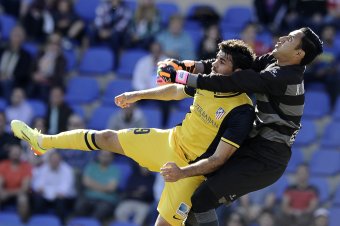 JOSE JORDAN/Getty Images
He and Costa will surely have their days in the sun once again, but the current Atletico setup under Simeone just doesn't seem right for them.
The Argentinian has amassed a large squad full of hugely talented young players who seem determined to scrap and fight their way to success this season, and you'd have to question whether or not Costa and Pedro would be able to replicate that level of desire given their previous experiences and, yes, their bank balances.
Added to this, of course, is the fact that Atletico might not be allowed to sign them at all if their transfer ban remains in place and they are barred from registering players for the next two transfer windows. It could be removed on appeal, but if it isn't, then it would surely make sense to focus on younger talent with an eye on the future.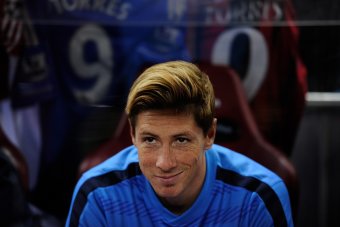 Denis Doyle/Getty Images
Whichever way you look at it, bringing in two big names who have perhaps outstayed their welcome at Chelsea just doesn't seem like a very Atletico way of doing things, and Fernando Torres might well agree.
And as Torres sits on the bench, still waiting for that elusive 100th Atleti goal, he might be repeating that old, now well-worn phrase.
"You should never go back."