Chelsea are reportedly preparing yet another bid for Everton defender John Stones, and this time the Blues could be set to offer a bumper deal of up to £50 million in January.
That's according to talkSPORT, which reported that after seeing four bids for the youngster batted away by Everton in the summer, including one of £38 million, Chelsea will once again try to prise the centre-back away from Goodison Park. To that end owner Roman Abramovich has "set aside up to £50 million" to do so.
Sports reporter and broadcaster Ian Abrahams felt a sense of deja vu as Stones' transfer saga rumbles on, but he believes even the staggering fees involved won't be enough:
.@Everton & @ChelseaFC fans just when you thought this was over, hearing rumours Chelsea will make another bid to sign John Stones next week

— Ian Abrahams (Moose) (@BroadcastMoose) January 21, 2016
Every player has his price @JimBmore @Everton @ChelseaFC but I imagine the bid would have to upwards of £60m - Everton dont want to sell

— Ian Abrahams (Moose) (@BroadcastMoose) January 21, 2016
The 21-year-old is the most coveted young defender in England at the moment, and former Three Lions defender Rio Ferdinand believes he is an excellent and technically accomplished player, per Squawka News:
Rio Ferdinand on John Stones: "He's the best ball-playing centre half around at the moment. Give the kid a chance to grow & make mistakes."

— Squawka News (@SquawkaNews) December 30, 2015
Much has been made of Stones' tendency to play the ball out from the back, but after some early mistakes he is seemingly growing in confidence.
Match of the Day host Gary Lineker welcomed his refreshing approach, while the Telegraph's Sam Wallace also enjoys watching him play:
What an absolute delight it is to watch an English central defender play in such a relaxed manner on the ball. John Stones is a class act.

— Gary Lineker (@GaryLineker) December 26, 2015
John Stones a compulsive risk-taker by central defender standards, but with the talent to do so & great to watch. Hope I haven't jinxed him

— Sam Wallace (@SamWallaceTel) January 16, 2016
Though Chelsea have picked up somewhat under Guus Hiddink they are still suspect in defence, and with John Terry now 35 it's an area they need to address.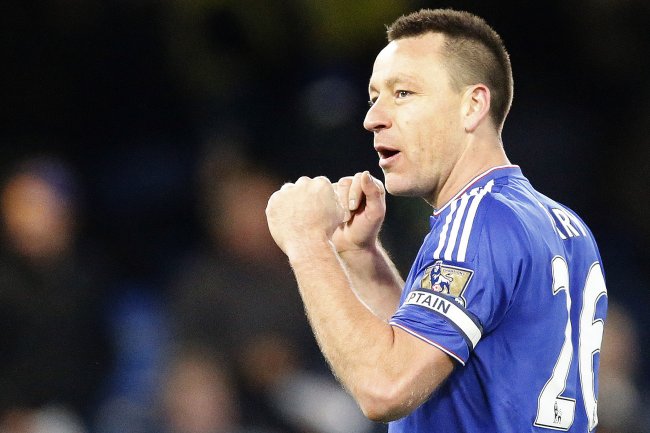 Frank Augstein/Associated Press
Everton proved highly resistant to the Blues' efforts to sign Stones in the summer, and as talkSPORT noted in its report the Toffees are likely to do their best to keep him this January too.
Roberto Martinez's side have been vulnerable at the back themselves this season—as reflected in their league position of 11th despite scoring 39 goals.
Will Everton part with Stones in January?
The Toffees are only six points behind West Ham United in sixth place and eight points behind fifth-placed Manchester United, so if they can pick up defensively a strong finish is certainly on the cards. Allowing Stones to depart will not help, so that will increase their resistance to Chelsea's interest.
Although relegation is almost inconceivable given how well their attacking players are doing and the gulf in quality between Everton and those struggling at the bottom of the table, it's important to note also the club are just eight points clear of 18th-placed Newcastle United.
Once again, selling Stones could put them at some risk, however slight, of becoming embroiled in a relegation scrap.
A bid of £50 million would naturally test Everton's resolve more than any of the previous bids, but with the club still determined to keep him, Chelsea's pursuit of the youngster may well be set to roll on into the summer.