If the Cleveland Cavaliers were guilty of anything during their 34-point loss to the Golden State Warriors on Jan. 18, it was that they aren't, nor will they ever be, the Golden State Warriors.
But they are still an elite basketball team, one of the NBA's four most convincing title contenders, and they proved—nay, reiterated—as much during a 115-102 win over the Los Angeles Clippers on Thursday night at Quicken Loans Arena.
Some will drape this victory in disclaimers. Los Angeles was missing Blake Griffin for a 12th straight game as he continues to recover from a partially torn left quadriceps tendon. But the Clippers were 10-1 and owners of the league's third-best net rating through their first 11 tilts without him.
So this was a legitimate win against a worthy Chris Paul-led foe—a statement of everything the Cavaliers are during a miniature stretch that's sought to exploit all they are not.
Kevin Love in particular played with a chip on his shoulder. He turned in subpar efforts during recent losses to the Warriors and San Antonio Spurs, shooting a combined 5-of-15 from the field. He could barely stay on the floor against Golden State, logging only 21 total minutes as he struggled to match up with the Warriors' endless gobs of interchangeable parts.
Those outings were forgotten, if not stricken entirely from the record, Thursday night. Love didn't shoot particularly well overall (4-of-10), and Cleveland inconsistently featured him on the block, but he drained three of six three-point attempts to go with 18 points, 16 rebounds, two assists and a steal.
Not even Love's five turnovers or one inexplicably bad layup-floater attempt could put a damper on his performance:
There was, as Fear The Sword's Justin Rowan pointed out, a certain je ne sais quoi to the way he carried himself:
There's a lot of things to knock Love for. But the dude is battling tonight. If you don't see that your willfully just focusing on negative

— Justin Rowan (@Cavsanada) January 22, 2016
The Cavaliers take a lot of heat for using him as a glorified spot-up specialist, but there is something to be said for Love's ability, and willingness, to position himself off the ball within LeBron James' line of sight.
Two of Love's made triples came during the fourth quarter, with his final one ripping the soul out of Los Angeles' final comeback attempt:
James, as per usual, was on point. The Clippers collapsed on every one of his drives and post-ups, and he made them pay. He dropped in 22 points on a low-key 9-of-17 shooting, never once trying to take over the game.
James instead poked and prodded, flinging pass after pass to one of Cleveland's orbiting shooters. He tallied 12 assists, four of which came during a fourth quarter that saw him attempt just two shots.
With Matthew Dellavedova (six points, six assists) missing all four of his long balls and Kyrie Irving (21 points, four assists) shooting an uncharacteristic 2-of-6 inside five feet of the hoop, Timofey Mozgov and J.R. Smith took turns starring in complementary roles.
Mozgov had, by his standards, a monstrous third quarter, pumping in seven points and displaying flawless touch whenever he was within 16 feet of the basket. Smith, more than anyone, capitalized on James' dribble penetration. He went 6-of-7 from downtown en route to scoring 22 points, and the King assisted nearly half of his converted field goals.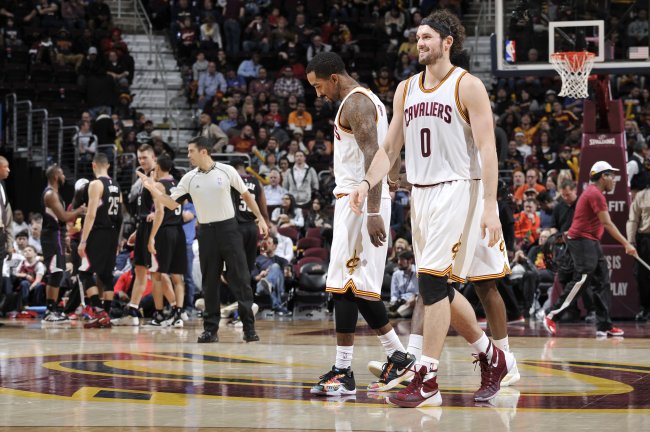 David Liam Kyle/Getty Images
It is not an exaggeration to say Cleveland completely disrupted Los Angeles' offense. The Clippers whiffed on a bunch of opportunities after forcing mismatches off pick-and-rolls, but the Cavaliers swarmed the three-point line and finished as a plus-21 from beyond the arc.
The absolute best thing Cleveland did, though?
Intentionally foul DeAndre Jordan.
As Bleacher Report's Andy Bailey put it:
So, the intentional fouling of DeAndre Jordan (Cleveland was already up 10 when they started) may have sealed this game for the Cavs.

— Andy Bailey (@AndrewDBailey) January 22, 2016
Hack-a strategies aren't typically employed when the enforcing team has a double-digit lead. But Jordan went 6-of-15 from the free-throw line—all in the second half—and the Cavaliers' lead ballooned to 18.
Fouling Jordan bilked the Clippers of any offensive mojo. More importantly, the pause in action allowed the Cavaliers to do something they could not against the Spurs and Warriors, per NBA diehard Conrad Kaczmarek:
I think David Blatt is doing this hack-a-DJ thing correctly. Using Love at center since they don't have to play actual defense. @SethPartnow

— Conrad Kaczmarek (@ConradKaz) January 22, 2016
Most of Jordan's trips to the charity stripe came during the third quarter, and that forced Clippers head coach Doc Rivers to leave him on the bench for all but three minutes of the fourth.
And when he did take the floor, well, nothing good happened, as Yahoo Sports' Dan Devine astutely observed:
DeAndre comes back in, Cavs resume intentionally fouling, push lead back to 11. Kind of a problem.

— Dan Devine (@YourManDevine) January 22, 2016
Maybe Jordan's free-throw shooting is the real disclaimer. But it's one the Cavaliers thoroughly used to their advantage to get a win they really needed—insofar as any team absolutely needs a win in the middle of January, halfway into the schedule.
Heads will now, naturally, turn to Cleveland's Jan. 30 matchup against San Antonio. The four games in between won't receive much attention unless the Cavaliers unexpectedly implode, and many are waiting on them to keep Love involved on a daily basis.
As Sam Amico of Fox Sports recently told the Baskin & Phelps show on 92.3 The Fan in Cleveland (h/t CBS Cleveland):
The key is, No. 1, you have to get Kevin Love going. Now, is that all on David Blatt? No. It is on the coaching staff, because that's where it always ... begins and ends.

But it's also on Kevin Love. He has to be more aggressive. It's on Kyrie Irving. He has to find Kevin Love. And it's on LeBron James. They all have to make sure Kevin Love is involved.

Because otherwise you don't have a Big Three. You have a Big Two and one guy who's pretty good. And if you don't have a Big Three, you are not going to beat the Spurs and the Warriors. You're just not gonna do it.
Still, we shouldn't be waiting for the Cavaliers to cave, or to show their true, inferior colors, or to work the phones in search of a new home for Love, the superstar deemed out of place beside the ball-dominant Irving and James.
In a way, bystanders and detractors needed this win from Cleveland more than the Cavaliers did themselves.
Somehow, because of two (or three) losses to unprecedentedly good contenders, Cleveland is flirting with inadequacy and irrelevance. And that, frankly, makes no sense, as ESPN.com's Robin Lundberg effectively explained:
The Cavs are still an excellent team. They aren't trash because they aren't historically great. But need to get to that level for title.

— Robin Lundberg (@robinlundberg) January 22, 2016
There is no shame in this, even with James on the wrong side of 30.
These Cavaliers are still sitting atop the Eastern Conference.
They still join the Spurs and Warriors as the only three teams to rank in the top five of offensive and defensive efficiency.
They are still in line for a return to the NBA Finals.
"I know we are not yet at our best," Cavaliers coach David Blatt said before the win over the Clippers, per ESPN.com's Dave McMenamin, "and we can almost be encouraged by that because if we're in the position that we're in and we have where to go, in terms of getting better, there's a positive in that, a real positive."
No matter how much these Cavaliers improve, it likely won't be enough to match the Spurs or Warriors. They have to know this. They know they have a long way to go.
But they also know that, despite the road ahead, they're still pretty damn good.
Stats courtesy of Basketball-Reference.com and NBA.com unless otherwise cited and accurate leading into games on Jan. 22.
Dan Favale covers the NBA for Bleacher Report. Follow him on Twitter, @danfavale.