Does Anthony Davis read Bleacher Report?
If his recent superb play for the New Orleans Pelicans—who took down the Minnesota Timberwolves 114-99 on Tuesday—is any indication, we may have our answer.
On Jan. 13, B/R's Kevin Ding chided the Brow for putting up numbers that, while impressive, didn't account for a certain ingredient:
What is missing, though, is real and crucial when it comes to becoming a basketball Jesus: leadership.

Until Davis discovers that important intangible part of himself, he'll continue to be flat-out overrated.
Since then, Davis has led New Orleans to three wins in four games and onto a path out of the Western Conference cellar—if not by word, then by example.
He was a force from beginning to end against the Wolves. While New Orleans fell into an early 17-point hole, Davis was busy doing everything he could to keep his team afloat. He finished the first quarter with 14 points on 7-of-9 shooting, including a buzzer-beating dunk off Ryan Anderson's missed three.
Meanwhile, his teammates, Anderson included, mustered a mere 11 points on 5-of-14 shooting from the field as New Orleans closed the opening frame down by 13 points. Davis' supporting cast, still slow to aid, watched as its fearless leader drilled six of seven free throws in the second quarter.
Once Jrue Holiday (who finished with 19 points and nine assists), Tyreke Evans (13 points, five assists) and Eric Gordon (11 points, three assists) showed up after the break, the Pelicans really took flight. New Orleans outscored Minnesota 63-39 in the second half, buoyed by Davis scoring 13 of his game-high 35 points.
A standout performance in a win over the Wolves isn't exactly the strongest indicator of overall health. Minnesota's young squad has lost 10 of its last 11 and 22 of 27 since its surprising 8-8 start to 2015-16. And, as the Star Tribune's Jerry Zgoda noted, the Timberpups have not been reliable stewards of big leads this season:
Correcting that last tweet: Wolves lose 114-99 in game they again led by 17 points. They are 4-5 in games when they've led by that much

— Jerry Zgoda (@JerryZgoda) January 20, 2016
But for these Pelicans, who are still climbing out of the 1-11 ditch they dug through the first three weeks of the campaign, every win is critical. This one counts the same as New Orleans' 12-point victory against the Sacramento Kings and its two-point triumph over the Charlotte Hornets. And while a two-point loss to the Grizzlies in Memphis on Martin Luther King Jr. Day may not help in the standings, it points to a team that might finally be finding its way.
Davis certainly seems to be. In four games since returning from a back injury, he's poured in 25.5 points, 7.5 rebounds, 2.3 assists and 3.3 combined steals and blocks in 36.6 minutes a night.
He may have to be even better, though, if the Pelicans are going to put heat on those ahead of them in the Western Conference standings before the All-Star break. According to the New Orleans Advocate's Scott Kushner, the Pelicans could be without Gordon, one of Davis' key compatriots, for an extended stretch:
Eric Gordon has a fracture in his ring finger on his shooting hand. No timetable to return per Alvin Gentry. Pelicans

— Scott Kushner (@ScottDKushner) January 20, 2016
New Orleans' latest win tipped off a seven-game home stand in which only three teams with winning records stop by the Smoothie King Center. The Pelicans could exploit this soft stretch to close the four-game gap separating them from the West's No. 8 seed.
Davis shared his thoughts on the game during a post-match interview, per NBA TV:
Hear what @AntDavis23 had to say after his big game on #FanNight. #MINatNOP https://t.co/7HBejEdusL

— NBA TV (@NBATV) January 20, 2016
So long as Davis is on the floor and playing to his full capacity, New Orleans will have a fighting chance from night to night. And the Brow, in turn, will have every opportunity to change the narrative on his still-young NBA career.
Heat Hope for Help at PG
If the Miami Heat have an SOS to spare, they might want to send one out in search of a healthy point guard. Goran Dragic has missed Miami's last four games on account of a calf strain. His backup, Beno Udrih, has missed back-to-back outings with a neck strain.
Without them, the Heat's offense has slipped from merely middling to burn-your-eyes-out awful.
On Sunday, Miami scored a season-low total in its 99-74 loss to the Oklahoma City Thunder. On Tuesday, the Heat improved...by five points in a 91-79 defeat to the Milwaukee Bucks.
Dwyane Wade, hampered by a bum shoulder, managed just two points—his second such game of the season—on 1-of-6 shooting without a single free-throw attempt in his 21 minutes.
Tyler Johnson, Wade's backcourt buddy for the night, wasn't much better: three points and no made field goals (0-of-6) in 34 minutes.
The Heat need their floor generals back in a hurry. Miami plays its next nine games in nine different cities, with a home date against the Atlanta Hawks on Jan. 31 sandwiched between eight road contests.
According to the Sun Sentinel's Ira Winderman, the Heat could have (some of) their prayers answered while wandering away from South Beach:
Birdman will not travel. Dragic will travel, but just for rehab. Beno will travel. Josh McRoberts will travel.

— Ira Winderman (@IraHeatBeat) January 19, 2016
Russ Dunk-Dunk-Dunk-Dunks in Denver's Face
A lot happened during the Oklahoma City Thunder's 110-104 win over the Denver Nuggets.
Kevin Durant scored a game-high 30 points and led OKC on the glass with 12 rebounds. Enes Kanter careened his way to a season-best 25 points off the bench. Cameron Payne (six assists, four steals) paced all Thunder players in plus-minus rating (plus-12) despite not scoring a single point.
The real show in the Mile High City, though, came courtesy of Russell Westbrook. Sure, his line (27 points, 12 assists, five rebounds, three steals) was nice.
But this dunk was nicer.
So was this one...
And this one.
If Russ never partakes in the Slam Dunk Contest during All-Star Weekend, nights like this should suffice.
Rookies Catch Fire in Phoenix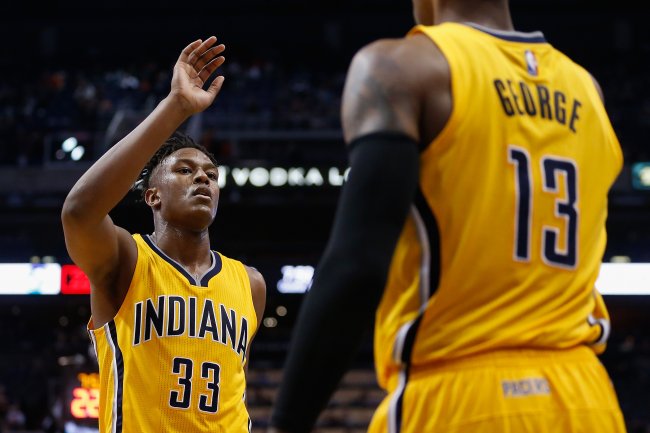 Christian Petersen/Getty Images
Devin Booker kept shooting...and shooting...and shooting. By the time he was done, the NBA's youngest player had piled up a career-high 32 points on 9-of-16 from the field (6-of-11 from three). He was the ninth rookie in Phoenix Suns history to reach the 30-point mark.
But even Booker's big night could only do so much to lift the sinking Suns in what was a 97-94 win by the Indiana Pacers, who got a boost from a newbie of their own.
Myles Turner, the 11th pick in the 2015 NBA draft, followed up his eye-popping 25-point performance in Denver on Sunday with 15 points, four rebounds and four blocks in Arizona.
If Turner, who missed 21 games with a thumb injury, can stay healthy and continue to shine with his sharp shot and ability to get up the floor, he could complete Indiana's small-ball puzzle before his rookie campaign is through.
Josh Martin covers the NBA for Bleacher Report. Follow him on Twitter.