The last time the San Antonio Spurs hosted LeBron James and the Cleveland Cavaliers, they left the AT&T Center with a 128-125 overtime loss, courtesy of Kyrie Irving's career-high 57-point night.
A lot has happened in the Alamo City since then. The Spurs lost a first-round playoff series to the Los Angeles Clippers, let a slew of key reserves walk and scored the biggest free-agent coup in franchise history by luring LaMarcus Aldridge from Portland back to his home state.
Along the way, the Spurs strung together 32 straight wins in their own building—the latest, a 99-95 rebuttal over those same Cavs—and have now staked their claim to the title of "NBA's Best First-Half Team."
The victory over Cleveland, while far from pretty, was an eye-opening showcase of that superiority.
For pretty much every other team in the league, the list of imperfections that plagued the Spurs would've been its undoing against the reigning Eastern Conference champions.
Aldridge, the shiniest of San Antonio's new toys, was limited to six points on 2-of-7 shooting, despite spending most of the night matched up against the defensively deficient Kevin Love. Danny Green, who signed a new deal of his own this past summer, continued his season-long slump by knocking down a single pull-up jumper out of seven shots overall. Tim Duncan, the long-time lynchpin of the NBA's all-time winningest core, finished with a pedestrian nine points while expending much of his remaining energy switching onto James (22 points, seven rebounds, five assists).
Cleveland's King led five Cavs starters in double figures as part of a balanced attack that built a 15-point lead in the second quarter.
But where the Cavs' bench (and some of San Antonio's starters) faltered, the Spurs' reserves came up huge. David West scored more points (13) on his own than all of Cleveland's subs combined (12) while tormenting his opposite numbers with his savvy physicality. Manu Ginobili and his 38 years slithered their way to 10 points. When the Cavaliers were still within breathing distance early in the fourth quarter, Patty Mills drained a three-pointer to put San Antonio up eight as part of an 11-0 Spurs spurt.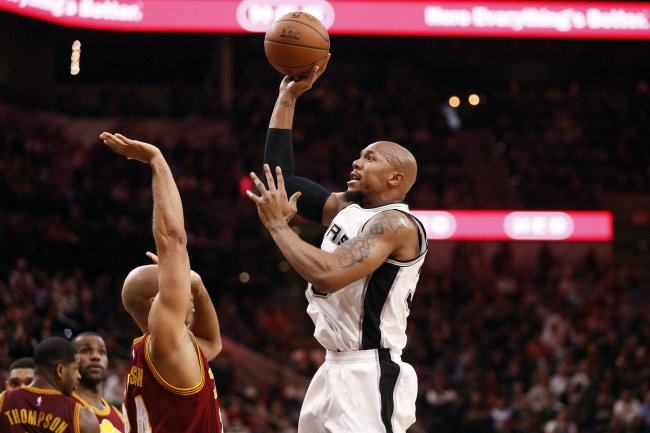 Soobum Im-USA TODAY Sports
No team, not even the Golden State Warriors, can boast that kind of skill, experience and reliability off the bench, especially when roping in Boris Diaw. According to Hoops Stats, only the Minnesota Timberwolves and New Orleans Pelicans have averaged more second-unit points than the 40.4 per game Gregg Popovich's group pours in.
For the Wolves and Pelicans, that scoring is the sad byproduct of lopsided losses more often than not. For the Spurs, it's the ganache on a scrumptious cake prepared primarily by two of the team's Finals MVPs.
Tony Parker, the elder of the tandem, has looked more like the Spurs' centrifugal force of late. Between the second half of San Antonio's win in Detroit on Tuesday and the first half of action against Cleveland, the pesky Parisian poured in 41 points. He finished his latest outing with 24 points on 11-of-18 from the field and outplayed Irving (16 points on 6-of-17 shooting) in the process.
Still, from night to night, Parker is no longer the engine that keeps the Spurs purring. That role now belongs to Kawhi Leonard, the league's Defensive Player of the Year last season and San Antonio's top offensive dog in 2015-16.
The Cavaliers saw firsthand what a two-way force Leonard has become. On one end, he tallied 20 points, nailed a pair of threes, converted all six of his free throws and dished out a game-high five dimes. On the other, he grabbed eight of his 10 rebounds, blocked two shots, picked off a pass and made James' life more difficult than usual.
In between, he helped the Spurs, a more deliberate team with Aldridge on board, snag some easy points in transition.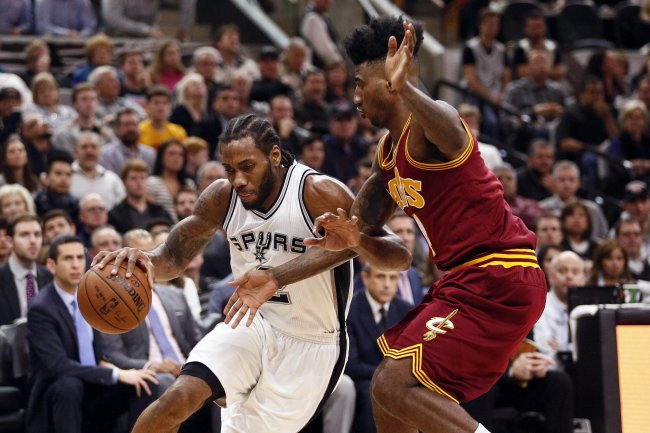 Soobum Im-USA TODAY Sports
Chances are, an overall uneven showing like the one San Antonio used to beat Cleveland wouldn't have cut it against the best in the West. It wasn't enough to topple the Oklahoma City Thunder, to whom the Spurs dropped their season opener when Leonard (32 points) nearly matched the scoring of San Antonio's other four starters (33 points).
Fortunately for the Spurs, nights like these are more exceptions than reflections of the norm. Aldridge, in particular, had found comfortable footing in the Alamo City prior to tangling with Cleveland's frontcourt. Over his previous six games, the Dallas native averaged 20.7 points on 56.8 percent shooting while pulling down 10.8 rebounds.
As a whole, San Antonio had outscored its foes by 14.1 points per game on the season. According to Basketball-Reference, that would qualify as the largest average margin of victory in NBA history—nearly two points per game better than the 1971-72 Los Angeles Lakers, who put together a record 33-game winning streak, and the 1995-96 Chicago Bulls, who set the bar with 72 regular-season wins.
Barring Doc Brown fitting his flux capacitor into a tour bus, the Spurs won't get to measure themselves against those legendary squads. They will, however, go toe-to-toe on Jan. 25 in Oakland with the Warriors, who came close to challenging those Lakers for consecutive success and have their sights set on Chicago's mark for season-long dominance.
Golden State's scoring margin has slipped behind San Antonio's on the heels of a historic 24-0 start. And the Warriors, by virtue of a narrow loss in Denver, can't sniff the Spurs' active 10-game winning streak. As Pounding the Rock's Jesus Gomez added to the San Antonio vs. Golden State debate:
Over the past 10 games or so the Spurs have been even better than earlier in the season while the Warriors have taken a step back as Curry battles that shin injury. When fully healthy, Golden State might have the edge but, again, right now the Spurs are better.
But right now, in the middle of January, won't mean much to the Spurs—or the Warriors, for that matter—without a Larry O'Brien Trophy at season's end. San Antonio already has five on its mantle, but this team, with Aldridge up front and Leonard leading the way, doesn't have one of its own.
And a 35-6 mark through the first half of the season, while impressive, is no guarantee that San Antonio will be the last team standing come June. The last and only other time the Spurs got off to such a hot start, the Memphis Grizzlies knocked them out of the playoffs in the first round.
Until we see the Spurs firing on all cylinders when the games really matter, it won't matter which other mountains they've climbed. For now, though, it's good to be the king—and beat the King while they're at it.
Raptors Remain Road Warriors Across the Pond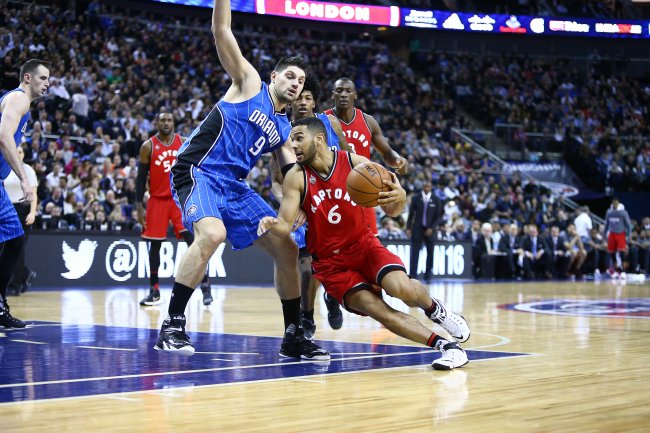 Nathaniel S. Butler/Getty Images
Winning streaks that cross national borders are nothing new for the Toronto Raptors. That's what happens when they call Canada home while the rest of the league lives below the 49th parallel. This season alone, the Raptors put together four international spurts of four games or more.
Their latest such streak, though, required a stamp on the team's passport—and some extra gas out of Toronto's collective tank. The Raptors needed overtime to fend off the Orlando Magic at London's O2 Arena, 106-103, after blowing what had been a 14-point lead.
"We needed that win," said Kyle Lowry, per the Associated Press. Lowry and DeMar DeRozan combined to shoot 9-of-39 from the field, but they got plenty of help from actual Canadian Cory Joseph, who went 9-of-11 in England.
The victory helped Toronto strengthen its hold on second place in the East, bolstered by the conference's best road record at 14-9. And with a win over the Brooklyn Nets at the Air Canada Centre on Saturday, the Raptors could become the first team in NBA history to string together a streak in three different countries.
Jimmy Buckets Brings Bulls Back from the Brink
If you're playing the Chicago Bulls, there's no resting easy while Jimmy Butler's on the court. The Raptors learned that the hard way when Butler exploded for 40 second-half points—a Chicago franchise record for a half—to lead the Bulls to victory back in December.
On Thursday, Jimmy Buckets took the Philadelphia 76ers to school. The All-Star swingman scored a career-high 53 points to help the Bulls erase a 24-point deficit and save face with a 115-111 overtime win in the City of Brotherly Love.
Where once Butler was critical of Fred Hoiberg's coaching style, on Thursday he praised the Bulls' bench minder for lighting a fire under the team's lagging behind.
"Fred came in here and got on our ass," Butler said afterward, per the Chicago Tribune's K.C. Johnson. "He went out there and coached the (expletive) out of us."
In doing so, Hoiberg motivated Butler to become the fourth Bull—along with Michael Jordan, Jamal Crawford and Chet Walker—to split a century in a single game. He also tied Stephen Curry's mark for single-game scoring in the NBA this season.
More importantly for Chicago, Butler's big night stopped what had been a three-game Bulls skid and kept his squad from slipping further behind Toronto in the race for second place in the East.
Super Mario Saves Memphis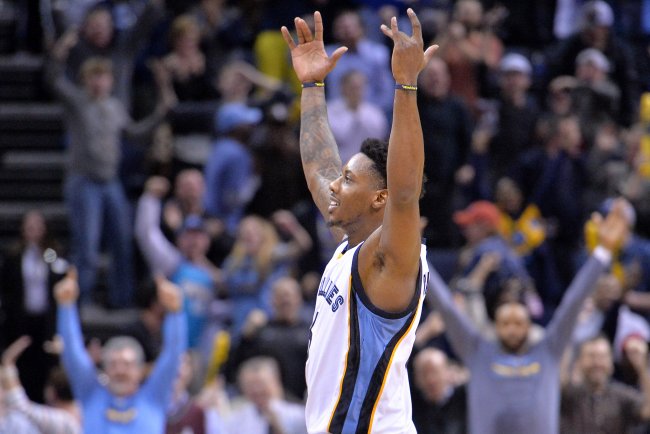 Brandon Dill/Associated Press
No Mike Conley? No problem for the Grizzlies.
With Conley once again sidelined by a sore Achilles, Mario Chalmers stepped in as Memphis' starting point guard against the Detroit Pistons. The former Miami Heat fixture led all players in points (25), assists (eight), steals (four) and minutes (42).
When the game hung in the balance during the fourth quarter, 'Rio did everything but lay down concrete to stabilize his squad. He scored or assisted on 14 of Memphis' final 17 points, including a trio of free throws to tie the game and a buzzer-beating jumper to seal a 103-101 win.
Chalmers has racked up his fair share of highlights since the Heat traded him to the River City this past November. But stepping in for a borderline All-Star like Conley—and leading Memphis to three wins in four games therein—shows just how potent he can be in a more prominent role.
A role he could carve out for himself somewhere this summer, when Chalmers hits the market as an unrestricted free agent.
Kings Creep Closer to Playoff Spot
The Sacramento Kings haven't tasted the postseason in nearly a decade, but DeMarcus Cousins and company might soon get to slake their city's thirst. With a 103-101 win over the Utah Jazz in Salt Lake City, the Kings moved within a game of the No. 8 spot in the Western Conference.
Boogie did his part (and then some) to put Sacramento within striking distance. The All-Star center piled up 36 points and 17 rebounds, with as many free throws (14-of-21) as field-goal attempts (10-of-21).
Cousins wasn't the Kings' only hero, though. He got plenty of help from fellow Team USA member Rudy Gay, who chipped in 24 points, including the game-winning bucket after Joe Ingles erased what had been a double-digit Jazz deficit.
Between those two pillars and a healthy, happy and productive Rajon Rondo, Kings head coach George Karl might have enough talent in his stable to schedule more basketball in California's capital come late April and early May.
Kobe, Curry Make Memories in the Bay
Since announcing his retirement in November, Kobe Bryant has been greeted by doting fans in every arena he's visited and granted special gifts by every team he's gone against.
In Oakland, the Mamba limped along on a sore Achilles to cheers from Golden State Warriors fans—enough to coax Los Angeles Lakers coach Byron Scott to put his 37-year-old legend back in one last time when the Warriors already had a 116-98 win in hand.
As for the gifts, Golden State gave Bryant, among other things, a cask of rare wine—almost as rare as, say, a Stephen Curry dunk.
Which, as it happens, the Oracle Arena faithful were also treated to on Thursday night.
Curry also drained eight threes on the way to a 26-point evening. But even the NBA's most captivating talent couldn't hold a candle on this occasion to Bryant, regardless of how unremarkable the Mamba's last appearance in the Bay Area (eight points on 4-of-15 shooting, six rebounds, three assists, two steals in 27 minutes) looks on the stat sheet.
Josh Martin covers the NBA for Bleacher Report. Follow him on Twitter.