While eight teams still alive in the hunt for the Super Bowl, six squads sitting at home still seek a head coach that they hope can revitalize their path to the playoffs.
Todd Bowles is the 2015 rendition of such success, having turned the New York Jets around from 4-12 to 10-6, which in most years would've been good enough to reach the playoffs.
Jack Del Rio finished 7-9 in his first season with the Oakland Raiders, but the sentiment is that this is a team on the rise toward contending.
However, quick fixes don't always manifest.
Rex Ryan didn't live up to playoff expectations in his first season with the Buffalo Bills, and Jim Tomsula was ousted by the San Francisco 49ers after just one season.
Job security is slim, and expectations are high for NFL head coaches, as there were again seven vacancies for the second straight year among the 32 jobs—a cyclical rate of nearly 22 percent.
While most sought candidates generally, and logically, remain on playoff staffs, finalizing the vacant front offices may take another few weeks.
Here is a look at the latest buzz.

Tom Coughlin To Interview With Former Rival Eagles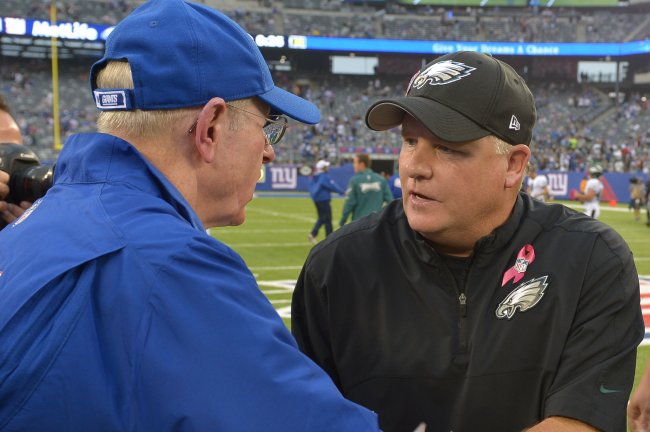 Drew Hallowell/Getty Images
Tom Coughlin stepped down as head coach of the New York Giants last week, but he already has an interview scheduled within the NFC East.
Coughlin will meet with the Philadelphia Eagles next week to discuss their coaching vacancy, according to ESPN's Adam Schefter.
The Giants granted the Eagles' request, which was required because Coughlin stepped down with one year remaining on his contract, per Tom Pelissero of USA Today.
The resounding belief was that he'd be willing to coach again "if the right opportunity presents itself," according to Mike Garafolo of Fox Sports.
But the two-time Super Bowl-winning coach will likely want to take over an established team rather than one that needs work, per Jason La Canfora of CBS Sports:
Tom Coughlin could well end up being the biggest fish in this coaching pond. Don't see him taking on a total rebuild at this stage...

— Jason La Canfora (@JasonLaCanfora) January 4, 2016
Whether the Eagles fit that bill or not isn't quite clear.
Philadelphia, behind proverbial offensive guru Chip Kelly, entered the season as favorites to win the NFC East along with the seventh-best odds to win the Super Bowl, per Odds Shark.
But Philly quickly fell flat and stayed there, losing five of its final eight to finish 7-9 one year after failing to make the playoffs after starting 9-3.
The Eagles' struggles weren't as much due to personnel as they were to muddled relations between Kelly and the front office.
That Coughlin is at least hearing what they have to say says as much.

Browns Move On From Adam Gase, Will Interview Patriots DC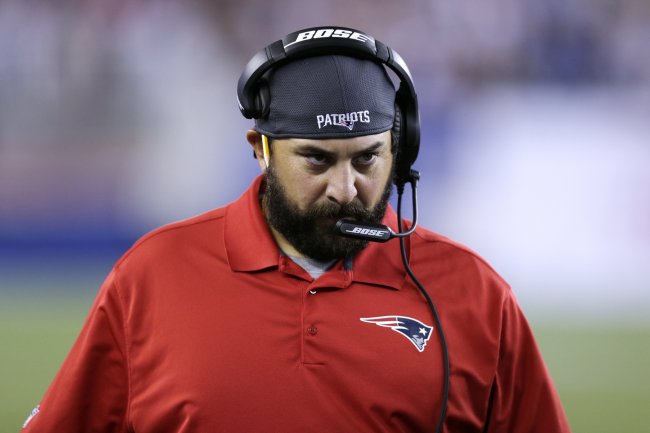 Charles Krupa/Associated Press
The Cleveland Browns lost in the Adam Gase sweepstakes when the 37-year-old offensive mastermind agreed to become the Miami Dolphins head coach last week, but Cleveland has already moved on to its next candidate.
The Browns confirmed they interviewed New England Patriots defensive coordinator Matt Patricia on Saturday—the fifth candidate they've met with since firing Mike Pettine six days prior.
Patricia is in his 12th season with the Patriots, his fourth as defensive coordinator after coaching linebackers from 2006-2010 and safeties in 2011.
Under Patricia and head coach Bill Belichick, the Patriots have developed one of the league's most consistent defenses, ranking among the league's top 10 in scoring in each of his four seasons.
What makes Patricia among the more sought-after candidates is that he also has an offensive pedigree, starting as an offensive assistant with New England in its 2004 Super Bowl season, then being promoted to assistant offensive line coach a year later.
Daryl Ruiter of 92.3 The Fan in Cleveland believes there aren't many better options on the head coaching market than Patricia:
My #Browns HC candidate power rankings: 1) Hue Jackson, 2) Matt Patricia, 3) Sean McDermott, 4) Teryl Austin, 5) Doug Marrone

— Daryl Ruiter (@RuiterWrongFAN) January 10, 2016
The Cleveland head coaching job has become a revolving door of late—five have held the position since 2005—and many argued Pettine shouldn't have been let go after only two seasons.
Bleacher Report's Jason Cole explained that the fluidity in Cleveland has scared off most from the prospect of working for owner Jimmy Haslam:
Whoever does take the Browns job will be enduring a roster with a slew of deficiencies and a short leash. For Patricia, it would certainly be a different dynamic than the championship form he's been a part of the past decade-plus.

49ers Could Hire Hue Jackson Soon
The 49ers interviewed Cincinnati Bengals offensive coordinator Hue Jackson on Sunday, and Ian Rapoport of NFL.com indicated an offer could be coming his way soon: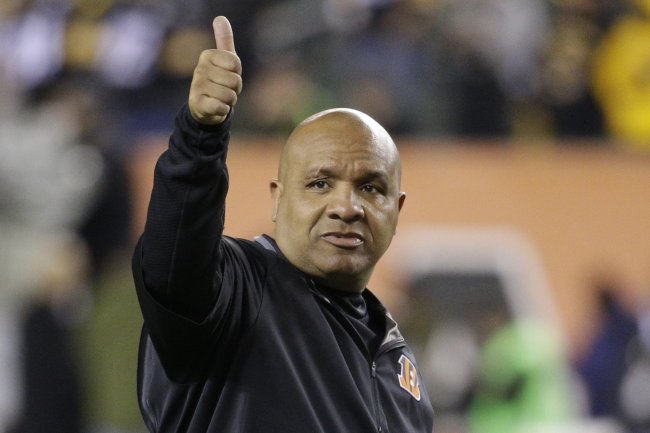 John Minchillo/Associated Press
Jackson reportedly met with the 49ers for five hours Sunday, according to Cam Inman of the San Jose Mercury News, then met with the Browns after regarding their vacancy.
Bleacher Report's Jason Cole reported that Jackson will interview with the Giants later this week after the NFL owners meetings in Houston.
Adding to the speculation, Giants Daily believes Jackson's meeting with New York is merely a ploy to exploit more from San Francisco:
Discussed #49ers coaching search on @NFLGameDay: Hue Jackson interviews with 49ers brass. If all goes well, he could end today as SF's coach

— Ian Rapoport (@RapSheet) January 10, 2016
Jackson is arguably the most sought-after candidate remaining after Gase was hired by Miami. He oversaw a Bengals offense that in 2015 ranked seventh in scoring, 13th in rushing, 15th in passing and 15th in total yards.
The 49ers are still trying to regroup after questionably firing Jim Harbaugh a year ago after a 7-9 season that followed three straight appearances in the NFC Championship Game.