With just over two minutes remaining in the first quarter of the Cleveland Cavaliers' eventual 125-99 drubbing of the Minnesota Timberwolves, LeBron James decided to put on a show.
With no one between him and a rim that's seemed unfairly large for the Cleveland Cavaliers in recent outings, he slowed down to gather his dribble and eventually brought the ball toward the rafters before throwing it down for an emphatic two points with his off hand.
It was a play athletic enough to make quite a few NBA players jealous, but what happened next was even more significant. Within the hostile confines of the Target Center, James motioned as if he were raising the roof, imploring the Cavs fans in attendance to rise to their feet.
And rise they did.
How couldn't they? This isn't just some nondescript basketball team that put on an offensive showcase against the seemingly defenseless Wolves, dropping 125 points in a blowout victory over its Western Conference foes; it's a scoring machine growing more potent by the day.
Though he's a big part of the point-scoring exploits, Kyrie Irving isn't the only reason for the recent surge. If anything, the dynamic point guard was held in check by Ricky Rubio and the rest of the Minnesota backcourt on Friday night, producing only 13 points, two assists and four turnovers on 5-of-12 shooting from the field.
But with Irving drawing defensive attention—and still providing the occasional dribbling highlight—everything opens up for the rest of the Cavaliers. That's been the case ever since he made his season debut.
The gravitational pull benefits Iman Shumpert. This time, the flat-topped wing came off the bench to drop 23 points and four steals, occasionally taking over the offensive flow and creating looks for himself.
It aids Kevin Love, who was looking a lot more comfortable in his role as an off-ball threat. The All-Star power forward produced 20 points, nine rebounds and four assists on just 11 field-goal attempts, and this could be the performance that helps get him out of his relative funk.
Irving's presence also makes LeBron James' life easier, simply because he doesn't need to fear every single opponent swarming toward him. Despite a lack of impact in the points column, the four-time MVP had another impressive outing with 13 points, 12 rebounds and eight assists.
But the biggest beneficiary on Friday night was J.R. Smith, whose hot streak continued to the tune of five triples and 27 points from the field. Though he's not going to turn the Cleveland Big Three into a Big Four anytime soon, Smith's long-range assault in recent outings has added yet another element to a devastating Cavaliers attack.
Everything has just been easier lately, and the results have been stunning. Look at the space Smith is enjoying on some of those treys. Take a gander at the unselfishness Love and the rest of the team show when feeding the hot hand.
This now marks three games in a row in which the Cavs have put up at least 120 points, and taking pace out of the equation still allows your jaws to remain on the floor.
Three contests ago, Cleveland torched the Toronto Raptors to the tune of a 144.3 offensive rating, which just so happened to be its best mark of the still-young season. Two days later, the Washington Wizards allowed the eventual victors to post a 129.8 offensive rating, which was their third-best showing of the year.
Though we don't yet have an official number from Friday night, this showing figures to be just as impressive. And what's got to be particularly concerning for the rest of the Association is that the Cavaliers have yet to lose a game in which they've scored at least 111 points per 100 possessions—something they'd already done 14 times prior to the beatdown of Minnesota.
Throughout the entirety of the 2015-16 campaign, Cleveland's offensive rating has been "just" 107.8, putting it behind the Golden State Warriors, Oklahoma City Thunder and San Antonio Spurs. But even before this 125-spot, the difference was palpable with Irving's presence.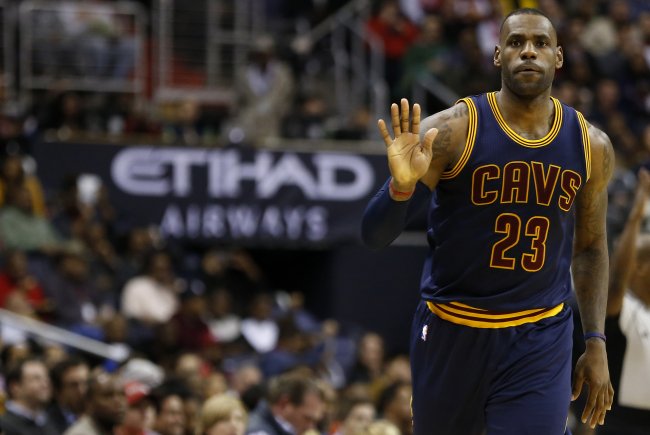 Geoff Burke-USA TODAY Sports
With the typical starting point guard on the hardwood? The Cavaliers have scored a ridiculous 125.9 points per 100 possessions.
Per NBA.com, that number remains at 123 when James is sharing the floor with the Duke product, and at 123.5 when the Love-Irving tandem is present. In the time that each member of the Big Three has been on the court, the offensive rating has been a mind-numbing 121.8—the highest mark of any Cleveland trio that has logged at least 120 minutes.
For perspective, the Warriors, who sit atop the league-wide standings for offensive efficiency, have scored 119.6 points per 100 possessions when Stephen Curry, Draymond Green and Klay Thompson—their three best offensive players—have been on the floor together.
At full strength, the Cavs are capable of doing things this league hasn't seen in a long time—if ever. While the role players are clicking and improving the relevant facets of their games, while the superstars are churning out points so easily it seems like they could torch opponents blindfolded, Cleveland is the best offensive team in the league.
And it's still getting better.
How much better? Stay tuned. We'll find out as the season progresses.
Spurs Survive Scare
Soobum Im-USA TODAY Sports
Well, this is unusual.
The San Antonio Spurs didn't end a winning streak that's been in progress ever since they rebounded from a four-point Christmas Day loss to the Houston Rockets by trouncing the Denver Nuggets. But they did only win by a single point in a 100-99 showing against the New York Knicks, and that's legitimately shocking for a team that now sits at a scorching 32-6 on the season.
At this stage of the year, 20-point victories feel commonplace for the Spurs, who entered Friday night outscoring the opposition by an NBA-best 15.1 points per 100 possessions. They've destroyed their foes by such a large margin on 13 separate occasions, and we're not even close to the All-Star break.
Nonetheless, the Knicks gave them their money's worth, holding a dangerous Spurs offense in check while finding just enough weaknesses in the historically great defense to climb back into the contest as the clock wound down. In particular, Kristaps Porzingis was incredible, recording 28 points and 11 rebounds against the star-studded San Antonio frontcourt.
As you might have guessed, he also produced some highlights:
But even more impressive than any individual line is the simple fact that the vastly improved Knicks actually made a legitimate game out of this. Though they were down 12 points with just over five minutes remaining in the contest, they used buckets from just about everyone to close the gap to a single point on two separate occasions.
A three-point attempt from Jose Calderon couldn't find its mark as the clock expired, but this has to be a moral victory for the Knicks. While it may result in one more blemish on the overall record, it's yet another sign of progress for this up-and-coming team in the East.
Still undefeated at home and an espresso, What else ? #nespresso #coffeetime #borista https://t.co/xulWN9AY5Z

— Boris Diaw (@theborisdiaw) January 9, 2016
As for the Spurs, they survived and kept their undefeated mark at home intact. Ultimately, that's all that should matter to them as they attempt to keep pace with the Warriors. But knowing Gregg Popovich, he's probably going to chew the team out into the wee hours of the morning, only to see the players respond with a 40-game winning streak.
Toronto Tandem Triumphs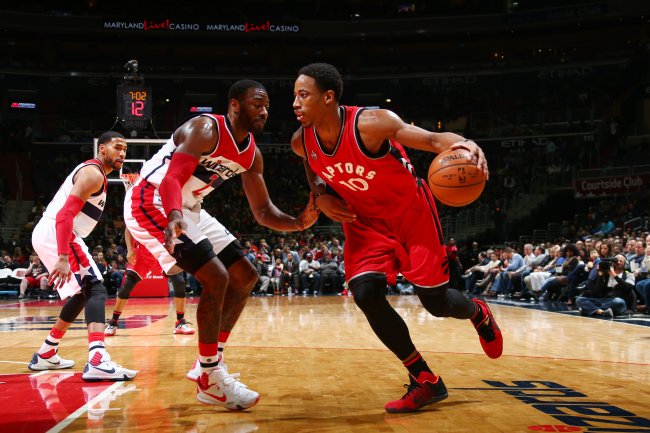 Ned Dishman/Getty Images
It was DeMar DeRozan who suited up for the Toronto Raptors during the 2015 NBA All-Star Game, then Kyle Lowry one year later. Could 2016 be the year in which the backcourt mates get to team up during the midseason classic?
If their mutual dominance in a 97-88 victory over the Washington Wizards was any indication, it certainly could be.
DeRozan couldn't be stopped on the offensive end, finishing with 35 points on 11-of-24 shooting from the field. He was in constant attack mode, probing an overmatched Washington defense and working his way to the charity stripe 13 times.
"If this DeRozan recipe sounds familiar, it's because it is a relic from another era. This is a rough facsimile of how Michael Jordan played. And Kobe Bryant. And, more recently, Dwyane Wade," Ian Levy wrote for The Cauldron, breaking down what makes DeRozan such a special offensive talent despite his lack of a consistent jumper. It was readily apparent once more on Friday night, given the mid-range exploits, the effective pump fakes and the probing of the paint.
But Kyle Lowry refused to be overshadowed, finishing with 21 points, 10 rebounds, four assists, four steals and the coffin-nailing block of John Wall you can see above. After struggling to find his rhythm early in the game and turning the ball over incessantly, the fringe MVP candidate turned on the jets in the final 12 minutes, matching DeRozan's 10-spot during the fourth quarter.
Heading into this game, the two-headed Toronto backcourt monster had outscored opponents by 3.1 points per 100 possessions when they shared the floor. Now, they can add another victim to the ever-growing list.
Milwaukee Muffles Mavericks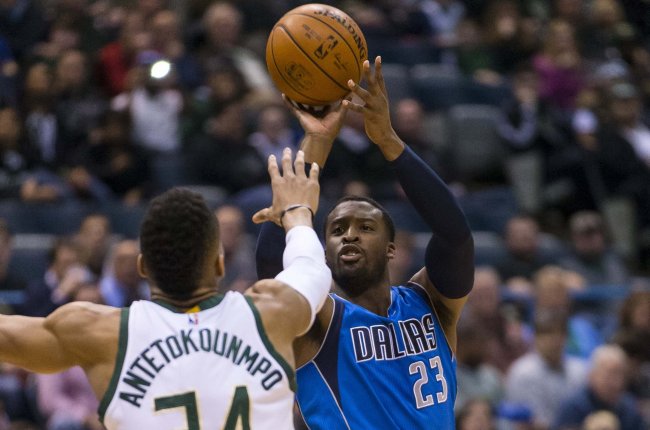 Jeff Hanisch-USA TODAY Sports
The Dallas Mavericks should not feel good about their 96-95 loss to the Milwaukee Bucks. Not because the Bucks are currently sitting near the bottom of the Eastern Conference standings, but because this game defied any and all expectations.
Heading into the Friday night contest, the Mavs were scoring 105.3 points per 100 possessions—good enough for them to sit at No. 12 throughout the league. Meanwhile, the Bucks were hemorrhaging points to the tune of a league-worst 109.9 defensive rating.
If any portion of the 10-game slate was sure to produce a high score, it was this one.
Instead, Dallas was held to a meager 95 points, shooting just 35-of-84 from the field while turning the ball over 16 times. Credit goes to Milwaukee for settling in on the defensive end and doing its darnedest to ensure that Dirk Nowitzki, Deron Williams, Wesley Matthews and the rest of the Mavs were all kept in check, but we also can't discount the Western Conference squad looking sluggish throughout the night.
Now, the Mavericks just have to keep this type of night from turning into an unfortunate trend. After all, the team isn't too far removed from back-to-back stinkers against the Miami Heat and New Orleans Pelicans.
Biscayne Bay's Breathtaking Backcourt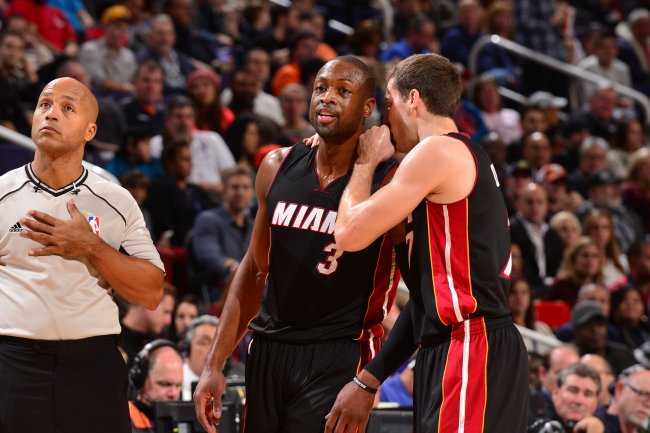 Barry Gossage/Getty Images
Even though Dwyane Wade and Goran Dragic are both supremely talented guards, they've struggled to get things going at the same time. But they picked a good time to make it happen simultaneously, as their heroics helped stave off the Phoenix Suns in a surprisingly tight contest.
With little over six minutes remaining in the fourth quarter, the Miami Heat actually trailed their desert-dwelling foes by three points. Then Dragic scored six consecutive points for his squad before assisting on a Gerald Green trey. After that, Wade accounted for seven of the team's final 10 points as the Heat pulled away for good, finally emerging with a 103-95 win.
It may seem strange to think of a narrow victory over the reeling Suns as a potential turning point for a squad still seeking consistency, but that could be the case if Wade and Dragic are figuring out how to coexist. The two combined for 49 points and nine assists while shooting 17-of-29 from the field on Friday night, which is surely a positive sign.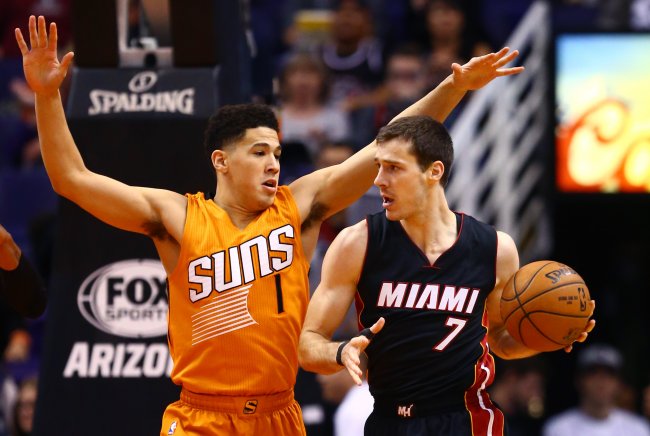 Mark J. Rebilas-USA TODAY Sports
After all, it's only the third time the backcourt mates have both posted 20-point performances in the same outing, and previous splits haven't been particularly promising.
Heading into this showing, the Heat had outscored the opposition by just 0.5 points per 100 possessions when Dragic and Wade shared the court—significantly worse than Dragic's typical plus-3.3 and marginally behind Wade's plus-.7.
Having the two playing well alongside one another in a tight victory should trump the fact that a struggling team kept things close—but only if Miami can build upon this as it moves forward.
Paramedic-Prone Pelicans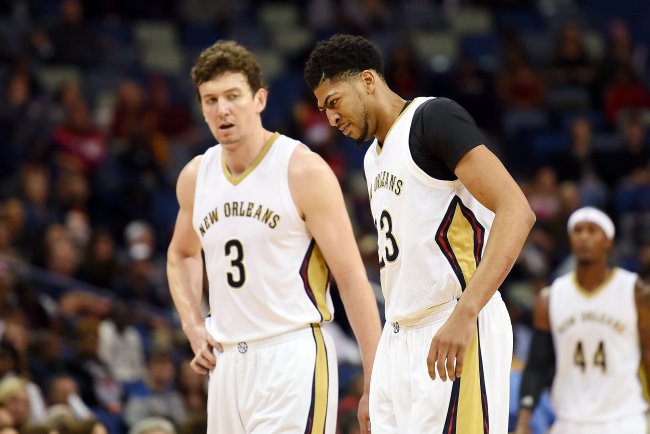 Stacy Revere/Getty Images
Are the NBA injury gods aware that the New Orleans Pelicans have already received more than their fair share of injuries?

Though we're only 35 games into the 2015-16 campaign, Eric Gordon and Alonzo Gee are the only players who have made appearances in every single contest. Jrue Holiday, Tyreke Evans and Anthony Davis have all missed significant action, and Quincy Pondexter still has yet to make his season debut while rehabbing his knee injury.
Now, Davis is down again. This time, it's not a balky shoulder causing him trouble, but rather a back contusion that resulted from this dive into the seats:
Hopefully this is but a short-term blow to the Pelicans, who don't exactly need another medical issue to account for in 2016. They've already been decimated by that pesky injury imp, who may well have a personal grudge at this point.
Going Green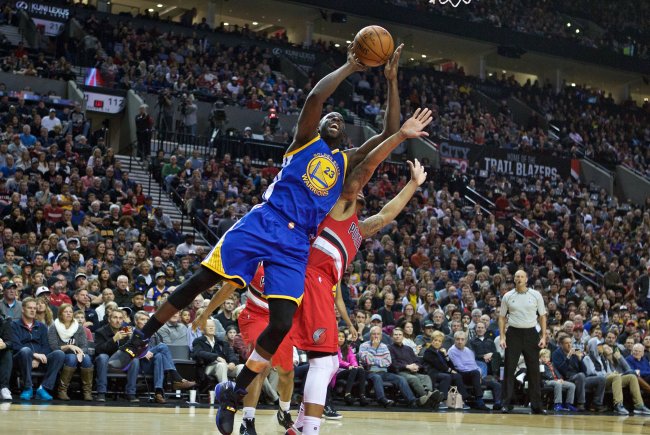 Craig Mitchelldyer-USA TODAY Sports
The Golden State Warriors took advantage of the Portland Trail Blazers' porous backcourt, exploding for 128 points in an easy victory that pushed them to 34-2 on the season.
Despite playing only 29 minutes, a shinguard-wearing Stephen Curry logged 26 points and nine assists while turning the rock over only once. Klay Thompson was even better, drilling seven shots from beyond the arc en route to 36 points, six rebounds and five assists. We also can't overlook Brandon Rush, who did his darnedest to keep Harrison Barnes from taking back his typical spot in the starting five by recording 20 points of his own.
Draymond Green couldn't make it four 20-point scorers for the Dubs, but he did submit the line of the night, if only due to the fact that he just refuses to stop posting triple-doubles.
This time, the power forward scored 11 points, hauled in 13 rebounds and dished out a game-high 10 dimes. Perhaps even more impressively, he helped Golden State top Rip City by 30 points when he was on the floor.
Is it a bit ridiculous that he stayed in the blowout until recording his 10th assist with 4:09 remaining? Sure, but he still hit the necessary marks for his eighth triple-double of the season. Only Rajon Rondo (four) and Russell Westbrook (three) have also thrown up multiple qualifying performances in 2015-16, and Green is already within striking distance of Westbrook's league-leading 11 from last go-round.
Since at least 1985, only Jason Kidd has more triple-doubles (10) at this point in the season than Draymond's 8.

— Kelly Scaletta (@KellyScaletta) January 9, 2016
How's that for some good company?
As we've continued to learn this season, money is green, and Green is money.
Losing Lakers Loving Lou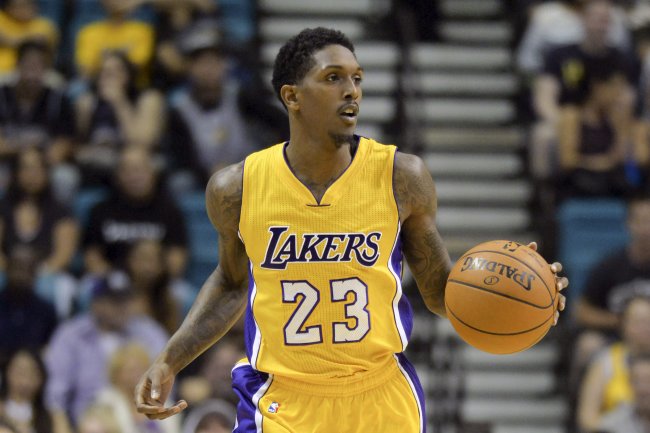 Kirby Lee-USA TODAY Sports
Lou Williams had a perfect night.
Not literally. He did miss 13 shots while recording a career-high 44 points to go along with his two rebounds, one assist and two steals. Then again, it's pretty hard to complain about missing 13 attempts when a player finishes 12-of-25 from the field, 5-of-14 from downtown and a perfect 15-of-15 from the stripe.
It's even harder to complain when your team shows such palpable progress, coming back against a tough Oklahoma City Thunder squad and losing by only four points, 117-113, in front of the hometown faithful. If anything, it's an ideal outcome, because this is the exact type of game a franchise can't afford to win when it needs to finish in one of the league's bottom three spots in order to hold on to its first-round draft pick.
So was Williams' night actually perfect?
I'm sure he'd tell you the loss is disappointing, and he wouldn't be pulling your leg. So, too, would Kobe Bryant, Byron Scott and every other member of the Los Angeles organization.
But if the Lakers do want to maximize their chances of expediting the rebuild next season, this night was an immaculate one.
Adam Fromal covers the NBA for Bleacher Report. Follow him on Twitter: @fromal09.
All stats, unless otherwise indicated, are from Basketball-Reference.com or Adam's own databases and are current heading into games on Jan. 8.