Gareth Bale would reportedly prefer a move to Manchester United over Chelsea and Manchester City if he makes a return to the Premier League.
According to the Daily Mail's Chris Wheeler, United are hoping to land the Welshman for £75 million in January. Of the English clubs who can afford him, Bale would "favour" the Red Devils.
Wheeler also noted Bale is unhappy following the sacking of Rafael Benitez as Real's manager, as confirmed by new Los Blancos boss Zinedine Zidane, who said: "Gareth was disappointed with the sacking of Rafa because he was an important coach for him, but I will treat him the same way Rafa did. He is an important player and a key player for the squad. He's phenomenal and we're going to give him all the care and support he needs."
In his column for the Daily Mail, former Premier League star Jamie Redknapp described the winger as a "complete player" who would thrive back in England. Further, Redknapp believes the prospect of playing under compatriot Ryan Giggs would appeal to Bale and makes a move an "obvious" fit.
The 26-year-old has been in exceptional form for Los Blancos this season, bagging nine goals and eight assists in just 15 appearances and has become a regular contributor of both at the Bernabeu, as WhoScored.com revealed ahead of La Liga's winter break:
Gareth Bale: Has now directly contributed to 61 goals in 69 La Liga apps since Aug 2013 (34 goals, 27 assists) https://t.co/1HRLsbJxo3

— WhoScored.com (@WhoScored) December 20, 2015
His pace, versatility and creativity, combined with his incisive touch, could really spark United back into life, with the club currently struggling under manager Louis van Gaal—particularly going forward.
A marquee player like Bale would undoubtedly give the entire club a lift both on and off of the pitch, possibly leading to a resurgence in form for his new team-mates.
Football writer Liam Canning believes the club should go all-out to capture his signature:
If Bale's thinking of leaving, Ed Woodward needs to do everything (and some) in his powers to secure him. Would be an RvP type signing.

— Liam (@OffsideLiam) January 4, 2016
La Liga writer Andrew Gaffney lauded Bale's form this season but doubts he will be going anywhere any time soon, though:
@OffsideLiam @UltraSuristic Same as Cristiano & the entire squad weren't happy at Carlo's sacking - all stayed though.

— Andrew Gaffney (@GaffneyVLC) January 4, 2016
@UltraSuristic @OffsideLiam When fit he's actually been one of Real's better players this season, too.

— Andrew Gaffney (@GaffneyVLC) January 4, 2016
Will Bale be at Real Madrid next season?
Zidane is unlikely to allow one of his key players to depart in January, even for a phenomenal sum, as the club seek to wrestle the title away from the clutches of Barcelona.
It's possible United might have more luck in the summer, but unless Bale's happiness at the club drastically changes for the worse—something that would probably take more than just Benitez's sacking—it seems he may well be staying put for some time.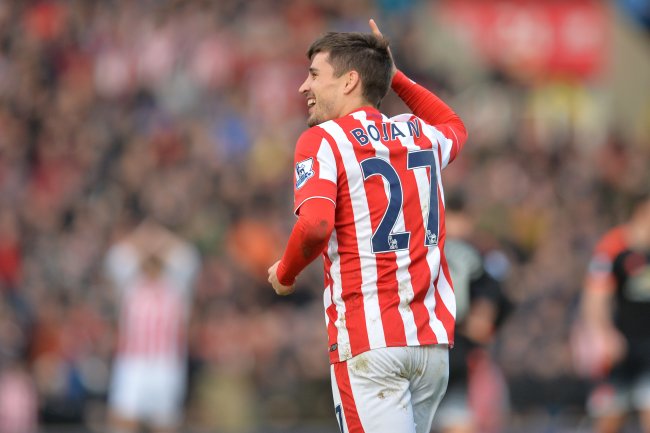 PAUL ELLIS/Getty Images
The Red Devils are also considering other attacking options in January, and one such player is Stoke City's Bojan Krkic, according to Sky Sports' Guillem Balague:
Bojan has a buy out clause for £10m BUT only if Stoke goes down. FCB not looking at him. Scouts of MUFC, Chelsea and Valencia been 2 see him

— Guillem Balague (@GuillemBalague) January 5, 2016
The Spaniard has been a standout player in a goal-shy Potters side this season, scoring five goals and assisting once in the Premier League.
Bojan isn't a hugely prolific forward but could be a useful player to help with United.
However, with Stoke unlikely to get relegated, the 25-year-old would likely cost far more than £10 million. Therefore, the Red Devils would be better off looking elsewhere.