Real Sociedad have reportedly threatened to report referee Jose Luis Gonzalez Gonzalez to the authorities after he awarded Real Madrid a pair of controversial penalties in the match between the two teams on Wednesday.
The decisions were made in the first half, the first when Karim Benzema went down chasing a cross and the second when a Gareth Bale pass ricocheted off Carlos Martinez's leg, up onto this hand. Cristiano Ronaldo missed the first penalty but scored the second, helping Real on the way to a 3-1 win.
According to Pete Jenson of the MailOnline, Gonzalez's match report notes that La Real's president Jokin Aperribay made his way down to the dressing rooms at half time and said to the official: "This is shameful. You have come here to rob us I will be filing a complaint to the police."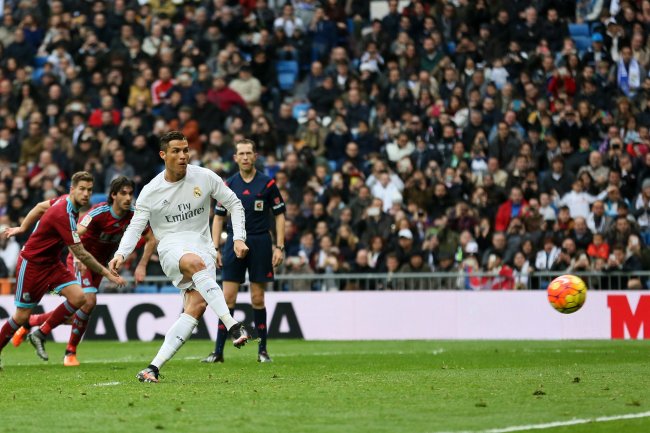 CESAR MANSO/Getty Images
To make matters worse for the visitors, who equalised in the second half via a spectacular goal from young winger Bruma, they had what looked a clear penalty denied themselves, when Pepe felled Jonathas in the box.
As Dermot Corrigan of ESPN FC noted, it was easy to see why the visitors were frustrated at half-time, although their manager Eusebio Sacristan chose not to blame the officials afterwards:
Canales been replaced by Ruben Pardo. Two players stretchered off and two debatable penalties given against them in first 45 at Bernabeu.

— Dermot Corrigan (@dermotmcorrigan) December 30, 2015
Real Soc coach Eusebio asked about ref / penalties "When we win it's down to us. When not, also down to us. Today things went against us."

— Dermot Corrigan (@dermotmcorrigan) December 30, 2015
It's the second time in as many home games that Real Madrid been deemed to be on the end of fortunate refereeing decisions. Indeed, after going down to nine men early on and losing the match 10-2 at the Santiago Bernabeu earlier this month, Rayo Vallecano boss Paco Jemez claimed the officiating brought "shame on Spanish football," per Jenson.
CURTO DE LA TORRE/Getty Images
Given their reputation as one of the biggest teams in world football, it's often been common consensus amongst football fans that Real, in the main, benefit from officiating more than most.
Indeed, the same is regularly said for Barcelona too, and they were also on the right end of a peculiar refereeing decision later on in the day when they played Real Betis; Lionel Messi was judged to have been fouled in the area and penalty was awarded.

Bleacher Report's Gianni Verschueren was far from happy with the awarding of penalties in both of the games involving the La Liga giants:
Everything I said about Real Madrid earlier applies to that Barcelona penalty decision as well. La Liga is becoming a parody

— Gianni Verschueren (@ReverschPass) December 30, 2015
However, Spanish football expert Rafael Hernandez doesn't feel as though the incident involving Barcelona compares to the aforementioned controversies involving Los Blancos:
Hilarious that some people are trying to compare the Rayo/Real Sociedad matches with a wrong penalty vs Bétis.

— Rafael Hernández (@RafaelH117) December 30, 2015
Refereeing is always a hot topic in Spanish football, with fans of both Real and Barca often decrying what they perceive to be bias against their team in favour of the other.
However, the officials have been under extra scrutiny of late after an unnamed linesman told L'Esportiu (h/t Sid Lowe of the Guardian) he had been asked to favour Los Blancos over the Blaugrana in last month's Clasico showdown, which Barca eventually won 4-0. It was an allegation labelled "far-fetched" by the La Liga president, Javier Tebas.