RK reviews: The End of Baseball and Safe at Home
September 21, 2009
I don't often read baseball fiction these days. I find them too hit-or-miss, pardon the metaphor. One problem is that authors often employ too much exposition, as if their readership knows nothing about the game. Those who do know a fair deal about how baseball is played or its history, might find this boring and even insulting. Still, this is one person's opinion. Fiction is so subjective, which is another reason I dislike commenting negatively about the hard work of these writers, who obviously have a love for the game and the craft, otherwise they would have picked another topic. So kudos to them all for seeing their dreams through. The only thing I would strongly suggest, especially for those who self-publish: have someone look over the manuscript, or at least use spell-check. Nothing says "amateur" more than tons of typos (speaking as one who's been guilty of that sin).
Having said all that, there are two titles from 2008 that do justice to its shared theme of African-Americans in the national pastime, a subject which is not told very often, other than in juvenile literature and/or books about Jackie Robinson.
Peter Schilling Jr. goes the pro route in The End of Baseball, a theory held by those in the game's hierarchy when it came to the color line: allow black players in, and that's the end of baseball as we know it.
The author poses a "what-if" scenario, allowing Bill Veeck to stock a team full of Negro Leaguers in the period immediately after World War II. He weaves real-life athletes and personnel such as Veeck, Kenesaw Mountain Landis, Branch Rickey, Satchel Paige, Josh Gibson, Roy Campanella, and many others in this against-all-odds story that may or may not come to the desired conclusion.
Schilling– who hosts the wonderful Mudville Magazine website — has a good eye for research and detail in this predictably sad and often shocking novel, which, at times, pounds the points home a bit overmuch: the degradations of finding suitable accommodations and places to eat; the seething hatred of opposing players and baseball's administration; and the empathy of the far-seeing "maverick owner" trying to accomplish more than just keeping a faltering team afloat.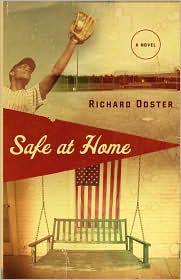 Safe at Home, by Richard Doster, picks up the game in small-town America, specifically the minors in the southwest in the early 1950s, as one team, faced with dwindling attendance and in dire straits, must decide whether to make an ultimate gamble and add a Negro to its roster.
This one is a little more cliched, using an enterprising and upright journalist as the voice of reason, urging others to rethink generations-held beliefs and do the right thing against the odds (again. One can easily picture this as a feature film, prehaps aimed at teaching tolerance to a younger audience. Think The Express) as a talented, shy player battles to win the respect of teammates and fans who were brought up with the belief that the races should not mix. To borrow from Schilling's book, to do otherwise would mean "the end of baseball" and other slices of long-held customs.