What to Look for During the Bears at Seahawks Game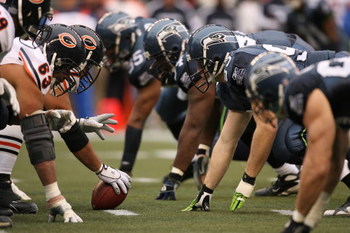 The last time these two teams met was back in 2007 where the Chicago Bears lost 30-23. Matt Hasselbeck torched the Bears for 337 yards and 2 touchdowns. He also had a career high 30 completions. Fortunately for the Bears this time they get to face an average quarterback in Seneca Wallace who is more known for his running than his passing ability.
No Matt Hasselbeck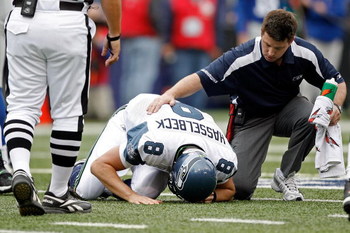 You never like to see anybody get hurt ever, especially someone like Matt Hasselbeck. Fortunately for the Bears, the injury couldn't have happened at a better time. Instead of seeing Hasselbeck throwing all over the defense this time around, Seneca Wallace comes in and has to try to do a good enough job to win. The Bears will be trying to get after Seneca all game trying to keep him in the pocket, because with his running ability, he is more deadly running than throwing.
Poor Run Game vs. Poor Run Defense...Who Wins?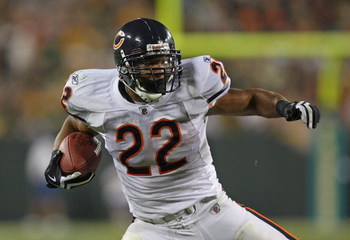 ESPN analyst Jeff Dickerson brought up this great tid-bit about the game this Sunday.
Something has to give this week; the Bears are 31st in run offense (64.5) and Seattle is 26th in run defense (166.5) -- thank you 49ers running back Frank Gore.
The Bears will look like the team from last year running the ball and gain over 100 yards, but that isn't saying much against this Seahawks defense that also has been getting hit by the injury bug, here's the list:
CB Josh Wilson- High Ankle Sprain
LB Lofa Tatupu- Hamstring Injury
If either one can't start Sunday, that is two huge holes in that defense. Even if Lofa can play, he won't be 100%. Look for 2nd year linebacker David Hawthorne to see more action than Lofa.
Quick Note: David Hawthorne and Ricky Manning Jr. of the Bears played high school football together at Corsicana High School in Texas.
Jay Cutler is Showing Pro Bowl Form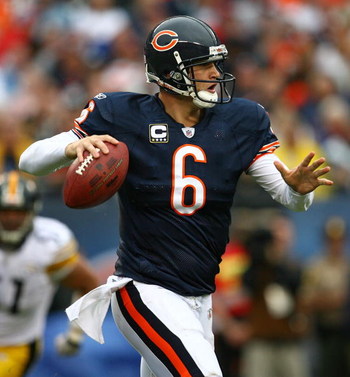 In the last 6 quarters, Jay Cutler has thrown for 386 yards, three touchdowns, one interception and has a completion percentage of 69.2. He showed that he could grow up and throw to the checkdown receiver instead of trying to making a play. Thanks to that mind set, the Bears had a chance last weekend to win the game, and they eventually did. This is what Bears fans expected from Cutler, it just took some getting used to his receivers.
Fear the 12th Man, Not This Guy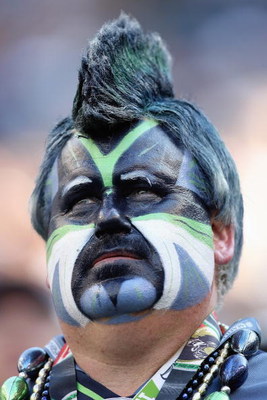 Qwest Field is known as one of the toughest road venues in the NFL. Since 2005, opposing teams have committed a league-high 82 false starts. That averages out to 2.49 per game.
Thank you ESPN and Jeff Dickerson for that tid-bit about the Seahawks stadium.
The Bears will need to be steady all game on the line, which shouldn't be that hard for all the veterans on the line. The Bears need to avoid 3rd and long to keep the crowd out of it, along with scoring early and often.
Fun Facts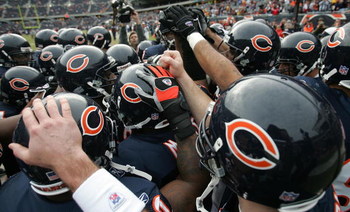 The following were some interesting facts I found out about past games.
In the game in 2007, can you name the two Bears defenders who recorded a sack?Yes, Adam Archuleta and Darwin Walker actually got to the quarterback that afternoon. One of their few highlights during that poor 7-9 campaign.
For all the Robbie Gould doubters out there, the Bears' place-kicker is 20-of-21 (.952) in the last two minutes or in overtime. Not only is Gould extremely accurate (86.3 percent for his lifetime), he's also clutch when we really needed him to be. After watching Jeff Reed miss two late field goals last week, aren't you glad Gould is on the Bears?
Finally, Cedric Benson scored on a 43-yard run on his first carry in that loss to the Seahawks in 2007. Benson had 65 yards on his first three touches on that wonderful day. Benson was so happy in the postgame locker room that nobody had the heart to tell him the Bears lost.
My Prediction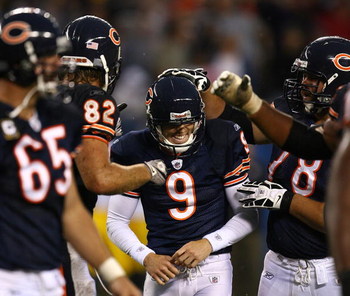 I believe this game will be ugly for the Seahawks who wont get anything started on offense. The Bears will play hard on defense, and the run game will finally get going. Jaty Cutler will play the game like he did against the Steelers.
Bears 24 Seahawks 13
Keep Reading

Chicago Bears: Like this team?