Handicapping The Big 12 North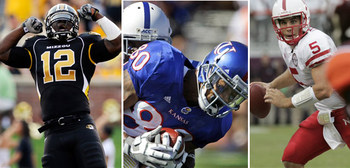 For years now, the power that lies within the Big 12 has often resided in the South.
Traditionally, a host of North Division pretenders has dueled it out atop a perch of mediocrity, only to await an annual slaughter in the championship game on behalf of Oklahoma or Texas.
Nebraska ruled the North division during the conference's infancy days of 1996-'97.
Then came the reign of Bill Snyder and his turn-of-the-century Kansas State Wildcats.
A few years later, Colorado captured the limelight, nabbing four division titles in five seasons.
Now, it appears that the stranglehold belongs to Missouri, winner of the last two Big 12 North crowns.
Even Kansas has joined the parade with its co-ownership of the 2007 title.
But 2009 is shaping up to be one of the more interesting toss-ups the division has ever seen. As many as three or four teams have a legitimate shot to earn the right to play for the conference championship in December, but the logjam that is sure to emerge at the top of the Big 12 North come season's end is not due to a group of overwhelming world-beaters.
Instead, the parity that defines the division is the direct result of the fact that no one team is better than all the others.
Kansas and Nebraska, everyone's preseason favorites, have each shown vulnerabilities, and Missouri's youth and inexperience are just two roadblocks lining the Tigers' pursuit of another title.
Meanwhile, teams like Colorado, Kansas State, and Iowa State appear mired in the cellar, but that's not to say they don't have the firepower to knock any one of the divisional favorites off its course.
Given the wide-open nature of the Big 12 North, it would only be customary to gives reasons as to why each team will come out on top. But what fun would that be?
Rather, I'd prefer to examine why each of the six teams in the division won't be good enough to get their rear ends kicked by Oklahoma or Texas.
(Note: To avoid angry comments implying I'm some sort of idiot, I have decided to list teams alphabetically, not in predicted order in terms of standing within the division at season's end.)
Photos: Associated Press
Colorado Buffaloes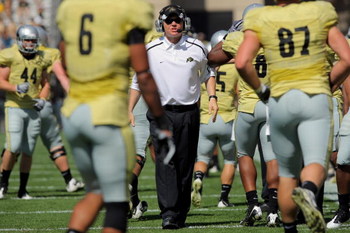 If I wanted to be an ass, I'd say that the Buffs don't deserve to win the North simply because of those hideous uniforms they wore against Wyoming.
But since I like being more objective, I'll let the numbers do the talking.
At 26.3 points per game, Colorado is a woeful 70th in the nation in scoring average, and they haven't exactly gone against any defenses that resemble the '85 Bears.
Colorado's anemic offense is led by junior quarterback Cody Hawkins, who, despite throwing for 251 yards per game, is completing less than 55 percent of his passes and has thrown one less interception (four) than he has touchdowns.
Even worse, though, is the fact the Buffs aren't excelling at their bread and butter. With Hawkins repeatedly under fire behind an offensive line that was being praised prior to the season, the running game has yet to find its footing to relieve the pressure.
Sporting a crowded backfield that includes the immensely talented Darrell Scott, Colorado hasn't bothered to name any one back the No. 1 guy. This has resulted in inconsistency and a disappointing 91.7 yards per game—good for 106th out of 120 FBS teams.
True, the Buffaloes' troubles have come against non-conference opponents, but numerous issues must be worked out before traveling to Texas for the Big 12 opener on Oct. 10, including a defense that allows more than 400 yards per game.
And to think I didn't even mention head coach Dan Hawkins' impending visit to the unemployment line by season's end.
Iowa State Cyclones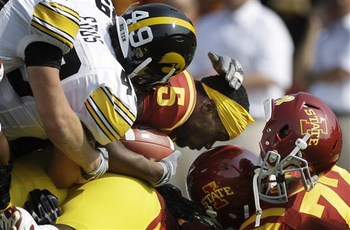 Having won only three games against Big 12 North opponents the last three seasons, Iowa State has done little thus far in 2009 to dispel the notion that new head coach Paul Rhodes will need more than a little time to turn the moribund program around.
Though 2-1, Iowa State looked downright overmatched when pitted against its only worthwhile opponent, losing 35-3 at home to Iowa in front of one of the largest crowds in school history.
To put it plainly, the Cyclones do not have the talent as of yet to make a run for the Big 12 North.
There's no question Rhodes will ultimately bring the program credibility, and his team will always compete, but the offense doesn't have much of an identity and the defense is bound to struggle mightily against some of the North's faster and more athletic teams.
Photo: Associated Press
Kansas Jayhawks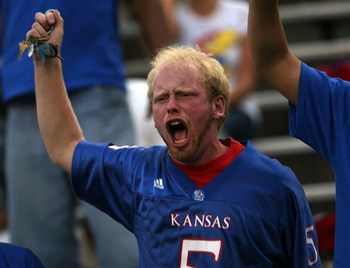 Despite the fact my alma mater (see my B/R bio) has required me to have somewhat of an in-depth knowledge of KU athletics, I will never have the slightest idea what the chant "Rock. Chalk. Jayhawk" implies.
All I know is that the Kansas faithful have had plenty of reason to recite their school's official war cry so far this season. In three games, the Jayhawks have outscored their opponents 127-26 en route to an unblemished start.
It's been a nice three-week tuneup for Kansas, but things are about to get a bit more trying.
Head coach Mark Mangino has built himself a nice foundation in Lawrence. The offense, led by the versatile Todd Reesing, is solid all over and should be proficient enough to avoid any significant lapses.
Defensively, Kansas seems to have adequately replaced all three of its departed linebackers, and the unit as a whole has performed admirably, allowing 8.7 points a game, which ranks second only to Oklahoma in the Big 12.
But that was against Northern Colorado, UTEP, and Duke.
There's no shortage of talent on the KU roster, and although much of it has yet to be severely tested in 2009, the remaining three-fourths of the schedule promises to do so.
We'll know soon enough what kind of team Mangino has, but it's hard to imagine Kansas emerging from the upcoming gauntlet without its lumps.
Following a tough draw against Southern Mississippi, the Jayhawks will get a minor breather in Big 12 play before gearing up for a brutal stretch to close out the season.
Save for a road date at Kansas State in early November, Kansas' final five games are against Oklahoma, Texas Tech, Texas, Nebraska, and Missouri.
Photo: Associated Press
Kansas State Wildcats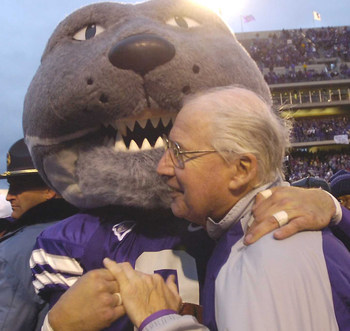 Where do I begin?
Poor Bill Snyder, in the inaugural season of his second go-around in Manhattan, faces the tiresome task of rebuilding the very program he so impressively built from the ground up during his first term—only to witness its destruction under his predecessor, Ron Prince.
When Prince was officially handed his walking papers after the 2008 season, he left behind a roster laden with youth and even more weighed down with some 30-plus junior college players, the latter of which being a tell-tale sign of poor recruiting.
Oddly enough, however, it was the same mixture of young players and juco transfers with which Snyder resurrected the program some 15 years ago.
But these are not the same Snyder-led Wildcats of the late 90s.
Outside of senior receiver/return man Brandon Banks, the offense is largely void of playmakers, although the recent emergence of running back Daniel Thomas has helped.
And though the defense has been suspect, its problems have been overshadowed by pathetic special teams play, which nearly wiped out a season-opening win against Massachusetts and didn't exactly help KSU's cause in a two-point loss to Louisiana-Lafayette.
Like Paul Rhodes at Iowa State, Snyder has been handed a terrible situation that will eventually be rectified, but asking for immediate results is asking too much.
The best the Wildcats can do when it comes to winning the 2009 Big 12 North title is spoiling the party for those teams that have a legitimate chance of doing it.
Photo: Topeka Capital-Journal
Missouri Tigers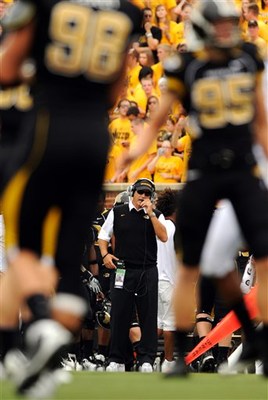 As they embark on a journey they hope will end in their third consecutive North title, the Missouri Tigers will do so with factors working against them and in their favor.
On one hand, history suggests a three-peat isn't all that rare.
Winning the North title outright in 1998, Kansas State claimed co-ownership with Nebraska the following two seasons to complete its trifecta. The Cornhuskers then finished off its own three-year sweep by piggybacking with Colorado en route to a partial claim of the 2001 crown.
On the other hand, though, some suggest this Tigers team is simply not good enough to be etched in the history books—not without the Chase Daniels, Jeremy Maclins, and Chase Coffmans that were mainly responsible for the program arriving at this point.
And they very well may be right.
Undergoing one of the most drastic overhauls in the country after last season, the 2009 MU roster is a list of unknowns and appears to be more of a who's who than a collection of talent primed to make a run for a division title.
Of the 58 players that comprise the Tigers' current depth chart, 37 are either sophomores or freshmen. To put that into perspective, only 24 of those 58 players were part of the program when Missouri won the first of its back-to-back titles in 2007.
Yikes.
Head coach Gary Pinkel has done a yeoman's job hitting up the recruiting trail and stockpiling talent like quarterback Blaine Gabbert, but it may take a while for that talent to grow up to championship stature.
And though the youthful Tigers have begun the season 3-0, it remains to be seen how they'll handle the rigors of conference play, especially away from home.
Photo: Columbia Daily Tribune
Nebraska Cornhuskers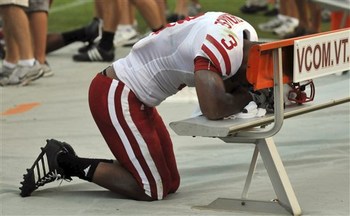 I give head coach Bo Pelini credit, but one nine-win season won't restore 100 percent of the luster that was thoroughly tarnished by the previous regime.
Neither will home wins over Florida Atlantic and Arkansas State to begin the 2009 season.
A sexy preseason pick to win the North this season in its quest to return to national dominance, Nebraska played about as well as could have been expected in its first true test at Virginia Tech last weekend.
That is, for about 58 minutes and 35 seconds.
Rather than sending a message to the rest of the Big 12 North with a road win over the No. 13 Hokies, Nebraska exposed a number of ways in which they could be toppled.
With Roy Helu Jr., the traditionally vaunted Husker running game appears once again to be a main focus, but unless quarterback Zac Lee can even the offense out with his arm, opposing defenses will be salivating over Nebraska's predictability.
Perhaps I'm being too hard on Lee. After all, there doesn't appear to much going on in the receiving corps. No Nebraska receiver has caught more than 10 passes this season, and the unit was invisible against Virginia Tech, when the offense mustered all of one yard in the first quarter.
Pelini and Co. certainly have a great chance of playing for a Big 12 championship, but how much of the preseason hype was contingent upon the so-called resurgence of the Blackshirt defense?
Prior to the game in Blacksburg, there were concerns about the defense's performance against FAU and Arkansas State. The unit seemed to tighten last week, allowing only 278 total yards, but the Hokies converted more than 40 percent of their downs to keep the chains moving.
And exactly how Blackshirt-ish is a defense that allows a wide receiver to roam freely along the sideline and behind the defense in the final 90 seconds of a five-point game?
Keep Reading