NHL's 10 Best Shootout Artists (with Videos)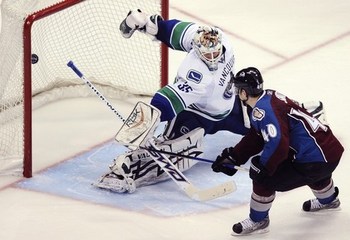 The shootout was instituted in the NHL at the start of the 2005-06 season. Over the years it has taken on a mind of it's own, and in a way has become hockey art, even though it has nothing to do with the actual game of hockey.
The shootout is one of those things fans either love or hate. However, I think it's impossible to hate great shootout goals or attempts, because at the end of the day we all want to be entertained.
Now that is out of the way, I can talk about my 10 favorite shootout artists. This ranking list is not based on players with the best shootout stats, although that plays a part. It's more about my opinion of the best shootout artists in the NHL today.
Martin St. Louis (Tampa Bay Lightning)
Martin isn't that successful in shootouts, but he tries some of the most innovative moves. His signature move is his skating backward backhanded shot. From what I know he has only made this shot once, but I have seen him attempt it a few times. The video of him making this shot is below.
Shootout stats: 5 for 21 (23.81%)
Daniel Briere (Philadelphia Flyers)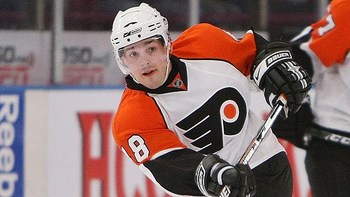 Daniel Briere possesses one of the most lethal backhand shots in the league. In his classic signature move he uses this shot after a quick deke move to his opposite side. What makes this move look so cool is how calm he is when he doing it.
Shootout stats: 13 for 28 (46.43%)
Zach Parise (New Jersey Devils)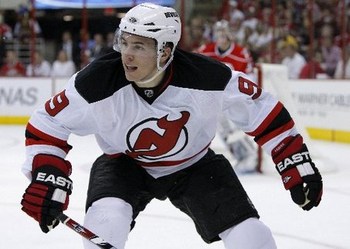 Zach is one of the top statistical shootout artists in the NHL. His signature move is his opposite side backhand roof shot. When Zach gets the shot to where he wants it to go, it's virtually impossible for a goalie to stop because of how awkward and quick of a shot it is.
Shootout stats: 16 for 36 (44.44%)
Ryan Getzlaf (Anaheim Ducks)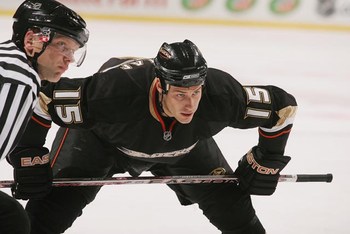 Ryan is one of the smoothest players in the shootouts. He has a bag of tricks, but his best move is his fake stop and go snipe shot, similar in a way to Pavel Datsyuk's move you will see later on. Ryan doesn't attempt this move too often, but it's always a thing of beauty when he does.
Shootout stats: 12 for 35 (34.29%)
Ales Hemsky (Edmonton Oilers)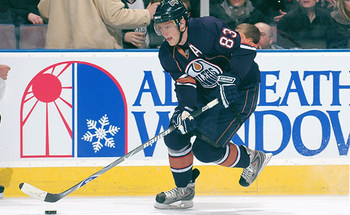 Ales Hemsky is one those guys that sometimes tries too much, but he is always a treat to watch in shootouts. He likes to deke a lot and show off his incredible puck handling skills.
He also has a very underrated shot as you can see in the video below. When all his skills work together, he is virtually unstoppable in the shootout.
Shootout stats: 14 for 42 (33.33%)
Patrick Kane Chicago Blackhawks)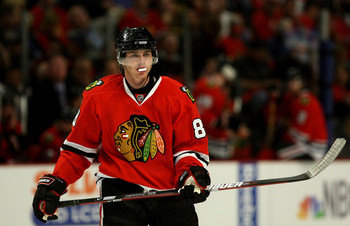 Patrick Kane is one of the top up and coming players in the shootout. His signature move is the double deke. Sam Gagner of the Edmonton Oilers is also known to do this move. It's one of the hardest attempts to stop for goaltenders because of the speed and shiftiness of the skater.
Shootout stats: 10 for 18 (55.56%)
Anze Kopitar (Los Angeles Kings)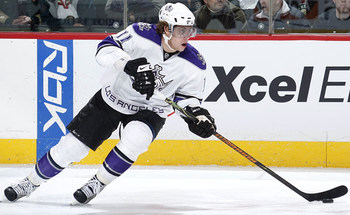 Anze is considered to be among the trickiest and most skilled shootout artists in the NHL. I don't think he has a signature move, but he does the Jussi Jokinen shootout move even better than he did it in my opinion. Check it out below.
Shootout stats: 10 for 24 (41.67%)
Wojtek Wolski (Colorado Avalanche)
Wojtek has the best shootout percentage among players with more than 10 attempts. His signature move is one of the strangest, yet most effective pieces of art I have ever seen.
He stops on a dime nearly past the breaking point of being able to turn, then goes the other way to the surprise of a wide open net. The only way to stop this move is to not move or have a great poke check.
Shootout stats: 17 for 26 (65.38%)
Pavel Datsyuk (Detroit Red Wings)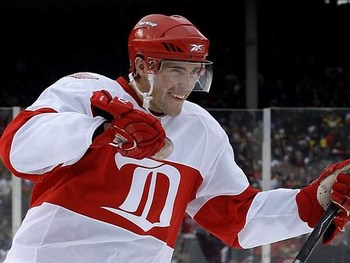 If I remember right, Pavel Datsyuk was voted by random goaltenders as the player they would least like to face in a shootout. His signature move embarrasses goaltenders more than any other move that I have ever seen. You will see what I mean in the video below.
Shootout stats: 17 for 36 (47.22)
Mike Ribeiro (Dallas Stars)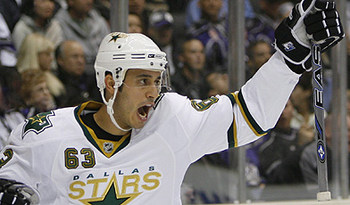 Mike turned heads last season as one of the most daring shootout artists in the NHL He doesn't have a signature move, but he has some of the coolest moves you will ever see.
He rarely attempts the same move twice because they are so over the edge they would almost never work again.
Shootout stats: 12 for 26 (46.15%)
Keep Reading