College Football Week Three: Contenders and Pretenders Revealed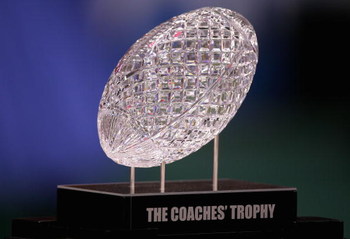 College football season is in full effect. You have had time to view your team, determine its strengths and weaknesses, dissect your opponents and rivals, and watch the season unfold as teams begin to get into conference play and make their cases for the National Championship game in Pasadena.
This week brought some major changes and upsets. Teams are beginning to show themselves and what they are capable of, so as you view this slideshow, be true to yourself, put down your bias and team colors, and ask yourself, are these teams "Contenders or Pretenders?"
Returning National Champs: Florida Gators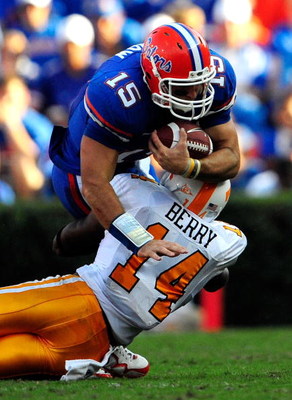 Florida and Tim Tebow came out of a game that many had the Gators winning by 30-plus This is always a notable game in college football every year, this year in particular due to comments made by Lane Kiffin during his introduction speech.
This rivalry has proved that ranking and win-loss records can be disregarded. Although Florida has dominated this rivalry as of late (have not lost since 2004) the series lead in this storied battle belongs to the Gators by just one win, 20-19.
As I said, this game was closer than most anticipated, and without the defensive ability of Monte Kiffin, this game could have been completely lopsided.
The Gators made the plays when they needed to and showed that while we all know that Tebow and company can produce in the clutch, the Gator defense made Jonathan Crompton and the Volunteers offense look uneasy and showed how far the Vols will need to improve before they can begin to compete.
Once again, Florida proved why they are holding the No. 1 spot.
Florida: Contender
University of Texas Longorns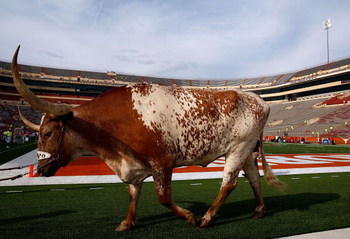 The Texas Longhorns were out for revenge against the visiting Red Raiders from Lubbock Saturday night. I am sure every UT fan at Memorial Stadium was out to see the Red Raiders annihilated due to what happened last year in Lubbock.
Texas Tech is continuing the tradition of QBs under Mike Leach posting impressive numbers. Taylor Potts threw for over 400 yards and three TDs in a losing effort.
Mack Brown made second half adjustments, and Colt McCoy came out to make sure there was not going to be any reason the Longhorns would lose the No. 2 spot. Texas continues to give their bid for a shot for the Rose Bowl.
Texas: Contender
University of Southern California Trojans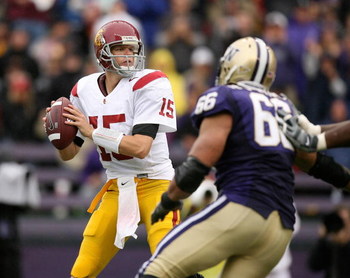 As I introduce this slide, understand that I am and have been a Trojan fan my whole life. This loss was especially hard, as the Men of Troy have been hearing all week how they could not and would not be able to overcome the stereotype of being able to win the "next game" to a lesser in-conference opponent after coming off a big win, or any win for that matter.
They did not help this argument Saturday night.
This year the Trojans are in a position they rarely have found themselves in during the Pete Carroll era: without a dominant starter at QB. While the Trojans do have impressive depth at the running back position, they could not find their rhythm, and Joe McKnight, who is often compared to Reggie Bush, once again had trouble holding on to the football with two fumbles lost.
Also, Matt Barkley, who the Trojan Nation is claiming to be the "chosen" one, was out due to a shoulder injury he received during the Ohio State game. Aaron Corp had his opportunity to shine but fell flat, and we can expect to see Barkley at the No. 1 spot next week if he can play.
The Trojans historically do well the rest of the season after the one loss that always keeps them on the outside of the BCS title game, but Carroll and his Trojans are going have to reevaluate this offense and hope they can find their game before they have a legitimate shot at another title run.
Trojans: **Cringing** Pretenders
Alabama Crimson Tide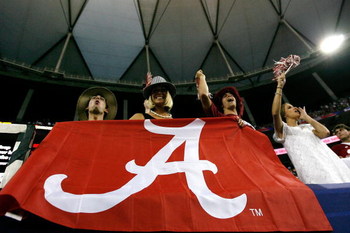 The Tide may be the dark horse this year. While most of the press is going to the Gators, USC, Michigan, Notre Dame, etc., the Crimson Tide are continuing to play well, and Nick Saban is positioning his boys to make a run in the SEC this year.
With a decent win in the season opener and a couple of cupcakes, the Tide look solid.
Saban and Greg McElroy should handle the Razorbacks this week in Tuscaloosa as well as Kentucky before they travel to Ole Miss and Heisman hopeful Jevan Snead. This is going to be a great game and the first game this year of two top fives.
If the Tide can roll and beat the Running Rebels, then handle LSU on Nov. 7, they will be in a spot to have a rematch with the reigning National Champs from Gainesville.
Crimson Tide: Contender
Penn State Nittany Lions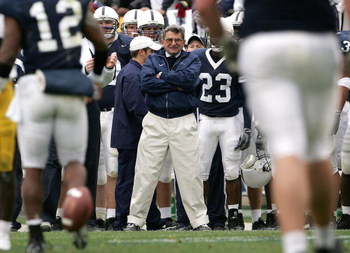 Penn State once again is putting up decent numbers on both sides of the ball this year and continuing to hold on to the No. 5 spot. So far only 20 points have been put on the Nittany Lions defense.
Daryll Clark will be the one that leads this team, and since there has been a bit of resurgence in their recruiting, they should be able to hold their own.
Joe Pa may live forever and continue to pace the sideline, but Penn State is going to have to do better than placing the entire second string offense in the game as they did against Syracuse and expect to be recognized for it.
With the exception of Michigan and Ohio State, their schedule is soft, and we may never know how good they are or aren't this year.
Penn State: Pretenders
California Golden Bears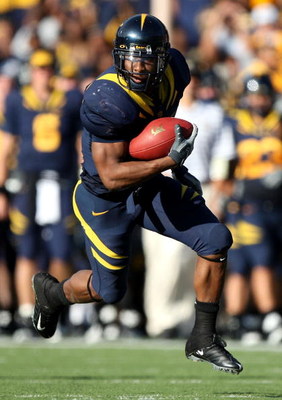 The Golden Bears continue to show why the Pac-10 is not a one-team conference. Cal is putting up impressive numbers on the offensive side of the ball, and Jahvid Best is making his case for the Heisman. Against the Golden Gophers he found the end zone five times.
Cal jumps two spots this week to No. 6, and with the Trojans losing this weekend, there is going to be even more pressure on the Golden Bears when the Trojans show up in two weeks in Berkeley.
Cal may be able to control their own destiny with a win against the Trojans, but they need not overlook the Oregon Ducks this weekend, as this team is out to prove they belong.
Cal is the real deal this year, and with all eyes on them, we will see how they react.
California Golden Bears: Contender
LSU Tigers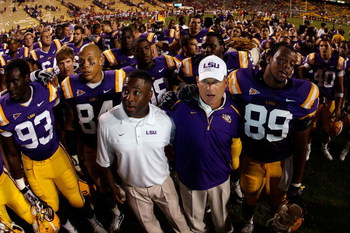 LSU is continuing to climb the AP poll as they jumped two spots this week. Les Miles is continuing to have success on the defensive side of the ball, and Jordan Jefferson is showing progress with the ball in his hands.
While there is a little more credibility to their schedule after the Washington Huskies upset USC this weekend, they still are yet to play any conference games or be tested.
They play Bulldogs two weeks in a row: LSU is at Mississippi State this weekend, where they open conference play, and then travel to Georgia the week after.
If they win the next two, it will position them for a showdown with the Gators on Oct. 10. If there is any advantage at all for the Tigers, the game will be at Tiger Stadium.
I believe the Tigers are a good team and will show they do belong, but after Florida they play Auburn and then travel to Tuscaloosa and Mississippi.
Maybe next year.
LSU Tigers: Pretender
Boise State Broncos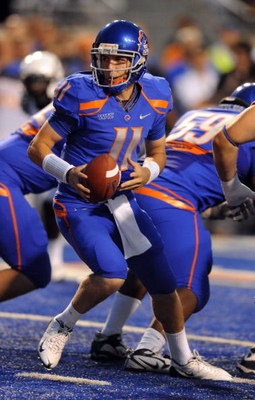 Boise State is being named the BCS buster this year, and with the Utah Utes and BYU going down last weekend, that may happen.
While they may be the trendy pick and have the blue grass, Boise State plays only one top 25 team this year. While it was a win against the Ducks, the only other team on their schedule that may give them a hard time is Tulsa.
Again, this is another team that if they do make it to a BCS bowl and play a legitimate contender, we may know or never know how good the Broncos really are.
Boise State: Pretender
University of Miami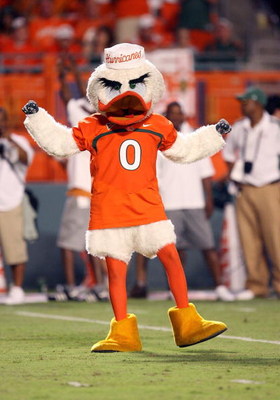 There is a lot of discussion and posting about the Hurricanes this year.
A LOT.
Randy Shannon has put two big wins on the board to begin, and with Jacory Harris leading this team, they appear to be on track to win their first ACC title.
Most of what we are reading is about the "Swagger" being back at The U. While I think they are good and should be able to put another "W" on the board as they travel to Blacksburg and visit the Hokies this weekend, I think it is a bit premature to give this team the "Swagger" tag.
This team is going to begin to compete again and does have a few more big games in front of them. Should they win out, this team may have a shot at the Roses.
Hurricanes: Contender
University of Oklahoma Sooners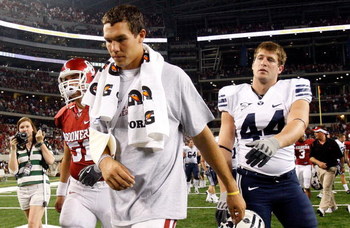 2009: The Oklahoma Sooners were being given the keys to Pasadena to face off against the Gators.
Sept. 5, OU vs. BYU: Sam Bradford is driven to the turf and sprains his throwing shoulder, and the BOOMER SOONER nation is silent. All of college football watches the returning Heisman QB be taken to the locker room.
While his return is uncertain, and the timetable is as well, the Sooners have not been scored on since the BYU game.
Without the star QB at the helm, it may be difficult for the Sooners to compete on the offensive side of the ball. DeMarco Murray is going to need to have a breakout year and live up to the hype he has been given.
I understand the Sooners and backup QB Landry Jones have pasted the last two teams they have faced, but let's be honest, Bradford is the key to the Sooners' National Championship hopes.
Once again the mental toughness of Bob Stoops is going to be tested, and he is going to need to rally this team and make them believe that they can continue to win without their Heisman star.
Oklahoma Sooners: With Bradford = Contender; Without Bradford = Pretender
Keep Reading