Raider Nation: Two Games Gone, Where We Stand?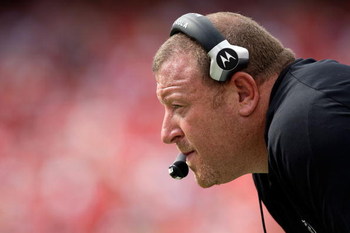 Lets be honest here, before the season even started, most Raider fans, hoped we could be 1-1 at this point of the season. We hoped that our team would show up and give the Chargers a decent game and that we wouldn't get blown out again like the last couple times. We hoped that the new look Chiefs would not defend their turf and beat us. Starting 0-2 was a lot more realistic than starting 2-0 when the season started. Now we face a 1-1 record and we host Denver next week. Lets take a look at where we stand as a team.
Jamarcus Russell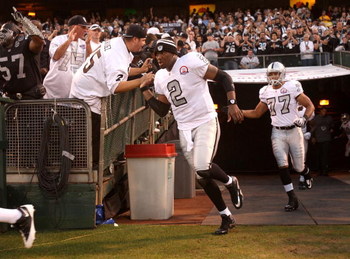 Jamarcus Russell has been a clutch Quarterback on his teams last drives. The last two games he has driven his team in the final minutes of the game to take the go ahead score. He has converted a 4th and 15 for a touchdown, and drove his team 69 yards in 9 plays in the final 2:38 of the game to score the go ahead touchdown. This sounds like a QB that is ready to lead his team to big things. Unfortunately, that clutch QB is only present for the last drive of the game. Russell has struggled greatly to start out the games. His numbers are scary. He is 19-54 with 1 TD and 2 INT's. His Jekyl and Hyde transformation needs to happen a little earlier in the game. Though his numbers aren't great, he is delivering when we need him to.
Running Game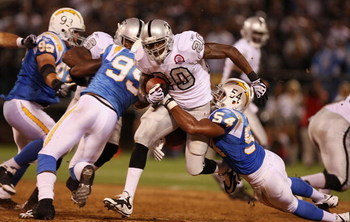 The running game looked good in the opener, and was no where to be found in Kansas City, until the final play of their go ahead drive when Darren Mcfadden took the ball into the endzone. Mcfadden and Michael Bush are sharing the carries and I believe this is the best thing for the Raiders. Bush and Mcfadden have each scored a touchdown. More points need to come from this duo if the Raiders are going to compete the rest of the way.
Wide Receivers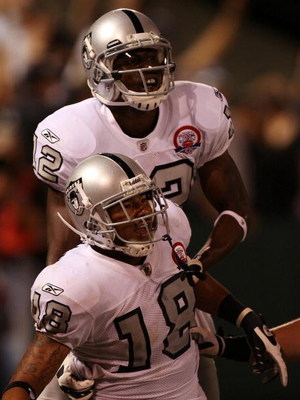 I was at the game on opening night and it reminded me of something. Raiders Fans are tired of losing and are very impatient. They don't care if we are starting two rookie receivers and expect them to be NFL Ready, we need production now. Let's remember these guys are rookies and Chaz Schillens is on the bench ready to come out. That said, Louis Murphy is a star in the making. The word "Polished" is thrown around when most people talk about his play. Well, anything that is polished usually shines and that is what Murphy will do this season. Heyward-Bey is lacking on his catches, but watch the film, and he is opening that field up for his other receivers. We need to see more from Heyward-Bey, but having Schillens back and Murphy's confidence rising, we should see better play from these guys. Schillens, Murphy and Heyward-Bey make one heck of a young receiving corp.
Offensive Line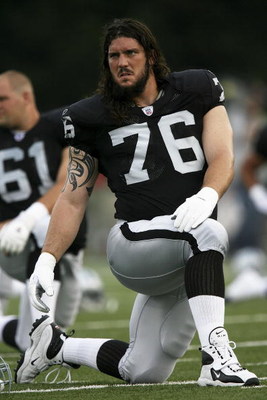 The Raiders got a bad break when Robert Gallery went down today with a broken leg. The line has been protecting Russell pretty good, opposing teams are having trouble getting to Russell very easily. Shawne Merriman was not mentioned on opening night. They need to open up the holes more for the running game, but I feel that this unit is much improved over last year.
Defensive Line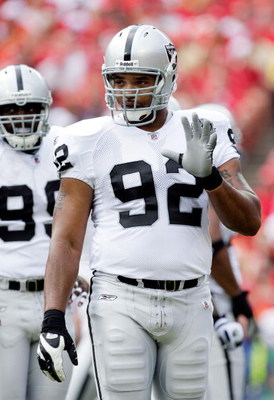 The Defensive line has been playing pretty well. Richard Seymour and Greg Ellis are bringing a swagger to the D. They have 5 sacks between the both of them. Tommy Kelly and Gerrard Warren seem to be playing harder. They need to step it up a level and this defensive will be a problem for teams throughout the season.
Linebackers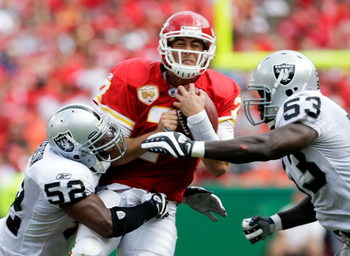 The linebackers are playing decent. I believe Thomas Howard, Ricky Brown and Kirk Morrison are going to be one heck of a unit, but this is the unit that is lacking the most. The line is playing at a higher level, we need these guys to step it up a notch. If these guys can raise their level of play, no team will be able to say that playing the Raiders is an easy victory. They need to stop the run and make tackles.
The Secondary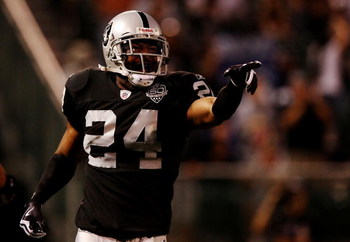 Let me be the first guy to take credit for saying, "I told you so." I've been saying that Michael Huff will be an impact and that his play has gotten better. So far he has 3 interceptions in two games, and his tackling and coverage has been great. If our Defensive Coordinator didn't play zone on that last drive of the Chargers game, we may have won. This secondary is one of the best in the league and will continue to make plays throughout the year.
The Team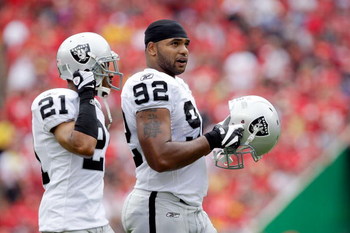 Next week is a big game for the Raiders. They host the Broncos. If they come out with a win they will have a 2-1 record. I don't remember the last time I was able to say that the Raiders have a winning record. It is an important game for the Raiders not only because it is a divisional game, but because they go on a two game road trip that takes them to Houston and New York to play the Giants, then they host the Eagles and the Jets. This schedule is brutal, if they can come out with a 4-4 record going into their bye week they will be in good shape. That is easier said than done.
Keep Reading

Oakland Raiders: Like this team?