The Big Ten Round-Up or Down? Week 3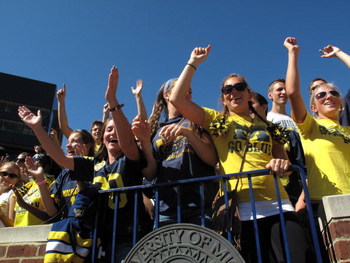 It's been a long last couple seasons for the Big Ten. And as a huge fan of the conference in general and a fan of 2 teams in the power 11, I have decided to start writing a recap of every week in the Big Ten giving all of you a summary of the games in the Big Ten from the past week.
Now I know most of you do not enjoy the Big Ten, nor do you think they deserve to even have a BCS bid (Can we please get rid of that notion, take away the Big East's bid), but every week I will be breaking down the 11 of the Big Ten and talking about the conference's view as a whole! Let's Begin!
(UP) #1 PENN STATE (3-0) W 31-6 vs. TEMPLE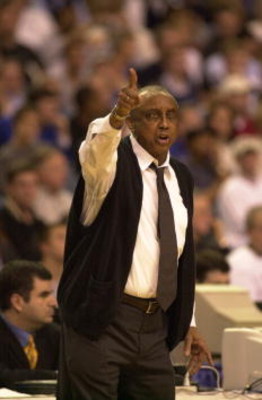 Seriously Penn State? That's the best you can do against the worst of the MAC (maybe even the nation?) Honestly, this is just a default spot for Penn State. They haven't done anything to earn this #1 spot, but just because Ohio State lost to USC and Iowa and Michigan really haven't made it up there yet, the Nittany Lions are number 1 but seriously Joe Pa? Akron? Syracuse? Now Temple? Stop eating up the cupcakes and schedule the big dogs. It was nice to see the running game starting to be established with Evan Royster, but PSU has a long way to go especially with Iowa coming to Happy Valley next week, which will be Penn State's first game of the year.
(WAY UP) #2 OHIO STATE (2-1) W 38-0 @ TOLEDO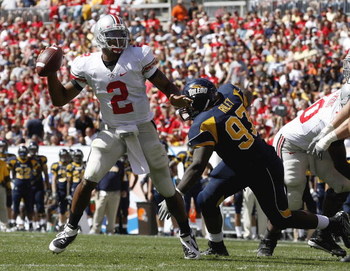 Many didn't think OSU would bounce back from that USC game in the way they did against Toledo, and I'll be the first to tell you I thought Toledo would make it a game against the Bucks. Now I know most of you don't believe Ohio State is the second best team in the conference after seeing them basically hand USC the game on a silver platter, but their performance against Toledo might seem like just alright, but that Rockets team was actually very good. Aaron Opelt had hung up 83 points in their first 2 games of the season, so for the Bucks to hold the Rockets to ZERO points was extremely impressive. Terrelle Pryor finally looked comfortable in the offense running and throwing downfield, so maybe that terrible offensive output against USC woke Tressel and his playbook up. The Buckeyes start up the conference season with a big game at home against the Flyin Illini.
(UP) #3 MICHIGAN (3-0) W 45-17 vs. EASTERN MICHIGAN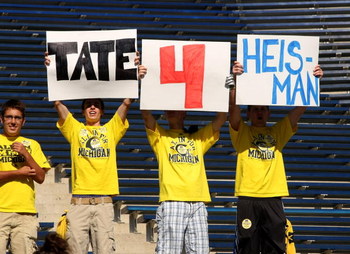 This one was actually closer than the score indicates but Michigan had control of this game from start to finish, even with the close scoreboard. The picture does call for Tate Forcier for Heisman, but Tater Force 5 still has some growing up to do and he is just a freshman. Michigan fans definitely have reason to be happy and excited for the future, that is for certain. Defense was pretty good against the Eagles and it was weird seeing Ron English on the opposite sideline in Michigan Stadium coaching EMU. Next week, it's a showdown of the unbeaten in the Big House as the Wolverines host IU, which can we say that IU is possibly the WORST 3-0 team in the country? Oh, that's coming up soon...
(WAY UP) #4 IOWA (3-0) W 27-17 vs. ARIZONA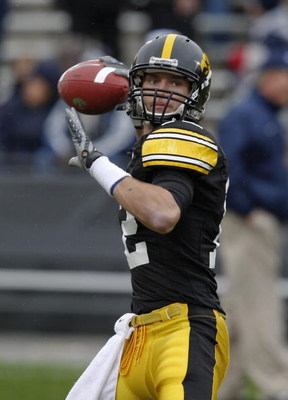 Kirk Ferentz might have FINALLY found a running back with the freshman Adam Robinson and finally found an offensive force. Ricky Stanzi still hasn't looked sensational after last season's stand up performances against Penn State and South Carolina, but that might be because of the loss of Shonn Greene behind him. Never the less, the Hawks are 3-0 but still that close victory at home against Northern Iowa, where they had to block 2 field goals late still sticks in the back of my mind. But let's not get sidetracked because this Arizona team is actually VERY good and VERY fast. Holding the Wildcat attack to just 253 yards was extremely impressive from this Iowa defense. This win against U of A is important because it gives the Hawkeyes confidence heading into Beaver Stadium against the Lions next week.
(HOVERING) #5 MINNESOTA (2-1) L 21-35 vs. #8 CAL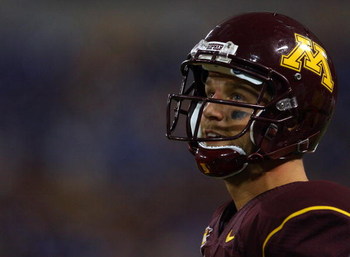 Minnesota was definitely BESTED by Jahvid Best and his 5 rushing TD's, but there's no reason to be down in Gopher Land after that defeat to Cal. Minnesota hung with one of the best teams in the country and also showed that they really need to get their running game established. DeLeon Eskridge had such a great season last year, but this season he has yet to really break out. Eric Decker is one of the best receivers that you've never heard of and the defense has to start tackling better at the point of attack. Never the less, Minnesota right now is the 5th best team in the Big Ten. They will look to exact some revenge next week @ Northwestern after the Cats upset the Gophers on a last second INT return for a TD in 2008.
(UP) #6 WISCONSIN (3-0) W 44-14 vs. WOFFORD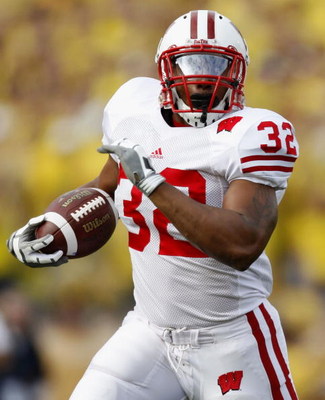 The 2-headed attack of Zach Brown and John Clay are proving to be quite the power that is needed in the Badger backfield. The Badgers still have a long way to go on offense and QB Scott Tolzien needed a game like this to get his confidence up, but what I am still concerned about this team is the defense. O'Brien Schofield and Jay Valai are 2 All-Big Ten defenders yet they haven't made their mark on D too much this season from what I have seen. The Badgers are extremely fortunate to be undefeated after their games against Northern Illinois and Fresno State, but those 2 victories are starting to look better and better with NIU's win at Purdue and Fresno's close game with Boise State. The Badgers start up conference play next week with Big Ten rival Michigan State at home, which should be a great start-up game for the Badgers in Camp Randall.
(DOWN) #7 MICHIGAN STATE (1-2) L 30-33 @ NOTRE DAME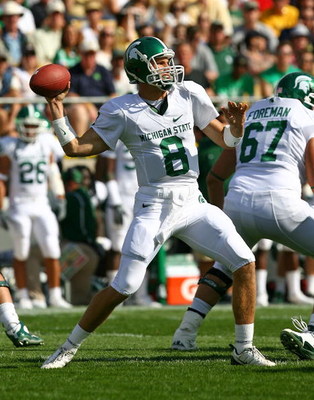 This is a Michigan State team that you have to stray away from the record and look at how close this team as played with some of the better teams in the country. Now, I am not saying Central Michigan is one of the best teams in the country, I am just saying they are alright. Michigan State is probably just a couple seconds away from being undefeated if it wasn't for giving games to the Chips and Irish in the waning seconds. Cousins had a chance to put Michigan State back on the winning ways if it wasn't for overthrowing a wide open receiver in the end zone under 2 minutes to go. He'll learn not to force those passes in the final moments of a close contest, but MSU is on tilt right now after losing close again, this time to their rivals from South Bend. Mark Dell finally had a breakout game for the Spartans, but his drop tendencies are still there, but a big game for him will definitely help his confidence. There's no rest for the weary as Sparty travels to Camp Randall in a showdown with the Badgers.
(NO CHANGE) #8 ILLINOIS (1-1) BYE WEEK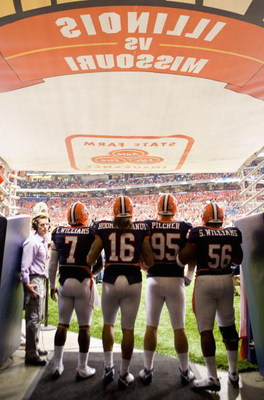 They are extremely low on this list partially because they didn't play this week and that loss to Missouri is still ringing in my mind. Getting blown out by your rival on a neutral field like that with lofty expectations to start the season is unacceptable for a team like Illinois. There were some prognosticators that had Illinois WINNING the Big Ten this season, and some ESPN.com writers even went so far as to putting the Illini in their preseason Top 25! Well, that crashed down to earth real quick but the Illini have got to get Juice Williams into a rhythm coming up in Columbus, where Illinois fans would like to relive their monumental upset from 2 years ago. Can they do it? If they have the same game plan like they ran with in '07, there's no doubt that they can upset the Buckeyes but Juice has to play well and manage the game. The loss of Martez Wilson at linebacker really hurts this team, so that's something to keep an eye on for the Zookers.
(UP) #9 INDIANA (3-0) W 38-21 @ AKRON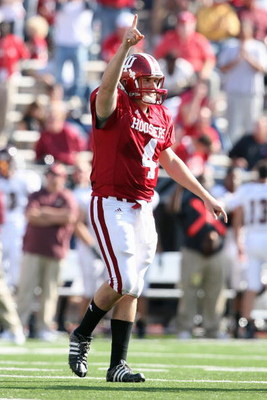 I've got to give the Hoosiers credit, I thought for sure they would lose @ Akron since the Zips had a ton of momentum and hype opening up their new stadium in front of a record crowd, but IU held their ground and actually played a pretty good game on the road against a middle of the road MAC team. Ben Chappell played pretty well on the road and I still think Darius Willis, the product of Franklin Central HS in Indianapolis, is going to be a special player for the Hoosiers not this year but the next 2 seasons. The defense was what impressed me about the Hoosiers, holding Akron to under 300 yards of offense and keeping the Zips aerial attack grounded. Next week though, if IU really wants to show that they are a legitimate team, they must go into Michigan Stadium and beat the Wolverines. Easier said than done. Before I end this section, I will have to say that INDIANA UNIVERSITY HAS THE WORST 3-0 TEAM IN COLLEGE FOOTBALL. Eastern Kentucky, Western Michigan, and Akron? Stop eating up the MAC and play some real competition.
(DOWN) #10 NORTHWESTERN (2-1) L 34-37 @ SYRACUSE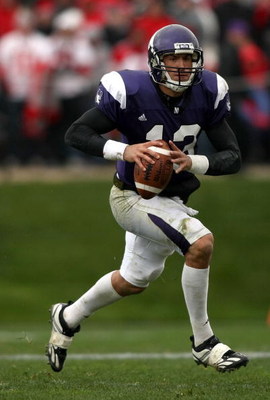 Syracuse was on the verge of upsetting a Big Ten team, and finally they come through with a late field goal to knock off the Wildcats. Mike Kafka did his part to combat the terrible defensive play with 390 yards passing and 3 TD's, but giving up 346 yards passing to GREG PAULUS of all quarterbacks is unacceptable. Coach Pat Fitzgerald was saying he was not feeling great about going into the Carrier Dome to play a Syracuse team that had faced off with 2 other Big Ten teams the first 2 weeks before, and the Orange finally came through in a big way. The Cats don't have a bad team this year, and the offense and defense are basically reversing their performances since we thought this D would be MUCH better with the losses on offense, but that hasn't been the case. Next week the Cats have a chance to bounce back against Minnesota in an important conference showdown at Kyle Field.
(WAY DOWN) #11 PURDUE (1-2) L 21-28 vs. NORTHERN ILLINOIS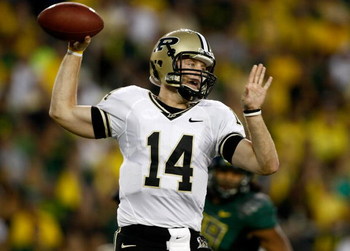 As a Purdue fan, it pains me to put the Boilers on the bottom of this list but that is EXACTLY where they belong. Now Northern Illinois certainly isn't a push over what so ever, but that performance by the offense was pitiful. After putting up 36 points in their 2 point defeat to the Ducks last week, their offense scored just 14 points? Ridiculous. Time of possession is where the game tells the story as NIU had the ball for 42 minutes while the Boilers managed just 18 minutes of possession time. I don't care who you are, you can't have your defense try and save you being out there for more than 2/3 of the contest. This Purdue team isn't out of it though. They had a lot of good things going for them after beating Toledo and staying close with Oregon, so they can definitely look to that for next week's showdown against in-state rival Notre Dame, but Danny Hope has to push these guys in practice this week and try to motivate them to show some passion in next week's night game at home against the Irish.
BIG TEN CONFERENCE: DOWN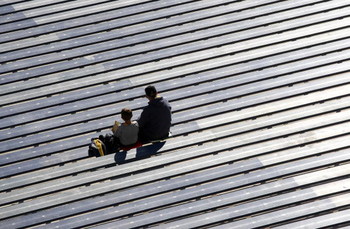 The Big Ten had a BIG chance to score some wins against top competition, but once again failed to do it this week. Minnesota had a great chance to upset the Golden Bears, but they couldn't stop Minnesota. Iowa definitely looked good against a much better Arizona team, but the losses of Michigan State, Northwestern, and PURDUE losing to NIU put a damper on the weekend for the Big Ten. There were some teams that definitely took advantage of this weekend by bouncing back, but those that fell back hurt the conference once again.
Next week starts conference play and Boilermakers have a chance to make a statement at home against Notre Dame.
Until then, BIG LIFE. BIG STAGE. BIG TEN.
Keep Reading