Locker, Stock, and Barrel: Heisman Race Gets Hotter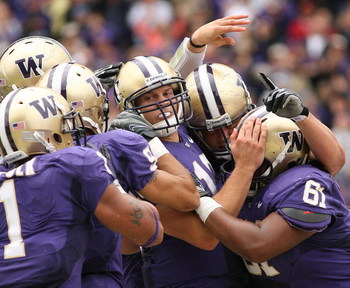 In a decade dominated by quarterbacks winning the Heisman Trophy, fans across America would love to see some parity among the Heisman candidates.
Not much has changed among the Heisman landscape, especially with previous Heisman Trophy winners Tim Tebow and Sam Bradford still attending classes at their respective universities.
Parity is good for the Heisman Trophy, but once again it will be challenged in 2009 by a plethora of quarterbacks.
After a stunning upset of the No. 3 USC Trojans, Washington QB Jake Locker has officially thrown his hat into the mix for the Heisman Trophy, a week after Houston QB Case Keenum led his Houston Cougars to an exciting upset over then-ranked No. 5 Oklahoma State.
This is the first of a weekly series covering the top 12 Heisman Trophy candidates.
As we progress through the season, this list will change, players may come and go, but the respect that comes with being mentioned among all of those that have won the Heisman Trophy will never be forgotten.
Finally, there will be some names of those that didn't quite make the cut this week and they include but are not limited to QB Terrelle Pryor (Ohio State), QB Jevan Snead (Ole Miss), and RB Jacquizz Rodgers (Oregon State).
12 - QB Daryll Clark (Penn State)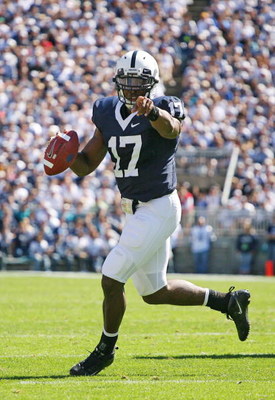 Stats: 3 G, 65/97, 760 yards, 61.2%, 8 TD/3 INT
Penn State Record: 3-0 (next: Iowa)
Daryll Clark has regressed over his last two outings versus Syracuse and Temple, sliding him down in the Heisman Trophy standings.
Despite leading the Nittany Lions to a 3-0 start, many pundits are curious if he can find success passing, with his new group of wide receivers, against stronger defenses.
The protection from his offensive line was inadequate as of late, causing Clark to become erratic with some of his throws.
Still, with somewhat of a soft schedule ahead, Clark will be able to emancipate himself from the mediocrity that has enveloped him in his last two starts.
11 - QB Tate Forcier (Michigan)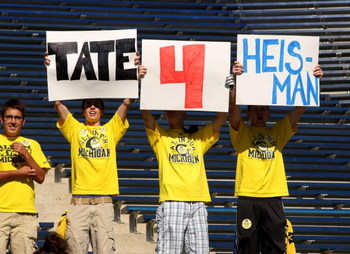 Stats: 3 G, 43/66, 487 yards, 60.9%, 5 TD/1 INT, 112 rushing yards, 1 rushing TD
Michigan Record: 3-0 (next: Indiana)
Ann Arbor is abuzz thanks to true freshman QB Tate Forcier. Michigan head coach Rich Rodriguez has found the answer to his offensive woes in just one year with the scrawny, scrambling native of San Diego, Calif.
Thanks to Forcier's playmaking ability, Michigan is 3-0 and primed to be undefeated when they face off with Penn State on October 24.
His agility and awareness was a factor in Michigan's upset victory over Notre Dame last week.
Head coach Rodriguez somewhat limited Forcier in their thumping of Eastern Michigan this past weekend.
Tate Forcier is quickly becoming a recognizable face among a national audience and to think, he was dancing at his senior prom just months ago.
If Michigan can turn things around quickly, they will be primed due in part to Forcier's leadership to win big things in the near future.
10 - WR Eric Decker (Minnesota)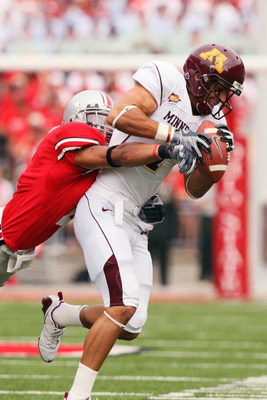 Stats: 3 G, 27/415/2, 15.3 yards per reception
Minnesota Record: 2-1 (next: at Northwestern)
Class was in session for Cal's All-American CB Syd'Quan Thompson this past Saturday as Minnesota WR Eric Decker torched the Golden Bears secondary for 8 catches, 119 yards, and 2 touchdowns.
While doing that, Decker grabbed his 199th career reception, a school record.
Many people might blame his insane production on the system he plays in but the Golden Gophers no longer run a spread offense.
Since the hire of offensive coordinator Jedd Fisch, Minnesota has implemented a more steady version of a pro-style offense.
Still, those with votes for the Heisman Trophy are reluctant to award the honor to a wide receiver, as only two wide receivers have ever won the award.
RB Bruce Smith is the only Minnesota Golden Gopher to win the award, way back in 1941.
Eric Decker is looking to rewrite history and become just the third wide receiver and second Golden Gopher to win the award.
He has to overcome some major barricades to do so, since he plays for Minnesota and not Southern Cal, Florida, or Oklahoma.
9 - DB Eric Berry (Tennessee)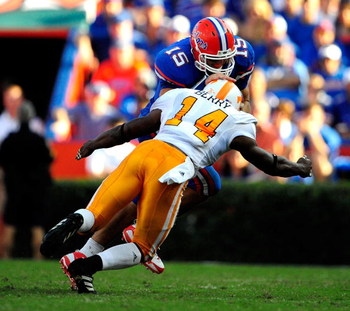 Stats: 2 G, 13 tackles, 1 tackle for loss (official stats from Florida game not yet in.)
Tennessee Record: 1-2 (next: Ohio)
Not since Charles Woodson has college football seen as exciting of a defensive player as Eric Berry, a potential Heisman Trophy candidate.
Even his own head coach, Lane Kiffin, has started a media campaign to get Eric Berry recognized for the award.
Heading into the Florida game this past Saturday, a heavyweight match between Tim Tebow and Eric Berry was being billed as the main event.
None the less, Eric Berry delivered despite Tennessee losing to the Gators.
At one point in the game, he recorded three straight tackles.
Let us not forget his head-on collision with Tim Tebow where he prevented the former Heisman Trophy winner from scoring a touchdown.
Eric Berry is as deserving of this recognition as any player in the country. It is too bad that his position will cast a dark shadow over his actual set of skills, though.
8 - QB Kellen Moore (Boise State)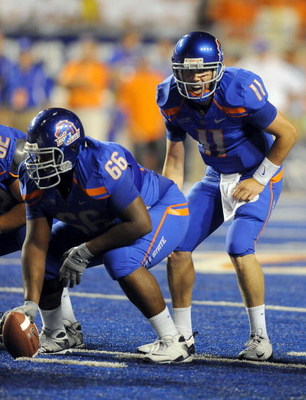 Stats: 3 G, 53/81, 685 yards, 65.4%, 8 TD/1 INT
Boise State Record: 3-0 (next: at Bowling Green)
As a true freshman in 2008, QB Kellen Moore led Boise State to an undefeated season only to get snubbed from a Bowl Championship Series bout.
The tables have turned on BCS in Boise State's fashion in 2009.
QB Kellen Moore is lighting up defenses already and Boise State has a schedule light enough to make another run at being undefeated.
The challenge for you is this: Find the last quarterback to win his first 24 games of his career (as a true freshman and true sophomore).
Don't blame it on the schedule, either. Boise State has proved that they can play with the best of college football before and they can do it again.
The bottom line is that Kellen Moore has a legitimate shot at a reserved seat in the front row during the 2009 Heisman Trophy presentation.
7 - WR Dez Bryant (Oklahoma State)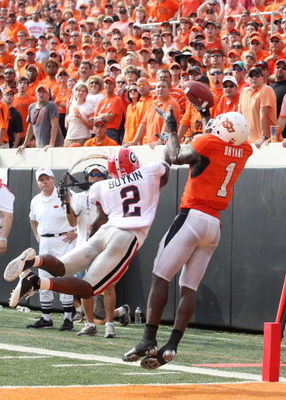 Stats: 3 G, 17/323/4, 19.1 yards per reception
Oklahoma State Record: 2-1 (next: Grambling State)
The only Oklahoma State player to ever win the Heisman Trophy was RB Barry Sanders. We know how he will always be remembered.
Dez Bryant, although a wideout, is looking to follow in Sanders' footsteps.
His extreme athleticism reminds many of former Texas Tech WR Michael Crabtree but to the contrary, many, including myself, feel as if Bryant is a more polished receiver than Crabtree.
While Bryant would be generating more buzz if Oklahoma State was never upset by Houston, the loss of a national title dream for Bryant will not deter his hopes of being in New York City when the Heisman Trophy is handed out.
6 - QB Jake Locker (Washington)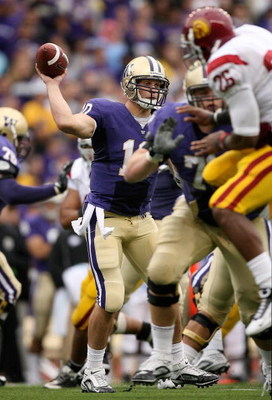 Stats: 3 G, 63/105, 811 yards, 60%, 5 TD/1 INT, 1 rushing TD
Washington Record: 2-1 (next: at Stanford)
Jake Locker may end up being remembered by most for knocking off No. 3 USC on Sept. 19, 2009.
If he helps guide the Washington Huskies to its first winning record since 2002, and he compiles some nice stats in the mean time, he will have a solid chance at earning an invitation to the Heisman Trophy presentation this December.
Jake Locker's mobility makes him a dual-threat despite not having spectacular rushing stats. Why? It is because he is a pass-first gunslinger with a knack for making the big play.
The upset of the USC Trojans may just be the beginning for Locker as he is already on pace to break all of his personal bests in all of the passing categories.
5 - QB Jacory Harris (Miami Fla.)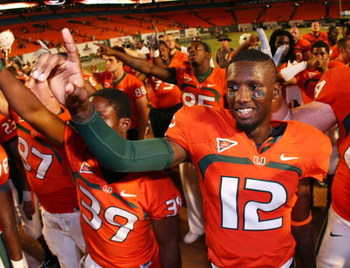 Stats: 2 G, 41/59, 656 yards, 69.5%, 5 TD/2 INT
Miami, Fla. Record: 2-0 (next: at Virginia Tech)
Let's not jump the gun by exclaiming that "Quarterback U." is back but wow, does QB Jacory Harris look like a stud of what!
In just two games thus far, Jacory Harris has the calm composure of Peyton Manning but leads with the intensity of Tim Tebow.
If it weren't for Jacory Harris, pundits abound would not be restocking their closets with Jordache jeans and Flashdance shirts, like it is the 1980s all over again when the Hurricanes sat at the top of the college football world.
Jacory Harris's production did not come against Florida A&M and Georgia Southern either. He picked apart some good defenses in Florida State and Georgia Tech.
As long as Miami keeps winning and climbing the top 25, Jacory Harris's legend will continue to grow.
He may just be a sprout among the Tim Tebow's and Colt McCoy's of the world, but as long as Sam Bradford is missing time due to an injury, there is an open seat at the table of Heisman candidates for a performer like Jacory Harris.
4 - QB Case Keenum (Houston)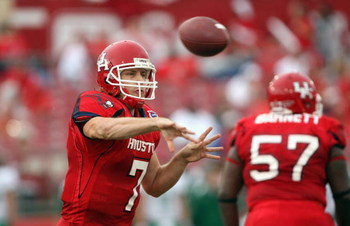 Stats: 2 G, 55/76, 725 yards, 72.4%, 7 TD/1 INT
Houston Record: 2-0 (next: Texas Tech)
Houston QB Case Keenum is being compared to Colt Brennan smd Graham Harrell of previous years.
Case Keenum, some will say, does not deserve to be in the discussion for the Heisman Trophy because his stats are padded due to the system he plays in.
Still, Keenum is looking to become the second QB from Houston to win the award (QB Andre Ware, 1989).
Last week, Keenum pushed Houston into the top 25 by upsetting then No. 5 Oklahoma State on the road.
His impressive leadership coupled with his strong arm and accurate delivery was impressive enough to place the Cougars among the discussion of "BCS busters."
Keenum will get an opportunity for more recognition as he faces the Texas Tech Red Raiders next week in front of a national audience.
He could also lead the Houston Cougars to an undefeated season, thanks in part to playing in a conference not known for having a powerful DNA.
A dream season for fans and alumni of the Houston Cougars could be upon us, but it will be all up to QB Case Keenum.
Keenum's hopes of a Heisman Trophy also ride on the success of the Cougars.
3 - QB Colt McCoy (Texas)
Stats: 3 G, 75/110, 761 yards, 68.9%, 6 TD/4 INT, 1 rushing TD
Texas Record: 3-0 (next: UTEP)
Colt McCoy, a four-year starter, is the only QB of the big three (himself, Tim Tebow, Sam Bradford) to not win the Heisman Trophy.
It may take an undefeated season to get one but this Longhorn passer is determined to take his Longhorns to the national championship more so than win an individual accolade.
Still, McCoy's accomplishments cannot go unnoticed.
His statistics have improved every year he has been at Texas since taking over at starter when Vince Young bounced to the NFL.
McCoy has a steadier presence in the pocket but will run if he has to, as evident by him leading the Longhorns in rushing a year ago.
Colt McCoy watched from the front row, next to Tim Tebow, as Oklahoma QB Sam Bradford received his Heisman Trophy in 2008. 2009 may be McCoy's turn to stand at the podium.
2 - QB Tim Tebow (Florida)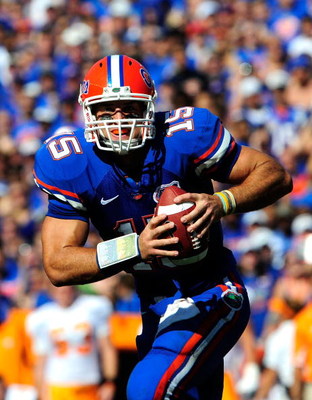 Stats: 3 G, 39/58, 540 yards, 68.9%, 5 TD/1 INT, 148 rushing yards, 3 rushing TDs
Florida Record: 3-0 (next: at Kentucky)
Tim Tebow is one of the early favorites to win the 2009 Heisman Trophy. If he does indeed reclaim the honor in December, he will be just the second player ever to win the Heisman Trophy twice.
Thus far, Tim Tebow has lived up to his hype while attempting to become a much more polished passer, in order to improve on his NFL stock.
The only thing that stands between Tim Tebow and the Heisman, is a devastating loss for the Gators in which Tebow struggles and a little running back from Berkeley.
Regardless, Tebow is aiming for another season of 34 touchdowns or more and if he can accomplish a 40-touchdown season, there is no stopping him from winning the Heisman Trophy again.
Florida's schedule is not as frightening as it has been in the past, so an undefeated season for the Gators and a second Heisman Trophy for Tebow is highly probable.
On a side note, did you know that Florida is the only school to have three quarterbacks win the Heisman Trophy? You do now.
1 - RB Jahvid Best (California)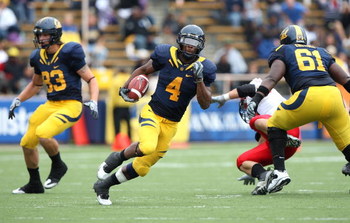 Stats: 3 G, 53/412/8, 7 receptions, 59 receiving yards, 1 TD
California Record: 3-0 (next: at Oregon)
Unfortunately for the Ben Tate's, Roy Helu's, and the Joe McKnight's of the college football world, Cal RB Jahvid Best is the only running back in serious consideration for the Heisman Trophy at this point.
The good news for the rest of the running backs in America is that we are still in September.
Jahvid Best tied an 88-year old school record this past Saturday with five rushing touchdowns at Minnesota.
He is averaging nine yards per carry, reminiscent of his high school days in Vallejo, Calif.
Cal, currently ranked eighth in the nation, is now in the driver's seat to win the Pac-10 and more importantly, run the table and finish undefeated, thanks to the legs of Best.
Like his last name entails, there is no better college football player in America as you read this.
This could be a very special 2009 for Best as he looks to become Cal's first-ever Heisman Trophy winner.
Keep Reading

Washington Huskies Football: Like this team?