Top 10 College Football Early Season Aberrations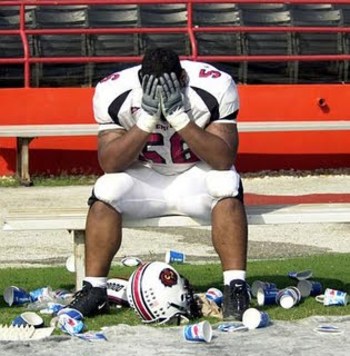 The 2009 college football season is not yet three weeks old, but that won't stop us from drawing some alarming generalizations.
At this point in the season, when the calendar is still two weeks shy of being flipped to October, seldom is anything settled. Then again, how could it when national powerhouses hand out cash to FCS opponents in exchange for a one-sided scrimmage, various other blowouts dot the landscape, and middle-of-the-road programs lead the nation in both total offense and defense?
In order to protect from going overboard, let's clear up some of college football's early-season misconceptions before things really spin out of control with some 10 games left on the schedule.
Virginia Really Is This Crappy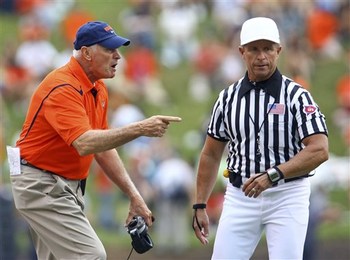 I realize that all is not well right now in Charlottesville.
After all, how can the first two weeks of the season be seen as anything other an utter catastrophe when the lone highlight is the team mascot nearly impaling himself upon being thrown off his noble steed during a pregame introduction?
First, it was the circus-like seven-turnover debacle against that vaunted defense from William & Mary, which, oddly enough, was the last Division I-AA team to beat Virginia. A week later, TCU's fourth-stringers gave the Cavs a pair of late touchdowns to make an absolute laugher a slightly less comedic embarrassment.
Granted, Virginia senior dual-threat quarterback Jameel Sewell has produced only 275 total yards. And the defense has been dominated by two pedestrian offenses. And the ACC Coastal appears to the stronger of the conference's two divisions.
But should we really expect head coach Al Groh, a two-time ACC Coach of the Year who has sent numerous players to the NFL, and the Cavaliers to slide further and further into unprecedented suckiness just because of two lethargic performances?
Uh, wait. On second thought, don't answer that.
Photo: AP/Andrew Shurtleff
Rice Is Playing With Seven Players On Defense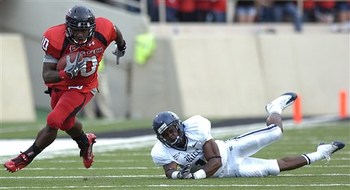 It may look like flag football, but if you take time to look past all the arm tackling and blown coverages, you'll see that the Owls are indeed fielding a legal 11-man defense.
Could've fooled me.
Through two games—losses to UAB and Texas Tech by an average of 32.5 points—Rice has been shredded for 1,076 yards, including 729 through the air. And for their efforts, the Owls rank no higher than 90th in any defensive statistical category and are the nation's worst in passing yards allowed, passing yards allowed per game (364), total points allowed (99), and points allowed per game (49.5).
Sporting a secondary comprised of three sophomores and a junior, Rice surrendered seven touchdown passes by Texas Tech's Taylor Potts in a 55-10 whitewashing on Sept. 12.
Despite the suspect performance, head coach David Bailiff preferred to look at the bright side of things, perhaps dismissing the notion that his defense should increase its numbers to an even 20 to give the team a fighting chance at Oklahoma State this weekend.
"The little things are making the difference between winning and losing," he said after Tech amassed 560 yards of offense. "It's not structure, tonight it wasn't effort, we just have to make a difference in those little things."
Photo: Lubbock Avalanche-Journal
Barkley Arrives On Scene Via Divine Intervention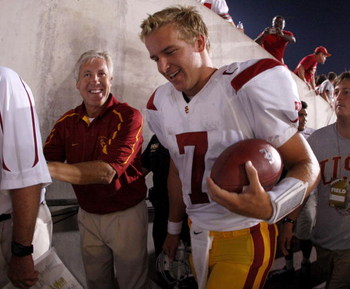 In name of The Father, and of The Son, and of...
The Matt Barkley?
Yep. USC's newest member in a heralded lineage of skilled quarterbacks has made his mark as a true freshman, but is it possible the hype surrounding Barkley is a bit premature considering he's started all of two games?
I get it—the performance in Columbus in front of more than 100,000 crazies was impressive and belied his youth, but come on. Let's not anoint the teenager a savior until he's at least led the Trojans to their eighth consecutive Pac-10 title.
Sadly, though, for some of us it's already too late.
Even before Barkley engineered an 18-15 win over Ohio State last weekend, ESPN soothsayer Mel Kiper Jr. emphatically declared him the NFL's No. 1 pick overall in the 2013 draft.
Jesus Christ.
Florida Is Off To A 2-0 Start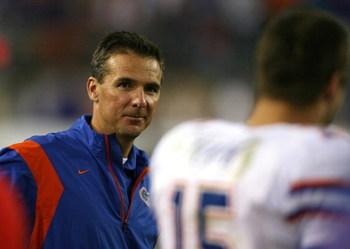 The standings will tell you that the champs have begun their title defense with consecutive victories.
But the underlying truth suggests the Gators are yet to break preseason camp, having spent the first two weeks of September oiling their gears for this Saturday's showdown versus Lane Kiffin and the Vols.
I understand the whole concept of inviting lower-tier BCS programs and FCS junior varsity squads for a few friendly scrimmages, but Urban Meyer would have been wise to forgo the risk of injury to his players and petitioned the NCAA for a 10-game regular season.
Besides the good-will that results from handing out hefty checks to Charleston Southern and Troy, what benefit is gained from waxing a Sun Belt contender one week after playing in a game that at one time featured a record-breaking 73-point spread before being thrown out by Vegas oddsmakers?
Lee Corso Has Reached Full-Blown Senility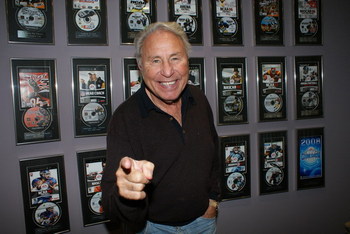 You laugh, but a bad day for Corso consists of mispronouncing roughly five different players' names in one 10-minute segment and making Kirk Herbstreit blush more than three times during the two hours of College Gameday.
And, by my account, he's managed to avoid both thus far this season. But he's inching dangerously close to reaching Beano Cook status.
With each additional pound of makeup he applies and "Not so fast, my friend" he mumbles, Corso sinks deeper and deeper into that inescapable abyss in which ESPN personalities go to die.
Corso is still entertaining to watch, if for no other reason than you'll never know what he'll say next, and his old-man "cuteness" is well intact.
With that being said, he's still about one haphazard mascot head choice away from being verbally annihilated by a fed-up student body.
At least the 73-year-old Corso won't be without a job when he finally decides to hang it up. He can watch after all 20 of Herbstreit's sons.
The Fighting Irish Are Road Warriors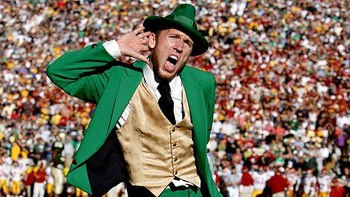 Notre Dame played a fine game last Saturday in Ann Arbor, but let's not jump the gun. The jury is still out on how well this seemingly improved Irish team can play away from home, and the truth is we may never really know.
Thanks to a number of scheduling changes, Notre Dame, however unsurprisingly, has a total of eight home games in 2009. That means, outside of a visit to West Lafayette, Ind., to take on Purdue on Sept. 26, Charlie Weis and his team won't leave South Bend again until mid-November.
In fact, the Irish play six of their last eight games at Notre Dame Stadium, including five consecutive beginning on Oct. 3.
Of the 65 teams from the six BCS conferences, only six (Oklahoma St., Syracuse, Michigan, Penn St., Auburn, and Tennessee) play fewer than five games either on the road or at a neutral site.
As far as the difficulty of Notre Dame's remaining road schedule, Purdue, Pittsburgh, and Stanford combined to post a 18-19 record in 2008, with the Panthers recording nine of those wins.
Photo: Jonathan Daniel/Getty Images
Texas Is The Class Of The Big 12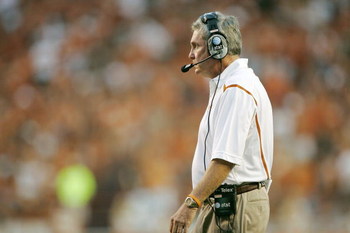 This early in the season, you could lobby for four or five other teams that warrant the label as the conference's best team, but it wouldn't make much sense.
Without the luxury of building a case through in-conference wins or losses, all we have to go on as far as the Longhorns are concerned is a lopsided win at home over Louisiana-Monroe and a harder-than-expected road triumph at Wyoming, a game in which Texas led by only three at halftime.
Somewhere down the road, Texas will probably start to assert its dominance, perhaps as early as this Saturday versus Texas Tech. Maybe on Oct. 17 against Oklahoma.
What about not at all?
Beginning with the Red River Rivalry, which should be tight even with a less-than-healthy Sam Bradford, Texas faces a three-game gauntlet away from Austin that concludes with a showdown in Stillwater with Oklahoma State. And in-between those two inter-division battles is a potentially damaging visit to Missouri.
Depending on its performance in those three games, we could be penciling Texas in as one half of the national championship equation.
On the other hand, if things don't go as planned, we could be discussing how the Longhorns are only the second or third-best team in the South.
Lou Holtz Gets Along With His Co-Workers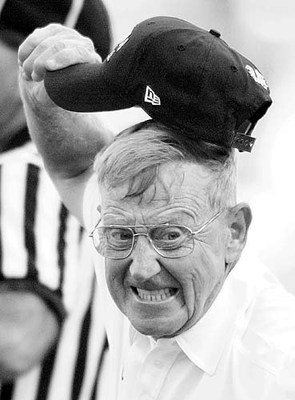 Poor Lou. He can't buy an ally within that College Gameday studio.
Whether he's predicting an undefeated season and national championship appearance for Notre Dame, calling South Carolina linebacker Eric Norwood the best defensive player in the country, or just literally spitting out random sentence fragments, the lovable red-head always seems to get ganged upon.
Every bit of Holtz analysis brings with it a snicker from the smug Rece Davis and the even smugger Mark May, and sometimes both, as the two seem to take devilish delight in double-teaming a man who has one more national title than either of them has sniffed.
All the signs of condescension are there.
When he's not trying to impress the viewing audience with his expanded vocabulary, which includes the word "program" pronounced like "progrum," Davis polishes the much-too-obvious ring on his right hand while he chuckles at his senior colleague.
Meanwhile, May is quick to pick on Davis' verbal cues, which results in him rolling his eyes and contemplating how sweet it would be if he were allowed to instead stuff and mount Holtz on his living room wall for nostalgia.
ESPN producers do their best to playfully spin the confrontations between the two sides. Why else would they choose to alleviate the tension by isolating Holtz in some segment called "Dr. Lou"?
BYU Can Put Things On Crusie Control If They Beat Florida State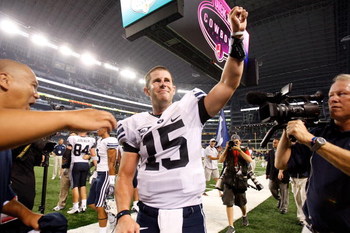 There's an all-too-uneasy consensus floating around college football suggesting BYU is on a collision course with the national title game if they beat Florida State at home this Saturday.
I'm here to be the voice of buzz-killing reason.
I'll be the first one to admit that if the Cougars run the table, they deserve a crack at Florida or whatever SEC or Big 12 school the BCS chooses. But recent history suggests that may not be as simple as some are predicting.
Assuming BYU is able to knock off Bobby Bowden and the Seminoles, the Cougars still have four games that shouldn't be categorized as sure wins.
Besides a tough road battle at UNLV on Oct. 10, BYU's conference schedule includes home games against No. 15 TCU, a gritty Air Force team, and No. 18 Utah, with the latter two rounding out the regular season slate.
If the first two games of 2009 were any indication, this BYU squad may be better than either of the teams that recorded 11-2 seasons in 2006 and 2007, but the numbers indicate the Cougars will encounter some adversity in the pursuit of the program's first undefeated season since 1984.
Since 2002, BYU is a very average 14-11 against those aforementioned Mountain West teams, including just 2-5 versus Utah.
The National Polls

Some see them as a joke, while others see them as a necessity in determining the 25 best college teams in America.
Unfortunately, the two ideas don't seem to be mutually exclusive. And this convergence played a part in the first polling snafu of 2009.
How else would the Associated Press arrive at the conclusion that Oklahoma State (No. 16) is still better than Houston (No. 21) despite having been beaten by the Cougars at home by 10 points?
I don't agree with those that say Houston is necessarily better than Oklahoma State. Could they be? Yes. But are the Cougars actually as talented from top to bottom as the Cowboys? Probably not.
But therein lies the problem: How can you rank these teams when there's so little yet to go on, especially during a two-week period when most national powers are beating the snot out of some out-classed opponent?
And let's not start on the USA Today Coaches' Poll, in which some 60 head coaches from around the country blindly make their weekly selections presumably based on nothing more than what they see on SportsCenter at the end of each Saturday.
The polls don't objectively list the top 25 teams in the country; they do so as influenced by any number of factors that can occur from week to week. College football polls operate under a wham-bam-thank-you-ma'am, here-today-gone-tomorrow mantra. It's what keeps each Saturday interesting, I suppose.
Funny enough, whether sportswriters, head coaches, or BCS computers are the ones doing the evaluating and critiquing, we accept these polls as doctrine. Even before each season begins.
We always have and we probably always will.
Keep Reading