College Football Starting Lineup for Week 3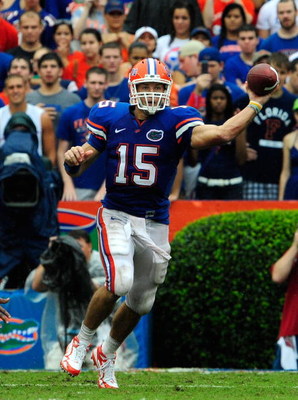 Nearing the kickoff of another exciting weekend of college football, I thought I would share some of my starters on my ESPN College Football Challenge. Here is what to expect from my first slide show I have created on Bleacher Report: A title slide that includes a picture for each player, and a slide that describes what I think they can accomplish this week. It may also include what they did last week in accordance with how I expect them to perform this weekend. Lets begin.
Tim Tebow, QB, UF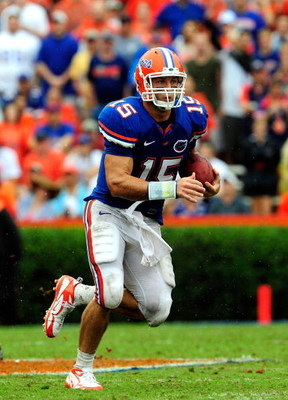 Tim Tebow, QB, UF: I think he has cleared up all the smack talk by UT and is ready to chomp on some Volunteers this Saturday in his last game against Tennessee. Look for him to put up a high amount of SUPER-stats.
Jimmy Clausen, QB, ND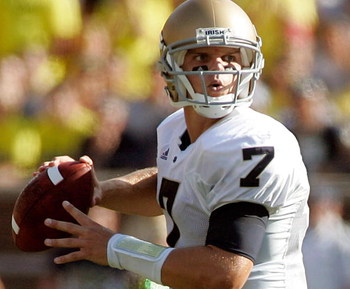 Jimmy Clausen, QB, ND: The Irish are coming off a tough last minute loss last week in the big house. I see Jimmy putting up a bunch of numbers against a depleted Michigan State defense. He will also have the tough task of defeating a team that calls Notre Dame Stadium their second home.
Jahvid Best, RB, CAL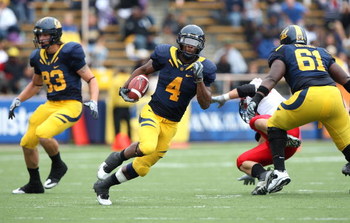 Jahvid Best, RB, CAL: He is quickly becoming the talk of the nation. I see him going hard against the Minnesota Golden Gophers at TCF Bank Stadium and having a 200+ Yard game in the Gophers 2-week old stadium. The Bears should win easily if he follows his blocks and plays to his potential.
Ryan Williams, RB, VT
Ryan Williams, RB, VT: After having a small amount of yards in Virginia Tech's opening loss against Alabama, he bounced back in a big way. In week 2, the true freshman proved his worth as the starter against Marshall running all over the Marshall defense and running up the score for 3 touchdowns en route to a 52-10 beat down. I'm seeing much of the same against the Huskers this week.
Riley Cooper, WR, UF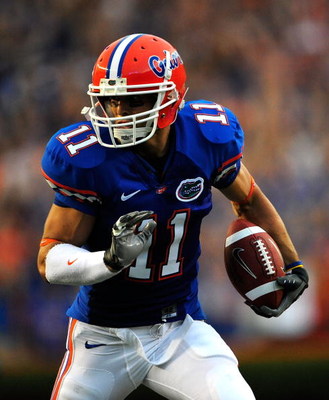 Riley Cooper, WR, UF: Being Tim Tebow's room mate must have been a huge deal when Lane Kiffin opened his first collegiate press conference by saying the following: "I'm really looking forward to embracing some of the great traditions at the University of Tennessee, for instance the Vol Walk, running through the T, singing Rocky Top all night long after we beat Florida next year, it will be a blast". Tebow should throw to him multiple times en route to a beat down of the "Rocky-Top-Smack-Talkers."
Lane Kiffin's Statement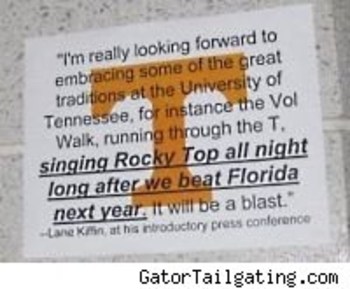 Here it is again, just had to laugh at how he thought he could beat the Gators, not after a statement like this little man! Oh, and this is posted in the Gators' locker room and could not be more of a motivator to Tebow and the Gators. Prepare to be feasted on this Saturday Vols.
Marshwan Gilyard, WR, CIN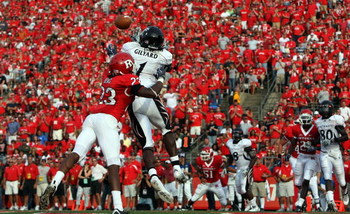 Marshwan Gilyard, WR, CIN: Coming off the rush of returning a punt for a TD and catching 6 passes for 111 yards and 2 touchdowns against Southeast Missouri State, he should have a big game against Oregon State. If he runs his routes right and keeps his legs moving he should be able to pick up some good yards against a good defense of Oregon State. I project Mardy to catch around 150+ yards in a close game this Saturday.
Michigan State Kicking Unit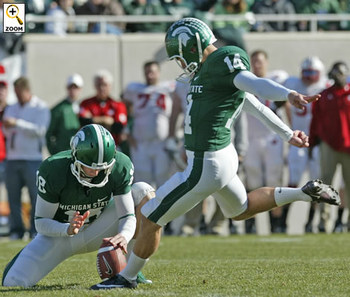 Michigan State Spartans Kicking Unit: I see the Notre Dame defense limiting the Spartans to their kicking game this week. Hopefully they get some good kickoffs, punts, and field goals this week.
Florida Gators Defense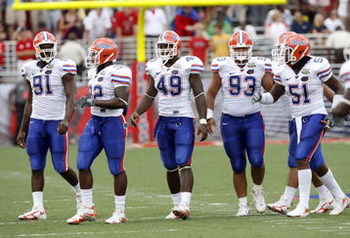 Florida Gator Defense: This was a natural choice of mine, simply because of who their playing. Brandon Spikes will penetrate the O-line of UT quicker than you can say LOOK OUT. I see the Gator defense pounding Tennessee the entire game on defense in a blowout as the Gators will dominate the Volunteers' on both sides of the ball while dealing 60 minutes of pain this Saturday from around 3:45 in the afternoon in 90 degree heat until 7 at night.
Keep Reading