Week 2 Fantasy Football Preview: Part 1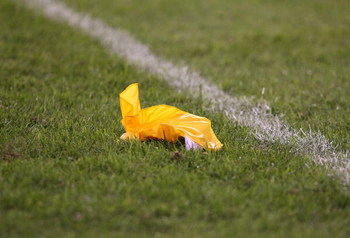 After a very successful week 1 in my fantasy league, due in large part to Drew Brees, Julius Jones, and Tim Hightower, I am ready to show some love and spread the knowledge. I will break down each game and tell you who to start and who to sit so that your fantasy team could look as good as mine. Here it goes….
Panthers at Falcons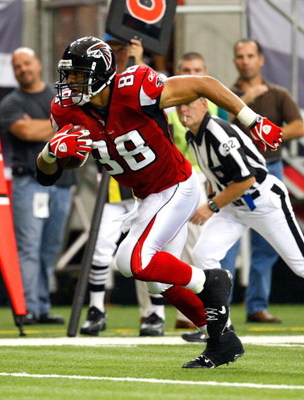 After posting 11 turnovers in his last 2 outings, Jake Delhomme will be a guy on a short leash on Sunday. If he shows any funny businness, it's seeya later for the Ragin' Cajun. Stay away from all-mistake Jake in this one. With the chaos brewing at quarterback, the Carolina receiving corps should struggle as well. Sorry all you Steve Smith lovers, but Smith will continue to struggle with his buddy Jake. If you want to start somebody from Carolina, go with Deangelo Williams who should have his share of big runs against the Falcons D. They are vulnerable to the run, and Deangelo should cash in nicely.
For Atlanta, you should see some nice production out of Michael Turner. The Burner is just lickin' his chops to get his season really started against division foe Carolina. I'm thinking something like 90+ and a touch for the bowling ball. Also, look for Roddy White to have a great game, as he should put up 80+ yards, as he averaged against 'em last season. Once again, Tony Gonzalez should benefit from having Ryan at quarterback, and you should expect a solid game out of Gonzo.
Vikings at Lions
Hmmm… the Lions gave up 143 rushing yards to journeyman Mike Bell this past Sunday. Should we start AP this week? Hell yeah. Peterson should have a field day on the hapless Lions defense, to the tune of 125+ and 2 tds to be safe. Another guy I'm looking at is rookie Percy Harvin. The Vikes are trying to find a role for this dynamic player, and who better to do it against the Lions? They will have the luxury of trying a lot with this rook, and I see a good possibility that he breaks one for a touchdown. As for Favre, you gotta start him. Look what Brees did to their secondary.
With a good Minnesota pass rush, you should see the Lions looking to get the ball out of Stafford's hands and into the hands of Kevin Smith. Whether it be running or passing, you can be sure that Smith will get a lot of touches come Sunday. He might have a hard time producing anything huge against a staunch Vikings D, but the more touches he gets, the better chance he has to rack up stats, so I would start Kevin if you got him. Another guy you gotta start is Calvin Johnson. Calvin Shmalvin is a freak athlete, and he is too dangerous not to start every week. He will get the ball, and he will be a threat to score and pick up many yards. If you're thinking about starting Stafford this week don't. He will continue to struggle as he did last week, and it will take him some time to become a fantasy starting quarterback, so just be patient with this one.
Bengals at Packers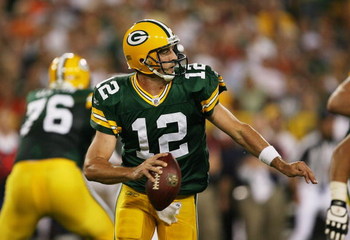 Carson Palmer had a below average game against the Broncos last week as he threw 2 picks and no touchdowns. Things should only get tougher as he faces the Packers and Dom Capers' feared defense. The most I can see out of Carson is 1 touchdown, and I don't see that happening without at least 1 INT. If you have better options start 'em instead. That, of course, affects the production of wide receiver Chad 85, who should be defended well for most of the game. Word is he wants to do a Lambeau Leap, but I'm sure the Packers will want to prevent that to the best of their abilities. In the running game, Cedric Benson should have a hard time doing much, but he should get a number of touches to keep the Packers D honest. The one guy that might have a nice game for Cincy is the highly touted Chris Henry. The Packers gave up a few deep balls last game, and Henry would be the guy to benefit from such a weakness. It might be a stretch, but if it pays off, it could be huge.
For the Packers, the offense should be clicking against an inexperienced Bengals D. Look for Rodgers to carve up the Bengals and have a superstar performance. This will mean mad points to go around for Jennings and Driver, Rodgers' two best targets. Don't forget about the running game either. The Packers should have a big lead at some point, and they will want to drain clock with Ryan Grant. Expect a big game from Grant as well. Also, if you really want to go Green Bay happy, throw in tight end JerMichael Finley. Apparently this guy is going to be the next great tight end in this league, and if he is ever going to become that guy, we should find out against the Bengals. You know, the Bengals have jumpstarted the career of another Packer in the past… Brett Favre.
Texans at Titans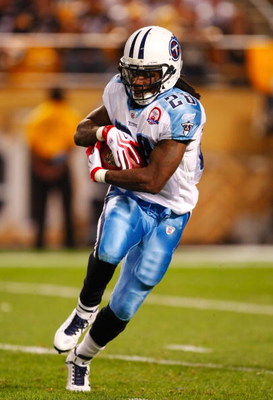 Schaub and company did zilch against the Jets this past Sunday, and he should continue to have a hard time with defense of the Titans. I could see him throwing for a lot of yards, but most of them will be meaningless. I think Andre Johnson will have a bounce back game, and I project 85+ and a touchdown. Then there's Steve Slaton. He is going to have trouble running between the tackles, but he should get the ball a lot in space via the pass. He could be the greatest offensive weapon if used correctly, so they will try to get him involved. Last year Slaton had over 100 yards rushing in both games versus the Titans, so a good game is very possible from Stevie Do.
The Jets ran on the Texans 42 times in week 1, so the Titans should showcase a heavy dose of LenDale White and Chris Johnson. Each back is capable of having a strong game, and both are definitely worth a start. I don't see Kerry Collins doing a whole lot as a passer in general, and I don't see him putting up many stats in this contest. A few deep balls here in there is possible, but he will never get in a consistent flow to yield great numbers. If anybody does well in the pass-catching department it will be Bo Scaife who caught 5 balls in the loss to Pittsburgh.
Raiders at Chiefs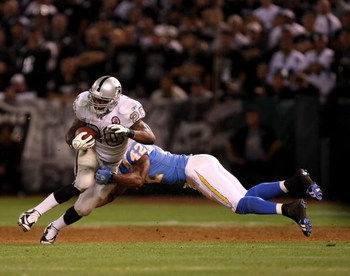 The Raiders showed that they can run the ball effectively against the Chargers on Monday night, so I expect that to continue on Sunday against the Chiefs. McFadden and Bush are each threats in their own unique way, and they provide a lot for this Raiders offense in the running game and the passing game. If you are in desperate need of a running back, either of these guys are a viable option. Jamarcus Russell still has a lot to learn in this league, but he has definitely become comfortable with his tight end Zach Miller. Miller should put up good numbers as he did in week 1, but Russell should not do too much in his own right. Anything more than 1 td from Russell will be a shock for me, especially with run game being so good. Also, Louis Murphy could be a sleeper as he showed he has a knack for the deep ball and the endzone (even though he got robbed of 1 td).
The Chiefs offensive output will be reliant on the health of Matt Cassel. If Cassel is healthy, guys like Dwayne Bowe and Mark Bradley should have a nice day and pick up many yards. Another beneficiary of Cassel's health will be running back Larry Johnson. LJ has had big games against the Raiders in the past, and the threat of a passing game should open things up for him. Another guy who has the potential for a big day is scat back Jamaal Charles. He is always a threat to have multiple receptions, but his inconsistencies limit him from being an every week fantasy starter. I would take a chance on him this week, only if you are uncertain at your flex position.
Patriots at Jets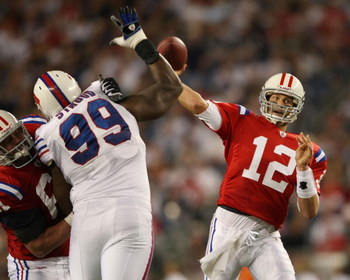 Like the Patriots showed in 2007, they don't need to run the ball to set up their passing game. Brady attempted 53 passes in their win against Buffalo on Monday night, and there is no reason to think that he will slow it down against the Jets. That is always a good thing for Randy Moss and Wes Welker owners, who saw the uncoverable combo put up 12 catches each in week 1. The Patriots also featured tight end Benjamin Watson for a couple of touchdowns late in the game, which shows that they rely on him in the big spot, and that the Jets have their hands full with Bigger Ben. If you need to take a running back from NE, why not Kevin Faulk? He is targeted a ton in the passing game, and especially on third downs.
With the injury to Jerod Mayo, the Patriots defense is really weak. Look for the Jets to establish the run with Thomas Jones, and then throw in Leon Washington for the home run. Both backs should have plenty of yards between them, as I see this game remaining close throughout. Another guy I am feeling in this game is Dustin Keller. Particularly with Mayo being out, Keller should have a much easier time of freeing himself up for some catches. And of course with a young quarterback in Mark Sanchez, he will see the ball come his way often.
Saints at Eagles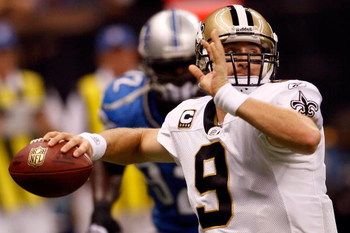 Drew Brees is coming off of a career day against the Detroit Lions, and he will be poised to have a big game against a much better defense in Philly. Brees is much better than most of the quarterbacks right now, and I don't think that even the Eagles can slow him down too much. I see Brees spreading the ball around to his plethora of targets, which can hurt the value of some of his receivers. Outside of Marques Colston, none of his receivers are consistent enough to start without question. They all have the possibility for a huge day, but there is also a possibility for a dud. If I had to choose another it would be Lance Moore, one of Brees' favorite targets in '08. Mike Bell looked great against the Lions, but I see him coming back down to Earth versus the Eagles, especially with a strong possibility that Pierre Thomas will be back in the lineup. Tight end Jeremy Shockey looks healthy and can have another big game. As for Reggie Bush…ugh.
The Eagles will be without quarterback Donovan McNabb who has fractured ribs after a win against Carolina. That means their awful backup Kevin Kolb will get the start. He will struggle all day, which should lower the value of guys like DeSean Jackson, and he will look to get the ball to the running back often. Brian Westbrook is the one guy that I see having a big game for Philly, and if they want any chance of winning, he will be a big part of it. Backup running back LeSean McCoy can also do some damage while Westbrook is taking a breather.
Rams at Redskins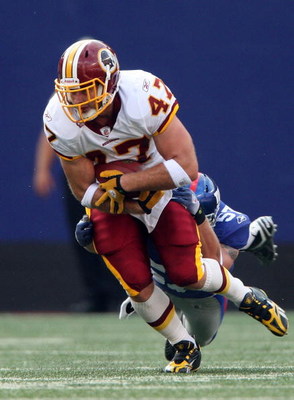 The Rams showed that they have no offensive firepower as they put up zero against the Seahawks. Things should continue in a similar way, when they face a good defense in Washington. The only real options I see out of the Rams are Steven Jackson and Laurent Robinson. Jackson is clearly the guy that this offense revolves around, and if they can keep the game close, he will have an impact. However, I don't see that being the case. This can mean a big game for Laurent Robinson who Bulger definitely likes the best. Robinson had 5 catches for 87 yards in week 1, and he should top those numbers in week 2.
The Redskins could not produce anything offensively against the Giants, and that should change a lot in this game. Portis should run wild for about 100 and a touch, and Jason Campbell should have his best game in a long time. If he doesn't have a strong game, I don't see the Redskins sticking with him too much longer. Santana Moss was shut down to 2 catches for 6 yards on opening day, but he should bounce back nicely in this one. This speedster can still burn defenses in this league, especially the weak ones. Expect 80+ and a touch from Santa. In addition, Antwaan Randle-El should have another big game, as he should have 5+ catches for 60+ yards. Another guy who can have a monster game is Chris Cooley. The Rams gave up two touchdowns to John Carlson last week, and Cooley can have similar numbers. There will be many catches, yards, and at least 1 td for Cool Whip.
Keep Reading

New England Patriots: Like this team?