Calgary Flames: Five Burning Questions for 2009-10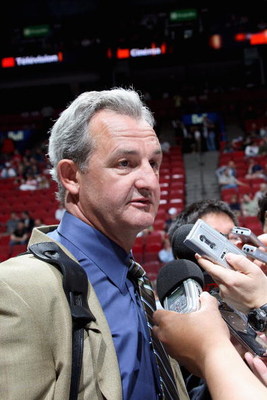 There are a few questions surrounding the Calgary Flames as they prepare to celebrate their 30th year in Alberta, the answers to which could have a big impact on the mood of the party.
While captain Jarome Iginla, hard-hitting defenseman Dion Phaneuf, and cool-as-ice goalie Miikka Kiprusoff are back for another season, they'll be joined by plenty of new faces, some of which are a bit familiar.
How will the team play under another Sutter?
Former Devils Head Coach Brent Sutter returned home this summer, where he will have the same position with the Flames. He replaces Mike Keenan, whose "Iron" fist appeared to weigh too heavily on his players in his two seasons behind the bench.
Sutter takes over a team which has lacked a solid identity since his brother, who remains
at his post as general manager, last coached the club in 2006. Continuing in Darryl's footsteps, Brent is looking to re-instill a rigid structure of hard work and discipline that the team can fall back on during those inevitable road bumps on the road to the playoffs.
This systematic play is one of the main reasons New Jersey hired Sutter. Like Calgary, the club has been known more for its solid defense and grind-it-out game than its ability to create offense.
Sutter admits that the team is "going to have some tough nights," adding, "but it can't be because your structure failed you."
The team should thrive under the direction of its new coach, whose game plan will provide a solid foundation for the players to build on, especially another Albertan making a homecoming of his own.
Is Bouwmeester the final piece to the Cup puzzle?
After the Anaheim Ducks fell to the Edmonton Oilers in the 2006 Western Conference Finals, GM Brian Burke felt that the team just needed another big presence on the blueline to put them over the top. A year later, Chris Pronger was lifting the Stanley Cup with his new teammates.
Darryl Sutter hopes that the addition of Jay Bouwmeester, who he acquired from Florida by sending Jordan Leopold and a 3rd-rounder in 2009 southeast, will have the same effect.
The 6'4", 212-pounder can play both sides of the puck. In his own zone, he can shut down the opposition by using his strength to out-muscle attackers and by blocking their shots. He also uses his strong hockey sense to know when to join the rush, which his superior skating ability allows him to do quite quickly.
Along with Phaneuf, Robyn Regehr, and Cory Sarich, "J-Bo" gives the Flames a top-four that may even rival the one of the aforementioned 2007 Ducks.
This squad should not only contribute on the scoreboard, but also help the man in the blue paint behind them, who enters the season with a question that has nagged him for several years now.
Will Kiprusoff's steady decline continue?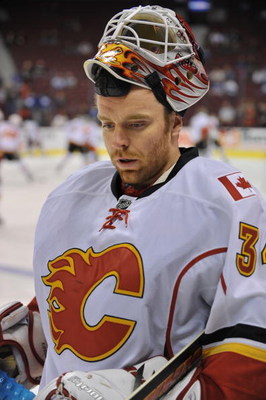 After Miikka Kiprusoff arrived from San Jose midway through the 2003-04 season, it didn't take long for fans to declare the trade that sent only a 2nd-rounder in 2005 the other way a steal for the boys in red. "Kipper" finished that year with 24 W, 4 SO, a 1.69 GAA, and a .933 SV% in only 38 games.
Since that sparkling debut, however, his goals-against average has increased and his save percentage has decreased each season. That's four straight years of worsening statistical outputs.
With a Sutter structure back in place and defensively-skilled players like Bouwmeester and Fredrik Sjostrom now in the mix, the Finnish netminder has a great opportunity to prove his detractors wrong.
After all, he's still the extremely-poised goaltender with sound positioning that most of the other 29 teams in the league would love to have between their pipes.
While he most likely won't match the impressive numbers he posted during his first year in Calgary, look for Kiprusoff to buck the trend of declining stats en route to yet another 40-win season.
Although it may seem impossible that Kipper posted a career-high 45 wins in 2008-09 with career-low peripherals, he had help in the form of a sniper who has since moved on, leaving a question mark on offense.
Who will replace Cammalleri's production?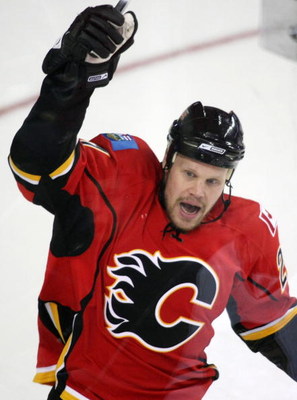 When the Flames traded for the negotiating rights to Bouwmeester in late August, they essentially swapped Mike Cammalleri's offensive output for J-Bo's defensive presence. With Cammalleri's potential salary going to the big blueliner, the Ontario native had no choice but to head back east, leaving a gaping hole among the forward lines.
It was a risk Calgary management was willing to take, banking on remaining players and perhaps a new face or two to collectively fill the void.
The main man who will be asked to step up is trade deadline acquisition Olli Jokinen, who should be up to the task after posting 15 points in 19 games wearing the flaming "C." He also contributed two goals and three assists in the first six playoff games of his career.
The emergence of speedy wingers Rene Bourque and Curtis Glencross, who each amassed 40 points last season, gives added confidence in the team's offensive potential going forward.
Newcomer Nigel Dawes also has a shot at a top-six role, especially if he can find the scoring touch he displayed with the AHL's Hartford Wolf Pack and, at times, their parent New York Rangers.
Of course, there is one more candidate to fill the forward ranks with a literal blast from the past.
Has Fleury already flamed out?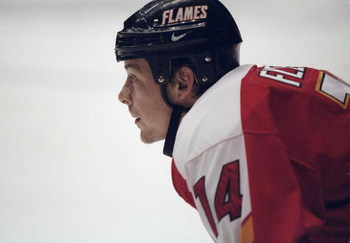 When 41-year-old Theo Fleury announced that he wanted to return to and eventually leave the NHL on his own terms, Flames fans were obviously intrigued by the idea of the franchise's all-time second leading scorer (having been recently surpassed by Iginla) possibly returning to the "C of Red."
Those who wished to see him don the red and gold once again got their wish, as soon after he was reinstated from an indefinite suspension due to substance abuse problems, his original team invited him to training camp.
Mentally, Fleury has used his restored faith in God and the support of his wife to help him stay sober for over three years, and can now focus on simply being the best hockey player he can be. He's also in great physical shape, as reports out of camp indicate that No. 14 is actually the most fit he's ever been in his Calgary career.
At the very least, Theo would be both a great role model for the prospects in Abbotsford and a solid marketing tool for the first-year AHL club.
For select home games this season, the Flames will be wearing replicas of the uniforms that Fleury and the rest of the 1989 Stanley Cup Champions wore.
It would only be fitting if one of those jerseys blazing down the ice was worn by a man who still has that championship fire burning within.
Keep Reading

Calgary Flames: Like this team?