Xs and Lots of Os: The 25 Highest Paid Coaches in College Football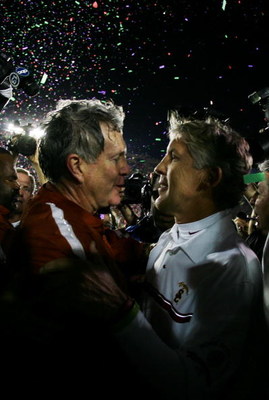 Cal football head coach Jeff Tedford is 5-1 in bowl games in seven seasons in the Strawberry Canyon.
He's a two-time Pac-10 Coach of the year, has a conference co-championship under his belt, and leads the eighth-highest-ranked team in the country heading into Week Three of the college football season.
And yet, he's only the 26th-highest-paid coach in the country.
Despite producing a year-end Top-25 team in four of the last five seasons and climbing into the Top-10 consecutively from 2004-2007, 25 other coaches are getting bigger money than Berkeley's papa bear.
Some are deserved (Urban Meyer), some not so much (Rich Rodriguez).
In an effort to sort things out, we break down the highest-paid coaches, from 25 to one, with a look at just how much programs are paying per win.
Source: CoachesHotSeat.com, gathered from contracts and media reports.
25. Bo Pelini (Nebraska) - $1,851,000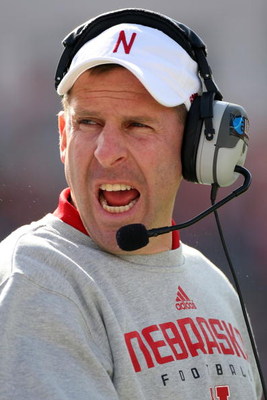 Nebraska head coach Bo Pelini, a lifelong defensive coordinator among college football's elite, turned in a 9-4 regular season in his first as head coach.
The nine wins were tops among the 28 Football Bowl Subdivision (FBS) teams with new head coaches and staffs last season.
Wins in 2008: Nine.
Cost per win: $205,666.
Verdict: Worth the money. Pelini has Nebraska football back on the map.
24. Al Groh (Virginia) - $1,875,000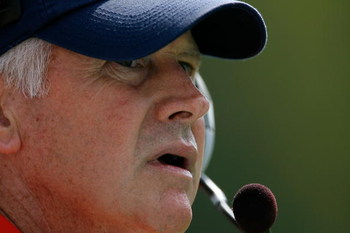 Virginia head coach Al Groh boasts five winning seasons in his eight years at the helm of the Cavaliers football program and is a two-time ACC Coach of the Year.
His defining year as a head coach came in 2008: Named one of the five worst coaches in college football by Sports Illustrated's Stewart Mandel prior to the 2007 season, Groh's Cavaliers won seven of their first eight games and started 4-0 in the ACC on their way to their fifth bowl game in the past six seasons.
Groh was named the 2007 ACC Coach of the Year, Mandel was left eating crow.
Wins in 2008: Five.
Cost per win: $375,000.
Verdict: Not worth the money. Groh has produced 13 NFL draftees, a winning record in bowl games and a 51-37 record since 2001.
But this year's season-opening loss to Football Championship Subdivision William & Mary (along with three 5-7 seasons, including 2008) once again puts Groh on the hot seat.
Is he one of the top-25 best coaches in college football? No. He just gets paid like one.
21 (tie). Gene Chizik (Auburn) - $2,000,000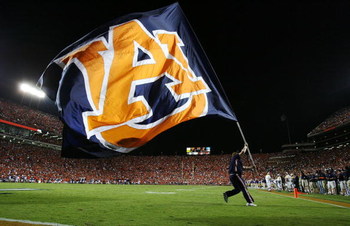 Auburn head coach Gene Chizik, an Iowa State transplant, enters his first season as the Tigers head coach just five years removed from a three-year stint as the Auburn defensive coordinator.
Chizik won the Broyles Award in 2004 as the nation's top assistant coach and bolted for the Cyclones. In two seasons, he was 5-19.
Wins in 2008: N/A
Cost per win: N/A
Verdict: Not worth the money. He's 2-0 this season, but its the offense that has been the story, not his vaunted defense. And 5-19 is 5-19 no matter how much money you throw at it.
21 (tie). Lane Kiffin (Tennessee) - $2,000,000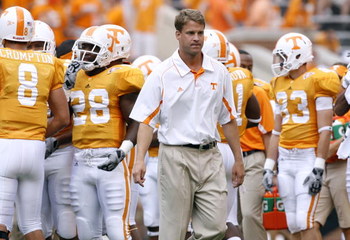 Tennessee's Lane Kiffin takes his first stab at a head coaching postition for a college football program this season, hoping to rekindle the offensive magic he brewed up at USC from 2001-2006.
Kiffin was fired by the Raiders in 2008 after a 5-19 stint as the head coach.
Wins in 2008: N/A
Cost per win: N/A
Verdict: Worth the money. The fact that Kiffin managed five wins with the Raiders is remarkable.
As the youngest active college football head coach, he'll have his fair share of bumps in the road (UCLA being his first), but he's one of the brightest minds in football and has seen how a winning program should be run.
21 (tie). June Jones (SMU) - $2,000,000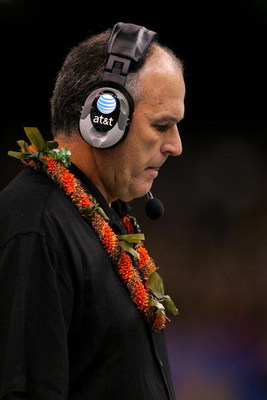 Second-year SMU head coach June Jones has NFL pedigree and a proven system thanks to Hawaii, where he was 75-41 with his super spread offense.
He made six bowl game appearances and went 12-1 in 2007 to earn a BCS bid.
But last season, Jones was 1-11 and winless in Conference USA.
Wins in 2008: One.
Cost per win: $2,000,000.
Verdict: Not worth the money. Yes, you read that right, $2 million for one win in 2008. SMU is a project program that is going to take some time to turn around. Not worth the price tag.
19 (tie). Butch Davis (North Carolina) - $2,100,000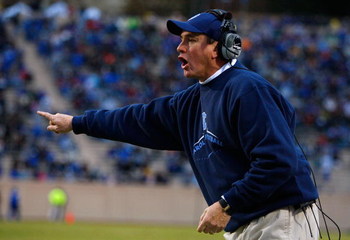 UNC's Butch Davis is one win above .500 in two-plus seasons with North Carolina and took the Tar Heels to the Meineke Car Care Bowl in 2008.
He was 4-8 in his first season with the Tar Heels and flipped that in 2008 with an impressive 8-5 record that pushed them into the top-25 this season.
Wins in 2008: Eight.
Cost per win: $262,500.
Verdict: Worth the money. Davis proved at Miami he could turn around a program quickly.
From 1995-2000, he was 51-20 with the Hurricanes, despite losing 31 football scholarships thanks to violations from his predecessor, Dennis Erickson.
He had just one losing season in six years and won three conference titles.
19 (tie). Frank Beamer (Virginia Tech) - $2,100,000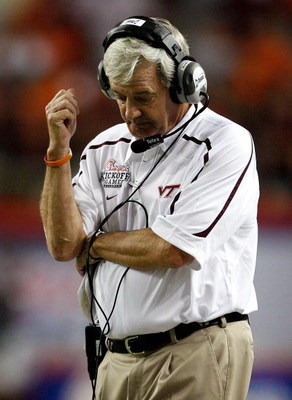 Virginia Tech head coach Frank Beamer is one of the longest tenured coaches in the country, having headed the Hokies since 1987. In 22 years, he's 176-89-2.
His teams have made 16 consecutive bowl game appearances, including last year's Orange Bowl—a 20-7 win over Cincinnati.
Wins in 2008: 10.
Cost per win: $210,000.
Verdict: Worth the money. "Beamer Ball" is stuff of legend and at $210,000 a win, Beamer is easily one of the best buys in college football.
18. Greg Schiano (Rutgers) - $2,250,000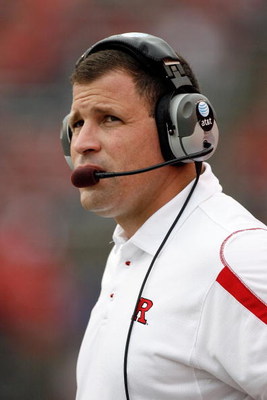 Rutgers head coach Greg Schiano has turned the Scarlet Knights into a perennial college football power overnight.
After four consecutive losing seasons from 2001-2004—including a 1-11 embarrassment in 2002—Schiano has helped Rutgers to four consecutive bowl games with wins in his last three.
Wins in 2008: Eight.
Cost per win: $281,250.
Verdict: Worth the money. Schiano has found a formula that works at Rutgers. He's been the class of the Big East since 2004 and one of college football's best stories.
At under 300 grand a win, he's worth every penny for this program.
16 (tie). Paul Johnson (Georgia Tech) - $2,300,000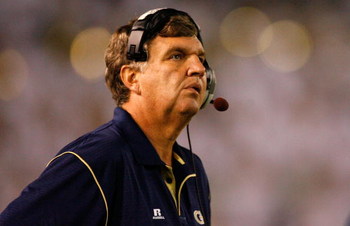 Second-year Georgia Tech head coach Paul Johnson went 9-4 in his debut campaign with the Yellow Jackets, producing just their third nine-win season since 2001.
He put together a solid program at Navy, making five bowl games in his final five years before coming to Georgia Tech in 2007.
Wins in 2008: Nine.
Cost per win: $255,555.
Verdict: Worth the money. He's the highest-paid coach in the ACC, but to date he's earned it.
Johnson was CBSSports.com's Coach of the Year last year and produced the ACC Player of the Year in just his first season.
16 (tie). Mark Mangino (Kansas) - $2,300,000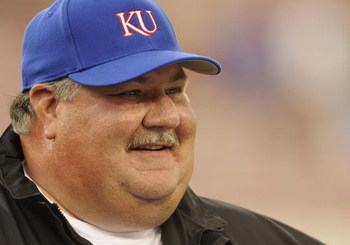 Kansas head coach Mark Mangino has helped a basketball school become a two-sport institution.
Mangino is 47-41 at Kansas, helping the Jayhawks to a quartet of bowl games and the school's first 12-win season in 2007.
Wins in 2008: Eight.
Cost per win: $287,500.
Verdict: On the money. Mangino has shown flashes of brilliance, and if he's able to consistently reproduce his 2007 effort, he could make Kansas a national power.
12 (tie). Houston Nutt (Ole Miss) - $2,500,000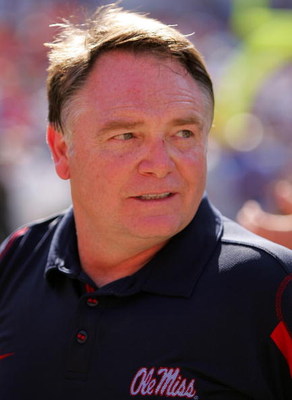 Second-year Ole Miss head coach Houston Nutt has turned around the Rebels after Ed Orgeron ran the program into the ground with a 10-25 record in three seasons.
It should come as no surprise. Nutt turned in seven winning seasons and eight bowl games at Arkansas from 1998-2007 and picked up where he left off since coming to Mississippi.
Wins in 2008: Nine.
Cost per win: $277,778.
Verdict: Worth the money. The only thing more impressive than his 2007 win over eventual national champion LSU was his 2008 debut.
A 9-4 season thrust the Rebels into the national spotlight to start 2009, somehow taking some of the spotlight away from reigning national champion Florida.
12 (tie). Gary Pinkel (Missouri) - $2,500,000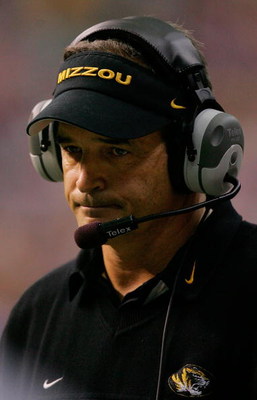 Since 2001, Missouri head coach Gary Pinkel has produced 61 wins, five bowl game appearances, and one Chase Daniel.
Daniel helped the Tigers to a short-lived No. 1 ranking in 2007 and back-to-back conference titles.
Wins in 2008: 10.
Cost per win: $250,000.
Verdict: Not worth the money. Prior to Daniel's arrival in 2005, Pinkel produced just one winning season. He's 32-32 all time in the Big 12, meaning a lot of non-conference cupcakes.
12 (tie). Bobby Bowden (Florida State) - $2,500,000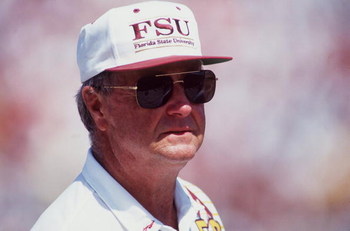 One of college football's Deans, Bobby Bowden has been Florida State's head coach since 1976 and has missed a postseason bowl just three times in his 32-year tenure.
Bowden went 5-6 in his first season, his only losing season in three-plus decades, and finished 9-4 last season with his 20th bowl game victory.
Wins in 2008: Nine.
Cost per win: $277,778.
Verdict: Worth the money. The man had a post-season award named after him in 2004, an honor normally reserved for coaches already retired (or deceased).
Bowden proved last season he's still got it, and with BYU, Georgia Tech, and Florida still to come in 2009, he has more than enough time to make up for the season-opening loss to Miami.
12 (tie). Rich Rodriguez (Michigan) - $2,500,000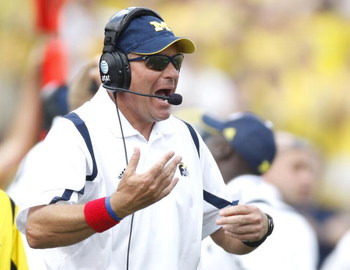 As fulfilling as last week's win over Notre Dame might have been, Michigan head coach Rich Rodriguez can't erase the fact that his team went 3-9 last season and tied for last in the Big 10.
Despite a sparkling record at West Virginia—where Rodriguez recorded just one losing season and six bowl game appearances—Michigan has proved a tougher challenge.
Wins in 2008: Three.
Cost per win: $833,333.
Verdict: Not worth the money. For the cost of one Rich Rodriguez win in 2008, the Wolverines could pay off BYU head coach Bronco Mendenhall for an entire season and still have more than $180,000 in change.
10 (tie). Mark Richt (Georgia) - $2,900,000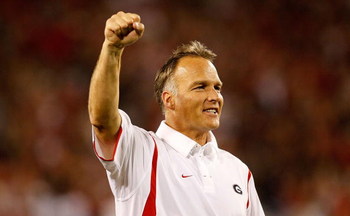 Georgia head coach Mark Richt is 82-22 since 2001 with a bowl game appearance in each of his eight seasons, including six bowl wins.
He finished No. 2 in the final AP poll in 2007 and recorded his sixth 10-win season last year when injuries helped derail a preseason No. 1 ranking.
Wins in 2008: 10.
Cost per win: $290,000.
Verdict: Worth the money. Believe it or not, this is Richt's first-ever head coaching job, and what a first it has been.
Richt is easily one of the most consistent and successful coaches in college football.
10 (tie). Bobby Petrino (Arkansas) - $2,900,000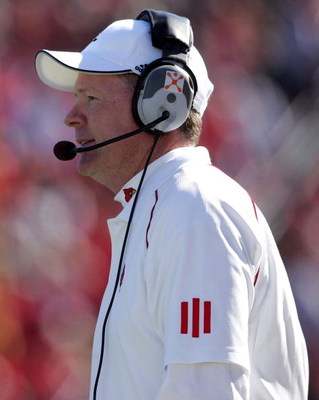 Arkansas head coach Bobby Petrino bombed in 2008. The Razorbacks were 5-7 and failed to make a bowl game following an 8-5 pre-Petrino 2007.
Petrino has yet to reclaim his glory days with Louisville, where he was 41-9 in four years with four bowl game appearances.
Wins in 2008: Five.
Cost per win: $580,000.
Verdict: Not worth the money. Reason being, chances are he leaves town with it. Since 1983, Petrino has been with 11 programs (NFL and college) and last season was his worst as a college football head coach.
9. Mack Brown (Texas) - $2,910,000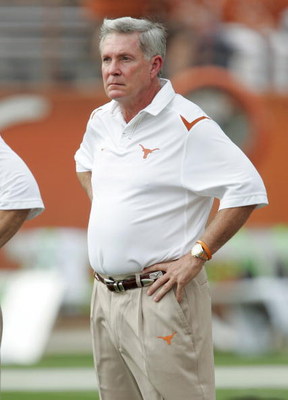 Longhorns head coach Mack Brown has won over 80 percent of his games at Texas and has finished in the AP's top-25 in every season since taking over the program in 1998.
He won 2005's national championship in dramatic fashion and Brown has reeled off three straight 10-plus win seasons since then—including a 12-1 2008 that featured a BCS bowl game appearance.
Wins in 2008: 12.
Cost per win: $242,500.
Verdict: Worth the money. There aren't many coaches that do it better than Mack Brown. And at just under a quarter million a win, he's a bargain this high in the rankings.
8. Kirk Ferentz (Iowa) - $3,030,000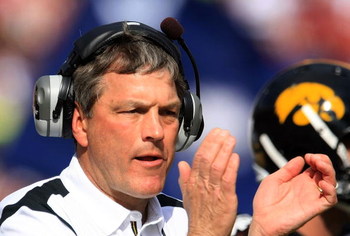 Iowa head coach Kirk Ferentz has six winning seasons in 10 years at the helm of the Hawkeyes.
He was 6-6 as recently as 2007 and 6-7 in 2006 before rebounding for a 9-4 season last year and an Outback Bowl win.
Wins in 2008: Nine.
Cost per win: $336,667.
Verdict: Not worth the money. Ferentz is the highest paid state employee in Iowa and frankly one of the most overpaid in college football. A 17-16 win over Northern Iowa to kick off 2009 isn't exactly proving anyone wrong.
7. Urban Meyer (Florida) - $3,400,000
Florida head coach Urban Meyer has two national championships in four seasons at Florida and is this year's preseason (and current) No. 1.
In eight seasons at three different schools, Meyer has never had a losing season as a head coach and has been to six straight bowl games.
Wins in 2008: 13.
Cost per win: $261,538.
Verdict: Worth the money. It's actually a little surprising his base salary isn't higher. Meyer is one of the great, if not all time great, college coaches.
6. Jim Tressel (Ohio State) - $3,500,000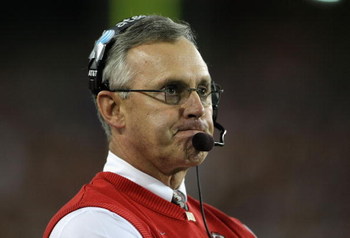 Ohio State head coach Jim Tressel is a winner, no doubt about that. He has eight winning seasons, eight bowl games, a national championship and a 84-20 record with the Buckeyes.
Despite win totals of 12, 11, and 10 in his last three seasons, he's been unable to win a bowl game since 2005, with three straight losses.
Wins in 2008: 10.
Cost per win: $350,000.
Verdict: Not worth the money. Of those three bowl game losses, two have been for the National Championship.
He hasn't been able to win a big game in years and his 35-3 dud against USC last year and 18-15 loss this season to the Trojans—both nationally-televised—have been heartbreaking for the program.
4. (tie): Les Miles (LSU) - $3,800,000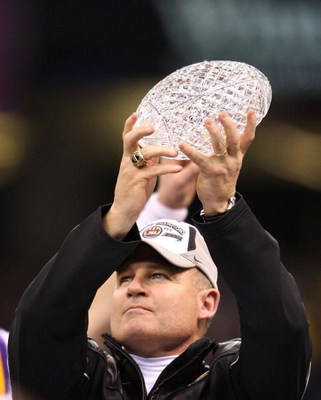 After three straight 11-plus win seasons culminating in a 2007 national championship victory over undefeated Ohio State, LSU head coach Les Miles has firmly established himself in the upper echelon of college coaches.
The Tigers were unranked to finish 2008 following an 8-5 season, but were No. 11 heading into 2009, putting LSU back on the pedestal.
Wins in 2008: Eight.
Cost per win: $475,000.
Verdict: Worth the money. A second 8-5 season might make Miles overpriced, but with his coaching mind and results, the potential is always there for national championship contention.
4 (tie). Bob Stoops (Oklahoma) - $3,800,000
Oklahoma head coach Bob Stoops is a regular season mastermind—his teams are 106-19 pre-bowl game since 1999. In postseason play, however, the Sooners are 4-6.
Stoops has double-digit win totals in eight of his 10 seasons and has never finished lower than second in the Big 12.
Wins in 2008: 12.
Cost per win: $316,667.
Verdict: Not worth the money. Since 2000, Stoops is 3-5 in bowl games, including last season's national championship game loss to Florida.
He holds the record for most consecutive BCS bowl games lost (five). If the Oklahoma faithful could pay him $3.8 million for a bowl game win alone, they might.
3. Nick Saban (Alabama) - $3,900,000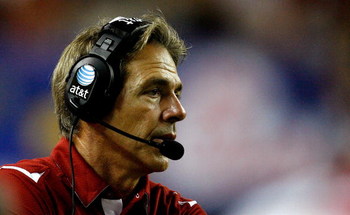 In his third year with the Crimson Tide, Saban is a wash in two seasons as the Alabama head coach.
He went 7-6 in 2007 before vacating five wins due to NCAA violations, then went 12-2 last season before losing in the Sugar Bowl to Utah.
Wins in 2008: 12
Cost per win: $325,000
Verdict: On the money. A big win over Virginia Tech has Alabama at No. 4 this season, and poised to duplicate or better Saban's impressive 2008.
His price tag is high, but for good reason. Saban went 48-16 in five seasons at LSU, winning two Sugar Bowls, including 2003's national championship.
2. Charlie Weis (Notre Dame) - $4,200,000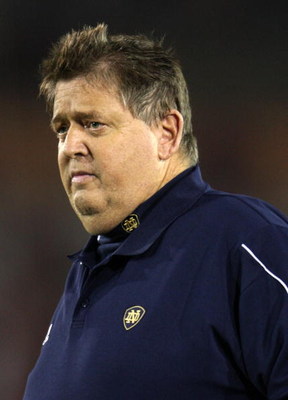 Charlie Weis' Notre Dame Fighting Irish haven't been ranked since 2006 and haven't looked halfway decent since that season when the Irish finished 10-3 and lost in the Sugar Bowl.
The former Patriot offensive coordinator hasn't transitioned well to the college game and won't live down a 3-9 finish to 2007 anytime soon.
Wins in 2008: 7
Cost per win: $600,000
Verdict: Not worth the money. Weiss boasts the distinction of coaching one of Notre Dame's 19 teams with losing seasons in 120 years of football.
No. 1: Pete Carroll (USC) - $4,400,000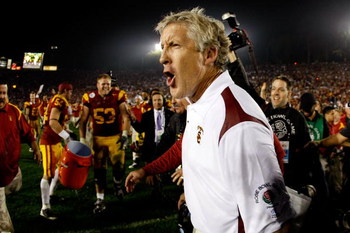 USC head coach Pete Carroll has 81 wins in the last 88 games, two national championships, three Heisman trophy winners and 53 NFL draft picks since 2001.
He's won seven straight Pac-10 championships and since 2002 hasn't finished a season ranked lower than No. 4 in the final AP poll.
Wins in 2008: 12
Cost per win: $366,667
Verdict: Worth the money. No question.
Keep Reading