Washington Redskins-New York Giants: Osi Umenyiora's Play of the Day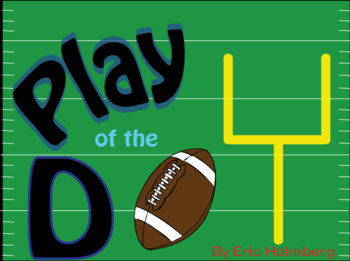 The "Play of the Day" is a weekly Washington Redskins feature throughout the 2009 NFL season. It takes a critical play, turning point, or a play that is representative of a larger theme and examines it in-depth.
Similar to NFL Matchup on ESPN, the Play of the Day is intended to provide insight and knowledge by breaking down a key play from the Redskins' previous game.
This week, the Redskins were down 10-0 to the New York Giants with 2:26 left in the second quarter. They had a 1st-and-10 on their own 47-yard line with a chance to cut into the Giants' lead before halftime.
That's when Osi Umenyiora stripped Jason Campbell of the football and returned it for a touchdown.
Note: The drawings are to scale and accurate to where each player was located on the field. All the images in this slideshow are my original creation and copyrighted material. Please do not use them without express written consent, implied oral consent, or imagined telepathic consent of the author. Well, really just the first one.
Setting Up the Play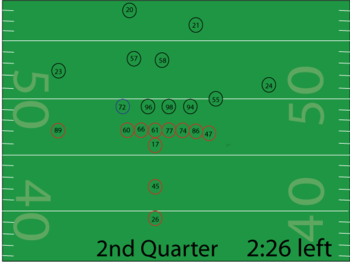 After only running four first-quarter plays, the Redskins' offense had a chance to put some points on the board at the end of the first half. They were in position to cut into the Giants lead and go into the half down 10-3 or 10-7.
Instead, it took a miraculous fake field goal to recover from Umenyiora's touchdown and just be down 17-7 at the half.
The Redskins couldn't muster an offensive touchdown until a late fourth-quarter drive when the Giants were playing prevent defense. Umenyiora's touchdown made a 10-point second-half lead insurmountable for the struggling Redskins offense, truly a turning point in the game.
The Washington Redskins, outlined in red, ran a one-wide-receiver, two-tight-end set with fullback Mike Sellers and running back Clinton Portis in the backfield.
The play was a play action pass by quarterback Jason Campbell. Both Sellers and Portis sold the play action and left the backfield to become receivers, because Campbell had five offensive linemen blocking four Giants rushers.
Osi Umenyiora is highlighted in blue, No. 72.
Jason Campbell's Options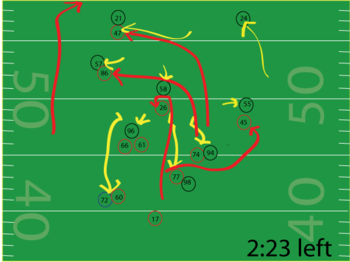 Three seconds and seven steps into the play, Jason Campbell reached the end of his drop-back and began to survey the field.
What he saw were five targets, none of them open.
The Redskins receivers' paths are drawn in red, while the Giants defenders' movements are in yellow.
The Pass Rush
Osi Umenyiora, No. 72, faked inside before springing to the outside, where he was met by left tackle Chris Samuels—who does a good job blocking on the play. He blocks Umenyiora for at least three-to-four seconds, pushing him upfield past Jason Campbell.
Mathias Kiwanuka, No. 94, tried to slip inside and was pushed back outside by right tackle Stephon Heyer. He was largely neutralized on this play.
Defensive tackle Fred Robbins, No. 98, began to swim off right guard Randy Thomas as Thomas began to force Robbins up the field, pushing him away from Campbell.
The other defensive tackle, No. 96 Barry Cofield, was double-teamed and a non-factor in this play.
The Linebackers and Secondary
All three linebackers did their job on this play, staying at home and not diving in on the play action fake. Danny Clark, Chase Blackburn, and Antontio Pierce caused this play to fail by covering all three short-yardage targets (Portis, Sellers, Davis) in man-coverage.
Santana Moss ran a deep post, occupying two men: cornerback Corey Webster and safety Michael Johnson.
Campbell's first read was to Chris Cooley on a crossing route, who was tightly covered by safety Kenny Phillips. He then looked for the underneath crossing route to Fred Davis, who was also being blanketed.
Now it's been three seconds going on four: decision time. When no one's open, where do you go? What does Jason Campbell do with the ball?
Where Jason Campbell Went Wrong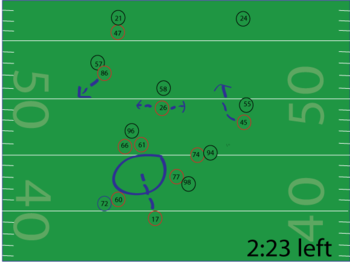 Jason Campbell's time was up; that little clock in his head started going off.
As the defenders were closing in, Campbell had nowhere to go with the ball.
But he did have one option, one that didn't result in a touchdown going the other way: step up in the pocket.
The offensive line did a great job on this play, even when they were beat. Randy Thomas was beaten off the line, but he continued to work and pushed his man upfield, thinking Campbell would step up. Samuels did the same thing.
He has approximately three yards to step up and extend the play, possibly giving his previously covered receivers time to get open. He should have slid up into the big blue circle.
As the play developed, Mike Sellers began to move up the field, and maybe in a couple seconds he might have gotten open.
If Fred Davis comes back to the ball, he might be open. Or, as Stephon Heyer continued to work his man upfield, there could have been running lanes for Campbell to the left or right. These are skills he needs to develop.
Ben Roethlisberger isn't a great pocket passer, but he has great pocket presence and ability to extend plays. Even rookie Mark Sanchez showed great awareness in the pocket avoided defenders. Pocket presence may be innate, and Campbell doesn't have it.
The End Result: Osi Umenyiora's Touchdown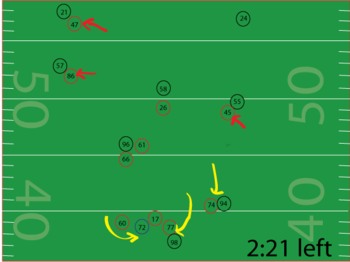 It couldn't have been worse.
As the defensive ends kept churning for that spot eight yards behind the line of scrimmage where they knew Jason Campbell would end up, he didn't move out of their crosshairs.
Campbell saw Mike Sellers begin get open and dropped the ball to his hip. That's when Umenyiora was finally able to dig under the Samuels block and strip the quarterback.
Campbell helplessly dove for the loose football, only to look up and see Umenyiora and a convoy of Giants running the other way with it.
For the Redskins offense, 10 points was too great of a lead to overcome. Jason Campbell had the space, had the time, but couldn't move out of the defense's crosshairs.
This one was completely on him, not on the offensive line.
One poor game is all it took for Jason Campbell to move right into another crosshair: aimed courtesy of despondent Redskins fans.
Keep Reading

Washington Redskins: Like this team?