Fan Depreciation: The Top 10 NBA Taunts of All-Time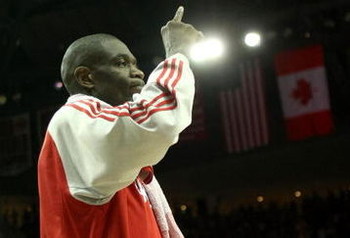 In this day and age, NBA players are beginning to show off.
As if the tough jumper or the hard slam dunk wasn't enough, taunts have been performed just to show how good a player is.
The entertainment factor of a basketball game can be supplied from the team mascot, cheerleaders, and halftime shows. But if you haven't already figured it out, these entertainment suppliers are not always there during the actual game.
That is where player taunts come into action. They can explode a stadium with cheer or ignite a wave of boos.
So continuing the theme, here are my top ten NBA taunts in recent history.
10 - Baron Davis' Untucks Jersey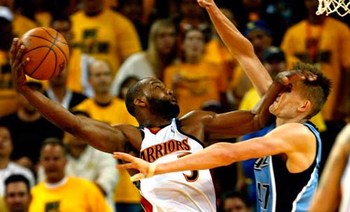 It was the dunk that shook the Bay Area better than any earthquake measuring a "10.0" on the Richter scale.
Baron Davis and the Warriors blew past the No. 1-seeded Dallas Mavericks to advance to play the Utah Jazz in the Western Conference semifinals.
Though their stint in the first round proved to be something extraordinary, Baron Davis' dunk on forward Andrei Kirilenko was something else.
Golden State fans ate up that dunk with loud chants.
And to add insult to injury, Davis untucked his shirt, as if he tried to say that he was finished.
9 - DeShawn Stevenson's Face Wipe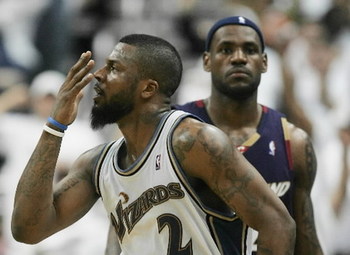 The ever so heated rivalry between LeBron James and DeShawn Stevenson was so blistering hot even rappers Soulja Boy Tell'Em and Jay-Z took sides.
The competition went beyond point of trash-talking and nasty stares. But what iced the cake was DeShawn Stevenson's "you can't see me" face wipe.
And sure the heat of the moment brings nasty things out of certain individuals, but I bet if Stevenson were to go back in time he wouldn't have wiped his face.
It was only a matter of games until James dunked and drained a three right in the grill of a cocky Stevenson.
The face-wipe was the new craze of that series and helped keep the fire lit.
Heck, even Damon Jones got in on it.
8 - Vince Carter's Ear Taunt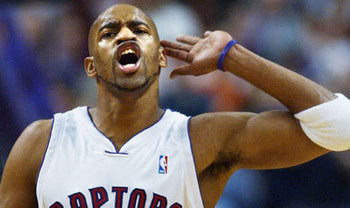 The Air Canada Centre went crazy when Vince Carter dunked the basketball.
They cheered extra louder when he taunted after each one of them.
His after-dunk taunts were something to enjoy. He entertained the fans with his dancing, funny faces, and the infamous ear taunt. He was a showman and loved to give his fans their money's worth.
The taunt symbolized the transmission of energy from the fans to Vincanity. He needed their energy to fuel him during the game, given how tired he actually was.
Seeing him dunk nowadays is a rare thing to spot, but when he does it is something to cherish.
7 - Shaquille O'Neal's [INSERT TAUNT HERE]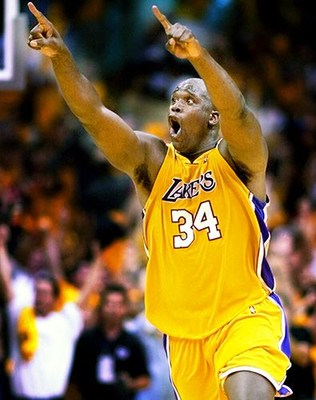 You can't put into words how many memorable taunts Shaquille O'Neal has had in his NBA career. From his breaking the rim gestures to his pre-game tricks, they're all fun to watch.
What is even more fascinating about O'Neal is, regardless of his age, he is willing to entertain his fans. He has a deep love for the game and his fans, and loves to pour his emotions on the court each night he plays.
There are many ways that O'Neal shows his emotions and vibes.
Shaquille O'Neal: The King of Taunts.
6 - Dennis Rodman's Fist Pump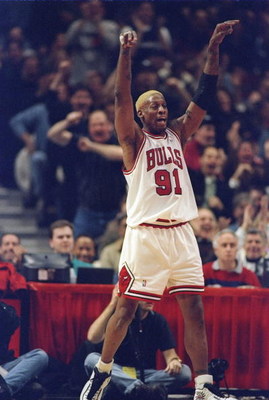 Dennis Rodman might have focused on the tiny things of the game of basketball, but when forced to perform on the offensive end, he did not disappoint.
His points came and went, but his rebounding and defensive talent always remained. But when he was on fire on the offensive end, he would let you know.
Almost every time Rodman got a mid-range jumper or a hard-fought lay-up in, he would pump his fist in the air as a sign of approval.
Perhaps the reasoning behind this strange taunt was he was not an offensive threat, and as a way to express his rare behavior he would punch for joy.
Dennis Rodman's taunts strongly complement his different game.
5 - LeBron James' Pre-Game Antics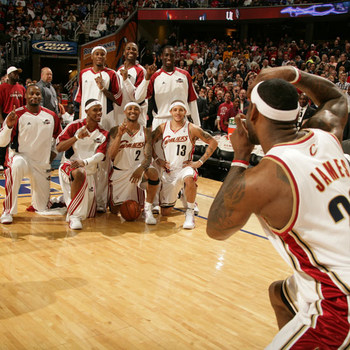 Family photo?
Or how about some baseball? Whether he is in Cleveland or someplace else, LeBron James carries his bag of pre-game antics everywhere he goes. And with teammates like his, it is easy to play along with the skit.
Heck, you might even see the King break a few dance moves and perform a few handshakes.
But what always remains is his always popular hand powder toss, a pre-game ritual that never seems to be missed.
4 - Gilbert Arenas' No-Look Shots
It is really hard to determine something without looking.
You can't cook with your eyes closed, nor can you read without looking at the page. Sure, kids may have found ways to memorize Guitar Hero songs and movie quotes, but no one knows the outcome better than Agent Zero.
Gilbert Arenas may not have seen the floor that much in the past year or so but let us not forget this man's capability.
His long range shots are lethal, and he knows them so well that he doesn't even need to see the ball go through the hoop. He just knows.
Add a nice little gesture to such a characteristic, and you got yourself an amazing game taunt.
3 - Shawn Kemp's Rock-A-Baby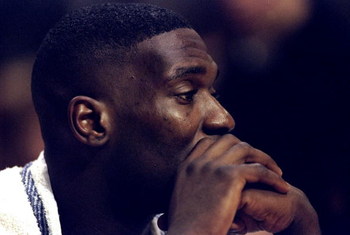 The "Lister Blister" was, in my mind, the reason why NBA video games now include players falling after an insane slam dunk.
During the '90s, Shawn Kemp was one of many high-fliers in the NBA. His acrobatic skill and body control were uncanny.
But perhaps the best demonstration of his unique abilities was when he slammed one right on Alton Lister.
He rocked the baby, dunked the ball, and then "ha ha, in your face" to Lister.
Insulting!
2 - Dikembe Mutombo Finger Wag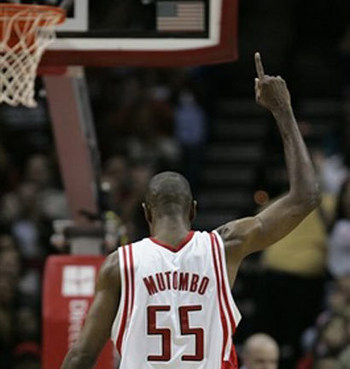 How can you have a list of taunts without this man?
Dikembe Mutombo's finger wag was directly used after a block or even a dunk. It was used to tell the player, "Hey, not it my house!"
But more importantly it represented Mutombo as an intense and serious player during game time.
He was a likeable guy off the court, but when he tied his shoelaces and slipped the knee pads on, it was game time.
The finger wag; an inspirational movement brought to by the NBA.
1 - Michael Jordan's Shoulder Shrug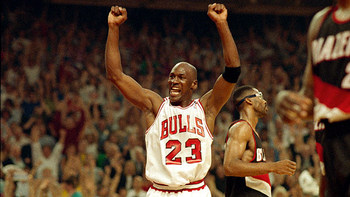 What else can yeah say?
He's the greatest of all time.
Notables
Kevin Garnett's Fists - For the one of the game.
Chris Anderson's Hari Check - Just to make sure everything's intact.
Chris Bosh's "Outta My Way" - Any Bosh fan knows this.
Kobe Bryant's Pistol - Bang, bang!
The traditional three pointer hand signal - Form a circle with your index finger and thumb and pop the other three fingers up!
*This was some what of a hard topic to write about. It took me quite some time to figure some worthy taunts. Please feel free to inform me about any other taunts that I might of missed.*
Keep Reading

Cleveland Cavaliers: Like this team?