All Time Australian Test XI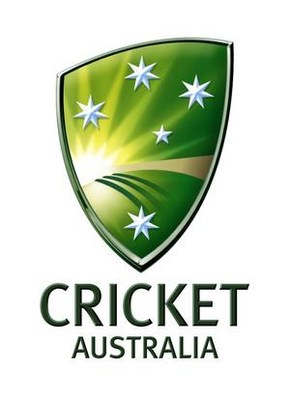 I am trying to compile an all-time Australian Test XI, but I don't know where to start from.
The beginning, as in all stories that really matter, was extremely tempting. Charles Bannerman could have been there because he made the first Test century in the first Test match and his 165no remains, after 316 matches, the highest by an Australian on debut against England.
Or Frederick Spofforth, the Demon, who reinvented fast bowling and would have been in that first match in 1877 but for his objecting to the selectors' choice of wicketkeeper (a concept that might have caught on).
But here are the players I came up with, for an Australian all-time Test XI.
Victor Trumper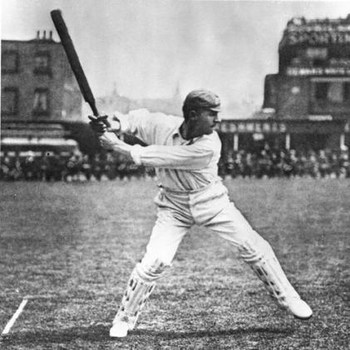 An authentic Australian idol. Though his Test average of 39.04, at first sight does not set the pulse racing. In his day, seeing him allegedly sent audiences into overdrive, before the word had even been invented.
Trumper operated on poor pitches which were left open to the weather and made batting a tricky, often dangerous proposition.
His effortless style, wonderful eye and quick hands invariably made him a delight to watch. "His extreme suppleness," said his Wisden obituary, "lent a peculiar grace to everything he did."
He played in eight Ashes series the finest of which was in 1902. His 104 on a sticky pitch at Old Trafford, one of his six Ashes hundreds, was the stuff of dreams as Australia won by three runs.
,There was more to Trumper than batsmanship for he was a hero to the public, modest, unaffected, enduringly popular. He also died young, from Bright's Disease, at the age of 38. A nation mourned and his legend was secured.
Arthur Morris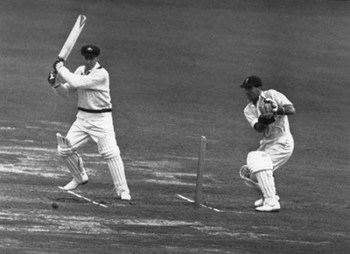 Edges out Bill Ponsford and Matthew Hayden, but only by the chairman's casting vote after seven recounts.
He was a member of the 1948 Invincibles team, which wins him this place. That and his eight Ashes hundreds, three of them in that memorable year.
He was a refined lefthander, extremely strong against spin but vulnerable to Alec Bedser who dismissed him 18 times in Ashes Tests.
An affable chap, Cardus wrote of him: "His batting is true to himself, charming and good-mannered but reliant and thoughtful." He was a big occasion player.
Don Bradman (capt)
You might make a case for somebody else being captain of the team? Warwick Armstrong, say, or Ian Chappell? But it would not win the day.
The cricketer of the last century, probably of any century, it was he who led the Invincibles.
He was Captain Invincible and had he not made a duck in his final Test innings, when he needed only four to give him a Test average of 100, a monumental achievement.
Clinical in approach that last innings after he was given a tumultuous reception as he went to the wicket at The Oval confirmed his humanity.
As he wrote in his autobiography: "That reception had stirred my emotions very deeply and made me anxious, a dangerous state of mind for any batsman to be in." He lasted two balls then, but his deeds will last forever.
Bradman is pictured here in 1930 being chaired by his team after an amazing 432 not out when playing for New South Wales against Queensland.
Ricky Ponting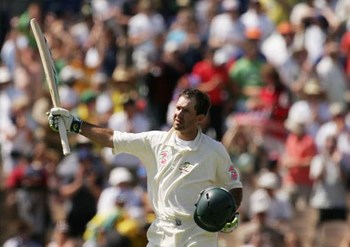 It has been tempting to dub him the modern Bradman. He is no such thing, of course, but he is one of the greatest ever batsman, as, some would say, he was destined to be from the age of 12.
Even if he does go at the ball with hard hands, the certainty of his movement and his quickness of eye are enormous compensation. A core of steel runs through him.
As the captain who surrendered the Ashes in 2005 he stored it up and plotted vengeance, which was forthcoming when Australia won the return five-nil and he scored stunning hundreds in both the first two Tests.
Greg Chappell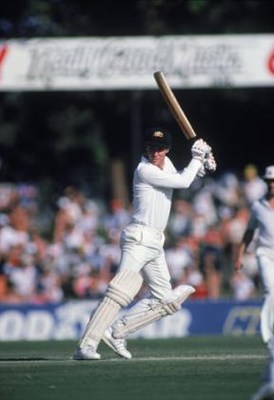 A consummate stylist and an integral part of Australia's renaissance in the Seventies. His relaxed demeanor at the crease, as though nothing could fluster him, was the hallmark of his craft.
A handy medium pace bowler, an instinctive slip fielder, he was at home in any conditions, an adornment to any team.
Against England, he made nine hundreds, and book-ended a wonderful career with centuries in his first and last innings.
Keith Miller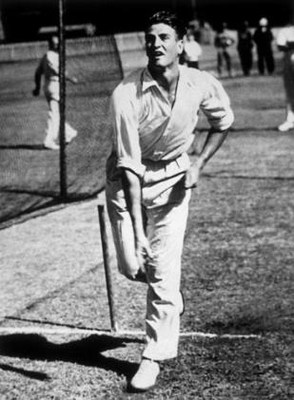 A Boy's Own Hero, the cricketer as matinee idol. He embraced life and life embraced him back.
He was a fighter pilot during World War Two and famously said when it became fashionable to talk of the pressures of sport: "I'll tell you what pressure is. Pressure is having a Messerschmitt up your arse. Playing cricket is not."
He was an immense all-rounder, a natural (and fast) bowler, a handsome batsman who drove ferociously yet cut delicately. If his performances depended on his mood, he was still formidable enough to average 36 with the bat and 22.
He scored three Ashes hundreds, and three times took five wickets in an innings and courted Princess Margaret. As they said, women wanted to be with him, men wanted to be him.
Adam Gilchrist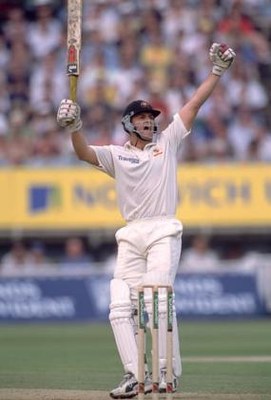 Indisputably the best wicketkeeper-batsman of all time, and perhaps even the greatest all-rounder.
He was a breathtaking striker of a cricket ball, fashioning shots and pulverizing attacks for fun. No occasion or setting daunted him and he turned games.
If his keeping was not the purest, it was quite proficient enough to handle the mysteries of Shane Warne. That he was such a virtuous sportsman to boot, almost made him too good to be true.
But what a cricketer: the trouble is that every side will now want a Gilchrist as they want a Bradman. However there is only one.
Ray Lindwall
Short for a fast bowler, certainly by modern standards, he was fast with vicious late out swing and a mean, sparingly used bouncer.
He played Test cricket until the age of 37, remarkable for a fast bowler of any vintage, and was an icon of the 1948 side, when the crowds loved his speed and pumping action, and he took 27 wickets.
In all Ashes Test he took 114 wickets and was also a handy performer with the bat.
Shane Warne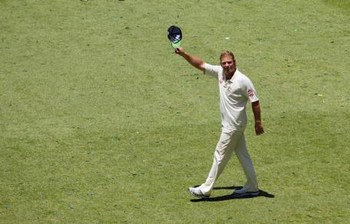 From the moment he entered the Test arena he was probably a shoo-in for this team. Not only did he revive the art of leg spin,he transformed it.
Craftsman and showman in one, he was an impeccable judge of a batsman's fallibilities and knew how to expose them.
If half the variations he claimed to have at his disposal were kidology it was mightily effective.
Dennis Lillee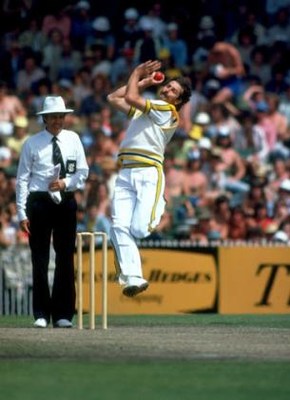 He embodied the combination of aesthetic beauty and desire to intimidate which is what makes fast bowling so compelling.
From his early days as 'Tiger Lillee' to his later career as a highly intelligent executioner, he was a destructive force on all pitches.
He was a fearsome spectacle with a bouncer he was more than prepared to use, for all his superb displays against England perhaps the greatest was not in an Ashes match but in the Centenary Test in Melbourne.
There he took 6-26 and 5-139 as Australia won by 45 runs. He was all that a fast bowler should be.
Clarrie Grimmett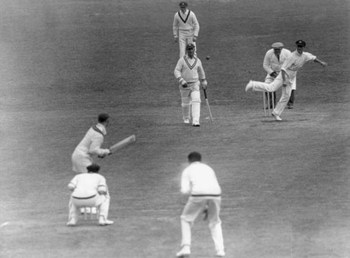 Prematurely bald, pinched of face, he did not make his Test debut until his was 34 and looked 44. His leg spin, however, was accurate before its time.
Grum to colleagues, he was Scarlet to journalists, after the Pimpernel because batsmen sought him here and sought him there, and sought him everywhere.
Like his fellow leggie in this side Warne, he made an immediate statement in Tests by taking 11 wickets at Sydney in the final Test of the 1924-25 series and in all took 106 Ashes wickets.
When Bradman was breaking records in 1930, Grimmett (pictured bowling) was quietly dismantling techniques and four times took five wickets in an innings.
Keep Reading