Top 10 Unsung Heroes of the Boston Celtics' 17 Championships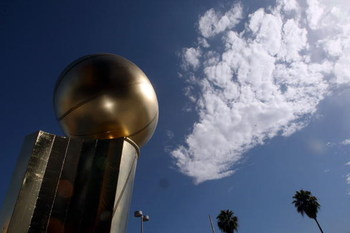 All throughout their storied history, the Boston Celtics have had players who weren't household names, but contributed when it counted.
I am sure if Johnny Most was alive today he could tell the story in his raspy voice. A story of supporting players whose names we forget.
So it is in the spirit of togetherness that Red forged with the players who wore the Celtic jersey at a time when overt racism affected one of his star players' daily life.
To today's team who embraced that togetherness in "Ubuntu" to revive Boston's championship legacy.
Here are my top 10 Boston Celtics unsung heroes in no particular order.
1. Arnie Risen-The Other Big Man for the First Celtic Championship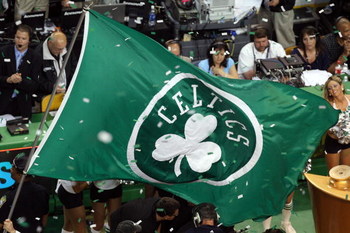 Arnie was fortunate enough to battle the original big man George Mikan and of course our own esteemed Bill Russell. Both men literally and figuratively cast a giant shadow over this skilled big man.
Risen stood 6'9", twice led the Rochester Royals in scoring and was a very good rebounder. He led the league in scoring during the 1949 season, and had already won a championship with the 1951 Royals as a starter prior to becoming a Celtic. He won his second primarily as a back-up to Russell.
He had a 13-year career that spanned both the National Basketball League and the Basketball Association of America the precursors of the NBA.
He battled Mikan in the paint and had the opportunity to slap Russell on the back after bringing the first Championship to the Boston Garden.
You may not remember his name, but Arnie Risen is a Hall-of-Fame inductee.
2. Eugene Michael Guarilia -Had key defensive stop to secure championship in game seven.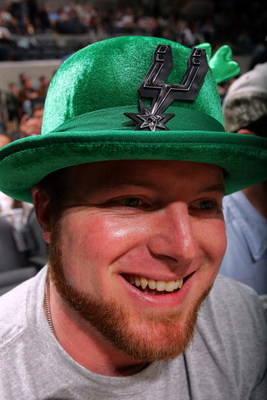 Eugene Michael Guarilia was a 6'5" forward from George Washington University. He was selected in the second round of the 1959 draft.
He was placed on what was called the farmout list so the team could have a 10-man roster. He remained in Boston in case of injury it was within NBA rules at that time.
He had the key defensive stop in the decisive game seven against Elgin Baylor to seal the 1962-63 championship for the Celtics. He ended up with four rings for his career.
disclaimer: this is not a photo of Mr. Guarilia.
3. Gene Conley: The only Boston Celtic to play for Boston Red Sox after winning a Championship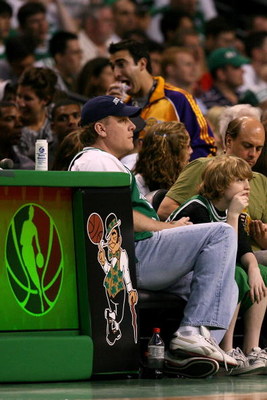 We have always known that Boston supports its own from Curt Schilling attending the Celtics' Game Six shown in this image, to Paul Pierce throwing out the ceremonial pitch after the Celtics won banner No. 17.
The Boston Sports Nation operates as one. But which one of our many sportsmen actually took this to another extreme? Gene Conley, that's who.
He won three championships with the Boston Celtics, and oh by the way he also was the winning pitcher for the Milwaukee Braves in the 1957 World Series.
After winning the 1961 NBA championships he won a game for the Red Sox nine days after the season ended.
What other Celtic can say they won championships in two professional sports?
4. Clyde Lovellette-First player to win NCAA, Olympic, and NBA Title
Red picked up Lovellette after the Hawks considered him to old to help them win. He has played for such legendary coaches as Phog Allen and Red Auerbach. Lovellette was used as back-up for Bill Russell. If they kept stats the way they do today Clyde Lovellette would be a household name. He won two titles as a Celtic and is a Hall-of-Fame inductee.
5. Willie Naulls-Part of Historic First in NBA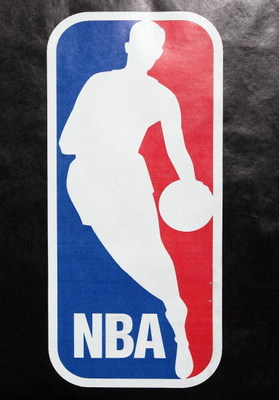 Willie Naulls was not drafted by the Celtics but was acquired via trade from the San Francisco Warriors who had gotten him from New York. Naulls averaged a double-double in his first seven years in the league,
He spent 10 years in the NBA the last three with the Celtics where he won three championships and also averaged a double double. One year Tommy Heihnson got hurt and he got to start; as a result he was part of a historic moment in NBA history.
He became part of the first all African-American starting five in NBA history.
6. Glen MacDonald-95 Seconds of Fame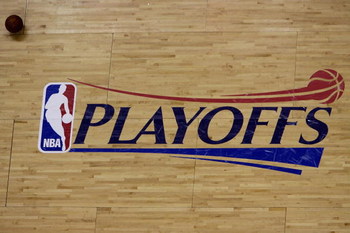 MacDonald's contribution to this storied franchise gave him his only claim to fame as a member of the green team.
MacDonald was part of the fabled Greatest Game Ever Played, in that historic triple-overtime game against Phoenix. He simply scored the most important six points of his career and played with reckless abandon. The Celtics were able to go on to earn what they knew was theirs all along a 13th NBA championship.
7. Sam Vincent- Played with two greats in their hey-day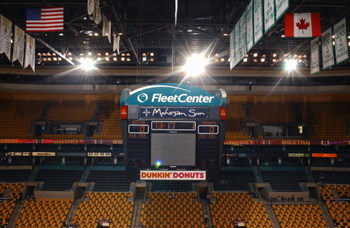 Sam's NBA career wasn't that great—he was a career journeyman who had one championship with the green. He did nothing notable as a player being stuck behind veterans like Bird and Ainge.
His only claim to fame is that he is the only player in NBA history to play with both Larry Bird and Michael Jordan.
8. Sam Jones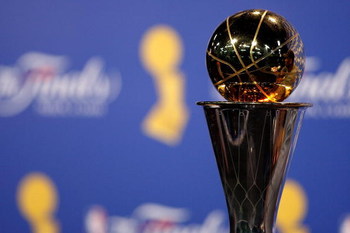 Bill Russell was asked who is the most clutch player he ever played with and he said it was Sam Jones. For six out of the eight consecutive championships that they won, Russell said Jones was personally responsible for that win. Not one Celtic has ever disputed those words spoken by Russell, the owner of 11 of those 17 championships.
Jones bankshot made him the most feared clutch shooter at the time. Red himself, thanked Sam publicly for making him a "helluva" coach. He was named to the 25th and 50th Anniversary Team, and inducted into the Hall of Fame in 1996.
Yet Jones is the only one whose name is rarely mentioned when talking about the dynastic legacy of players from those championship years.
9. Thomas Thacker-Three Time Champion One Time Boston Celtic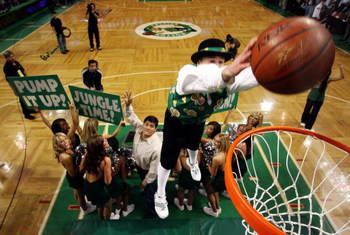 Thacker was picked up after he refused to sign with Chicago who picked him up in the dispersal draft. He promptly helped Boston win the 1967 championship.
Thacker also has the distinction of being the only player to win an NCAA, NBA and ABA championship. He was also the first coach of the Continental Basketball League.
10. Brian Scalabrine-If only for his Final Quotes After the Celtics won banner 17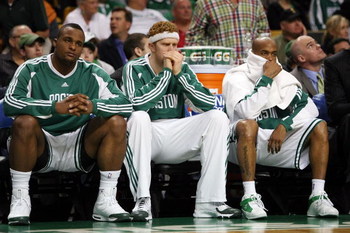 He only gets on the floor when the game is over, or when any of the big three gets injured. Scals is your man to do those things; he doesn't complain and he is the ultimate spokes-person for "Ubuntu."

He has the body of the Pillsbury doughboy, and looks like Will Ferrell of "Semi-Pro" fame with his special headband.
He is the perfect Celtic and a good role model for the young players on the team. Do not judge him by his contribution on the court.
His worth is in the intangibles and professionalism he exhibits off the court.
Keep Reading

Boston Celtics: Like this team?