It's In the Cards!: Why Arizona Will Come Up Aces in the NFC West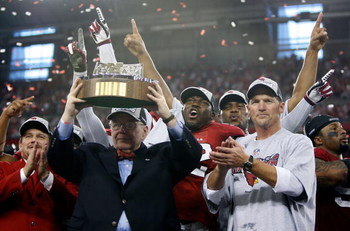 For those of us that have suffered through the two-plus decades of sun-soaked misery that was passed off as NFL football, it seemed we would never see William V. Bidwill standing alongside, and then actually holding in his own baby-soft mitts and raising the George Halas Trophy over his bowtie-choked noggin. It was a moment that we, the 20-plus year loyal supporters, will never forget.
All eleven of us.

So, what are the chances of last years NFC Champs, Mr. B himself and his Arizona Cardinals, once again celebrating on cheer 'n' tear filled stage at the end of the 2009 title game? What are the chances of seeing coach Ken Whisenhunt trotting around the field, slapping the hands of the faithful in a post title game celebration?
The West was certainly a division that, in 2008, got a lot more ink than their quality and strength as a whole would generally support.
There was the farewell tour of Hall of Fame coach Mike Holmgren. The pained look on this legend's face as injuries and losses piled up wasn't pretty. I almost felt bad for him when the Cardinals unceremoniously ran him and his team out of the building Holmgren's final game. Almost.
Then there was the mid-season replacement of dapper Mike Nolan in San Francisco. He was replaced by intensely passionate HoF linebacker Mike Singletary. And it didn't take long for him to show the team he meant business. Soon after Mike's boxers hit his Nike's, the Niners started piling up wins.
And in St. Louis, the Rams stunk. They stunk before firing Scott Linehan and replacing him with Jim Hasslet. They stunk after replacing him with Jim Hasslet. They didn't get as much ink as anyone else in the division because...well, they stunk.

So, will the Cardinals repeat as NFC Champions and make another trip to Florida (this time, Miami) in 2009? Well, first things first. And that would be "will the Cardinals repeat as division champs in the NFC West?"
Only time will tell. But since it's what people like me to do at this time of year, I'm going to toss out my thoughts and analysis, and let the cards fall where they may.
CARDINALS OFFENSE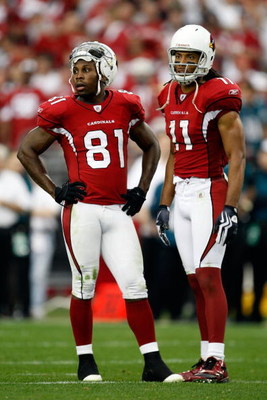 The division itself is better overall, and on paper it may not look like the Cards did enough to improve on last year's success to even "pencil them in" atop the West. But they kept their explosive offense together by re-signing Warner, and improved their running game on the first day of the draft, in April.

As for filling their most glaring needs, they added Chris "Beanie" Wells in the 31 spot in the draft to an already determined second-year RB, Tim Hightower, for a running game that floundered at or near the bottom for the past...well, forever it seems.

Wells, after twisting his ankle on the first day and missing the early part of training camp, showed flashes of the brilliance that had many of the "experts" considering the Ohio State product a top-10 pick, talent-wise. That was without considering the "potential injury/lacks motivation" label that was attached to him, resulting in his availability at the 31 spot for the Super Bowl Runners-up.

Hightower started strong, then leveled out after replacing former Cards and now Seahawks RB Edgerrin James following a tough loss in Carolina last year. He ended up with 10 touchdowns in the regular season, and his jaunt to glory with just over two minutes left in the championship game will live forever in the minds of the faithful.
He has been very supportive of Wells, but the drafting of another back in the first round seems to have lit a fire under the sophomore. The competition will make both better, and add a new dimension to the Cardinals' already awesome aerial attack.
If the Cards notoriously-weak running game jumps in rank from the typical of low 30's to the high teens or even low 20's, this will be an almost impossible offense to stop.

As unlikely as it seems possible, a repeat of last year's scenario wherein all five offensive linemen stood side-by-side through 20 straight games, would be an amazing achievement, indeed. The young line will be better with another year under their collective belts under Russ Grimm, who will "share" play-calling duties with Whiz.
The final cuts, removing turnstyle/false-start machines Oliver Ross and Elton Brown, can only be considered a depth addition by subtraction. The Cards added depth inside by bringing back Jeremy Bridges before dumping Brown on Monday.
Center Adam Sendeline was thrown to the wolves as a rookie last year, and played admirably. If Duece Lutui and Levi Brown can cut down on the penalties, it'll be a pretty solid right side of the line.
They also drafted the biggest baby (infant, not whiner) ever born in Louisana history when they drafted 6'7", 385 lb. Herman Munst...errr, Johnson out of LSU. The "kid" is huge. Huge! And early indications are he can play, too.

Bringing back Warner, who made a free agent trip to San Francisco, but was just there long enough to tell Singletary to pull up his pants before heading back to the desert and inking a two-year deal, was key to any chance of repeated success for the Big Red. Especially if they had the same backup in Matt Leinart that they had last year.
But this is a different Leinart. You could see it in camp, and certainly see it on the field in the preseason.
If Warner's surgically-repaired hip acts up, or any other part of his 38-year-old body causes him to miss games, Leinart should be able to keep the team from sinking entirely.
But as noted, their only chance at REPEATED success (and a return trip to sunny Florida at season's end) would be to have a division title intact, and a relatively healthy Kurt Warner heading into the playoffs.
Somehow managing to keep the extremely passionate Anquan Boldin happy enough to set aside the potential media circus he created one year ago is either a feather in the team's cap, or a professional gesture by one of the game's consummate pros.

I'll opt for a little of both. But mostly the latter.

The Cardinals not only have the best starting WR tandem in the game in Boldin and All-Pro Larry Fitzgerald, but are deep there, too, with second year pro and third-on-the-team, 1,000-yard receiver, Steve Breaston.
Add solid fourth and fifth WRs Jerheme Urban and Sean Morey and former third-round pick Early Doucet emerging and waiting in the wings, and that's a pretty solid group. The team actually kept a seventh receiver, too, with Mississippi State rookie Lance Long making the cut.
The Cards let disappointing TE Leonard Pope go, ending the occasional-starter's time with the team since being drafted in the third round in 2006. Ben Patrick was tabbed as the starter, but he was suspended for the first four games of the season.
For now, Steven Spach, who has made a remarkable comeback from knee surgery in February, will start.
Anthony Becht, more of a blocking TE, and Dominique Byrd round out the TE group.

For a passer as quick-minded and accurate as Warner, the addition of Wells and an overall upgrade in speed in the running game gives him outlets for potential jailbreaks on those rare occasions that he can't find the dynamic duo...errr, terrific trio.
Or, if he simply needs to dump off an outlet pass in the flat, a big play can happen at any time.

Even with the loss of offensive guru Todd Haley to Kansas City, the Cards should be in good hands with the play-calling going back to head coach Ken Whisenhunt, and "by committee" at times, too. Coach Whiz is a creative guy that likes to take chances, and has the talent to back it up.
I see no reason (beyond the obligatory "barring injury") that the Cardinals won't again average 30 points-a-game. In fact, the improved running game could help launch another Warner-led team back into the 500+ points plateau, a place he hasn't been since 2001.
CARDINALS DEFENSE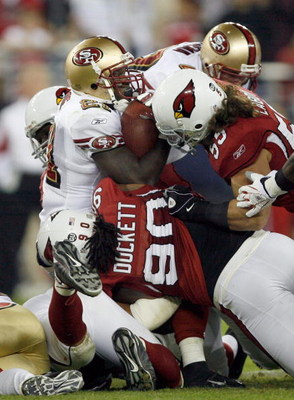 Defensively, the re-signing of Pro Bowl safety Adrian Wilson makes him an NFL anomaly these days, signing a five-year deal that will make him a Cardinal "for life."
They kept LB Karlos Dansby via the franchise tag, but haven't been able to get a long-term deal done. Therefore, he'll be here and among the growing group that is feeling di$$ed on this team.
Add blossoming-stud DL Darnell Docket, a Twitter machine that changed his name to his number (Nine-O, not to be confused with 90) to the mix as well, and that's a mini-bunch of upset team stars. If channeled correctly, if can be a wonderful thing for this team. If not (which I don't see at this point), it would be a problem.
But when you consider that A) none have squawked (much), and have acted professionally this time around, and B) they will all be playing for what would reasonably be considered their "golden contracts" (their best shot at the huge deal in their NFL prime), the guess here is that it will end up on the positive side for the Cards defense.

The Cardinals addressed their most glaring defensive weakness in signing CB Bryant McFadden, who was last seen wearing black and gold and tackling Cardinals in Tampa last February. It isn't like CB Rod Hood didn't make plays last year. He did! I remember both of them.
But under the "a defensive backfield is only as strong as its weakest link" theory, this solidifies an otherwise-terrific defensive backfield, with Adrian Wilson and Antrel Rolle becoming one of the league's best tandems at safety.
Despite a lousy camp, (especially in the last two games) Dominique Rodgers-Cromartie has "emerging star" written all over him. There's no way Wilson will allow DRC to become lackadaisical, as he appeared against the Broncos and more-so, the Packers.
This could and should emerge as one of the division's—if not the league's—best defensive backfields. They also added young depth in drafting Alabama S Rashad Johnson and CB Greg Toler in the third and fourth rounds, respectively.

The pass rush could be a concern, but if preseason is any indication, the loss of DL Antonio Smith just opened a door that second year former backup Calais Campbell wants to kick in and make a name for himself. Good speed and a previously not-so-pronounced dedication and tenacity could make him an improvement.
Dockett had a fantastic playoff/SB run. The Cardinals haven't had Dockett's talent inside since the days of Eric Swann.
Oh, and Nine-O will be playing for the dollars this year, too.
With a healthy OLB Bert Berry back, a seemingly reborn Bryant Robinson, massive Gabe Watson, and an always ready to blitz Wilson, the potential is there for a better than average combo of harassment of opposing QBs and filling the middle against the run.

The linebacker position would appear to be the Cardinals' overall defensive weak link. Unlike other teams within the West, there isn't a "star," budding or otherwise, among this group.
But they are a hard-nosed, hard-working bunch that plays pretty well together. Underrated Karlos Dansby leads Clark Haggans, Chike Okeafor, and Gerald Hayes in this years 3-4 defense, with a mobile Ali Highsmith first off the bench. Oft injured Travis LaBoy will be missed. He was fun to watch when he was healthy.
The Cards lost DE turned OLB Cody Brown for the season, a second-round pick that fit the Cards' pressure A LOT plans nicely. Yet they kept undrafted rookie free agent and possible diamond-in-the-rough Reggie Walker, who made the team by his alert, speedy, always-be-around-the-ball play on the field in the preseason.
While you can't really miss what you never had, the loss of Brown and his pass rushing potential is more than a casual disappointment.
The Cards fired defensive coordinator and Phoenix native Clancy Pendergast soon after the Pittsburgh version of "The Drive" in Super Bowl XLIII. Needless to say, he'd likely be here if the Cardinals stopped Pittsburgh in those final two minutes in Tampa.
But the Cards defense wasn't by any means a shut down defense long before that. I think getting rid of the last coaching remnants of the Green era was another example of addition by subtraction. They gave up a boatload of big plays, and a less powerful offense with Pengergast's D would have had this team finishing 7-9, at best.
I believe the talent was greater than their collective play, and that discrepancy rests on the shoulders of the defensive coordinator. Adios Clancy.
Look for the Cards to do more stunts, take some risks, and count on on-the-fly adjustments under Bill Davis, who came over with Whisenhunt from Pittsburgh and has been coaching the linebackers the past two years.
As long as the players' talents can keep up, this can not only be a much-improved bunch, but a fun defense to watch, too!
For the record, I'm of the opinion that former nickelback and special-teamer Aaron Francisco didn't lose his job on the final cut. I believe he, like Pendergast, lost his job in those final two minutes in Tampa.
Not in being one of the three players that couldn't prevent "the reception," but getting faked out of his jock at midfield, allowing Holmes to get past him in taking it to the six-yard line with about one minute to go.
Francisco would have had to have an unbelievable camp to stick with this team.
For the record, part two: He was signed by the Colts the next day.
CARDINALS SPECIAL TEAMS, etc...
You have to love a guy like Neil Rackers. The Cardinals veteran kicker has certainly had his ups and downs in the NFL. There was the magical 2005 season, when he couldn't miss if he was kicking the ball between a picket fence, half a mile away...and in a dust storm.
Then there was that fateful Monday Night Football game against the Chicago Bears. You know, the "Dennis Green meltdown" game. The "That's why we took the damn field. If you want to crown them, just crown their ass! But they ARE who we THOUGHT they were! (insert mic pimp-slap)...and we LET 'em off the hook!" game. Yeah, that game!
Many may not remember, but even after the Cards gave up a 20-point advantage, and the Bears roared back and took a 24-23 lead with just 53 ticks on the clock, the Cards had a chance to turn the tide once more.
But Rackers pulled a 41 yard "chip shot" wide left. And it sealed the fate of one of the Cardinals most embarrassing losses, in a team history FILLED with embarrassing losses.
That's enough to send your average kicker searching Barcelona "help wanted" ads, looking for a semi-pro soccer league gig.
But Rackers is a football player. He's not now, and never has been, your average NFL kicker.
Rackers will turn defender as soon as he comes out of his kicks. He can pooch, drop, drag, or dribble an onside kick as well as anyone Ive seen in a while. And he has no problems sticking his nose wherever the ball goes.
That all being said, the Cards are A-OK at kicker. Neil Rackers has been through the ups and downs. He can still boot the ball into touchbacks. You can't count on 40 of 42 (with the two misses over 50 yards), as he had in 2005.
But he's as good and steady as any kicker in the division, and when you add his tackling and intangibles, he's right up there with the top kickers in the league.
Punter Ben Graham is the first Australian-born punter ever to play in a Super Bowl. That's basically his claim to fame, as he's otherwise just an average punter, at best. He's not bad, but he could help the team by sticking the ball inside the 20-yard line a lot more than he did last year.
The Cardinals may have found a diamond in the seventh round rough of the NFL draft. LaRod Stephens-Howling already has shown he can be an explosive kick returner, amassing 152 yards and a TD in his first two returns.
Steve Breaston is a reliable punt catcher, but averaged just 7.2 yards last year. They will likely look at WR Lance Long to return punts, especially with Steve's tender knee.
The Cards could use improvement on both punt and kickoff defense. Look for rookies like third round S Rashad Johnson and fouth rd. CB Greg Toler to bring speed and hard hits to special teams.
The Brady Hunch: 49ers Analysis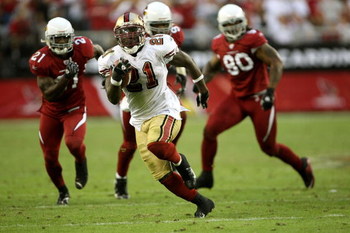 While the Seattle Seahawks have ruled the roost for most of the millennium, and the Kurt Warner Rams at the turn of the same, it was the San Francisco 49ers that came in second behind the Cardinals in the NFC West last year.
The Niners ended up finishing 8-8 and riding a 5-2 record to close the season. Hope and optimism returned to the Bay area.
Midseason replacement head coach Mike Singletary showed he meant business soon after his arrival. In what will go down in football lore as one of the greatest motivation tactics ever, he gathered his team and bared all, exposing his most personal heartfelt desire to win in that intensely passionate way that only Singletary could conjure up.
While the media buzz of the infamous drawer-dropping incident ended there, word slowly trickled out of the locker room that Singletary made it crystal clear that if the team didn't win, and win SOON, he would force them to stand there and look at him in all his glory after every practice. Every day. No rants, no hollering. Just be forced to stand there and look at him stand there naked.
I have no way of knowing if this is true, of course. But if it is, it worked like a charm! It's a innovative stroke of coaching genius that would make Paul Brown, Vince Lombardi, and George Halas beam with pride and envy!
Be that as it may, the 49er faithful became even more optimistic as the best receiver with a foot injury coming out of College, Michael Crabtree, dropped into their lap at the number 10 spot in the draft. All were happy and gay in the city by the bay!
But as the spring turned to summer, and protracted contract negotiations became what is looking more and more like an unsolvable impasse, the glee has faded.
The negatives surrounding being the only player/team unable to come to an agreement on their first round choice are subtle, but real. People naturally choose sides, be they people in the stands, or people in the locker room.
There is also the reality setting in that the Niners still don't have a top-flight quarterback to get him the ball, even if he were on the field. For reasons only known to the 49ers brass (and accounting office), Alex Smith remains on the roster.
The 2005 numero uno restructured his contract for a final shot at erasing, or at least lightening, the word BUST next to his name. But that he's on the roster at all after four years of, well...injury-plagued ineptitude, shows just how weak they are at the game's most key position.
San Francisco signed veteran Damon Huard (FA Chiefs), but Shaun Hill will start for the Niners when they open the season in the desert. Without Crabtree. And with pretty much the same offensive line that allowed 55 sacks in 2008. And with his forth offensive coordinator in his four years with the team.
Hill is a journeyman QB that would be a backup on most teams, behind an offensive line that doesn't pass protect well, throwing to 36-year-old wide receiver Isaac Bruce, FA pickup (Titans) Brandon Jones, second year WR Josh Morgan, Arnaz Battle and tight end Vernon Davis (out at least a couple more weeks with an injury) to potentially throw to.
In other words, the 49ers offense will once again be run through Frank Gore and the ground game. They added RB Glen Coffee with their third-round draft pick and fullback Moran Norris (FA Lions) to help carry the offensive load. They also added former Steelers stud Marvel Smith, who then retired after getting hurt.
If the 49ers are going to do anything this year, it will be on the defensive side of the ball. Already a formidable group anchored by emerging star LB Patrick Willis, Singletary added Dre Bly from the Broncos.
They also have a strong coverage corner in Nate Clements, and there is some serious potential in the safety tandem of Dashon Goldson and Tarell Brown.
Under one of the most physical linebackers of his day in Singletary, expect Willia to be a monster. The guy is already one of the best sideline-to-sideline players in the league, and a ferocious hitter when given a shot.
This is a young, formidable group playing alongside former first-rounder Manny Lawson, Takeo Spikes, and Parys Haralson (who had 8 sacks last year) in the 49ers conventional 3-4 defense.
No studs, but a decent DL, along with possibly the best LB corps, and a solid defensive backfield, should keep the 49ers in most games. But their Shaun Hill-led offense isn't going to put a lot of points on the board.
The addition of Crabtree alone would have given them an offensive weapon that would have not only made big plays, but cleared some room for the likely stacked-against running game. His presence may have added a win or two to last year's 8-8 record. His absence will be felt on the field, and in the locker room.
While they have what should be a better overall defense, the whole division got better, too. I don't see the 49ers improving on their 2008 record. I see them going 3-3 in the division, and 8-8 for the season.
The Brady Hunch: Seahawks Analysis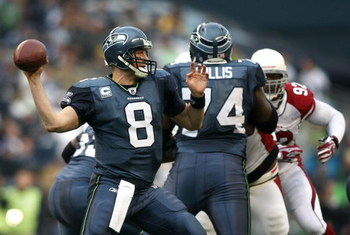 As former head coach Mike Holmgren cruises the countryside on his Harley, the Seattle Seahawks hope they can turn things around from the extremely un-Holmgren-like, injury plagued 4-12 final season.
Former Falcons sideline boss and ex-49ers defensive coordinator Jim Mora, Jr. will take over a team that spent heavily in free agency, made an unusual-in-the-NFL-these-days trade of a star player, and added a bona fide stud prospect on defense in Wake Forrest's Aaron Curry.
Matt Hassleback, a former All-Pro, spent the last nine games on the bench last year, leaving Seneca Wallace to cement Holmgren's miserable swan song. He's back, and says he feels no ill effects of the disc issues that ended his 2008 season.
A healthy Hasselback will be a major key to any offensive success the 'Hawks can put together this year.
Bobby Ingram is gone. Koren Robinson is gone. But the Seahawks certainly upgraded their receiver corps when they paid $40 million for the services of T.J. Houshmandzadeh, and added Penn State speedster Deon Butler in the third round of what looks to be a promising draft.
Leftovers Deion Branch and Nate Burleson return from injury-plagued seasons, and if all stay healthy, the passing attack could be back in Seattle.
Despite that, you can expect the Seahawks to run first, setting up the pass. New offensive coordinator Greg Knapp runs a west coast offense, which should bode will for Julius Jones and recently-signed former Cardinal RB Edgerrin James, who both like to catch the ball behind the line or in the flat, and make plays.
James lost favor in the desert, but came on strong in the playoffs, and is a nice addition to replace Maurice Morris. The OL, completely decimated last year, isn't having a whole lot of luck so far either, but Jones averaged 4.4 yards per carry last season behind a make-shift line in front of him. so there's hope.
Seldom can a team replace an All-Pro with a potential All-Pro, but that's the possibility in Seattle when they shipped Julian Peterson to Detroit for DL Cory Redding, then drafted Curry with the No. 4 pick to take Peterson's spot along side LeRoy Hill (assuming his contract dispute is still resolved) and Lofa Tatupu.
If Curry is half of what they say he'll be, they could make Seattle's linebacking trio the best in the division (Sorry Niners fans).
DE Cory Redding came to town, and the 'Hawks signed 330-pound tree-stump Colin Cole from the Green Bay Packers to bolster a unit that ranked 18th in the league against the run.
Redding will start at left end, with last year's top pass rusher, underrated Patrick Kerney moving over to the right side. Cole will line up next to Brandon Mebane in the middle, giving the Seahawks a decent DL in their conventional 4-3 defense.
CB Ken Lucas returns and was set to play opposite $50 million man Marcus Trufant, but Trufant was placed on the PUP list and won't return until midseason, at best.
Josh Wilson will take Trufant's place, and safeties Jordan Babineaux and Deon Grant will again patrol the middle. Ageless Lawyer Milloy will get a lot of playing time, too, especially in this pass-happy division.
Olindo Mare, forever it seems with the Miami Dolphins, made 24 of 27 field goals when he joined the Seahawks in 2008.
When this team is healthy, they're at least the second best team in the division. The return of Hasselbeck and key additions through the draft and free agency should give the 'Hawks confidence.
Confidence doesn't always equal wins, but if all the guys get and/or stay healthy, the Seahawks will at least double their 2008 win total.
I still don't think they're better than the Cardinals, but they have a lot of veteran players, a solid coaching staff, and should be able to turn things around pretty quickly from last year's dismal effort.
I see the Seahawks going 4-2 in the division, and a healthy 8-8 or even 9-7 for the year. It will take a minimum of 9-7 to get a Wild Card, but Seattle should be happy just to get back to decent, fun football in the great Northwest.
The Brady Hunch: Rams Analysis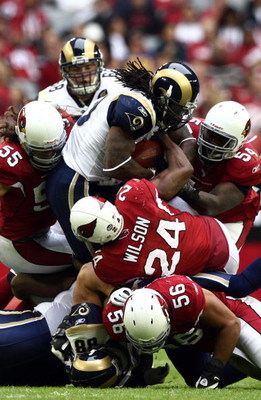 The Rams will again be the Rams. They may be a little tougher, and a little more confident under new first year head coach Steve Spagnuolo, who coached the NY Giants DL last year.
But they, talent-wise, are still the Rams. And that makes for a long season for the suddenly iffy "faithful."
Gone now are all the key remnants from the "Greatest Show on Turf" days, when they allowed the last link, WR Torry Holt, to head off to Jacksonville. With Isaac Bruce in San Francisco, Kurt Warner in Arizona, OL stalwart Orlando Pace in Chicago, and Marshall Faulk in the NFL Network studio, there isn't anything left of the Rams brief-but-memorable glory days.
Scott Linehan was fired after starting the 2008 season 0-4 and was replaced by former Saints coach Jim Haslett, who himself went 2-10. The end result was a miserable 2-14 record, the worse the Rams have had since moving to St. Louie.
Rumors are flying about the Rams being on the market, and how long they may stay in St. Louis, which is turning in empty seats at the Dome.
The Rams brought in former Ravens starter Kyle Boller to back up Marc Bulger, but Bulger hasn't played well since 2006, and the strong-armed but otherwise erratic Boller isn't a threat to play unless Bulger gets hurt.
Donnie Avery showed glimpses of brilliance opposite Holt in 2008 and will figure to be the Rams No. 1 target in the passing game when he returns from injury. Otherwise, there isn't much there.
So the Rams will hand the ball to star RB Steven Jackson. And they will hand it to Jackson again. And again. Hell, Jackson might be the first player to carry the ball 600 times in a season!
Because there really isn't much else for this team to build around.
Jackson is one of the game's best, and with another team, could average 4.5 yards and a cloud of dust, into the promised land. But, alas, he's on the Rams, and will be basically the only threat defenses will have to worry about.
Thanks to the Lions, the Rams 2-14 season lead to the second pick in the draft, and they snagged huge Jason Smith, who will replace Pace as the OL's anchor.
Defensively, the Rams don't fare much better. But they should show improvement before the offense does. Spagnuolo brought Ken Fajole to the Rams from the Panthers to try to build a decent defensive unit around second-year defensive end Chris Long, the team's first-round choice last year.
They also add second round pick James Laurinaitis, a former Ohio State linebacker that will likely push Will Witherspoon to the outside.
Strong safety James Butler comes in from Spagnuolo's Giants, replacing Corey Chavos and pairing with hard-hitting, ballhawk safety Oshiomogho Atogwe in what should make for an easy transition to the new system.
Veterans Leonard Little, James Hall, and Hollis Thomas need to provide some leadership, as this unit develops, losses pile up, and heads start to hang.
Punter Donnie Jones and kicker Josh Brown are two of the best at what they do in the division...and maybe in the league. Jones having a career year may be the offense's best hope this side of Steven Jackson.
I don't see the Rams winning much again this year. In fact, they may just get swept within the division, and go 2-14 again.
But they have a couple studs along both lines, a good, solid coaching staff, one of the NFC's best RBs, and a good enough special teams unit to double their win total. It may not be much, but it's a step in the right direction.
Now the question is, will they still be the St. Louis Rams when they start winning again on a regular basis?
The Brady Hunch: Why the Cardinals Will Win the West! The Final Chapter
I see the Cards going 5-1 within the division. The repeat sweep is possible, but winning in Seattle is always tough, and with most of the 'Hawks back, I'm going to toss them a biscuit.
I see the Big Red going 10-6 overall. They have a tough road schedule, especially in the first half, and aren't exactly notorious for winning away from the Nest.

My optimism and bias lean me toward 11-5, but that would mean beating either the NY Giants, Bears, Titans or the Seahawks on the road. Certainly possible. But until I see them beat a good team on the road, I'm not going to say or believe it. So I'm going with 6-2 at home, 4-4 on the road.
Can they get all the way back to the title game, shocking the world a second time by actually avoiding the "Super Bowl Curse," wherein teams that lose the Super Bowl generally suck the following season? That's hard to say.
Sure, the Cardinals (who some called the worst team ever to make the playoffs going into the first rd. playoff game vs. Atlanta in January) have some concerns. Their offense didn't play well in the preseason. Warner is a year older and playing on a surgically-repaired hip.
Still, their offense will be great and their defense is improved, and could be at least semi-great. Special teams is nothing special, but they shouldn't lose games for them.
If they do win the division, I see no reason why this team can't catch lightning in a bottle again. They're good enough. They're strong enough. And for the first time since landing in the Valley of the Sun 21 seasons ago, the majority of the locals really like them.
I like them too. Enough to pick them to repeat as NFC West Division Champions!
Keep Reading

Arizona Cardinals: Like this team?