Pryor will stop Trojans from horseSHOE shopping a win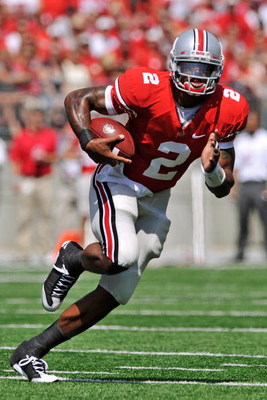 Its only week 2 of the college football season and we already have a game that could carry the winner to a birth in the National Championship Game. With all signs pointing to a USC victory from coaching to defense. This game will ultimately come down to the play of two young QBs, USC's Matt Barkley and OSU's Terrelle Pyror. Both rolls being different, Barkley's roll not to make mistakes in a hostile stadium and Pryor to be the superior athlete that is expected.
In the words of the Black eyed peas "I got a feel'in" that Saturday night is going to be a good, good night for Sophomore QB Terrelle Pryor.
Coaching advantage Carrol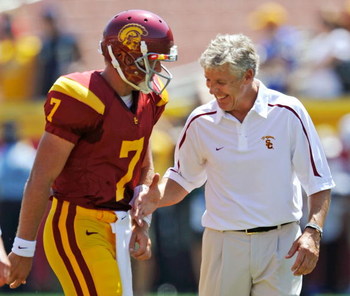 Both coaches have great records but the check mark goes to Carrol. Although Tressel 24 - 1 in non confrence games he also has a history of losing big ones with a 4 - 4 record in bowls and a 1 - 2 record in National Championship games.
Carrol has suffered no National title loses and claimed two for USC with a very impressive 6 - 1 in BCS bowl games.
Must be a Playmaker
Joe Mcknight is compared to Reggie Bush and is going to have to put on a Bush like performance if the Trojans are going to edge out the Buckeyes. With a big game he can play the role of Barkley's, Mcknight in shinning armor.
USC defense 08 great 09...?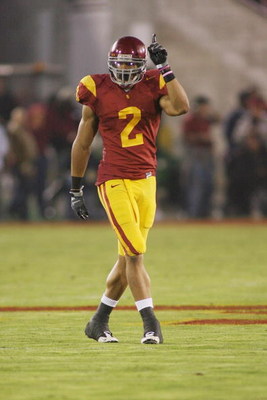 The USC defense which was lead by three highly skilled linebackers a year ago, all of which went 1st or 2nd round in the 09 NFL draft is now lead by freakish safety Taylor Mays. Seemingly not as talented as last years D, they appear much stronger than the a OSU defense that yielded 186 rushing yards to Navy last weekend. If the same output is given against USC then we can expect Mcknight and Johnson to double that total.
This isn't Mater Dei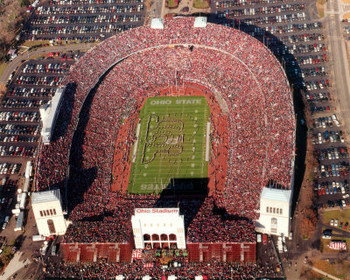 Ohio Stadium a.k.a. The Shoe is the second biggest reason why I'm choosing OSU to be Victorious. I love what coach Carrol is attempting to do by playing a true freshmen in Barkley on a team that can contend for National title but 3rd downs and 4th and shorts is going to have that place shaking with noise. I know OSU didn't look great against Navy but look what home field did for Oregon St last year, good thing SC has them at home this year.
Pryor needs happy feet to beat USC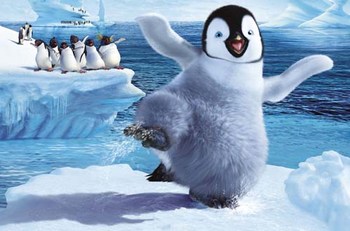 Last year OSU suffered a first day junior high beat down from the hands of USC at the Coliseum 35 - 3. Pyror played well in a limited roll completing 7 - 9 for 52yds and 11 attempts on the ground for 40yds. With a year under his belt and a marginally less talented defense on USC side of the ball Pryor will dance like the penguin from Happy Feet to narrow 35 - 31 victory this Saturday.
Keep Reading

USC Football: Like this team?