Calculating the Oakland Raiders' 2009 Season Record by Position Strengths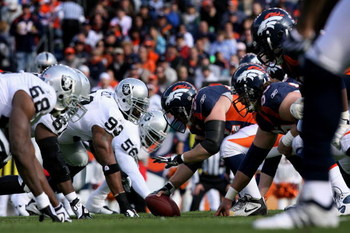 This article provides a unique way to calculate the 2009 win-loss record of the Oakland Raiders. There are several ways to predict a team's win-loss record based on objective criteria like player additions and subtractions, strength of schedule, and matchups.
For this exercise the Raiders' 2009 regular season win-loss record will be calculated based on improvements/regressions for each position on the team. The baseline for the projection is last year's 5-11 record.
If positions improved since last season, this will add a half or whole game to the projected 2009 wins. If positions degraded this season, it would reduce the projected wins by a half or whole game.
Let's now look at the team positions this year compared to last, starting with the offense.
Running Back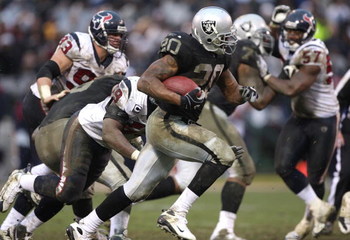 Last season running back was a position of strength for the silver and black, and this position should be even better this year with a healthy Darren MacFadden and Oren O'Neal.
Michael Bush is the perfect complement to DMac, and Justin Fargas, once healthy, provides experience and a slashing running style.
An improved wide receiver corps may also move the defense off the line of scrimmage more, opening up the running lanes. A strong position last year looks even better this year.
+1 win
Quarterback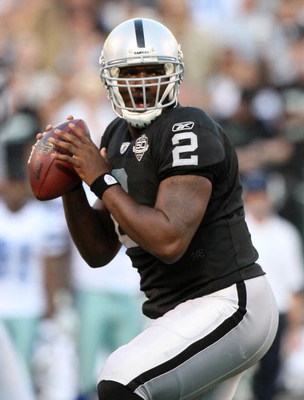 JaMarcus Russell now has a full season under his belt and an improved wide receiver corps. Together these suggest an improved passing performance.
However, this improvement was not evident in JaMarcus' preseason stats, where in 39 pass attempts he was sacked six times and only connected for one touchdown pass. It does not appear that the Raiders' blocking scheme will consistently provide JaMarcus with time to set up and deliver the ball.
This is of particular concern given the elite pass rushers he will face this season, including two games against a healthy Shawne Merriman.
Even
Tight End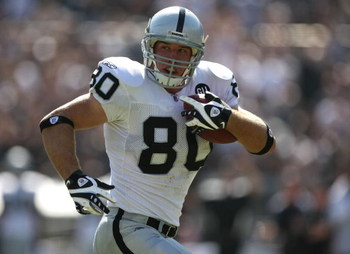 This was a solid position last season and should continue to be so this season, with Zach Miller being a favorite target for JaMarcus.
The emergence of Brandon Myers as a sure-handed receiver may make for some interesting two-tight end formations.
However, the improvement in the wide receiving corps may keep total TE receptions about the same as last season.
Even
Wide Receiver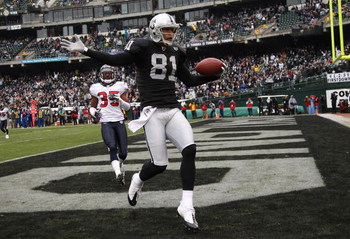 This position should show significant improvement over last season's dismal WR production.
Louis Murphy and Chaz Schilens, once healthy, should post respectable numbers, and Johnnie Lee Higgins and Javon Walker should also contribute.
Darrius Heyward-Bey will help stretch defenses and also notch some receptions.
In addition, the emergence of a respectable passing attack should keep defenses from stacking the box against the run as much as they did last season.
+1 win
Offensive Line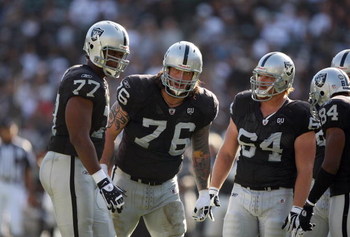 During the preseason the O-line play was very "offensive," giving up nine QB sacks and not looking particularly good against opponents starting defenses.
The acquisition of Samson Satele netted us a backup center, while Miami got a starter in Jake Grove.
Khalif Barnes has yet to play a down for us and hopefully will be able to contribute soon at right tackle.
This is not an area of strength for the Raiders and was not improved upon during the offseason.
Even
Defensive Line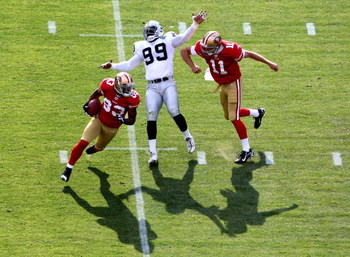 Greg Ellis is a definite upgrade over Kalimba Edwards/Derrick Burgess. Assuming that Richard Seymour arrives in time to play for us by week two, this should significantly improve the effectiveness of the entire defensive line.
In particular, it may allow Tommy Kelly (four preseason tackles) to more closely meet expectations.
Prior to signing Seymour, this unit was rated Even. With him we can probably count on +1 win.
Linebackers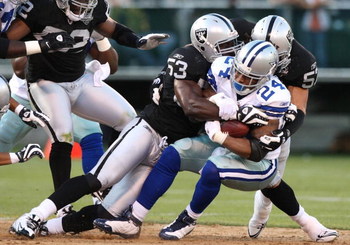 In the offseason the Raiders made no significant moves to bolster these positions, and not a single new player appears on the Raiders' "unofficial" linebacker depth chart.
On the plus side, Slade Norris and David Nixon are on the practice squad, where they can continue to gain experience.
There is some talk of mixing in a 3-4 defense, but there don't seem to be enough experienced bodies to make this work, unless Trevor Scott is asked once again to learn a new position.
Keeping the status quo on these critical "need positions" is a step backwards.
-0.5 win
Cornerbacks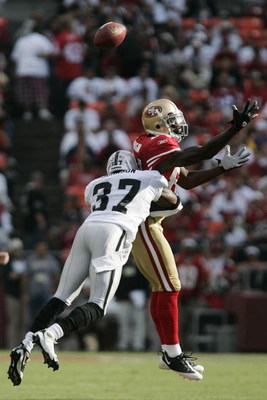 This is once again a position of strength for the Raiders, just as it was last year. Nnamdi Asomugha and Chris Johnson make a great starting tandem, but if either of them goes down to injury, the cupboard is pretty bare when it comes to backups.
At least we won't have a repeat of DeAngelo Hall playing 10 yards off his man in third down and four to go situations to start the season.
Even
Safeties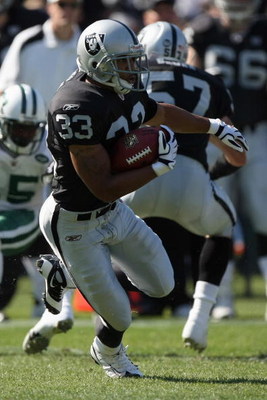 Tyvon Branch assumes the strong safety position and looks to be doing well, and Hiram Eugene starts at free safety. Although some fans are critical of Gibril Wilson, who is now the starting FS for the Dolphins, he brought a load last season against the rush.
Mike Mitchell has not yet seen playing time due to hamstring issues and looks to be a non-factor for much of the first half of the season. Jerome Boyd is gaining experience on the practice squad.
Unless Tyvon or Mitchell steps up big time, which is possible, this looks like -0.5 win.
Special Teams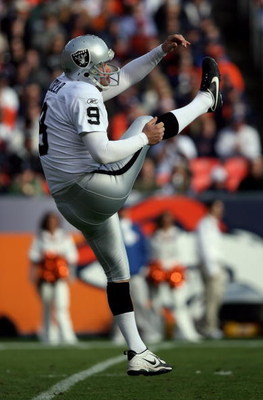 Nothing much has changed this offseason, except for the loss of Justin Miller, who is being replaced as kick returner by Nick Miller.
Once again we can expect great punting by Shane Lechler (hopefully fewer punts) and kickoffs out of the end zone (hopefully more of them) by Sebastian Janikowski. JLH will continue to handle the punt return duties.
Even
2009 Season Projection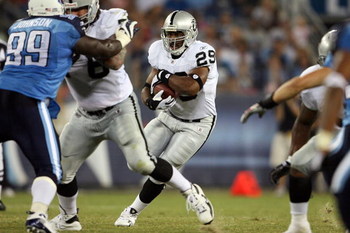 These results suggest a 7-9 season for the silver and black in 2009. This is based on improvements at the running backs (one game), wide receivers (one game), and defensive line (one game).
Two offseason need positions regressed under this scoring system, namely linebackers (half-game) and safeties (half-game).
The prediction also assumes that Richard Seymour will be playing by week two of the season. If this isn't the case, a 6-10 season is more likely.
It's time to play ball and see if these predictions hold true.
Keep Reading

Oakland Raiders: Like this team?