Five Giant Predictions! Plus Five Things That Won't Happen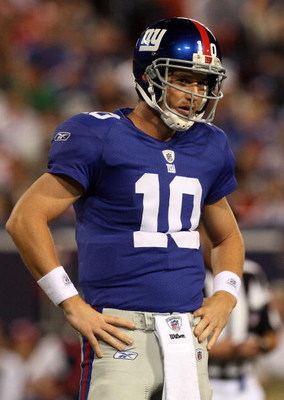 Before every season, there's always one buffoon who decides to make some bold predictions that end up being way off by the end of the season. Today, I get to be that buffoon.
Some of these predictions are bolder than others. But even the safest prediction can come back to bite you in the behind.
If I am close on even three of these, I'll consider it a success.
As a bonus, I have also included five things I predict will not happen.
Enjoy.
1. Hakeem Nicks Leads Giants in Receiving Yards
He may not be a starter, officially, but Hakeem Nicks is the most talented wide receiver on the Giants roster.
Nicks was drafted in the first round to be the wide receiver of the future, but a strong preseason has led many Giants fans to believe that he might already be polished enough to be the team's No. 1 receiver.
He has incredible hands and is deceptively fast. At 6'1", 212 lbs, he does not have the size of prototypical No. 1 receivers.
But he has drawn comparisons to similarly sized wideouts, Anquan Boldin and Michael Irvin.
I think his rookie season will fall somewhere in between those of Irvin's (32 receptions, 654 yards, five touchdowns) and Boldin's (101 receptions, 1,377 yards, eight touchdowns).
Realistically, it will be closer to Irvin's.
1. Hakeem Nicks (Continued)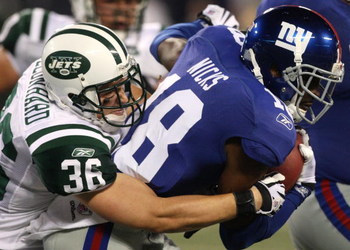 Projected Stats:
Hakeem Nicks: 54 receptions, 800 yards, five touchdowns
2. Kenny Phillips Makes Pro Bowl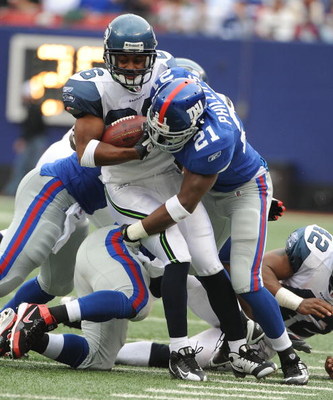 Kenny Phillips had a very good rookie season, totaling 67 tackles and an interception. This season, he is the unquestioned starter at free safety, opposite Michael Johnson.
I expect him to continue to develop into a prototypical hard-hitting, ball-hawking safety. He is a great tackler who has a nose for the ball.
The Giants' defensive backfield should be one of the strengths of the team. Corey Webster, Terrell Thomas, Aaron Ross and Kevin Dockery form an excellent quartet of cornerbacks, and Michael Johnson is a more than solid safety.
But most importantly, the Giants' defensive line, which may be the best in the game, will force constant pressure on the quarterback. This should give all of the DBs, not only Phillips, ample opportunities for interceptions.
All of the Giants' defensive backs could have big seasons, and I think Phillips will be at the forefront of this success.
2. Kenny Phillips (Continued)
Projected Stats:
Kenny Phillips: 98 tackles, four INT
3. Three Giants Reach Double Digit Sacks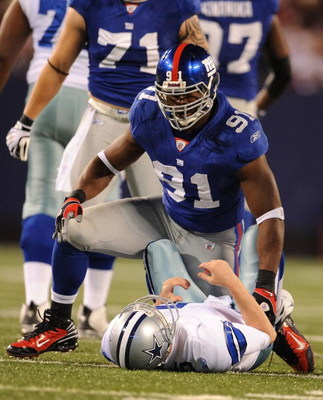 The return of Osi Umenyiora doesn't just give the Giants another elite pass rusher, it takes pressure off of the rest of the line. It also allows for the Giants to rotate linemen, keeping them fresh.
This should keep Justin Tuck and Mathias Kiwanuka from tiring down the stretch, as they did in 2008.
3. Sacks (Continued)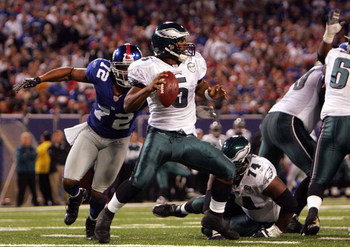 Projected Sacks:
Justin Tuck: 16
Osi Umenyiora: 14
Mathias Kiwanuka: 10
4. Ahmad Bradshaw Out-Produces Derrick Ward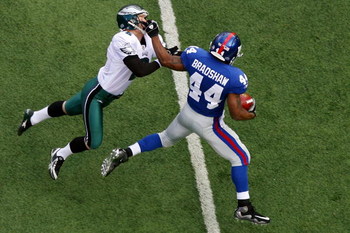 Last season for the Giants, Derrick Ward put together one of the greatest seasons for a second string running back, rushing for 1,025 yards on 182 carries and scoring two touchdowns.
This season, he should be the Tampa Bay Buccaneers' number one running back. However, he will again split carries with two other guys unless he does enough to distance himself from Earnest Graham and Cadillac Williams.
Ahmad Bradshaw moves into Ward's vacated role behind Brandon Jacobs. Behind the Giants' offensive line, Bradshaw should be given plenty of room to show his speed, athleticism, and overall shiftiness.
Given their current situations, I predict that Bradshaw will have a better season.
It'll be close; the yardage and touchdown numbers will be similar. But Bradshaw will produce his numbers on fewer carries, making it all the more impressive.
4. Ahmad Bradshaw (Continued)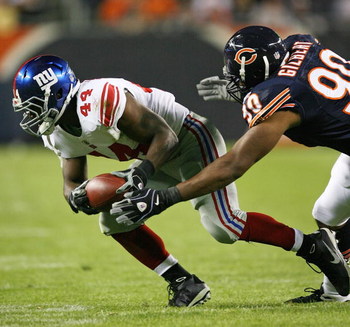 Projected Stats:
Derrick Ward: 198 carries, 888 yards, five touchdowns, 4.5 yards per carry
Ahmad Bradshaw: 180 carries, 920 yards, five touchdowns, 5.1 yards per carry
5. All NFC East Teams Finish Above .500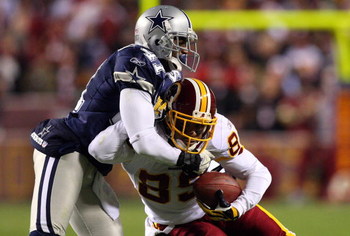 This prediction may seem more bold than it actually is.
The NFC East is the fiercest, most competitive division in all of sports, and over the past few years, the NFC East has arguably been the best division in the NFL.
Since 2005, the NFC East has averaged two-and-a-half playoff teams per season. This is simply an incredible number. In contrast, the NFC West has produced an average of one playoff team per season in that same span.
Even more amazingly, the NFC East has not produced a losing team since 2006. That is two straight seasons of every team finishing .500 or over.
And this year will mark three straight.
5. NFC East (Continued)
Projected Standings:
New York Giants: 11-5
Philadelphia Eagles: 10-5-1 (Yes Donovan, you can still tie)
Dallas Cowboys: 9-7
Washington Redskins: 8-8
Five Things That Won't Happen:
1. Eli Manning Becomes second QB to Rush for 1,000 Yards
2. Sinorice Moss Wins MVP
3. Jeff Feagles Throws A Touchdown Pass
4. Brandon Jacobs Meets a Defensive Back he Doesn't Want To Crush
5. Ahmad Bradshaw Becomes Spokesperson for Sony Playstation
Keep Reading

New York Giants: Like this team?