The Five Players Fantasy Hockey Owners Shouldn't Give the Cold Shoulder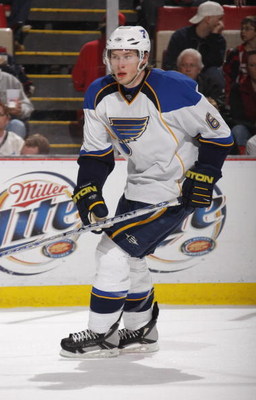 Every year, there's always a few players that fantasy owners seem to forget about, usually due to injury. These players are usually drafted in the later rounds and go on to have a great season, leading many an owner to kick themselves.
Here are five players, based on their Yahoo rankings, that seem to have been forgotten for this season.
Lubomir Visnovsky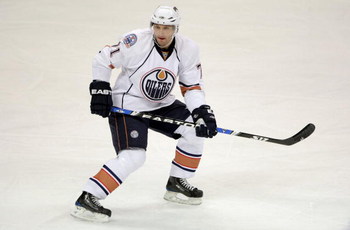 Yahoo Ranking: 286
Some people said Visnovsky was on the decline of his career, after his disappointing 41 point season in 2007-08. Last season with the Edmonton Oilers, Visnovsky only tallied 31 points...in 50 games.
He was on pace for 51 points in 82 games, not too shabby. In fact, if you ask almost any Oilers fan, they will tell you that Visnovsky was one of, if not the, best players on the Oilers last season, and they really untangled after his unfortunate injury.
Now I understand that while the numbers are impressive, staying healthy is an important part of fantasy hockey too. But since the lockout, before last season, Visnovsky had only missed 15 games over three seasons...not exactly injury prone.
It boggles the mind to think that he is ranked lower than defensive specialists Mike Commodore and Johnny Oduya. He's also ranked lower than Tom Gilbert, who is lower on the Oilers' depth chart than Visnovsky!
If you can grab Visnovsky as your second (or maybe even third) defenseman, don't hesitate; you will not regret it.
Daniel Briere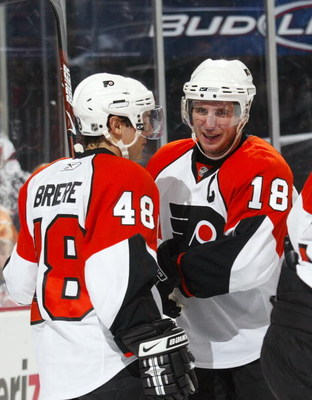 Yahoo Ranking: 323
Bemoan his contract all you want, Danny Briere can play hockey. He has been a point-per-game player since the lockout (250 points in 237 games). Yes, he was out most of last season with abdominal injury, which he also injured in 2005-2006, but when healthy he is on his game.
In the four seasons following the lockout, he scored 30 goals twice and the other two seasons he was on pace for 30 goals, before he got hurt.
The fact that he is ranked so low and is a center, which is a deep position, coupled with his injury history, will lead to Briere probably being available in the late middle rounds of the draft. If you are still in need of a second center, he's your man.
Steve Sullivan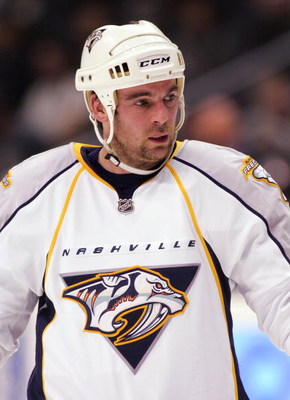 Yahoo Ranking: 406
Back problems have wrecked havoc for Steve Sullivan, who has yet to play a full season since the lockout, and missed the entire 2007-08 season. However, when he is healthy, he is a proven point-per-game player.
Sullivan has said his back feels fine and he is ready to play this season.
Paired with linemates JP Dumont and Jason Arnott, Sullivan helped the Predators to a 20-11-5 record in the final 36 games, after his return. During that push, he notched 31 points. If he manages to play a whole season, he could very well push the 80-point mark.
Look for Sullivan in the later rounds, but due to his injury plagued past, maybe wait until you have two other healthy LW's just to be safe.
Ryan Whitney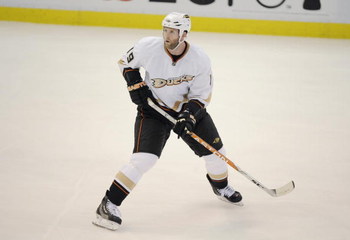 Yahoo Ranking: 421
After undergoing surgery on Aug. 15, 2008 to re-align his foot, Whitney only managed to get into 28 games last season with the Pittsburgh Penguins before he was traded to the Anaheim Ducks.
He played out the rest of the season, tallying 10 points in 20 games with the Ducks.
The factor that usually devalues a defenseman when they play for the Ducks is that there is two Hall-of-Fame defensemen in Scott Niedermeyer and Chris Pronger. But with Pronger traded to the Flyers and Francois Beauchemin signing with the Maple Leafs, Whitney is now the No. 2 defenceman for the Ducks.
Take into account that Whitney has averaged over half a point-per-game over his young career (160 points in 273 games), all the while playing second fiddle to Sergei Gonchar, and Whitney should be a lock for 40 points minimum.
Erik Johnson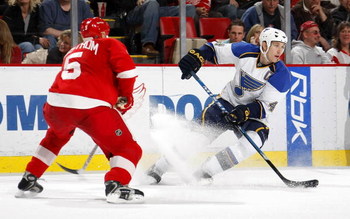 Yahoo Rank: 663
Probably the most forgotten player available is 2006 first overall pick Erik Johnson. After a pretty good rookie season where he posted 33 points in 69 games, many people expected big things in his sophomore season. Due to an unfortunate golfing accident, however, Johnson missed the entire season after undergoing knee surgery.
Now it's always risky to pick someone coming off of such a serious injury, and even more risky when they are entering their sophomore season. But with Eric Brewer likely out for the start of the season, Erik Johnson will be the No. 1 defenseman in St. Louis, meaning he will get a lot of power play time.
He may be slow off the hop, but there's a reason he was picked first overall.
And don't worry about the sophomore jinx, that was used up with the golfing accident.
Keep Reading