Red Sox All-Time Starting Nine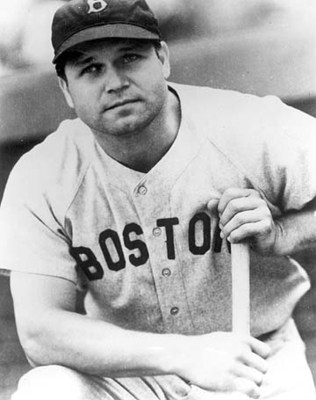 The Red Sox have had some great players:
Doerr.
Williams.
Yaz.
Manny.
Now, to celebrate 9/9/09, I've decided to come up with the Red Sox all-time starting nine, similar to what MLB.com is doing with all 30 MLB franchises.
Only, I'm coming up with my own, and it will certainly differ from what MLB.com's Red Sox All-Time Starting Nine is.
This article is in order of positions, starting with catcher, going around the infield, and ending with the outfield.
Because of the Red Sox being in the American League, I have decided not to include pitchers in my starting nine, and I will include the DH.
Catcher-Carlton Fisk, 1969, 1971-1980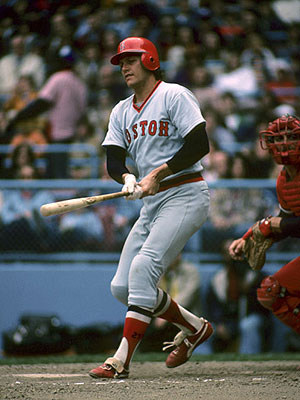 Carlton Fisk is the greatest Red Sox catcher of all-time.
No joke.
Fisk's all-time numbers with the Red Sox are: .285 average, 162 home runs, 568 RBI, OBP of .356, slugging percentage of .481 for a Red Sox career OPS of .838.
Others considered:
Rich Gedman
Jason Varitek
1B: Jimmy Foxx, 1936-1941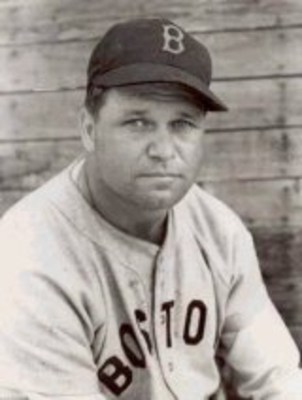 Double X is one of the most under-appreciated and underrated players of all-time.
Although Foxx joined the Red Sox after his prime, which was with the Philadelphia Athletics, Foxx still managed to leave his mark in Fenway.
Foxx's Red Sox numbers: .321 average, 217 home runs (including 50 in one season), 774 RBI, OBP of .430, and a slugging percentage of .609 for an excellent OPS of 1.039.
Others considered:
Walt Dropo
Mo Vaughan
Kevin Youkilis
2B: Bobby Doerr, 1937-1951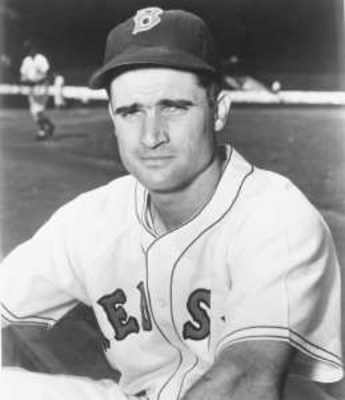 Sorry, Dustin. Doerr played for AND managed the Red Sox...at the same time.
Unheard of in today's MLB, Doerr was one of the last player-managers.
And he was good at doing both. Doerr's career numbers are: .288 career batting average, 223 home runs, 1247 RBI, an OBP of .362, and a slugging percentage of .461 for an OPS of .823.
Others considered:
Dustin Pedroia
3B: Wade Boggs, 1982-1992
I know Boggs screwed Boston after leaving the club to go sign with the Yankees and Devil Rays (the two franchises modern Red Sox fans despise most).
But you can't ignore the fact that Wade Boggs was one of the game's greatest third baseman.
His Red Sox numbers speak for themselves: .338 average, 85 home runs, 687 RBI, 1004 walks, OBP of .428, slugging percentage of .462 for an OPS of .890.
Others considered:
Mike Lowell
Jimmy Collins
Butch Hobson
Bill Mueller
SS: Nomar Garciaparra, 1996-2004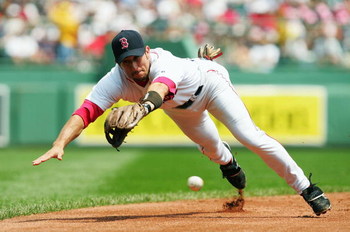 Nomah.
No matter what happened at the end of his Red Sox career (that resulted in the ultimate demise of it), Nomar Garciaparra was the best shortstop in the history of the Red Sox.
Look at his Red Sox numbers: .322 average, 182 home runs, 710 RBI, .370 OBP combined with a .549 slugging percentage for an OPS of .919.
Others considered:
Johnny Pesky
Rico Petrocelli
Vern Stephens
OF 1: Ted Williams, 1939-1942, 1946-1960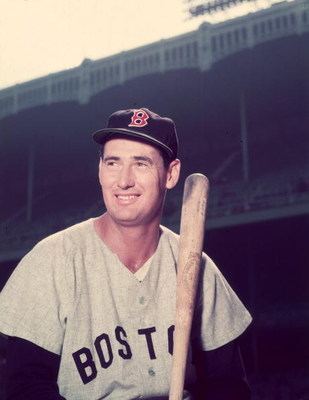 Teddy Ballgame. The Kid. The Splendid Splinter.
Whatever you called Ted Williams, you know that he is one of the greatest to play the game.
Ever.
An all-around good player, imagine Williams's career numbers if he hadn't taken three seasons off in his prime to serve his country during World War II.
Regardless, Williams's career numbers are still excellent. I can safely say that Ted Williams is the Greatest Hitter who Ever Lived. Which is, really, all he ever wanted.
Williams' statistics: .344 (including the final .400 season, when he hit .406 in 1941), 521 home runs, 1839 RBI, OBP of .482 and a slugging perctange of .634 for an OPS of 1.116.
Others considered:
None.
OF 2: Carl Yastrzemski, 1965-1983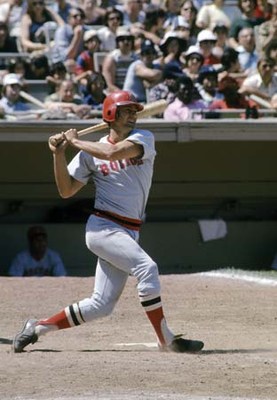 Yaz.
So many Red Sox fans' favorite player. Yaz had the last triple crown season, in 1967. That also happened to be the "Impossible Dream" season, in which the Red Sox won the pennant for the first time since 1946.
Yaz is second only to Teddy Ballgame in the minds and hearts of Red Sox Nation. Quite frankly, one of the last great ballplayers.
Yaz's career stats: .285 average, 452 career home runs, 1844 RBI, OBP of .379 and a slugging percentage of .462 for an OPS of .841.
Others considered:
None.
OF 3: Dwight Evans, 1972-1990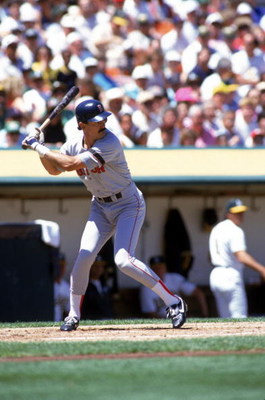 An under-appreciated and underrated player from the get-go, Dewey was always living in the shadow of either Yaz or Jim Rice.
But make no mistake, Dwight Evans was a great ballplayer. I don't care that he played the final season of his career with the Orioles. Dwight will always be a Red Sox. No one will remember him for his .270 season with Baltimore.
Evans's Red Sox numbers: .272 average, 379 home runs, 1346 RBI, OBP of .369 and a slugging percentage of .473 for an OPS of .842.
Others considered (for all three outfield positions)
Jim Rice
Tris Speaker
Manny Ramirez
Fred Lynn
Jackie Jensen
Dom DiMaggio
Tony Armas
Harry Hooper
Mike Greenwell
DH: David Ortiz, 2003-present
Steroids or no steroids, Big Papi was still a vital member of the Red Sox 2004 and 2007 World Series.
Ortiz is, without a doubt, one of the greatest clutch hitters of all time. When the pressure's on, you want him at the plate (unless it's May of 2009).
Ortiz's Red Sox numbers: .288 average, 254 home runs, 811 RBI, .388 OBP, .577 slugging percentage for an OPS of .965.
Others considered:
Carl Everett
Tony Armas
Mo Vaughan
Keep Reading

Boston Red Sox: Like this team?