Top Five Reasons Why the Chicago White Sox's Future Looks Bright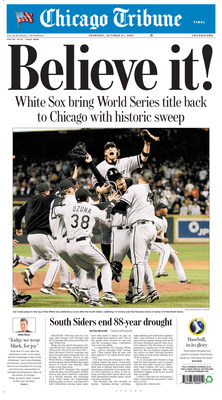 While the White Sox stumble to the finish line, there are plenty of reasons for optimism about the future of the ball club. I've boiled it down to the top five reasons why you, the White Sox fan (or you the non-White Sox fan, but let's be honest, you've always had a soft spot for the Pale Hose), should be excited about the bright future of the White Sox.
5. Alex Rios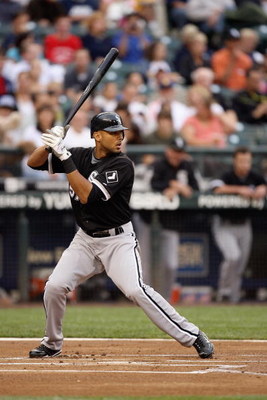 5. Alex Rios
ALEX RIOS!? Yes, Alex Rios is a reason to be excited about the future of the White Sox. Since his career years in 2006/2007 he has regressed to this current year where he put up 15 homers and 65 driven in with only a .247 average.
However, I don't believe that Alex Rios peaked at age 25 and now at 28 years old is on the downside of his career, baseball numbers don't work that way. Look for Rios to rebound at the plate, and once that comes around people will begin to take notice of his already exceptional fielding.
4. The Starting Rotation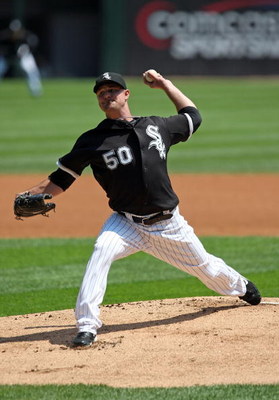 4. The Starting Rotation
Who to highlight first on the White Sox staff for next season? The top four appear to be set, and about as good as any top four in baseball. Buehrle, Peavy, Danks, and Floyd give the Sox four consistent pitchers who on any night can shut the other team out.
With the fifth spot look for a combination Dan Hudson and Freddy Garcia. Garcia has one year left on his deal with the Sox and has been very effective with quality starts against the Yankees and Red Sox.
Hudson is a prospect who has come up through the Sox system after being drafted in the fifth round of the 2008 draft. Over two minor league seasons he's pitched 217 innings and struck out 256 while only walking 56.
Going into next season the White Sox rotation has the potential to be the best in baseball.
3. Gordon Beckham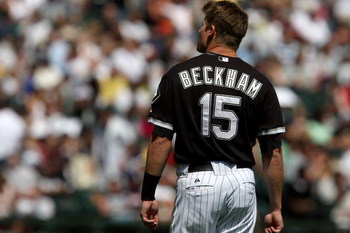 3. Gordon Beckham
The line drive hitting first round pick out of Georgia rocketed through the Sox minor league system and arrived at the big club June 4. Since then he's played a serviceable third base and hit a more than serviceable .274 with 10 homers and 52 runs driven in.
Beckham proved to be a "can't miss" draft pick for the Sox who actually didn't miss. He might not be at third next season, but there's no doubt he'll be somewhere on the field for the Sox for a long time to come.
2. The Reemergence of Quentin and Ramirez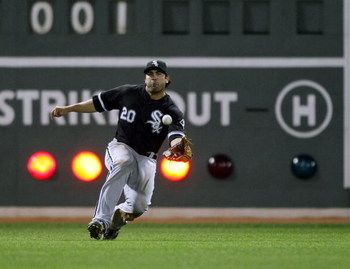 2. The Reemergence of Quentin and Ramirez
This time last year White Sox nation was most excited about the futures of two position players, Carlos Quentin and Alexi Ramirez.
Flash forward to this season and Quentin and Ramirez excite Sox fans about as much as another series with the Royals. However I'm here to provide you with some hope for these 2, along with a tall glass of White Sox Kool-Aid.
Sure both players have regressed this season but I'm willing to believe that the problems are correctable. Alexi moved to shortstop this season, his "natural" position. Put politely, he's been BRUTAL in the field. It wouldn't be the first time a player's fielding has hurt his numbers at the plate.
I believe a switch back to second, or additional time to adjust to shortstop will bring back the Alexi Ramirez of last season.
As for Quentin, he's battled injuries all season. Since breaking his wrist last season he's battled a series of heel injuries. Anyone who has hurt their heel before understands how that could hurt every part of a baseball players game.
Hopefully it will heal fully this offseason and the MVP-caliber Carlos Quentin will return for 2010.
1. Kenny Williams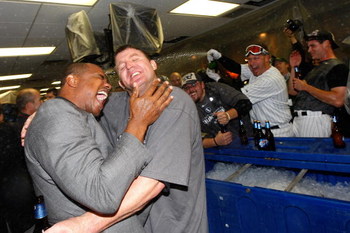 1. Kenny Williams
With all the talent on the field why is Williams the No. 1 reason? Well, he's the reason for the talent on the field. Kenny has always been a good personnel guy, but now he's also bringing in draft picks who are helping the organization.
Kenny has assembled a starting staff and a core of young players who will take the places of the veteran players as they leave.
He has the White Sox in a position to contend for a World Series for years to come and indeed he's the number one reason the White Sox future looks bright.
Keep Reading

Chicago White Sox: Like this team?