Five Northwestern Football Predictions vs. Eastern Michigan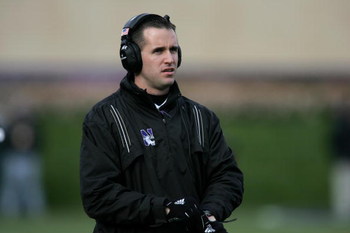 After Northwestern's drubbing of Towson in week one, will anything of interest happen in NU's second contest?
EMU lost its opener to Army by a score of 27-14 as they couldn't keep up with the Black Knights' triple-option attack.
Northwestern will be looking to gain more valuable experience as they ease into the 2009 season. 71 players saw action against Towson, many taking the collegiate playing field for the first time (including two true freshmen: RB Arby Fields and OL Patrick Ward).
Here are some predictions to look out for against the Eastern Michigan Eagles on Saturday at Ryan Field.
1. Northwestern Will Run Early and Often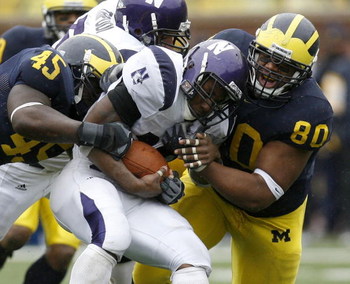 The Wildcats may not equal week one's rushing numbers (54 attempts for 221 yards), but expect a lot more running than passing, especially if the 'Cats can build an early lead.
Stephen Simmons and Arby Fields are the two RB's listed on the depth chart, but, like last week, expect to see others. Jacob Schmidt seems to have established himself as the short-yardage between-the-tackles back. And Jeravin Matthews is listed as probable after an ankle injury, and can provide a lot of speed from a hybrid WR/RB type position.
Also, don't forget about Scott Concannon, who has two touchdowns against Towson. And finally, QB Mike Kafka will likely run a few times; NU's first play from scrimmage this season was a quarterback-keeper.
All that and I haven't even mentioned the fact that EMU yielded 308 rushing yards to Army in week one. No doubt the Northwestern RB corps is ready to rack up some yards on Saturday.
2. Corey Wootton Will Record His First Sack of 2009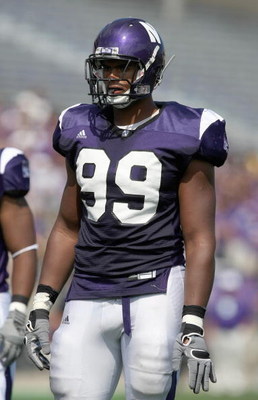 Wootton was in for just over a dozen plays in Northwestern's opener, but expect him to get a bit more playing time against EMU. And expect the coaching staff to let him cut loose a bit, giving him a good opportunity to rack up his first sack of 2009.
Wildcats fans shouldn't expect to see him in for most of the game though, as he's still testing out the knee that underwent off-season surgery. He's still easing into the year in order to be ready for full games once NU hits tougher competition later in September.
3. Sherrick McManis Will Continue His Lockdown Play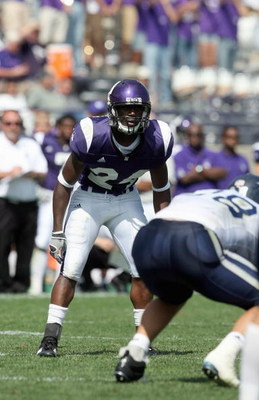 McManis, a team captain in his senior season, quietly takes care of business at the cornerback position. In week one he quietly had a pass-break up (PBU).
In his career (36 games), he's had 27 PBUs, and generally plays excellent coverage which prevents most QBs from throwing balls in his direction.
Expect this trend to continue even as the 'Cats face some respectable playmakers on EMU who showed last season that they can put points on the board.
4. Andrew Brewer Will Be Northwestern's No. 1 Receiver Again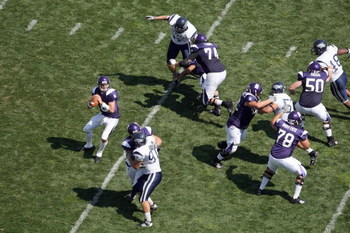 Although the 'Cats spread it around to different receivers in week one, Brewer had 145 receiving yards on the day, by far the largest total of his career as a WR.
Expect the trend to continue as he uses his speed to get open down the field, providing a lucrative target to NU's QBs. Although his health has held him back the past two seasons, Brewer seems up to the task as NU's No. 1 receiver in 2009, nicely filling in the spot vacated by the 2008 senior WRs.
Others receivers who are likely to be big contributors are superback Drake Dunsmore, WR Zeke Markshausen, and WR Sidney Stewart, all of whom caught passes against Towson.
5. Attendance Will Eclipse 20,000 at Ryan Field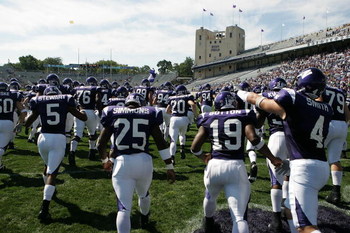 Attendance failed to crack the 18,000 mark in week one of the 2009 season. Unlike the Towson game however, this week's contest features an FBS opponent within reasonable driving distance while the game doesn't fall on a holiday weekend.
In addition, the Eastern Michigan game features the 2009 debut of the Northwestern University Marching Band (NUMB) and is also High School Band Day, which will likely draw crowds on its own.
The real question is can Northwestern fans help fill more than 25,000 seats; a feat rarely seen for NU non-conference home games in the last decade. Do your part and bring a friend along with you to the game!
Go 'Cats!!!
Keep Reading