2009 Chargers Checklist: on the launchpad to Miami
A brief review of key items required for the Chargers to make the playoffs and rip a seam all the way to their first SuperBowl victory, in their 50th anniversary year.
Although the Chargers have had noted success over the last six years, something has tripped them up each year: injuries, struggles in the secondary, panicking in the playoffs, etc.
How will Merriman's recent arrest affect the retooled defense?
The Checklist looks at how well the Chargers are equipped in every area -- even including the fan culture.
Depth?: "Check"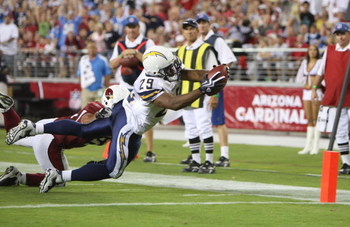 Merriman's recent legal troubles would be an absolute disaster, except that AJ Smith drafted first round pass-rushing LB Larry English (to the surprise, even chagrin, of many). IT is the most recent example of the necessity of depth, and the Chargers have it in spades.
Check the pre-season stats and you'll see the Chargers land in the top five in five major categories on Offense and Defense. Chargers starters played fractionally, and Chargers second stringers played significantly against first stringers in the pre-season, especially ATL and SF. Chargers third stringers often beat other teams' second stringers.
How many teams have a Michael Bennett as their third RB?
Or a Billy Volek as an experienced backup QB? (Colts wish they had him last year..)
Other backups that could start on almost any team: Antoine Cason, Darren Sproles, Malcom Floyd, Larry English, Legedu Naanee.
Special Teams? "Check."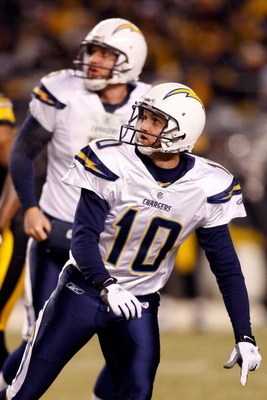 Kaeding is not only the most accurate kicker in the league, he can hit from 57 yards and squib perfect onside kicks (2 for 2 recently). Scifres not only booms his punts high and long, he sticks them inside the 20, and the 10, more than any other punter. In the playoffs in 08, national media remarked on how Scifres literally kicked Indy out of the game.
Darren Sproles is a terrifying kick/punt returner, Special teams also features pro bowler "K.O." Kassim Osgood, Tolbert, and other standouts in Crosby's scheme.
It doesn't always look like it, but special teams is one-third of the game. Chargers will excel in 2009 -- and early in 2010.
Running Game? "Check and Checkmate"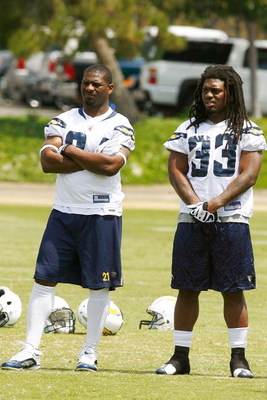 Gartrell Johnson is a powerful, stubborn downhill runner with great instincts. Unlike Beanie Wells or Knowshon Moreno or other rookie RBs, GJ will not only not be starting, he will be merely sixth, behind Bennet, Tolbert, Hester, Sproles, and an old guy with injuries of average height and speed. Name of Tomlinson.
This writer would much enjoy seeing the LT-ning strike twice, and win the rushing title, TD title, and MVP honours, if only to make the eastern media choke on their bias. However, if LT blows a gasket, as could happen to anyone, the Chargers have a tagteam of great backs to replace him.
Further, inconsistencies on the O-Line have been addressed. And Vasquez already excels in run-blocking.
Prediction: despite the Chargers incredible passing game, they will be top five in rushing. Darren Sproles will have more yards than several starting backs: with passes, easily over 1,000 yards.
Passing Game? "Fire in the hole!"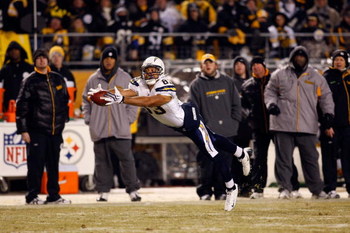 We've already covered depth, so we will avoid speculating on all the creative use of Naanee and the red zone vertical weaponry of Floyd.
Chris Chambers was injured in the middle of last season, but will be integral again.
VJ (Vincent Jackson) will be a top seven receiver in the league, combinging his size with elite agility and speed. He made a pirouette catch in the pre-season that had newbies scratching their heads, but his team mates just grinned: they see it all the time in practice.
The one caution is VJ's drinking habits and the law: he is now about one misstep away from fumbling his career away, and snatching defeat from the jaws of victory, like so many mult-millionaire athletes. VJ may not be an alcoholic, but his public remarks often sound like he is: attitude of unaccountability, "I don't have a problem", and trite.
Buster Davis has taken enormous heat from media and fans over fragility and attitude. It says here he will be a great possession receiver, and return man, for the Chargers for years to come.
Run Defense? "Check"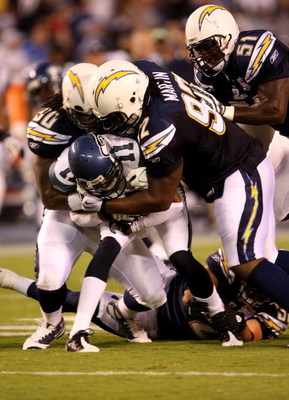 Probowl nosetackle Jamal Williams finally has help on his left. And Luis Castillo is ready to star on Jamal's right. JamCan Vaughn Martin is a good example of new talent on Defense. With Ryon Bingham on IR, Martin is being thrust forward -- and handling it.
Every team wishes it had an elite pass rusher. The Chargers have three: Merriman, Phillips and English. Who do opponents key on? Too often, the wrong one. Inside LB Kevin Burnett is a fantastic addition, and makes his predecessor, Matt Wilhelm, look feeble by comparison. Stephen Cooper captains the LB Corps, and is smart and agressive.
Something else new this year: a philosophy to penetrate the line of scrimmage, instead of waiting and reacting. It will be telling to compare tackles behind line of scrimmage from last season to this.
Chargers can rank top five in pass defense, especially if Merriman can return to form, and overcome legal and league fallout from recent events. S&M is a game-changer and a team changer. At least, he is when he is not busy pimping his sportswear line, his energy drink, his talkshow -- and appearing on COPS with a bisexual porn star, at his home, at 3 am.
Who is Merriman's mentor? PeeWee Herman or Mike Tyson?
Prediction: the Chargers return to being dominant run-stuffers. That will push their opponent into a passing game -- and disaster awaits them.
Pass Defense? "There's something on the radar..it's big and it's cl"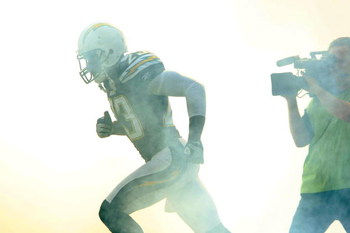 Everyone knows it: Chargers' pass D was dead, dead, dead last in the league last year. This year in pre-season? 12th, top half of the league. And Merriman only got whiffs of play, and English is learning the ropes.
Every teams wishes for an elite pass rusher like Merriman. Or Phillips. Or English. Chargers have 3. New Mo Lineback Kevin Burnett is the second coming of Donnie Edwards. Cooper is the Mike: smart, strong, decisive. And the backups (Tucker, Stiles, Applewhite etc) are better than competent and monsters on special teams.
The last comment is circling back around to Depth and Special Teams, which shows that the Chargers' parts are all part of one piece.
"All systems are go....10...9...8....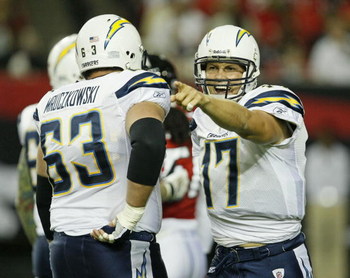 "The readiness is all" - Hamlet
You can get a sense of destiny from pre-season, -- not from the score, from the stats.
Pre-season statistics put Chargers in the Top Five in four major yardage categories, plus a Top Seven for points allowed. All this despite the starters playing as little as any team, because there will be so few new starters.
The Bolts second-stringers not only beat other's second units, they often matched well against first-stringers (see the 49ers game). Even the third stringers made big plays.
WHAT'S MOST DIFFERENT FROM THIS TIME LAST YEAR...
What hasn't been mentioned yet, and what is perhaps the biggest single change from last year: being healthy and injury free. This was the biggest factor in the last two seasons and especially the last two playoffs.
From Fan-fare to Fan-tastic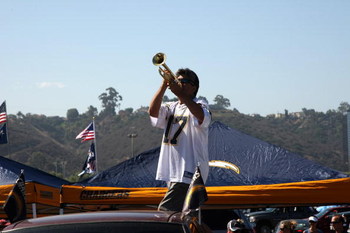 The fans have to bring it up a notch, too. The impression from online posts and forums is obsessive criticism. But history is about to run by them. In the 50th anniversary year of the Chargers, they have their best chance to win it all. Too many online fans feel armchair sniping is "honest criticism".
They want to explain why their own team can't win, won't win.
WInston Churchill would kick their ass-umptions.
This writer is convinced that if the Chargers win in Miami, the next day half the fan posts will be "Bolts won in spite of.. " their coach/GM/Owner, or line, secondary, or cheerleaders. One can only suppose these posters live under a waterfall of negativism. They are afraid to believe, and therefore miss the joy of being a fan. A true fan wears his heart on his sleeve. You have fun, and you have faith.
You believe.
Flight Plan - the first four games, and the Destination.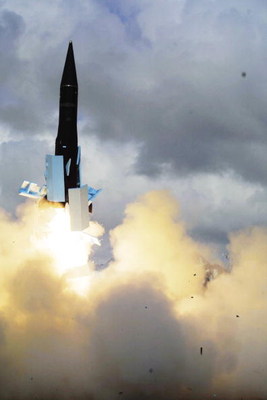 2009 Prediction, the first four games:
Not even the swine flu could prevent a Chargers massacre of Oakland. Game 2, their first real test, Baltimore, they will overwhelm Flacco in their house and win a tougher affair.
Miami will be eventful, but Chargers have revenge on their mind, and will neuter the Wildcat with penetrating, smart defense.
Game IV: PIttsburgh on the road, a return to last January, will show how far the Chargers have come in all aspects as a team. This is the litmus test for the middle half of the season: If the Chargers beat the Superbowl Champs before their bye week, who knows how far they will rip a seam through their schedule?
SUPER BOWL 2010:
The MVP will be an old running back with a recent history of injuries, and a smile as broad as his home state, Texas.
Vikings 20, Chargers 34.
Keep Reading

San Diego Chargers: Like this team?