Ten Predictions for the Washington Redskins 2009 Season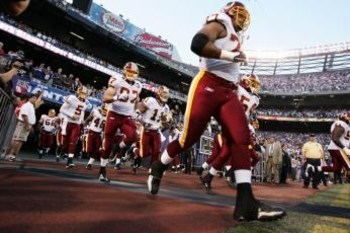 With the start of the Washington Redskins season just 8 days away, this is the time of the year Redskin fans love. There's so much hope in the air and expectations are high. There are many questions for this football team this year, so let's take a look at several areas of importance, and I will give you my ten predictions for the 2009 season.
Clinton Portis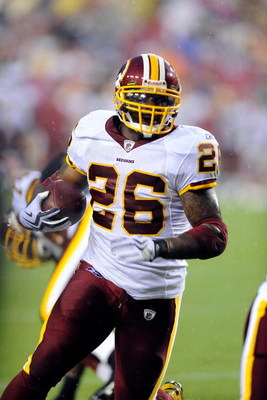 Portis is about to start his sixth season with the Washington Redskins, and it might be his most pivotal, as well as historic. Coming off an injury filled season where Portis was still able to amass 1,487 rushing yards, good for fourth in the league, and nine touchdowns, he sits second on the all-time rushing list for the Washington Redskins. He only needs 1,370 yards to pass John Riggins for first.

While Portis' salary for 2009 is only $745,000—he got his $9.3 million "signing bonus" in 2008—the cap hit is $9.9785 million. That will balloon to $7.1905 million next year, $4.4 million of that guaranteed, and $11.042 million towards the cap. So, this could be his last season as a Redskin if he doesn't have a productive, and injury free, season.
Prediction: Portis breaks "Riggo's" all-time rushing record and works out a contract extension before next season to stay a Redskin for the rest of his career.
Defensive Line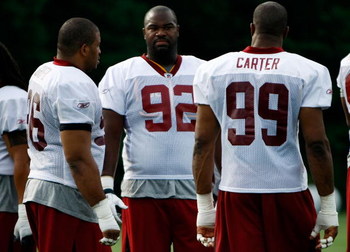 Haynesworth was acquired by the Redskins in the off-season for $100 million, with an NFL-record $41 million in guarantees. Pretty steep price to pay for one guy, but the Redskins are hoping that one guy will make everyone else around him that much better. While I tend to agree with that assumption, he needs to be on the field all the time to do that, and the early signs are he won't.
With the addition of Haynesworth, and drafting stud defensive lineman – or is it outside linebacker—Brian Orakpo, the 'Skins are looking to bolster a pass rush that had only 24 sacks last year, which was tied for 28th in the league. They will need to improve in that category, as well as takeaways, if they plan on making it to the post-season this year.
Prediction: Haynesworth and Orakpo help the 'Skins amass 40 sacks, which will put them in the top ten of the league, while still holding teams under 100 rushing yards per game, also good for a top ten in the league.
Offensive Line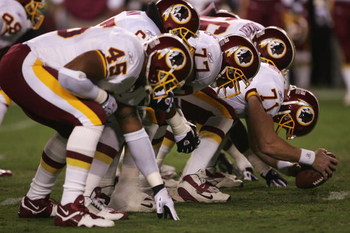 This was a huge issue last year, and part of the reason the season turned ugly in the second half. I'm of the opinion that a team is only as good as its offensive line, and the Redskins proved that last year. Even though they finished eighth in the league in rushing yds/G, most of that came in the first half of the season when they started off 6-2. As the injuries mounted, the worse it got, and the rest is history. They also gave up 38 sacks, which was in the bottom ten of the league.
Bringing back a familiar face in Derrick Dockery, and signing both Jeremy Bridges and Mike Williams to add depth to an aging offensive line, should help. And with a healthy Chris Samuels at tackle, and another year of experience for the other tackle Stephon Heyer, the 'Skins o-line will look to get out fast again this season, but will also try to sustain that for the entire 16-game schedule.
Prediction: The offensive line will be our downfall again this year. Age and injuries will be an issue, and the backups aren't good enough to come in and get the job done. We will still be one of the better rushing teams, but our passing offense, along with Jason Campbell, will suffer, and finish at the bottom of the league again.
Malcolm Kelly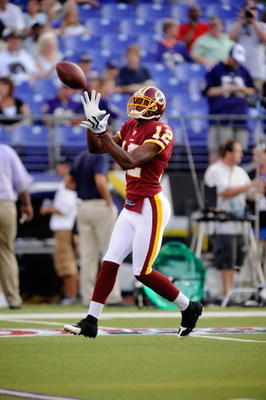 His first season with the Redskins was one to forget, with his knee injury keeping him off the field for most of the year. Kelly will look to rebound, and from what I have seen this preseason, will get the chance. He has moved into the No.2 wide-receiver spot alongside Santana Moss, and at 6'4" will try to give the Redskins that big guy up the middle to catch passes, and a red-zone threat, where they finished 24th in touchdown percentage.
Prediction: Malcolm will stretch the field and improve the Redskins downfield attack, as well as their red-zone efficiency. He will finish second to Moss in touchdowns, and third in receptions, behind Moss and Cooley.
Redskins Fans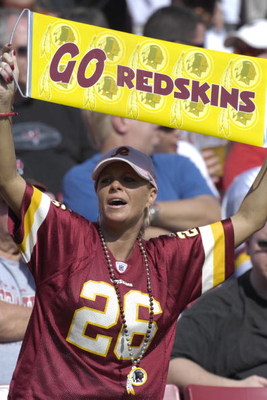 They are probably some of the best in the league. Most of them support this team through thick and thin, even when they have an owner that likes to overcharge for everything under the sun, and a team that hasn't made it past the second round of the playoffs since the first George Bush!
But, there is growing animosity between fans and ownership. Ticket prices are outrageous, and getting to and from a game would be faster riding a bike sometimes. Last year was the first time I have't been to at least one game in about five years.
Prediction: There won't be any TV blackouts this year, and the stadium will always be sold out, but that might not necessarily be a good thing (See next slide).
FedEx Field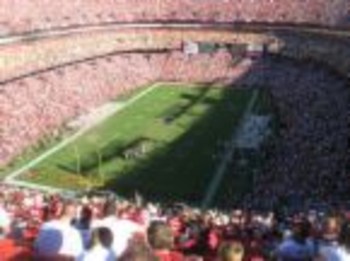 It's not the nicest of fields, but it's our house. Wait, it used to be. Up until a couple of years ago when all of a sudden people started selling their tickets and opposing team's fans were buying them! Now we hear that the Redskins organization themselves joined in, which probably helped to create the debacle that ensued on Monday night last Nov. 3, when it looked like there were more Pittsburgh Steelers fans in attendance than Redskins fans. Now with the new tailgating laws, things could get worse.
Prediction: With the Philadelphia Eagles and NY Giants coming to town on Monday night this year, and the Dallas Cowboys making the trip for a Sunday night game, look for the stands to be packed with visiting fans again. The Eagles and Cowboys games are always bad, but they will be way worse this year.
Jim Zorn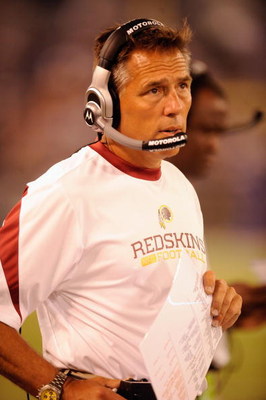 In his first season as the Redskins coach, Zorn had his ups, and his downs, but he did finish with a respectable 8-8 record. Something another hall-of-fame coach we had here did in his first season too. Zorn installed his version of the West coast offense, which at times, looked like something Rick Moranis would draw up in the movie "Little Giants." He preached about "acting medium" and always seemed to be in control. Well, except with the Clinton Portis situation. With the first season under his belt, and more plays being added to the offensive playbook, things should be looking up for Zorn, right?
Prediction: Zorn acts medium again and the Redskins struggle at times. With a bevy of talented coaches on the free-agent market next year, Zorn is dismissed after the season, and Mike Shannahan is hired.
Season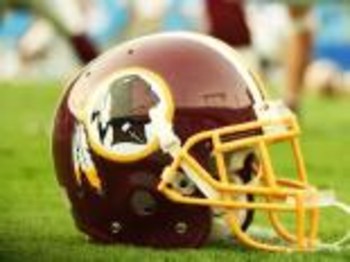 The Redskins will look to improve on their 8-8 record from last season and make an appearance in the post season. They were 29th in the league last year averaging 16.6 points pts/G. If Malcolm Kelly and Devin Thomas can step up in the passing game, and the offensive line stay healthy, they could score that one more touchdown per game needed to end up in the top 10 offensively. Those are two huge what if's though.
Prediction: Kelly has a pretty good year, but the offensive line can't hold it together for a full season, and the Redskins tough second half schedule do them in. They improve by 1 game, finishing 9-7, but miss the playoffs for a second consecutive season.
Brian Orakpo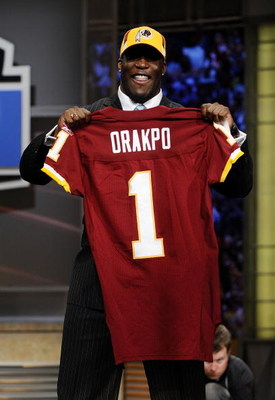 Drafted by the 'Skins with the 13th pick overall, Orakpo will try to improve a horrid pass rush. He's slated to play outside linebacker for most downs, and possibly slide into the defensive end spot on 3rd downs. From what I have seen in the pre-season, and the reports out of Redskins Park, this guy is the real deal. He's quick, strong, and knows where to be on the field to make plays.
Prediction: Orakpo will finish second on the team in sacks, and win the defensive rookie-of-the-year award, giving the Redskins one bright spot for the season.
Jason Campbell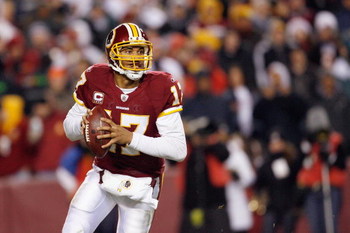 I saved the best, and most intriguing topic, for last. The Redskins tried to replace their starting quarterback twice this off-season by trading for Jay Cutler, and drafting Mark Sanchez. Neither happened, so they go into the 2009 season with Campbell leading the way. This might be the most important year of Campbell's football career, as he's a free agent next season.
He will need to improve a passing game that finished 24th in the NFL in yards-per-pass-attempt in 2008. If he can do that, he will be looking at a huge pay-day by either re-signing with the Redskins, or testing the free-agent market.
Prediction: Campbell's numbers improve slightly, but not enough to lead the 'Skins to the playoffs. They don't re-sign him, and look to move up in next year's draft in order to grab another guy named Colt.
Keep Reading

Washington Redskins: Like this team?