The Greatest Yankee Pitchers of All Time.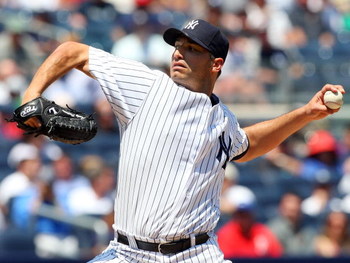 This is a list of the greatest pitchers ever to put on pinstripes. Most of them played for the Yankees for a long period of time or they won a lot of championships or did something special, like throw a no hitter. They all were great pitchers for this franchise.
They are ranked in the order that I would put them, and I know I will miss a few but not everyone belongs on this list. Please leave any comments you may have.
10. Dave Righetti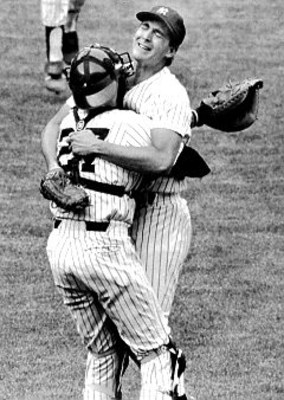 A man who did it all. He started ball games and finished them. Not to mention but he threw a no hitter as well.
The 1981 Rookie of the Year was one of the few bright spots for the Yankees in the 80s. He began his career as a starter and had some success in that role, just a little. The highlight of his career occurred on the fourth of July in 1983 when he threw a no hitter in a four to nothing win over the Red Sox.
He was moved to the bullpen in 1984 due to an excess of starters. He had a little success here as well. He averaged 32 saves for the Yankees over the next seven seasons. In 1986 he lead the league in saves with 46 and went to his first of two All Star Games.
He went to one postseason in his career in 1981. He had a 3-0 record with a 2.12 ERA in 4 postseason appearances. The Yankees lost to the Dodgers in six games that year.
9. Goose Gossage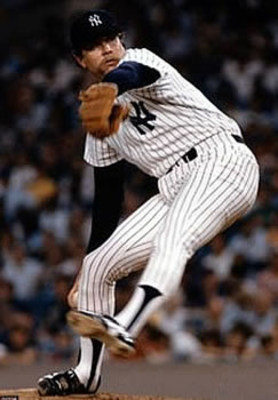 This Hall of Famer called old Yankee Stadium home from 1978 to 1983. During that six year stint he put up some of his best career number and won his only World Series in 1978. He racked up 150 save during that time span, which is nearly half of his career total of 310.
The 1978 team was helped greatly by a two man tandem out of the bullpen. One of the two being Goose, and the other Sparky Lyle who was the closer before. That tandem was the best in baseball at the time.
8. Vic Raschi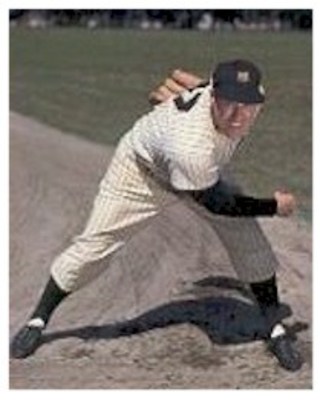 Raschi won 21 games three straight years for the Yankees and spent a total of eight years in pinstripes. He would win 120 games for the Yanks over those 8 years.
He was apart of the 1950's Dynasty that won five straight World Series, which is a record. He was the ace of that great pitching staff that also featured Allie Reynolds and Ed Lopat. Those three were together from '48 to '53 and had a combined 307 wins over those six seasons.
Raschi won six World Series in all for his career and was a four time All Star.
7. Mel Stottlemyre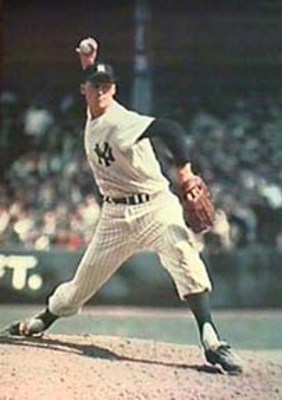 The former pitching coach of the Yankees was the ace of the staff throughout the late '60s, and had a very good career.
His 11 seasons in the Majors were all spent in the Bronx where he had up and down years. He had the most losses in the league twice but also had 20 wins or more three times. He never won a Cy Young for his excellent performances in 1965, 1968, or 1969 but was an All Star five times. His career stats are 164-139, 2.97 ERA, 2661.1 IP, and tossed 152 complete games.
The number of wins may not seem like much, but you have to consider that the best hitter on the team at the hight of Mel's career was a 36 year old Mickey Mantle at first base.
6. Ron Guidry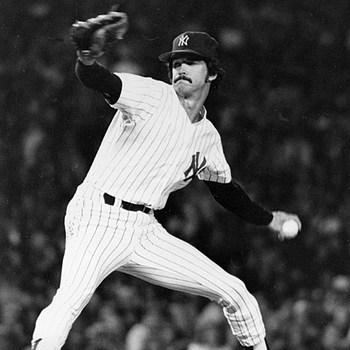 The man they called Louisiana Lightning was the ace of the staff for nearly a decade and won the 1978 Cy Young award.
In his first full season he won 18 games for the Yankees and also helped them to their first World Series Title in 15 years. In '78 he fully took on the roll of the ace by going 25-3 with a 1.73 ERA, and the Yankees took the Series from the Dodgers for the second straight year. His postseason record was 5-2 with a 3.02 ERA.
He won 20 games or more three times in his career. He had a career record of 170-91 with a 3.29 ERA. He spent all 14 seasons in pinstripes.
5. Lefty Gomez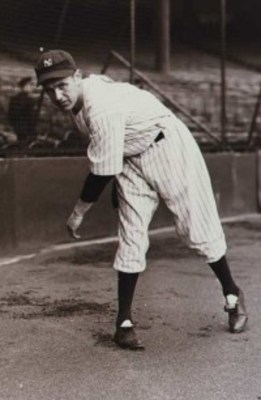 The Hall of Famer spent all but one of his 14 big league seasons with the Yankees, and had great success in those 13 years.
He had 189 wins for New York and won 20 or more four times. He played in 7 All Star games, all of them coming in a row from 1933 to 1939. The team won five World Series during his tenure, including four straight. His post season numbers were brilliant, he had a 6-0 record to go with a 2.86 ERA in 50.1 innings pitched.
His 189 wins ranks 4th all time for the Yankees.
4. Andy Pettitte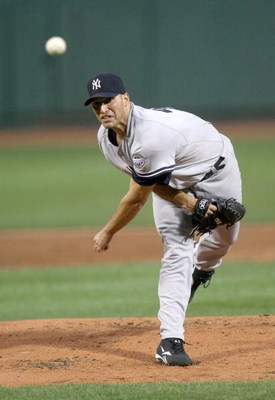 The 37 year old had great success in his first tenure with the Yankees, and has continued to be a work horse and a big game pitcher since returning from the Astros.
The tall lefty first broke in with the Yankees in '95 and has been nothing but a winner ever since. In '96 he won 21 games and picked up the first of four World Series rings he would win with the Yankees.
The other three came right in a row as the team would win it in '98,'99, and 2000. Andy holds the record for most games started(35) and innings pitched(218.1) in the postseason.
He recently passed Lefty Gomez for third most wins in Yankees history. His current career record is 227-133 and a 3.90 ERA, including his three years in Houston. As the playoffs aprroach, Andy will be looking to expand those postseason records and bring home his fifth ring.
3. Red Ruffing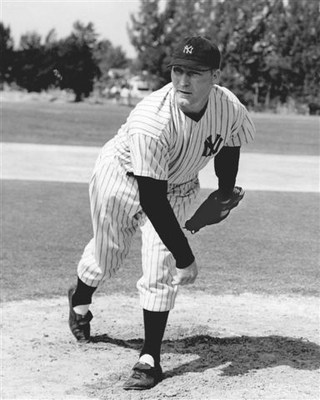 The six time World Series Champion and Hall of Famer was one of greatest pitchers of his time and was often overlooked because the Yankees had sluggers like Babe Ruth, Lou Gehrig, and Joe Dimaggio.
He started out a Red Sox player, but struggled in Boston and after two straight seasons of 20 plus losses he was traded to New York. There must be something magic about those pinstripes because he would win 231 games over 15 years in New York, he only had 273 total wins for his entire 22 year career.
He ranks second all time for wins in Yankee history.
2. Mariano Rivera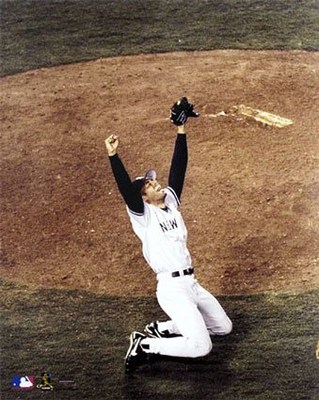 There is no better feeling than when the Yankees have the lead and Rivera is on the mound for the ninth. The best closer in Baseball history (in my mind any way) is still getting the job done as he leads the Majors in Saves this season.
Not only great in the regular season, but nearly unhitable in the postseason as well, with a 0.77 ERA to go with 34 saves. He recorded his 500th save earlier this season to join Trever Hoffman as the only members of the exclusive 500 Saves club.
He has won four world Series with the Yankees and is poised to gain his 5th this October.
1. Whitey Ford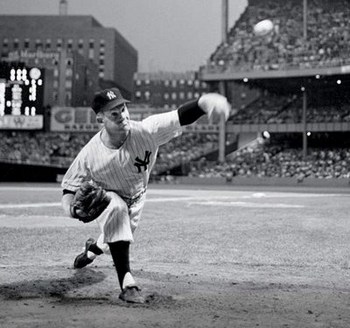 The Chairman of the Board has the most wins in Yankee history with 236.
His career started in 1950 at the age of 21 but was interrupted the year after when he served in the U.S. Army for the Korean War. He would come back at the age of 24 and won 18 games that year, leading the Bombers to the World Series Championship. In all he would play in 11 Series and won six of them. His record in the postseason was 10-8 with a 2.71 ERA in 22 games started.
He was the 1961 AL Cy Young Award winner and was a 8 time All Star. He would play all 16 seasons of his career in the Bronx. His career numbers are 236-106, 2.75 ERA, 1,956 K's, 156 complete games, in 3,170.1 innings pitched. He was inducted into the Hall of Fame in 1974, and is the greatest starting pitcher in Yankees history.
Keep Reading

New York Yankees: Like this team?