San Diego Chargers 2009 Roster Breakdown: DTs
Continuing our preview of the San Diego Chargers defensive line we arrive at the tackle position.
A critical cog in the 3-4 system, the job is usually reserved for one starter who must cram the middle and dominate multiple blockers with the objective of establishing a respectable run defense as well as pressuring the QB.
Luckily for San Diego, in Jamal Williams lies one of the best examples of what a 3-4 nose tackle should look and play like. However, Williams is 33, and beyond him, depth in the position seems weak. Who will step up in 2009 as the heir apparent? Will Jamal continue to dominate? Is the future of the 3-4 in San Diego questionable?
Let's take a look at what we can expect this coming season.
Jamal Williams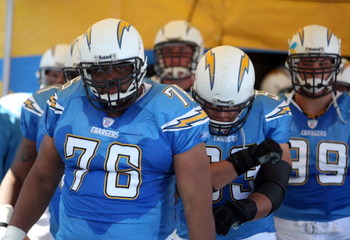 By far one of the most dominant defensive tackles in the National Football League, Jamal Williams has anchored the Chargers front unit for the better part of this decade.
Teams have learned that much more often than not, they are unable to run inside on the Chargers if No. 76 is lining up across from them. Last season, Williams tackled 56 times, with 1.5 QB sacks and defensing three passes in 16 games.
Pros: The best run-stuffer in the league, bar none, formidable tackler, excellent awareness and footwork, reads opposing passers well and is also very useful for putting pressure on QBs in the backfield, surprisingly fast and nimble for his massive size, absorbs multiple blocks with ease.
Cons: Though no significant decline has showed, age could start to be a concern, is sometimes confined to bull rushing opposing linemen, who then can lead him away with finesse moves, not a supremely dominant pass rusher.
2009 Season Outlook: Williams is the unquestioned starter and a prime candidate to return to the Pro Bowl for the AFC.
A big part of San Diego's rush defense falls on Williams' massive shoulders, and behind Shawne Merriman, Jamal is probably the most important man out there for San Diego's defense on any given down.
Look for him to reply with his usual consistency.
Ian Scott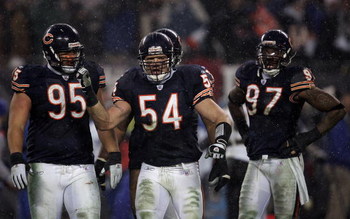 The former Chicago Bear joined San Diego in 2008 after three years of starting on the Windy City's defensive line. Despite only participating in four games last season for San Diego, Scott brings starting experience in a similar scheme with the intent to bolster the depth chart.
He will compete with Ryon Bingham for playing time behind Jamal Williams.
Pros: Starting experience in a demanding defensive scheme on a defensive-minded team is a huge plus, has size (6'3", 315) to fill in at defensive tackle and take on double teaming linemen, good hands.
Cons: Has played in only four games since 2007, not an effective pass rusher, rust may be a factor in regards to explosiveness off snap, hasn't impressed much in preseason, even against reserve offensive lines.
Season Outlook: Scott is currently entrenched in a battle with Ryon Bingham and Ogemdi Nwagbuo for playing time this preseason. Look for him to share second-team snaps.
Ryon Bingham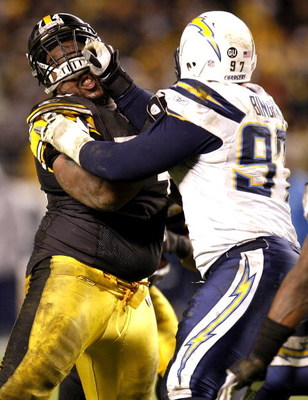 The fifth-year man out of Nebraska plies his trade on any spot in San Diego's defensive line, due to his versatility and equal talent for clogging the run and rushing the passer.
He is truly San Diego's jack-of-all-trades up front, but is mostly required to take snaps for Jamal Williams. Last season, Bingham put up solid numbers again, getting 25 tackles and 1.5 sacks.
Pros: Great speed and quickness for man of his size, is strong enough to play run straight up and nimble enough to explode off line at the end position, is best pass rushing tackle of the group.
Cons: Has little to no awareness for the passing game, rarely throwing up his arms to defend a pass, is prone to overly physical play resulting in penalties, unproven beyond spot starting and substituting.
Season Outlook: Bingham is the prime candidate to keep subbing for Jamal Williams. Should someone else beat him out for that role, Bingham will still get his snaps in at defensive end.
Ogemdi Nwagbuo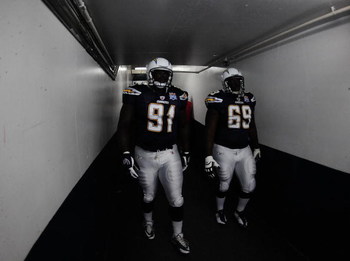 Nwagbuo, a Michigan State alum, has impressed fans and coaches alike with a solid preseason, including a four tackle showing in the first game against Seattle, and even earning a start at Atlanta last weekend.
A big, tall and strong player with fantastic instincts, Nwagbuo could very well be groomed to succeed Jamal Williams in a few years. For now, his mission is to stay on the team and be called upon when needed.
Pros: Fantastic physical specimen, bulldozing linemen with massive arm and leg strength, is quick to ball and even quicker to get off blocks, looks to be solid against run.
Cons: Sometimes disappears for stretches of time, tends to give up on plays once the ball is past him, has trouble with double and triple teams on the line, still very raw in terms of high competition.
Season Outlook: Nwagbuo is definitely an interesting prospect who has caught the eye of several observers. He might get a couple of chances here and there during the season to develop his on-the-field skills, but look for him to learn from afar during the 2009 season.
Rashaad Jackson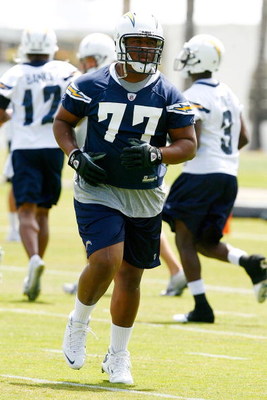 Jackson, an undrafted rookie out of Clemson, was a four-year starter in college.
He'll look to make the team as a backup defensive tackle behind Bingham, Scott, and Nwagbuo.
Keep Reading

San Diego Chargers: Like this team?