The All-Motorsport Power Rankings: Week 33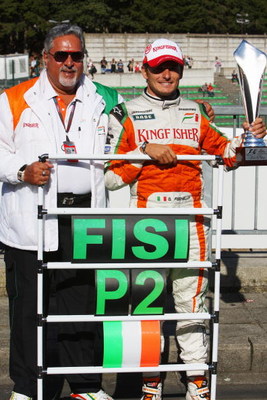 What must Force India be thinking?
They've just pulled probably the biggest upset in recent F1 history, and all anyone can do (and I include myself in the coming pages) is point out firstly the car that finished second proved in practice there is more than one way to skin a cat (or dog, or rabbit, or duck, the fact remains that not even dental records could identify the mess it left) and the fact that the driver who finished second for them is likely to jump into the second seat for the team that finished first.
Still, I suppose that's better news than NASCAR (as it was one of three major racing series to cross the Canadian border) had, as "43 of the best drivers in the world" did their best to make driving in the rain look like something on a par with Advanced Astro-Physics.
Meanwhile Indycar was showing them how to race on ovals with close racing and buckets of overtaking and there were still those who found a reason to be unhappy about that.
Is no-one ever happy?
The Power Rankings may also be heard on the Midweek Motorsport program on Radio Le Mans, which this week includes an interview with Andrew Ranger, fresh from his third at Montreal. On at 8 PM UK time, 3 PM Eastern, 12 Pacific and available for eternity via iTunes.
15 Steven Wallace (Backwards sideways NASCAR)
AP: Charlotte, NC.
Ex-NASCAR champ Rusty Wallace begins civil procedure to disown useless son.
Steven Wallace tribute video, at least I think that's what it is
14 Nelson Piquet Jr (Ex-F1)
Hell hath no fury like a Piquet scorned.
13 Romain Grosjean (F1)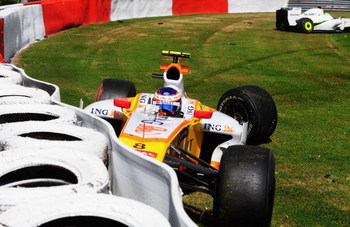 Says he was taken off by Button in the Belgium melee.
It's that sort of attitude that made making fun of Piquet acceptable, son.
12 Brad Keselowski (NASCAR)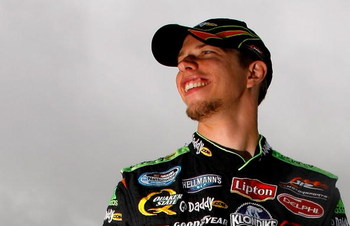 11 Scott Dixon (Indycar)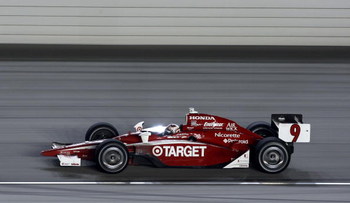 10 Vijay Mallya (F1)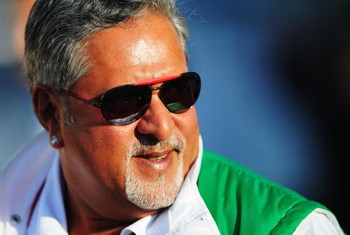 Aztecs finally vindicated as animal sacrifice brings first points, Mallya to open rabbit farm.
9 Jan Magnussen (ALMS)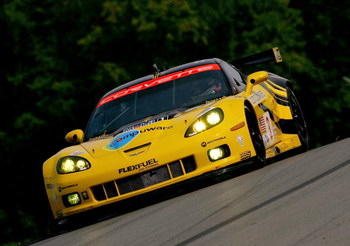 Taking the GT2 Corvette's first win in the ALMS in Mosport, along with Johnny O'Connell
8 Carl Edwards (NASCAR)
Carl's weekend was evidence there is no benevolent Lord in motor racing.
First Carl junks his Grand-Am ride on the out lap, before Marcos Ambrose even gets in the car, then on Sunday Carl robs Marcos blind of the Nationwide win.
I'm supporting Karma at Atlanta.
7 Ryan Briscoe (Indycar)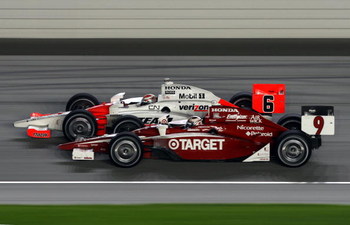 Winner in Chicagoland (by about two foot), leading the Indycar point standings.
Not much else to say.
6 David Brabham (ALMS)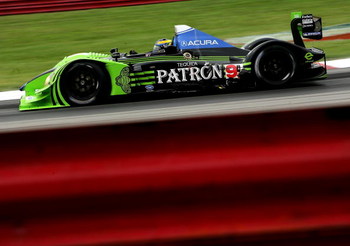 Random, tenuously related thought.
If when Dyson Racing modify a car they are Dysonising it, are Highcroft always Patronising the field?
5 Marcos Ambrose (NASCAR)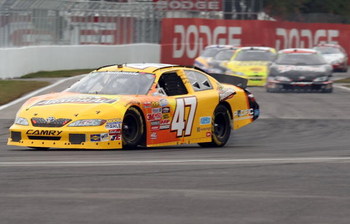 Marcos to visit a psychic to discover exactly how he wronged Canada (or Carl Edwards) in a past life.
4 Jorge Lorenzo (MotoGP)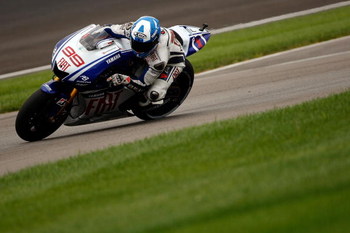 What's wrong with this sentence?
Two top MotoGP riders fall off and not one of them is Jorge Lorenzo.
To make matters worse he actually wins.
3 Andrew Ranger (NASCAR)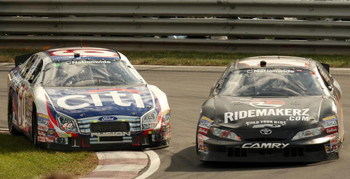 Third in the Montreal Nationwide race, top Canadian, and judging by the clips of Canadian Tire races in the broadcast, a complete mad man.
2 Kimi Raikkonen (F1)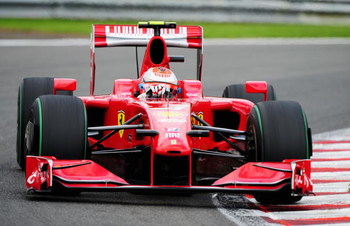 Thankfully in front of the famous Force India this week.
1 Giancarlo Fisichella (F1)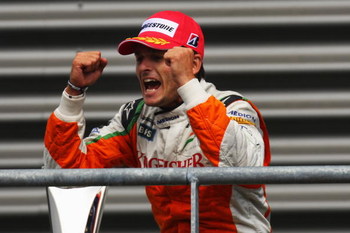 Another misunderstanding at Ferrari.
HR department ordered to get busy with the Fisi.
Mistakenly buy Soda Stream.
Keep Reading