His Own Vick-tim: Michael Vick Just Doesn't Get It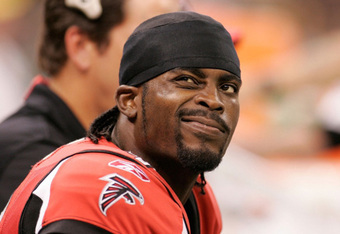 Remember when Michael Vick used to be the greatest talent ever drafted out of college?

Remember when he was about to revolutionize the game of football?

Remember when he had one of the worst passer ratings in the league year after year?

Remember what Michael Vick used to be like?

Yeah, me neither.

Now the images of Vick aren't of him trying to scramble away from defensive linemen; they're of him trying to scramble away from a legal situation that's growing grimmer by the day.

In the wake of news that Atlanta's anti-hero failed a drug test on September 13th...while being tried for a federal crime, with a state trial looming over him...there's only one logical conclusion that can be reached:

This guy just doesn't get it.

You would think that Vick would, and should, understand that he needs to be on his best behavior.

But I guess the fact that the feds have already convicted him and that the State of Virginia is foaming at the mouth to do the same hasn't quite sunk in.

The truth about Michael Vick's character is just beginning to come out—and it's becoming increasingly clear he has no concern for the American justice system...or his own well-being...or the dwindling number of young fans wearing his jersey and asking Mommy why their favorite player is on the news AGAIN.

This is the same guy who once gave his hometown fans the finger, then vowed that he was focused on rebuilding his image.

The same guy who blamed the cops at the airport for finding a marijuana-like substance in his water bottle, which now seems to have been not all that big of a stretch.

The same guy who lied to Commissioner Roger Goodell's face when asked about dogfighting, and stuck with the denial right up until his confession.

The same guy who, at the NFL Draft in April, responded to the dogfighting allegations by saying that the situation would be taken care of, and that he was (again) focused on rebuilding his image.

The same guy who used a series of notes to make a "heartfelt" apology after it had been made clear he was as guilty as sin.

And the same guy who chose to light up a joint and fail a drug test when his career has gone down the tubes and his rep is in the toilet.

Michael Vick, as has become painfully obvious in the past few months, is a self-centered man who believes himself to be above the fans, the league, and the law.

How ironic that all three have dropped the hammer on him.

Either Vick can't comprehend right from wrong, or he's just too arrogant to care about the difference.

In any event, it's crystal clear he doesn't understand he continues to shoot himself in the foot—and that's not a good thing.

For any of us.
This article is
What is the duplicate article?
Why is this article offensive?
Where is this article plagiarized from?
Why is this article poorly edited?

Atlanta Falcons: Like this team?