Fantasy Baseball: 10 Pitchers to Not Forget about Next Year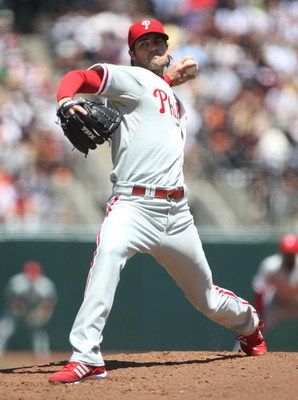 If you don't like taking a bonafide ace early, then why don't you owners out there think about these guys?
They aren't going to be taking early or even in the middle rounds.
I love a few guys on this list and a couple are high risk and high reward.
Remember, every year there will be a couple guys that jump out and surprise everyone. Could one of those guys be in this group?
Brandon Webb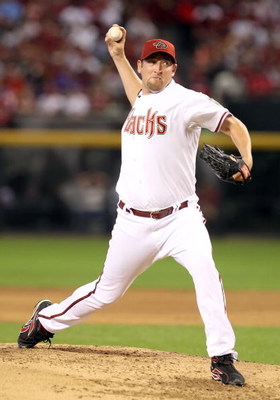 I love this guy right. He is a former Cy Young Award winner, and even though he was out for pretty much the entire season, he is still a beast.
He can pretty much be guaranteed for an ERA in the low 3.00's and 17+ wins.
But what all you owners have to consider is that when Orlando Hudson came to Arizona Webb went from a uber-three to a ace, and without the O-Dog he doesn't have that awesome double play combo.
But if that doesn't come into factor and he can come back to full strength, he is a instant ace.
Shaun Marcum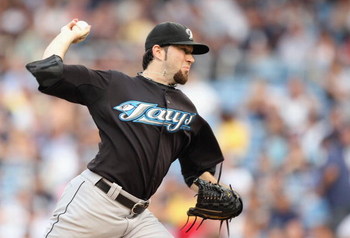 He is supposed to be the next Toronto ace and maybe so; he did show a huge step forward in 2008.
Before he got taken down by Tommy John in 25 starts he had a 3.39 ERA.
And with Doc Halladay on that staff, he might even get better.
He is definitely under the radar and would make a nice add.
Chien-Ming Wang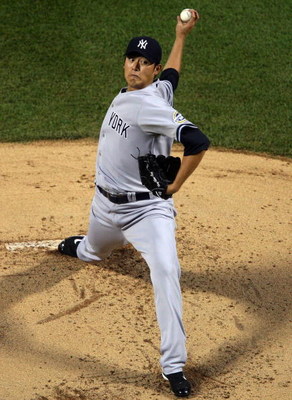 It's funny how after a guy wins 19 games two years in a row, Yankees fans can just turn on him, boo him, and not support him.
I think Wang might have a chip on his shoulder coming back from the injury. He doesn't K anyone and doesn't pitch to the lowest ERA but helps in all categories.
He didn't even post one quality outing in 09, but remember Cliff Lee in 07?
Now I am not saying he will be the 08 Lee, but is it that wrong to believe he could win 15 games and have a respectable 3.60 ERA?
Brett Myers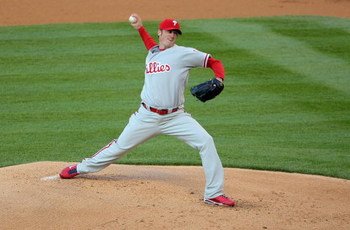 Myers is a free agent at the end of the year, and if he signs for a team like Detroit, that would be a perfect fit.
He has had one problem through his career, and that is staying consistent, but if he can get back to his form from 05 and 06, he would be pretty valuable.
The guy has K stuff and his control has gotten better over the years.
He is just another guy Dave Duncan, the St. Louis pitching coach, would love to get his hand on.
Dustin McGowan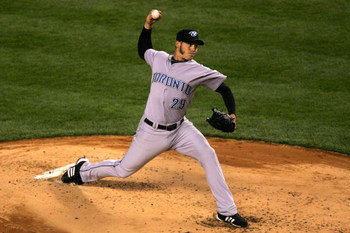 This is one of the guys I am really interested in seeing what he can do.
For his career, he is 20-22 and has a 4.71 ERA.
But in his last couple of seasons he has pretty respectable numbers with an 18-17 record and a 4.20 ERA for a bad team.
Staying healthy is kind of his problem—he went down with shoulder surgery last season and the Jays won't rush him back, so he should be back at full strength next season.
Tim Hudson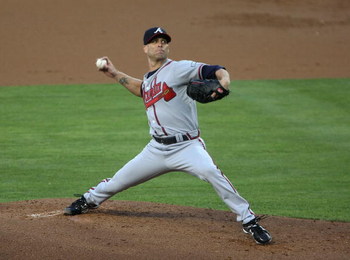 Even if Hudson gets lit up this year coming back from Tommy John, I would draft this guy.
When you come back from a surgery like that it takes three or four starts to get back into your groove.
At this point in the season, Hudson only has four or five starts, so it's not a big sampling even if my prediction comes true.
He is coming out of his prime because he will turn 34 soon, but he did have a 3.17 ERA before he went down with Tommy John last year.
Koji Uehara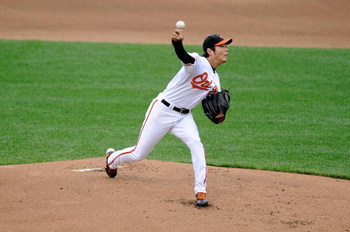 The Japanese import could be a nice pick up for anyone.
He isn't like other Japanese pitchers that have come from Japan; this guy doesn't nibble like Dice- K.
He throws strike evident by the K/BB ration of 4.00.
If you draft him, you're drafting for any stat other then wins because he won't get any support from the Orioles.
Chris Young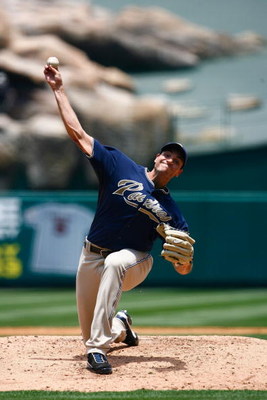 The tall righty in San Diego is another viable option.
He struggled this year, posting an ERA over 5.00 in 14 starts, but he was having shoulder troubles in all those starts.
His career stats have his ERA at 3.87, which is good.
You just wonder: can he stay healthy for a entire season and make 33, 35 starts every year?
Jesse Litsch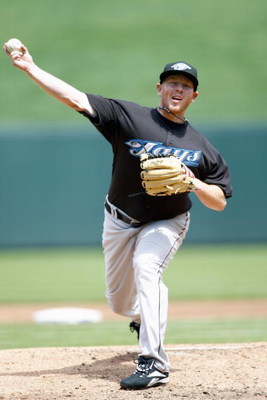 Another Jays hurler lands on this list, it's ridiculous how many they have here.
Litsch has been a very solid Major Leaguer with his 3.83 ERA.
He will be 25 next year, so he definitely still has room for improvement. He doesn't K anyone but has good control with his 2.3 averaged BB per 9.
Toronto shouldn't trade Doc—they could have a great rotation next year.
John Maine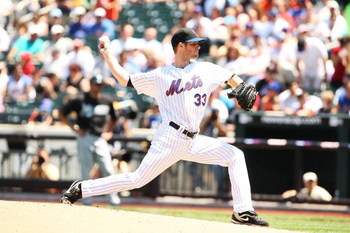 He has a good change-up and a blazing fastball, but he can't seem put stay healthy.
He was a 15 game winner but averages 70 something walks every year and has never pitched 200 innings.
He will be 29 next year and he needs to stop getting hurt.
Keep Reading