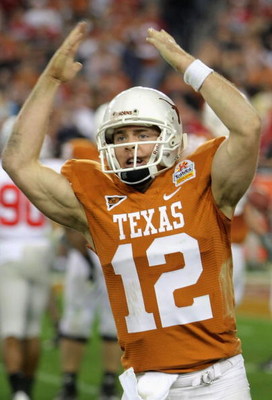 Quentin Tarantino, director and writer of "Inglourious Basterds," certainly delivered a masterpiece of a film after much anticipation. The "spaghetti western war-film" didn't disappoint followers of his previous films, such as "Pulp Fiction," "Reservoir Dogs," and the "Kill Bill" series. Tarantino has proved he can assemble an extraordinary cast, a unique music selection, and fantastic plot to create a memorable movie.
As the football season approaches us this weekend on the majority of college campuses across the nation, students and fans alike can't wait to watch their team take the gridiron on Saturday. Texas football possesses a rich tradition and history like no other college.
Tarantino does a wonderful job of blending comedy and tragedy in his new movie, while altering the history of World War II through his own eyes.
There is nothing like a Saturday in Darrell K. Royal Texas Memorial Stadium. The band playing "Texas Fight," HD replays on the Godzillatron, and watching the drama unfold on the field in the heart of Texas.
One person who probably wants to alter their own history is Texas head football coach Mack Brown. Texas Tech's wide receiver Michael Crabtree quickly put a bullet through the heart of Longhorns fans after his last second touchdown last year.
However, Texas is back with vengeance this season and hopes to book a ticket to Pasadena in 2010.
It was all about the Jews getting revenge on the Nazi regime in "Inglourious Basterds." But what if Mack Brown made his own movie? What if he wrote and directed a film about the upcoming football season?
If Brown were to direct and cast a similar movie to Tarantino's recent work, it would go a little something like this.
Ladies and Gentlemen, I present to you, "The Glorious Longhorns."
Note: Reading this will not give away the plot, or spoil the film if you haven't already seen it.
Aldo Raine (Brad Pitt), aka "Aldo the Apache," Played by Texas Quarterback Colt McCoy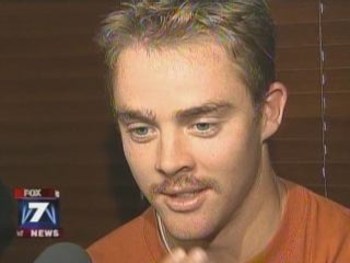 Pitt was the most recognizable headliner of the film, being the face of the movie. His marvelous performance as "Aldo the Apache" brought comic relief to movie. The hillbilly Tennessee native is the Lieutenant of "Inglourious Basterds," in a quest for vengeance against the Germans. Tarantino handpicked Pitt for the role despite some raised eyebrows. Brown's decision to hand the keys over to McCoy after Vince Young's departure has paid dividends since. The Tuscola, TX native has been the face of the football team for the past three years. This season is all about revenge for McCoy and the Longhorns after looking from the outside in last season. The Longhorns captain has been an emphatic vocal leader of the team and will look to earn another shot at the Heisman this year. I think the bigger question to ask is who's got the better mustache?
Donny Donowitz (Eli Roth), aka "The Bear Jew," Played by Texas Defensive End Sergio Kindle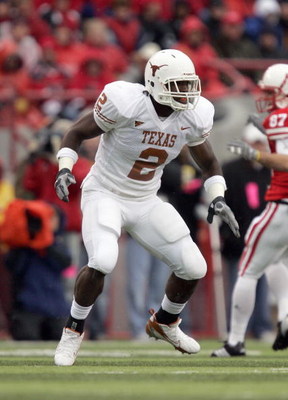 "The Bear Jew" is the most feared bastard by the Germans, hearing horrific and violent stories about the ruthless killer. Their epic bat scene leaves the viewers hysterical or squeamish. Kindle, nicknamed "The Predator," is the Longhorns' most prized defender. In a hybrid defensive end/linebacker role this year, Kindle will rack up tackles like Donowitz collected scalps. Kindle is known to dish out the big hit, just as Donowitz played tee ball with a German's head.
Hugo Stilgitz (Til Schweiger), Played by Texas Defensive Tackle Lamar Houston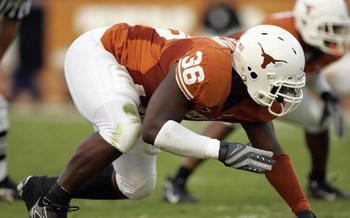 Stilgitz is a soft-spoken German psychopath who joins the bastards to take down Hitler. Stilgitz has been known to kill 13 secret police officer majors in the Nazi regime. His skills are recognized by Aldo and joins the "basterds." Houston is the type of player that leads by example. Stilgitz's character plays a more important part to the "basterds" strategy than you think. He has the ability to play as a German and is one of the "basterds'" most courageous soldiers. Houston's play will need to be superhuman rather than psychotic, as he will play a vital role up front for Texas this season.
Hans Landa, (Christoph Waltz), aka "The Jew Hunter," Played by Oklahoma's Sam Bradford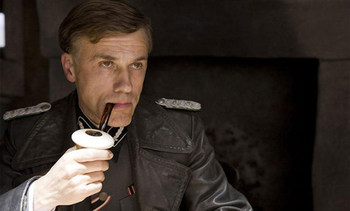 Waltz, in my opinion, really stole the show in the movie, just as Bradford took the Heisman trophy out of McCoy's hands. Waltz's impressive acting as the Nazi's most notorious killer will probably earn him an Oscar. Let me state for the record that SAM BRADFORD DOES NOT KILL JEWS. Bradford is the number one enemy is Longhorn country, taking away their glory. Landa has a knack to locate Jews in hiding, just as Bradford can easily find his receivers on offense.
It's Only Fitting That Adolf Hitler Would Be Played by Oklahoma Head Football Coach Bob Stoops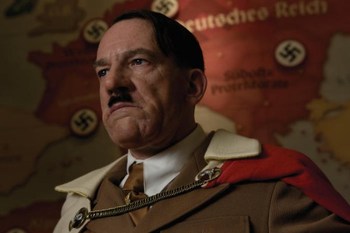 Coach Stoops is respected throughout college football, although you won't hear anyone refer to him as fuhrer. Hitler had no problem building up his army, just like Stoops' ability to bring top notch recruits into Oklahoma. However, they haven't won a bowl in four years, putting Stoops' ability to manage and coach the game in question. He certainly isn't on the hot seat, but Sooner fans want to see a bowl victory as soon as possible. Maybe McCoy will carve the Longhorn logo into the forehead of every opponent he defeats.
Gefreiter Frederick Zoller (Daniel Bruhl), Played by Florida's Tim Tebow.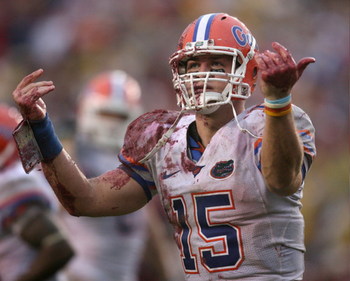 Zoller is a character you love or hate, kind of like Tebow. Zoller is a war-hero who is glorified by a movie within the movie, and does not enjoy his fame from murdering hundreds of U.S. Soldiers. Tebow, on the other hand, might be the greatest quarterback to ever play college football. However, we still don't know if that success will lead to Sundays necessarily. The loyal and patriotic Nazi tries to woo a French-Jewish girl after being denied many times.
Shosanna Dreyfus (Melanie Laurent), Played by Texas Wide Receiver Jordan Shipley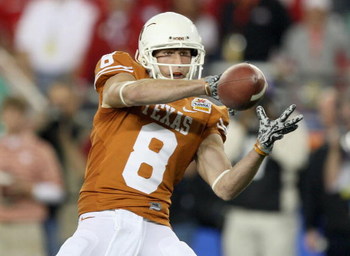 I regret having to compare the French-Jewish girl to the almighty "Ship." However, I couldn't help but notice the similarities between the two. Shipley returned for another season in Austin to seek a national championship. Dreyfus seeks revenge on the Nazi regime and gets her chance. I must say, Shipley would have been long gone in that runaway scene, compared to the girl. He would have exited the screen in 4.3 seconds flat. Even though Shipley's character is not a "basterd," Dreyfus plays a huge role as a protagonist in the film. Shipley's return as the No. 1 target for McCoy will strengthen the depth at that position.
How can you not watch a movie like this?
What "Rudy" is to Notre Dame fans, is what "The Glorious Longhorns" will be to the Texas faithful. This movie has it all: drama, action, stellar cast, rivalaries.
But will it have a happy ending, similar to Vince Young's iconic celebration in the shower of confetti in the 2006 national title game?
Keep Reading

Texas Longhorns Football: Like this team?