Top 20 Pitchers of This Decade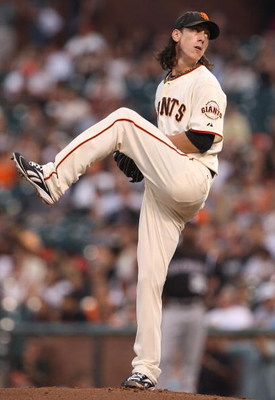 This is a article I did when I first joined Bleacher Report.
But I didn't think it got a whole lot of attention so I am re uploading it hoping maybe a few more people will check it out.
The list starts with No. 20 and ends with one.
The qualifications you must have never been linked to steroids or performance enhancing drugs. You may find all pitchers on the list starters and relievers, you must still be active, and finally World Championships help your cause on the list.
All that being said here are guys you won't find on the list based on these conditions alone.
Roger Clemens
Andy Pettite
Any Pitcher whose career started in 2005
Oh yeah check out my other slide shows and or articles I only have one other right now but I will be putting up a lot more this week.
And comment back I like to here feedback and oh yeah excuse me if there are any grammar problems :).
20. Josh Beckett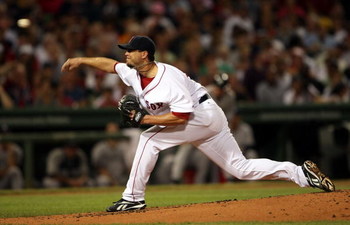 2X ALL STAR 07,09
W/L 101/65 2007 ALCS MVP
ERA 3.74 2003 World Series MVP
K'S 1241 2x WORLD CHAMPION 03,07
I had trouble with rankings 15-20 but I am pretty sure I got them right, The Texan fireballer Josh Beckett has been well known for his dominance in the postseason, I mean as a rookie he beat the Yankees in the final game of the 2003 World Series to give the Marlins the Championship.
But the reason why I put him in the No. 19 spot is that threw his regular season career he has been inconsistent think about it threw his career he has made 30 + starts twice and never made 35 starts.
The one year he did make 33 starts he put a ERA in the fives, and because of this he has only topped 200 innings 2 times. I am not knocking him but he for his career has been a let down if you look at the regular season stats and you compare them to what he was advertised to be when he first came up.
Best Year:
20 wins
3.27 ERA
200.2 INP
194 K's
19. Chris Carpenter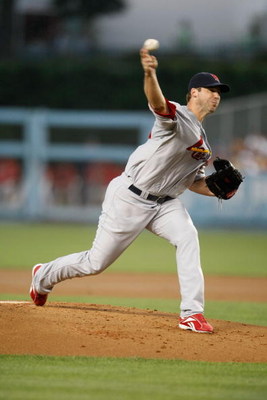 ALL STAR 05, 06
2005 NL Cy Young Winner
W/L 109/73 K's 1,249
ERA 3.96
2006 WORLD CHAMPION
When healthy maybe he's the best in the game, Carpenter threw 2004-2006 was probably along with Johan Santana the best pitcher in the game.
The reason I put him ahead of Beckett is because in the regular season he would be more reliable then Josh, he has a Cy Young, he has pitched over 200 innings three times.
He has had years were he has had ERA's in the twos and Carpenter even though he has been hurt a lot he has been more durable then Beckett. Since 2002 (Josh's first full year) Beckett has 8 CG and Chris has 15 and Chris has been on the DL 5 times since 2002.
Best Year:
Cy Young Winner
21 Wins
2.83 ERA
213 K's
241 INP
18. John Lackey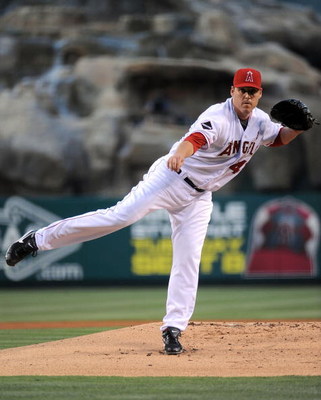 All Star '07
W/L 98-67
ERA 3.82
K's 1,129
2002 WORLD CHAMPION
John Lackey one of the more consistent pitchers of the 21st century, he bursted on the baseball scene in 2002 winning 9 games in 18 starts and putting up a 3.66 ERA.
The problem with big John is that he in the beginning of his career was inconsistent in his second and third seasons in the bigs he put up a 4.63 and 4.67 ERA respectively. Also in his last couple of seasons he has been injured but when healthy no doubt John is a top flight starter.
Best Year:
19 Wins
3.01 ERA
177 K'S
224 INP
17. A.J. Burnett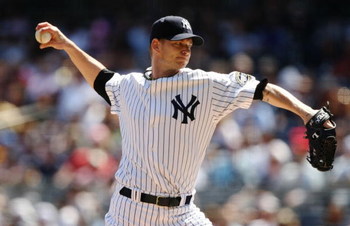 WORLD CHAMPION '03
W/L 97/80
ERA 3.79
K's 1391
Threw No Hitter May 12, 2001 VS Padres
He arguably right now has the best stuff in the game , a nasty curveball, blazing fastball and a hard changeup.
Nos 20-17 were very hard to rank because they all had injury trouble, but I believe A.J. should have this spot in his career he has registered 10+ wins seven times as opposed to the six times Carpenter has done it, six times Lackey has done it, and the five times Beckett has done it.
Also since 2002 he has logged more INP then Carpenter, Beckett and Lackey, he has also had more CG and K's. And he sports a good 3.79 ERA.
Best Year:
18 Wins
4.07 ERA
231 K'S
221 INP
16. Mark Buerhle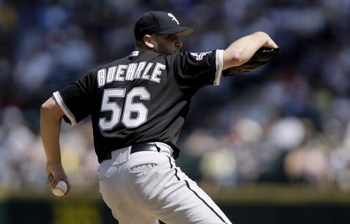 4x ALL STAR 02,05,06,09
Threw No Hitter Apr. 18,2007 VS Rangers
Threw Perfect Game July 23, 2009 VS Rays
Holds MLB record for most consecutive batters retired
WORLD CHAMPION '06
W/L 133-91 K'S 1,162
ERA 3.78
Probably one of the most underrated pitchers in the game, but the fastest worker in the game. Buerhle isn't overpowering by any means he puts the ball in the play and he gives up hits but he will always keep you in the game.
With his excellent control he pitched a No Hitter and Perfect game, and since 2000 he is AL's wins leader.
You talk about durability he has pitched over 200 innings every single season since 2001, and has registered 24 CG since 2001. If that isn't enough in 10 seasons in the bigs 9 seasons he has had double digits in wins.
Best Year:
19 Wins
3.58 ERA
134 K's
239 INP
15. Jake Peavy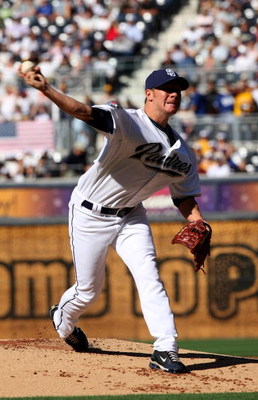 2x ALL STAR
W/L 92/68
ERA 3.29
K's 1348
2007 NL Cy Young Award Winner
2007 NL Triple Crown Winner
Jake Peavy has every thing the velocity, he's young, great control, he pitches in a big ballpark and the only problem is he pitches for the PADRES.
You can argue Peavy is a top-five pitcher right now but with the Padres he will never get run support and for all we know Peavy might be a Petco Creation before Petco was built Jake Peavy was putting up ERA's in the high 4's.
But you can't doubt the guys stuff he has a wicked slider along with a moving fastball, for this list I didn't factor in which ballpark the pitchers pitched in because if I did Mark Buerhle would be much higher. Petco or no Petco Jake Peavy I believe might be the real deal but we will never know because he doesn't want to be traded.
Best Year:
NL Cy Young Award Winner
NL Triple Crown Winner
19 Wins
2.53 ERA
240 K's
223 INP
14. Tim Hudson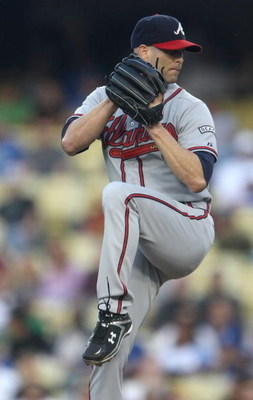 2X ALL STAR '00, '04
W/L 146/77
ERA 3.48
K's 1372
5X 15+ GAME WINNER
I like to call Tim Hudson the NL version of Mark Buerhle, because Hudson doesn't throw very hard but he puts the ball into play and he knows what he is doing on the mound, he has a game plan and he doesn't get fancy on the mound he attacks hitters.
Hudson every single season in his career he has won over 10 games, since 199 he has 22 CG and six out of 10 seasons he logged in over 200 innings. The most impressive stat is the great ERA that he has logged 3.48.
Best Year:
16 Wins
2.70 ERA
162 K's
240 INP
13. Trevor Hoffman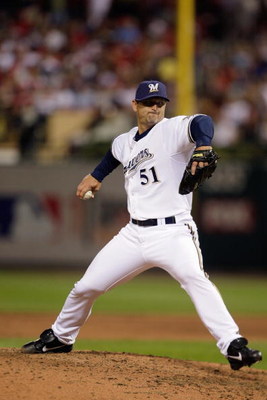 7X ALL STAR '98, '99, '00, '02, '06, '07, '09
2X Rolaids Relief Man
2.75 ERA
577 SV
1,088 K's
Most SAVES All Time
Trevor Hoffman probably a future Hall of Famer, the long time closer has registered more SVs then any other pitcher in MLB history and more SVs then any other closer in the 21st Century.
The one ting always has stopped Hoffman from being the greatest closer of all time is that he never was able to be that complete one-two-three shut down closer for a long stretch of time like Mariano Rivera and Eckersly.
Trevor maybe at the tail end of his career but there's no doubting that in the 21st Century he was a special pitcher.
Best Year of the 21st Century
2.14 ERA
65 GAMES
46 SAVES
63 INP
50 K's
12. Carlos Zambrano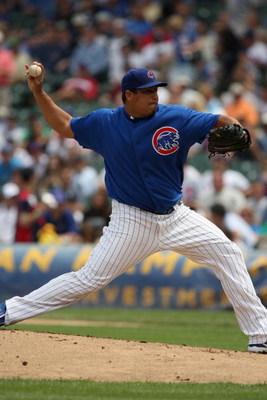 3x ALL STAR '04, '06, '08
W/L 103-65
ERA 3.47
K's 1271
2X SLIVER SLUGGER
Threw No Hitter Sept. 14, 2008 VS Astros
He is only 27 and he has over 100 wins he is definitely a contender for 300 wins, he is a very consistent power right-hander. In his first full year to 2009 he has never put up a ERA higher then 3.95.
In 8 big league seasons 5 times he has put up 200 innings or more, and in 8 seasons he has topped 200 strikeouts 2 times. Maybe the most important stat 6 times he has had 14+ win seasons.
Best Year:
16 Wins
2.75 ERA
225 K's
209.2 INP
11. Jonathan Papelbon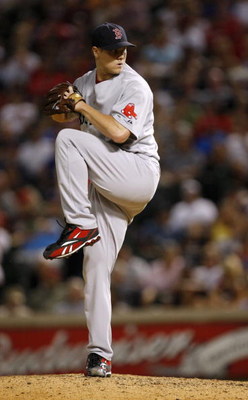 4X ALL STAR '06, '07, '08, '09
2007 WORLD CHAMPION
138 SAVES
ERA 1.82
Most Saves For A Rookie (35)
Most Scoreless Innings To Start Postseason Career (25)
The only reason that Papelbon is this low is that his career has been very short in a couple of years he will most likely be the best closer in baseball. He is very young (28) and he plays for a team that will win games and so he could be a contender for the All-Time Saves Record.
Once again because he hasn't been in the Majors for long his spot at number 11 is kinda iffy.
Best Year:
2.34 ERA
41 SAVES
67 GAMES
69 INP
77 K's
10. John Smoltz
8X ALL STAR '89, '92, '93, '96, '02, '03, '05, '07
1996 NL Cy Young Award Winner
W/L 210-147
ERA 3.26
K's 3,011
154 SAVES
One of the greatest right-handers of all time, John Smoltz career will obviously be highlighted by his success in the 90's and his versatility as both a starter and a closer.
But Smoltz greatness didn't stop in the '90s, he carried it over to the 21st century. his first four years in the 2000's he was the Braves closer and a darn good one as he logged 154 SVs and as a closer made the All Star team twice.
When the Braves needed him to start Smoltz didn't stop being impressive because when he transitioned he never had a year with a ERA over 4.
What stopped Smoltz from going higher on the list is that he has been injured in the century, he missed the entire 2000 season with Tommy John Surgery and most of the 08 and 09 season with Shoulder Surgery.
Best Year of 21st Century:
1.12 ERA
62 GAMES
45 SAVES
64 INP
73 K's
9. CC Sabathia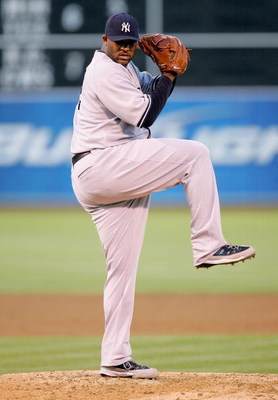 3X ALL STAR
2007 AL Cy Young Award Winner
W/L 127-80
ERA 3.67
K's 1,502
CG/ SHO 28-11
The big left-hander is one of the premiere pitchers in the big leagues right now. He is extremely durable and every single year in the Majors he has been in double digits in wins, 6 times he has had 13 or more wins, and has never had a losing record.
His biggest attribute is that he does save the bullpen but this is no weak inning eater because this inning eater has a career .614% winning percentage. He is only 29 and has 127 wins so he might be a contender for 300 wins.
Best Year:
17 Wins
2.70 ERA
253 INP
251 K's
10 CG
8. Francisco Rodriguez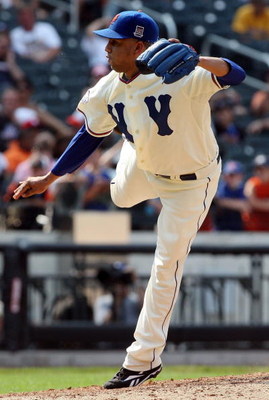 4X ALL STAR '04, '07, '08, '09
231 SAVES
ERA 2.33
WORLD CHAMPIONSHIP '02
2X Rolaids Relief Man Of The Year
Single Season Saves Record (62)
One of the more passionate and emotional pitchers in the game, but you can show emotion on the mound when you are as good as K-Rod. Think about this for a second he is the youngest closer ever to get to 100 SVs, the youngest ever to get to 200 and will be the youngest ever to get to 300.
He is only 27 and Trevor Hoffman's great career could be done in 2 more seasons, so the all time saves record could be n reach.
He is a wild closer at times but he gets it done, Papelbon is probably better then K-Rod but he hasn't been around long to be ahead of K-Rod. The bottom line he might make the 9th inning interesting but he gets the Save.
Best Year:
1.73 ERA
69 GAMES
73 INP
98 K's
47 SAVES
7. Pedro Martinez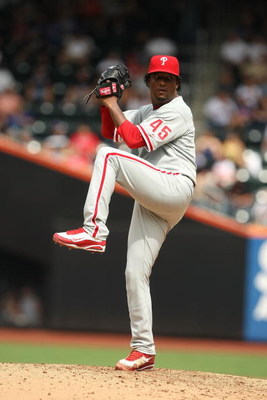 8X All Star '96, '97, '98, '99, '00, '02, '05, '06
3x Cy Young Award Winner '97, '99, '00
W/L 214-99
ERA 2.91
K's 3,117
World Championship '04
AL Triple Crown '99
Pedro Carried his dominance from the '90s into the 21st century, He kicked of his century with the 2000 AL Cy Young.
Six times in the 21st century Pdero has put up a ERA in the twos and topped 200 K's 5 times, the first four seasons in the century he had 65 wins unfortunately Pedro was attacked by injuries after his first year with the Mets, but Pedro was dominant in the century even if it was a short reign of dominance.
Best Year Of 21st Century:
18 Wins
1.74 ERA
217 INP
284 K's
0.73 WHIP
6. Brandon Webb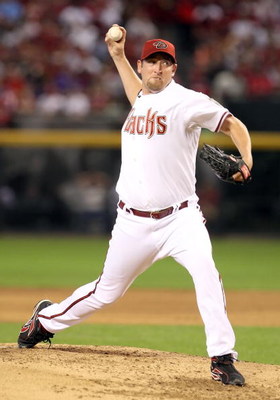 3X ALL STAR '06, '07, '08
2006 NL Cy Young Award Winner
W/L 87-62
ERA 3.27
K's 1,065
42 Scoreless Inning Streak In 2007
He has the heaviest sinker in the game today, this might be a controversial spot to put him. Many people believe he and Peavy are at the same level but for me I think Webb deserves this spot because Webb since 2003 is third in MLB's wins leader category.
He has proven that he can pitch in any park no matter how small or how big, plus the guy in 6 full seasons has pitched over 200 innings 5 times. In 6 full seasons he has 15 CG, throw in a sparkling 3.27 ERA you have a top 5 pitcher right now in the bigs. In 6 seasons he has had 10+ wins 5 times.
Best Year:
18 Wins
3.01 ERA
194 K's
236.1 INP
5. Roy Oswalt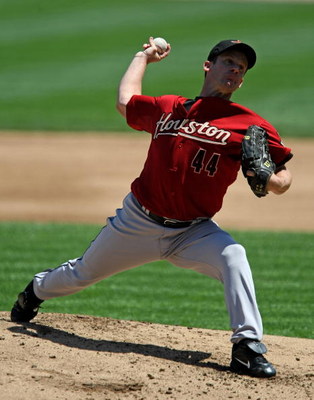 3X ALL STAR '05, '06, '07
W/L 133-68
ERA 3.18
K's 1,418
2005 NLCS MVP
10X 14+ GAME WINNER
Definitely a underrated pitcher, I think Oswalt need to get some love he has the lowest ERA of the decade. Add that with the fact he averages 17 wins a season, are you going to argue that he doesn't belong in the top 5.
He is a two-time 20 game winner, a 19 game winner and a 17 game winner. Still not enough well he has never put up a ERA higher then 3.54 and 4 times he has put up a ERA in the 2's.
Best Year:
20 Wins
2.94 ERA
241 INP
184 K's
4. Joe Nathan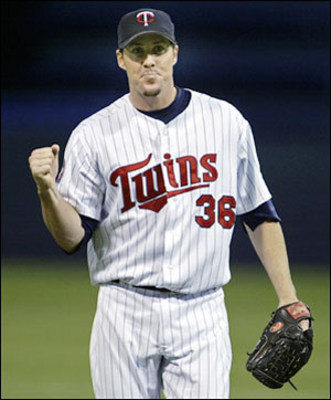 Numbers All As A Closer
4x ALLSTAR '04, '05, '08, '09
ERA 1.80
228 SAVES
390.2 INP
K's 478
WHIP 0.91
I think he is just as good as any other closer in the game today, Nathan to me has the stuff of a K-Rod and the control of a Papelbon. Joe to me is a complete closer there are no flaws in his game.
Think about this stat six seasons In the majors as a closer 5 of those seasons he has put up a ERA under 2 and has had at least 36 saves in all those seasons.
Best Year:
1.62 ERA
44 SAVES
73 GAMES
89 K's
72 INP
3. Johan Santana
4X ALLSTAR '05, '06, '07, '09
2X Cy Young Award Winner '04, '06
Pitching Triple Crown '06
W/L 120-59
ERA 3.11
K's 1,707
Gold Glove Winner '07
The best lefty in baseball Johan is this era's Randy Johnson a power lefty, the one thing that you can knock Santana about is that he is a little homer prone when he leaves that circle change up in the zone.
His numbers speak for themselves 5X he struck out over 200 batters, 5 times he has put up a ERA in the 2's and 7 times he has put up double digits in wins. Throw in 5 200 inning seasons and you have the best lefty in baseball.
Best Year:
20 Wins
2.61 ERA
228 INP
263 K's
0.93 WHIP
2. Mariano Rivera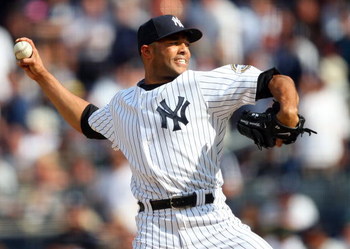 10X ALL STAR '97, '99, '00, '01, '02, '04, '05, '06, '08, '09
511 SAVES
2.28 ERA
981 K's
4X WORLD CHAMPION
4X Rolaids Relief Man Of The Year
Most Postseason saves all time ( 34) and best postseason ERA all time .077
Best ERA+ All Time
The greatest closer of all time and maybe one of the top 20 pitchers of all time, never before have I ever seen someone just be so great for such a long time. Rivera is the closer of the decade since 2000 382 saves and a 2.11 ERA.
Just throw in the best ERA+ all time and you have yourself a First Ballot Hall Of Famer . He will definitely challenge the highest votes for the Hall Of Fame.
Best Year Of The 21st Century:
1.38 ERA
43 SAVES
71 GAMES
78 INP
80 K's
0.86 WHIP
1. Roy Halladay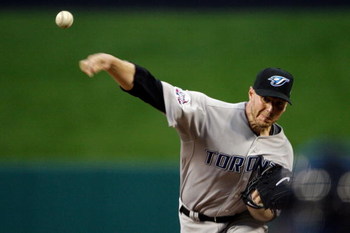 6x ALLSTAR '02, '03, '05, '06, '08, '09
2003 AL Cy Young Award Winner
W/L 142-69
ERA 3.45
K's 1410
WHIP 1.16
44 CG
Roy Halladay is the best pitcher of the 21st century, since 2000 he has pitched 42 CG,1792 INP, and 133 wins. Lets be honest what does a team want overpowering pitchers or a great inning eater, he completely saves the pen and does a great job doing it.
Yeah, Johan Santana might be a more overpowering pitcher but Roy Halladay pitches innings, Santana has never topped 240 innings Halladay has done it 3 times. 2 times this century he has won 20 games, 2 times he has put up a ERA over 3.71, and 5 times he has pitched at least 220 innings.
All this for a team that doesn't score many runs and all this in the AL EAST.
Best Year:
20 Wins
2.78 ERA
246 INP
9 CG
206 K's
1.05 WHIP
Keep Reading