Rating the NFL's Primary Home Uniforms: Nos. 11-1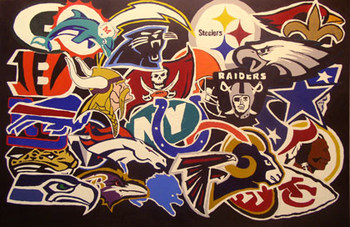 Here we are with the cream of the crop. I am unveiling my top 11 primary dark uniforms for NFL teams. The teams that follow will be sure to drum up some debate.
There is no doubt that I favor the more classic look for NFL teams, and the top 11 is littered with uniforms that have not changed in a very long time.
Is your favorite team No. 1? Let's take a look!
No. 11: Dallas Cowboys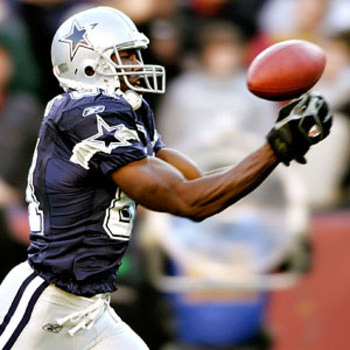 The Cowboys' rarely worn blue uniform is one of the league's better dark jerseys, and it's a shame they don't put it more to use. One advantage these jerseys have over their whites is that the blue matches the helmet.
It is interesting to note that although the design of the Cowboys' pants is the same for both the home and road, the color of blue used is different. I've never understood why this is.
This also explains why the blue matches that on the dark jersey but not with their "home" whites, where the blue used is much lighter.
Overall, this is a very nice uniform that needs to be used more.
No. 10: New York Giants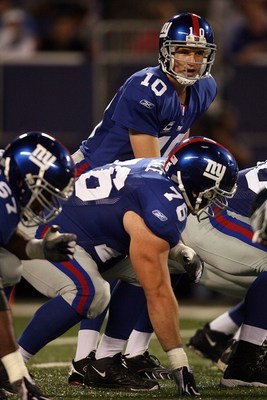 The current Giant home uniform is one of the simplest in the NFL. With a blue jersey with white numbers, only a small bit of red near the neck line breaks the monotony.
Because I'm old school, this uniform is fine by me, although it probably wouldn't hurt to put some design on the sleeves.
The Giants really made a good move by switching back to gray pants, which gives them more of a rough look.
All in all, New York has a good thing. Their helmets are much better than the one worn by Phil Simms in the 1980s.
Overall, this jersey screams, "I'm running the ball down your throat whether you like it or not!"
Suggestions: Perhaps some striping or logo on the sleeve?
No. 9: Atlanta Falcons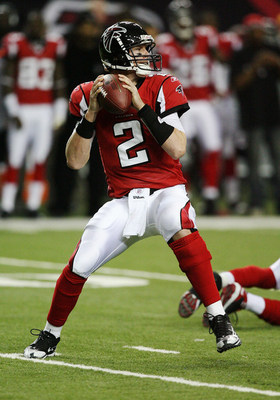 The Falcons should wish their success on the field was as good as their success at designing uniforms.
Atlanta has never worn something that I didn't think was really good-looking. The current set is among the league's best modern designs, and although it is a bit too busy, the color scheme works well.
Points are taken away for wearing all black, but I will admit that the Falcons look the best in this Darth Vader uniform. The Falcons have a lot going for them because they have a sweet nickname and one of the league's best logos.
Suggestions: Simplify things a tiny bit; remove some of the piping and thin lines; wear striped socks similar to the teams from the early '70s.
No. 8: Cleveland Browns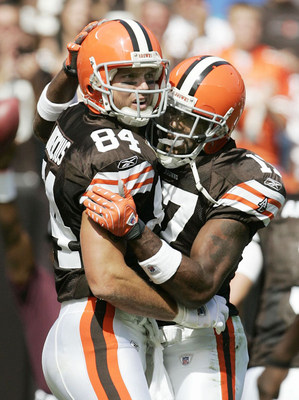 I am sure there are a good number of people who don't like the Browns uniforms because they are....brown. But I disagree, and I think Cleveland has a very traditional and classy uniform. The orange and white stripes on the sleeves stand out perfectly as the only major design on the jersey.
There isn't much else to say about these except that they are a slight improvement over the sets worn from 1985-95. It can be very difficult to pull off brown, but Cleveland does it well. Plus, the orange helmets stand out in perfect contrast.
Suggestions: Wear striped socks all the time.
No. 7: Chicago Bears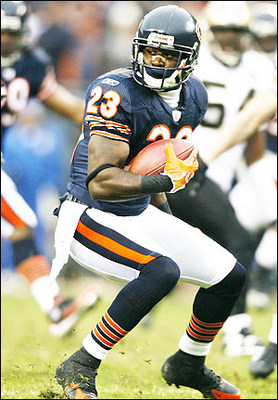 Here's another club that had a few comments on needing a uniform change on earlier slideshows. I couldn't believe it! The Bears have great uniforms, and I love everything about them.
First, they use a simple jersey with stripes on the sleeves. Secondly, they wear two different set of pants. Thirdly, they always wear striped socks.
Unfortunately, the Bears are the highest ranking club on my list to be a member of the SCP&J club, and it's a shame. Nonetheless, the Bears' home attire is among the best!
Suggestions: Never, ever, ever, EVER wear blue on blue.
No. 6: San Diego Chargers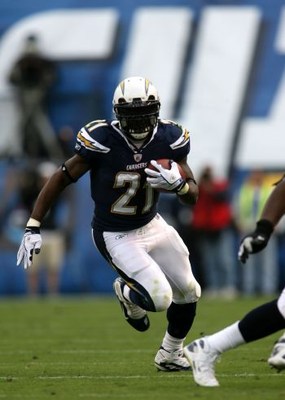 The Chargers come in as the highest rated modern uniform on my list, and their look is positively spectacular. Great colors, great nickname, great logo, great everything. San Diego is a perfect example of how to create a nice-looking modern uniform.
They take the lightning bolt and use it as a shoulder stripe, but they didn't go overboard and load this jersey up with needless lines and piping all over the place. As far as I know they haven't joined the SCP&J club, and San Diego sometimes wears white at home early in the season.
Suggestions: Collar would look better if it wasn't plain white; switch face masks to white or gray.
No. 5: Indianapolis Colts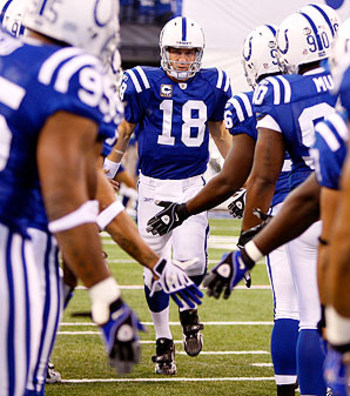 Blue is my favorite color, and the Colts have amazing uniforms in my eyes. Some people will call it boring, but I call it beautiful and simple. There isn't much else to say about these except that the gray facemasks look so much better than the blue used from 1995-2003.
If they ever change these uniforms, I will be the first to start a website and a protest committee that makes sure they stay with these timeless NFL landmarks.
No. 4: Oakland Raiders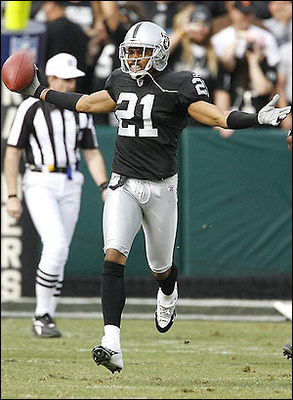 It doesn't get much meaner in the NFL than the old silver and black. Probably no other team in sports is as identified with two colors as much as the Raiders. Their home uniform is among the best in the league.
I will say that their design resembles New Orleans in a lot of ways and that the Raiders could look better in white numbers with silver outline, but they pull of the heavy use of silver anyway, mostly because they keep their jersey very simple.
Suggestions: White numbers?
No. 3: San Francisco 49ers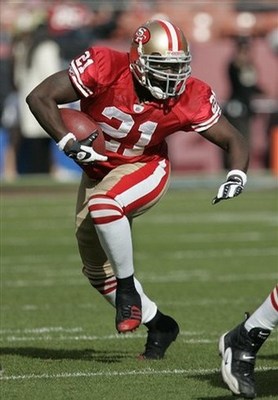 Mike Singletary deserves a 50 percent raise right this second for switching the 49ers back to their old school look. How much do you want to bet we see San Francisco emerge as a good team once again in the next few years based solely on the new/old uniforms? I believe in this kind of stuff.
Anyway, I've always liked these uniforms. Normally I would say they should always wear striped socks to match their sleeves, but I think it looks decent the way it is.
The thing with these uniforms is, you wouldn't think the colors go good together, but they look so damn good. Somewhere Joe Montana is smiling.
Suggestions: Remove black outline from lettering on helmet logo; remove inner gold outline from helmet logo.
No. 2: Pittsburgh Steelers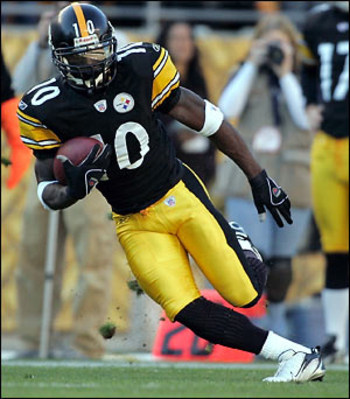 The Steelers' uniforms are among the best in the NFL, and you could make the case that they are No. 1 in league history. They have a great logo and, having it only on one side of their helmet is unique. Their striping on the sleeves is among the best in the league as well.
The logo patch on the left breast is also a very nice touch. Normally I would favor striped socks, but the Steelers look fine with the current black ones.
The only thing holding me back from putting them at the top spot is the unusual number font used. It's not a big deal, but a more traditional font would make Pittsburgh's wardrobe probably unbeatable.
No. 1: Green Bay Packers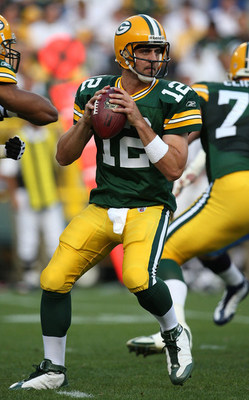 Here is the No. 1 team, showing how an NFL uniform should look. The Packers' uniforms are instantly recognizable and perfect in almost every way. They follow a pattern that most teams should follow: same colored helmet and pants with same colored jerseys and socks.
It's surprising more professional franchises don't use green and yellow because it is clearly a winner (see Oakland A's). The Packers have always looked good, and I think it is safe to say that they will never join the SCP&J club. If they ever do, I fear Lambeau Field might blow up.
Suggestions: They could use sock stripes; the "G" logo on the sleeves looked good in the '80s.
Keep Reading