Ten Of The Best U.S. Open Comebacks, '99 —'09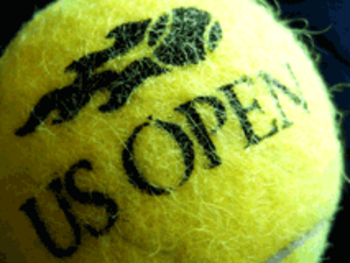 Flushing Meadows has become a place synonymous with great tennis action to go along with the most electrifying crowds on the circuit.
The 2009 edition of the US Open is upon us and it only seems appropriate to look back upon the matches that have made this tournament such a highly anticipated event.
The list showcases the 10 greatest comebacks that have brought the best of the New York crowds over the past decade...
10. Taylor Dent def. Fernando Gonzalez 7-6 6-7 3-6 7-6 6-4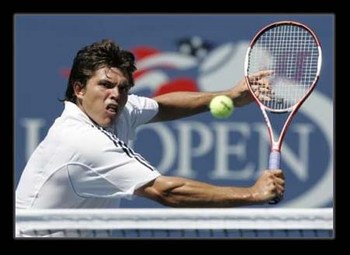 This was the match that capped Dent's dream run at the US Open in 2003.
He came into the match on an all-time high after victories over Robin Soderling and Nikolay Davydenko in the first two rounds of the tournament.
It was a mouth-watering match—up of power versus power and that's exactly what the two provided.
Unfortunately for Dent, his fourth round battle with Agassi was cut short due to injury and he will always be left wondering 'what if'?
9. Wayne Ferreira def. Albert Costa 1-6 6-7 6-4 7-5 6-4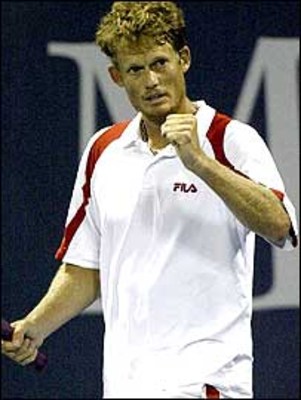 Ferreira enjoyed quite the renaissance towards the end of his career and this match in 2002 could be considered the one that kick—started his resurgence.
The South African was always known for his desire to compete and this second round encounter showcased that not even age would be a hindrance to his fighting spirit.
After the then eighth seed Costa took the opening two sets, Ferreira rediscovered the bite in his forehand that had him play the best tennis of his career late, and there was no looking back.
Ferreira was the one that looked like a man on a mission in the final three sets, while Costa looked like a man desperate for a place to hide.
Ferreira would go on to lose in the very next round to Tommy Robredo.
8. Davide Sanguinetti def. Paradorn Srichaphan 6-3 4-6 6-7 7-6 7-6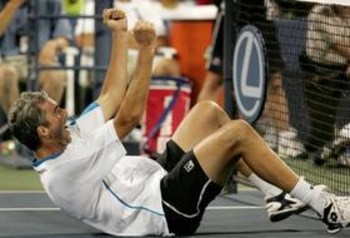 The picture says it all. This was one of those matches that everyone watching seemed to breathe a sigh of relief when it ended.
This 2005 third-round battle was four-and-a-half hours long and could be considered one of the best early round battles of all-time.
As if the quality of the match wasn't enough, the Sricha—fans were there to ensure the entertainment persisted through changeovers, as well.
After Srichaphan seemingly took control of the match by winning a third set tie-break quite comfortably 7-2 to take a two sets-to-one lead, Sanguinetti did not lose hope and just continued to hang around.
After taking the fourth set in a tense tie-break 8-6, the final set followed a virtually identical pattern and Sanguinetti coming out on top 7-5 in another tie-break not meant for the faint of heart.
7. Tommy Haas in 2006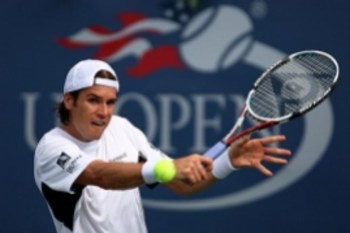 Let's face it, if anyone remembers a great match from 2006, Tommy Haas probably played in it. First there was his third round victory over Robby Ginepri and a boisterous crowd 7-6 6-4 3-6 3-6 7-6.
Then there was his instant classic in the next round versus Marat Safin, which he won 4-6 6-3 2-6 6-2 7-6 after which he humbly stated "I'm just happy to be on the court again".
To top that, he went the distance once again in the quarterfinal against Davydenko. The German finally ran out of steam though as the Russian took the match 4-6 6-7 6-3 6-4 6-4.
If that isn't the best stretch of five-setters in the same tournament, I don't know what is!
6. Andy Murray def. Jurgen Melzer 6-7 4-6 7-6 6-1 6-3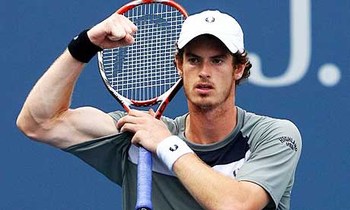 After this match, Andy Murray said that "Your career is defined by the big matches." Little did he know then that this 'big' comeback was only a prequel to the big matches to follow.
He went on to beat Wawrinka, Del Potro and Nadal before losing to Federer in the final and one can't help but feel he was destined to do so after pulling off this magnificent comeback.
5. Andre Agassi def. Todd Martin 6-4 6-7 6-7 6-3 6-2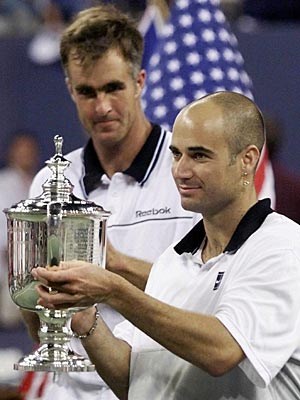 Agassi had only dropped two sets en route to the 1999 final and was the overwhelming favorite against a Todd Martin that had a relatively easier path to the final.
Martin showed his ambitions for the title though, and looked well on his way to the ultimate prize with perhaps the greatest returner of serve struggling to cope with the big man's serve.
Going into the fourth set, Agassi suddenly rediscovered his attacking prowess and his baseline barrage from that point saw him lift his second and final US Open trophy.
4. Lleyton Hewitt in 2001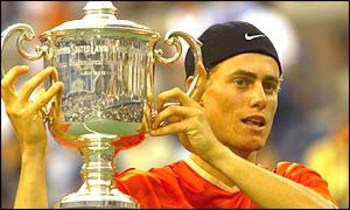 It would have been impossible to make a comeback list without having this man on the list.
His performance at the '01 Open showcased the heart he brings to every single match.
His first big test was against James Blake, a wildcard entry into the tournament that year, and Hewitt struggled early on before finding his groove in a 6-4 3-6 2-6 6-3 6-0 victory.
Two rounds later in the quarters, Lleyton would play Andy Roddick in what would later be recognized as the match of the tournament. Hewitt won 6-7 6-3 6-4 3-6 6-4, but there was one point that turned out to be the deciding factor.
Serving at 4-5 in the fifth set, the chair umpire over-ruled a correct call on a ball hit by Roddick and Hewitt would go on to break in that very game and take the match. Sports can be cruel sometimes, but destiny is meant to happen all the time.
3. Andre Agassi def. James Blake 3-6 3-6 6-3 6-3 7-6
This was the match Agassi proclaimed tennis, not himself, the winner.
It was everything a tennis fan could hope for from a man set to take his victory lap and another man with a renewed desire for the game.
In 2004, Blake didn't even know if he would walk again. A year later, Blake was making his best run ever at the US Open.
He defeated Nadal and Robredo in the third and fourth round and the stage was set for an exquisite display of clean ball striking.
Blake displayed the form he was carrying into the match early on as he strolled to an early two set lead. It looked all but over for Andre as he had just played a five-setter in the previous round, and no one believed he would have enough to extend this match to a deciding set.
To the surprise and joy of everyone watching, extend the match is exactly what Agassi did. The fifth set tie-break was as nail-biting as the rest of the match, with Agassi finally coming through to take it 8-6.
The match clearly inspired him as he went on to reach the final, where he was finally stopped by a Federer in his prime.
2. Todd Martin def. Greg Rusedski 5-7 0-6 7-6 6-4 6-4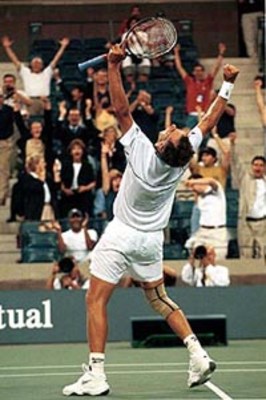 At No. 2, we have a comeback for the ages. A Hollywood movie writer could not have scripted it better.
Rusedski claimed a tough first set 7-5 and then obliterated an unwell Martin in the second 6-0.
Rusedski looked too good for Martin, and a stomach virus seemed to have thrown him completely off his game.
Martin showed some fighting spirit, perhaps feeling the embarrassment of putting up a bagel in front of the American fans. Rusedski maintained control though, and served for the match at 5-4.
This was where the turnaround began as Martin broke Rusedski and eventually won the set in a tie-break. The American seized the initiative as Rusedski began to look lost after squandering a golden opportunity.
The final set saw Martin win an incredible 20 of the final 21 points, momentum that would carry him all the way to a dream appearance in the final.
1. Andy Roddick def. David Nalbandian 6-7 3-6 7-6 6-1 6-3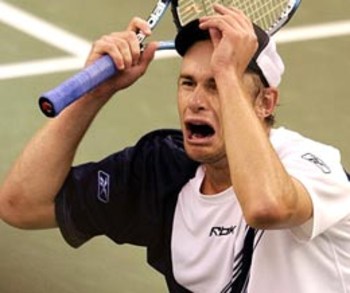 And here we are. Numero Uno. The greatest comeback we've been fortunate enough to witness over the last 10 years has to be Andy's Houdini act in this match.
Nalbandian had made a great run already by defeating Mark Phillipoussis and Roger Federer to earn this semifinal berth. Despite this, not many gave him a chance against a man that was on the verge of being the world's No.1 and would have overwhelming crowd support in his favor.
None of this deterred the Argentine as he attacked the Roddick backhand in the big moments to take the first two sets.
Nalbandian continued to stick with his gameplan and it led to a match point in the third set tie-break.
Roddick would save that on his serve but there was a huge moment at 7-7 in the breaker. A fan yelled as Nalbandian played the ball, causing an error, and Roddick didn't look back.
Roddick took the breaker 9-7 and Nalbandian showed the look of a man that knew his chance was lost. Roddick's booming serve and forehand took over the rest of this match and the final, winning his only grand slam to this point.
Here's hoping for a 2009 US Open filled with matches on par with the excitement these classics of the past have provided!
Keep Reading