The Top 10 NFL Players Who Need to Prove Themselves in 2009
While the NBA and MLB continue to give guys second chances and contracts based on one good season, the NFL doesn't quite run its show that way.
In the NFL, it's either you make an impact or take a seat.
Some guys, especially high draft picks who have yet to live up to their draft hype, have to show their respected franchises that they are worthy of playing. Because if not, they will be either riding the pine, or on the streets come the next offseason.
www.NFLHouse.com
10. Larry Johnson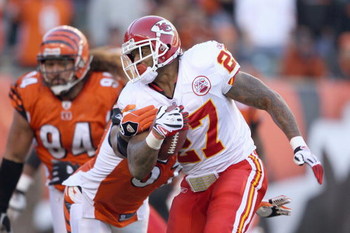 The Chiefs very easily could have traded him this offseason. He wasn't well-liked by the past leaders of the organization and had a very down year in 2008.
The Chiefs have a rookie head coach, a new, still young quarterback, and a receiving corps who's best player in already in the coaches dog house.
Johnson needs to step it up this year, for if he has a repeat of 2008 or even an under 1,000-yard season, he could be dealt or cut next year.
www.NFLHouse.com
9. Alex Smith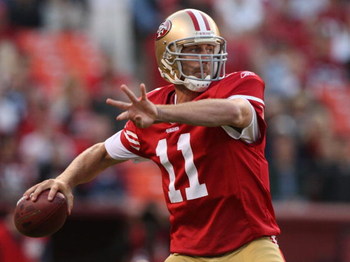 Already named as the loser of the two manned race—more like a wounded-man limp—for the 49ers starting job, Smith still needs to make a name for himself.
He won't begin the season as the starter, but he is still more athletic and has more potential than Shaun Hill.
If the 49ers struggle mightily, which is very possible, and Hill is a contributor to that, then Smith might get his chance.
With the 49ers as a prime team to be looking to draft a quarterback early in a loaded class, Smith isn't just playing to stay a 49er, but also to stay in the NFL.
www.NFLHouse.com
8. Terrell Owens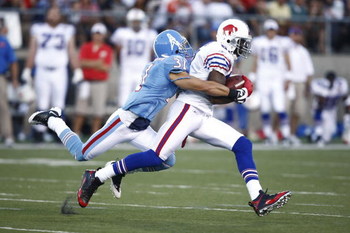 Known as a cancer, crybaby, and disrupter of locker rooms, Owens has never shown a lack of dedication or hard work on the football field.
His numbers are Hall of Fame worthy, and his work ethic mimics that as well.
However, after giving his past three quarterbacks in Jeff Garcia, Donovan McNabb, and Tony Romo headaches and heavy shoulders—they got blamed for team's struggles—Owens has landed in Buffalo to a team that, unlike his last three Super Bowl-contending teams, would be happy to have a winning record and make the playoffs.
Owens needs to buckle down, shut up, and help this budding offense win. Because if the Bills don't, and he is his usual headline-creating self, he could be out on the street again in 2010.
And not many teams will be anxious to sign.
7. Reggie Bush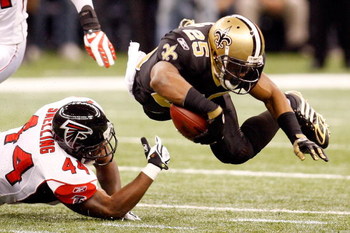 Boy, do the Houston Texans look smart.
They passed on the two "obvious" studs in the 2006 draft: Reggie Bush and Vince Young.
While Young has a lot to prove in his career, Bush is a much more urgent matter.
Bush has been riddled with injuries, lack of production, and questions about his intensity for the game. Bush has the skills to be a Barry Sanders-type player, but having the skills and utilizing them are two completely different things.
Even with Pierre Thomas assisting him, Bush will need to carry a lot of weight this season if he hopes to remain in the Saints' long-term plans.
6. Chad Ochocinco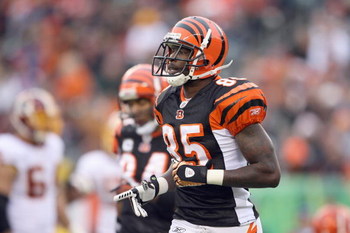 One of the most talented receivers in the league, Ochocinco has been a dissapointment the last two seasons.
After becoming the cliche receiver diva, Ochocinco has slowly dropped his production, and has at times asked for a trade from the team that has put up with so much of his "B.S."
Ochocinco needs to show the world that with his star quarterback returning from injury, he is still a top-flight receiver, or else the Bengals might take a few teams up on those trade offers.
5. Jake Delhomme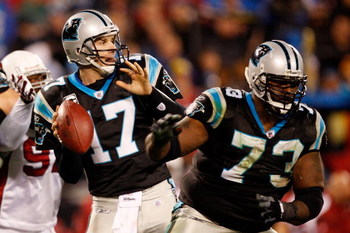 Since leading his team to the Super Bowl, Jake Delhomme has slowly but surely lost some respect from the fans, coaches, and administration alike.
Delhomme has to compete with the Saints and Falcons and the rest of the NFC for a playoff berth. If not, the Panthers are likely to let Delhomme's big contract go and find a replacement for the one-time Pro Bowler.
4. Shawn Merriman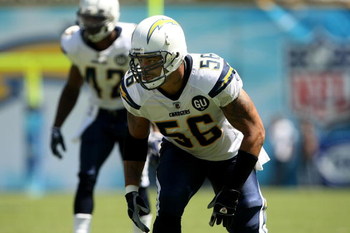 One of the NFL's best pass rushers before his surgery, Merriman didn't much at all last season due to a severe knee injury.
He's back know, but we don't know if he's back to his old form. The team went out and drafted an outside linebacker in Larry English in the first round, so the Chargers are obviously getting a back-up plan ready.
If he plays well, he will re-emerge as one of the top five pass rushers in the league. If not, Merriman could be looking for a job as English takes his place in 2010.
3. Marc Bulger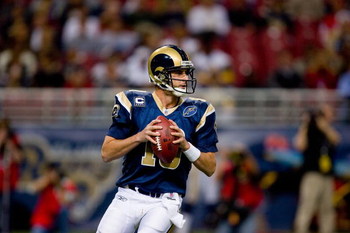 After a great start to his career when he replaced Kurt Warner, Marc Bulger has seen a dip in his stats and production.
While that may not be his fault, as the team struggled along the offensive line last season and has lost guys in Kevin Curtis, Issac Bruce, Torry Holt, Brian Leonard, and Orlando Pace, Bulger still has to shoulder the blame for the team's losses, as well as the punishment for the poor offensive line play.
Steven Jackson is his only safety valve on offense. Bulger needs to show something to the Rams coaching staff that he can still be effective when upright, or else one of the worst teams the past five years will be looking elsewhere at quarterback.
2. JaMarcus Russell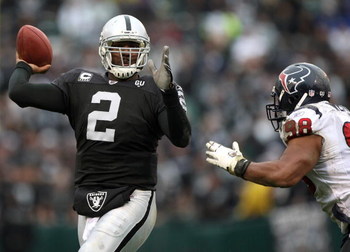 Coming into the league, many already projected Russell as a bust.
Whether it was because he was an African American quarterback—I hope not—an inaccuate, over-hyped player, or because of the fact that he went to the Raiders, Russell was bound for immense amount of scrutiny.
So far, Russell has done very little to encourage fans and coaches that he can develop into a first overall-worthy player. Jeff Garcia will give Russell a run for his money for playing time all season, and if Russell doesn't show drastic signs of improvement by season's end, even Al Davis will move on from his pet project.
1. Jason Campbell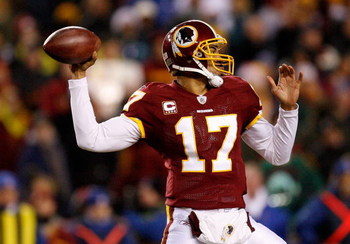 Unfortunatly for Jason Campbell, he hasn't really gotten a chance to shine.
He has had 6 different offensive coordinators in his nine years of college and pro football so far, which makes it more difficult than most can understand.
Campbell has great talent and has looked the part on more than one occasion, but he still hasn't gotten a fair shake from the fans, or especially the ownership.
The team showed an extreame lack of faith when it courted trading for Jay Cutler as well as trading up to draft Mark Sanchez. It's obvious that Campell and Jim Zorn have to prove to the Snyder that he can get this team to the playoffs.
If they can't—Campbell's fault or not—he will be out of a job.
www.NFLHouse.com
Keep Reading