The Top 10 Greatest NBA Players (pt. 2 continued)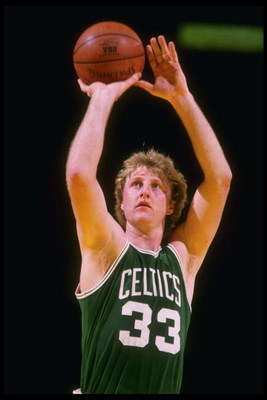 This is a continued list from my previous Top 5 NBA Greatest Players article, My criteria for creating this list is simple, it values winning, intangibles, individual achievements, and of course absolutely being the better player. This list will be the Top 10 Greatest Players in NBA History, I'll be creating a 5 player list from here on until I reach the 25 mark. Hope you guys enjoy the read, and thanks for browsing.
The Rankings from the previous list:
1) Michael Jordan
2) Kareem Abdul-Jabbar
3) Bill Russell
4) Wilt Chamberlain
5) Magic Johnson
Number 6: Larry Bird
Accolades:
# 3x NBA Champion (1981, 1984, 1986)
# 3x NBA MVP (1984-1986)
# 12x All-Star (1980-1988, 1990-1992)
# 2x NBA Finals MVP (1984, 1986)
# 9x All-NBA First Team Selection (1980-1988)
# 1x All-NBA Second Team Selection (1990)
# 3x NBA All-Defensive Second Team Selection (1982-1984)
# 1980 NBA Rookie of the Year
# 1980 NBA All-Rookie Team
# 1x NBA All-Star Game MVP (1982)
# 3x NBA Three-Point Shootout winner (1986-1988)
# NBA's 50th Anniversary All-Time Team
Career stats:
Points 21,791
Assists 5,695
Steals 1,556
The 2nd half of the duo (Magic Johnson and Larry Bird) that made the Golden Era of basketball happen. When Bird stepped first onto an NBA basketball, he knew how to do one thing best: Win.
Bird was drafted onto a Boston Celtics team that won just 29 games the previous season. Upon Bird's arrival, a season later the 1980 Boston Celtics won 61 games, led by rookie Larry Bird, he took the team to the Eastern Conference Finals.
That's exactly how good Bird was, throughout his career he's known to be one of the greatest clutch performers of all-time, probably on a level of his own sharing the spot light with possibly Michael Jordan. Bird knew how to do it all, score, rebound, steal, block, pass, shoot, and he was a very crafty and smart defender at his peak.
His 1986 NBA season is regarded to be one of the Greatest of All-Time, with his statistical dominance, playoff dominance, and his ability to do everything for his team to win.
Today, he's reguarded as the best Small Forward in league history, he's played at the highest of levels, and accomplished the highest of tasks, while helping the NBA bring a new light to an entire era of basketball, Bird (And Magic), brought record breaking accomplishments for the NBA, and sported truly one of the greatest NBA rivalries in the history of the game.
Number 7: Hakeem Olajuwon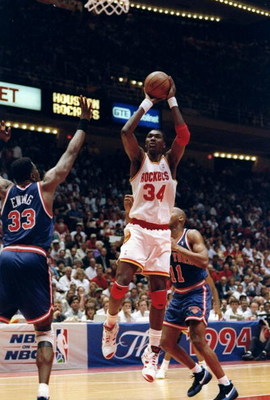 Accolades:
* 2x NBA Champion (1994, 1995)
* 1x NBA MVP (1994)
* 12x All-Star (1985-1990, 1992-1997)
* 2x Finals MVP (1994-1995)
* 2x NBA Defensive Player of the Year (1993-1994)
* 6x All-NBA First Team Selection (1987-1989, 1993-1994, 1997)
* 3x All-NBA Second Team Selection (1986, 1990, 1996)
* 3x All-NBA Third Team Selection (1991, 1995, 1999)
* 5x NBA All-Defensive First Team Selection (1987-1988, 1990, 1993-1994)
* 4x NBA All-Defensive Second Team Selection (1985, 1991, 1996-1997)
* 1985 NBA All-Rookie Team
* NBA's 50th Anniversary All-Time Team
Career Stats:
Points 26,946 (9th), 21.8/game
Rebound 13,747 (12th), 11.1/game
Blocks 3,830 (1st), 3.1/game
Steals 2,162 (8th), 1.7/game
Hakeem "The Dream" Olajuwon was brought to America at the age of 18 to join the University of Houston basketball team. What many don't know is that Olajuwon had practically played every sport in his hometown in Nigeria and excelled, except for basketball, which he hadn't picked up until the age of 16.
Olajuwon was drafted onto a Rockets team that won just 29 games the previous season, he along with the help of Ralph Sampson forming the twin-towers turned the Rockets into a 47 win playoff team. In just Olajuwon's second NBA season, he led the team to the NBA finals, upsetting the defending championships, The Los Angeles Lakers.
Throughout Olajuwon's prime, the Rockets organization was noted to be very mediocre, which often frustrated Olajuwon as they wouldn't find him a true supporting cast. And even then, Olajuwon succeeded. He utilized his supporting cast that had no other all-star caliber player to perfection as he led them to an NBA championship in 1994. While until this day, his historical season still remains epic, as he was statistically and physically dominant, and was the only player in league history to ever win a Finals MVP, an NBA Championship, a league MVP, and the Defensive Player of the Year award all in the same season.
Olajuwon throughout his career accomplished many feats, including being one of only 5 players to ever record a quadruple-double. The number 7 spot was down to Shaq or Dream for me, I picked Olajuwon due to his two-way dominance on both the offensive and defensive end, while having little support and simply winning.
Number 8: Shaquille O'Neal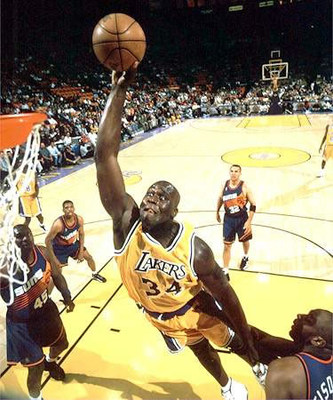 Accolades:
*4-time NBA Champion
*2000 NBA MVP
*92-'93 NBA Rookie of the Year
*3-time NBA Finals MVP
*2-time All-Star MVP
*14-time All-Star
*7 time All NBA First Team
*2 time All NBA Second Team
*3 time All NBA Third Team
*3 time All NBA Second Defensive Team
* NBA's 50th Anniversary All-Time Team
Career Stats:
Points 26,286
Rebounds 11,933
Blocks 2,520
Pretty easy choice, Shaq is the probably the most dominant interior offensive force in league history. He's successfully led his teams to a 3-peat during his peak years, something only Jordan, Russell, and Mikan can say the same for.
Shaq's always had the help of a side-kick throughout his tittle runs, first playing with Penny Hardaway, then to go on to Kobe Bryant, and D-Wade. But of course that's nothing to take away from Shaq, as players benefited from his presence on the floor, and his dominant all-around game.
Number 9: Tim Duncan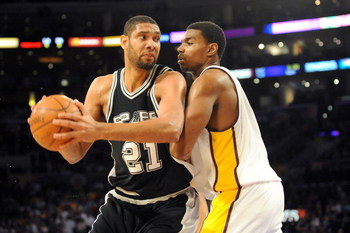 Accolades:
*NBA Rookie of the Year (1998)
*2X NBA MVP (2002, 2003)
*3X NBA Finals MVP (1999, 2003, 2005)
*4XNBA Champion (1999, 2003, 2005, 2007)
*10X All NBA First Team
*3X All NBA Second Team
*8X All NBA First Defensive Team
*3X All NBA Second Defensive Team
Career Totals:
Points 17796
Rebounds 9746
Blocks 1992
Tim Duncan is regarded as one of the most fundamental players in league history. His game is simple, but very dominant. Duncan's been blessed with good coaching and management throughout his career with the San Antonio Spurs, but he's been the biggest piece for over a decade.
Number 10: Kobe Bryant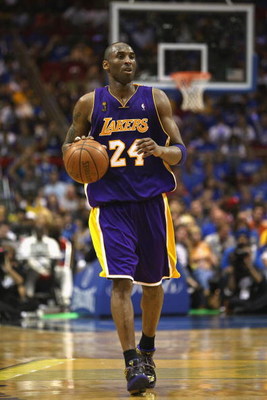 Accolades:
2007–08 NBA MVP
11-time NBA All-Star
11-time All-NBA Selection
9-time All-Defensive Selection
4-time NBA Champion
2-time NBA All-Star MVP
2-time NBA Scoring Champion
2009 NBA Finals MVP
1997 NBA Slam Dunk Champion
1996–97 All Rookie Second Team
When Kobe Bryant was drafted into the NBA right out of high school, he was at the time the youngest player ever to play in the NBA. He was known as a very hard worker, he had a competitive spirit, and wanted to do nothing more than win, and simply be the best.
Throughout Kobe's career, we've seen him accomplish so many tasks, he's won multiple NBA championships being a 2nd option to Shaq throughout the Lakers first 3-Peat, he's broken scoring records, and has numerous "youngest player ever too" records that maybe only LeBron James can break. He's had the 2nd highest scoring game in league history by scoring 81 points in a game, and he recently led the Lakers an NBA championship, Kobe Bryant's had a terrific career, and at the age of just 30, his ranking will only go higher as he progresses and accomplishes even more tasks.
Keep Reading