2009 Fantasy Football Draft Primer, Part Four: AFC West
They were the AFC's punching bag. A game scheduled against the AFC West was a respite from playing real NFL teams that actually played defense.
They were the AFC's version of the NFC West: a monumental letdown in terms of wins and losses, but still exciting to watch.
The West had both the second highest scoring offense (San Diego, who won the division) and the 29th best (worst?) scoring offense—Oakland. Yet, those two teams were separated only by three wins.
For the most part, it's a division filled by young teams that should all be highly competitive this season, and poised to make giant strides...but then that's what we all believed at the start of 2008.
Denver Broncos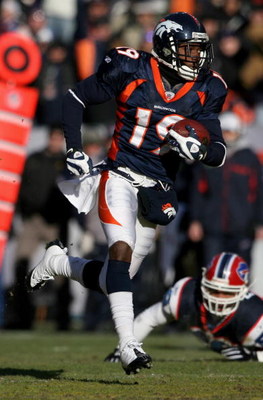 Come February, Josh McDaniels will either be celebrating a Super Bowl win or looking for a new job.
Perhaps that's a bit of an exaggeration.
It just seems to me that by the end of this upcoming season, the sports public will know if McDaniels is a genius or a plague.
Again, these may be extremes, but the fact of the matter is that just few months into his tenure as the head man, McDaniels has had an immediate impact on this franchise without yet having coached a regular season game.
And I'm not just talking about the Cutler trade to Chicago, which was by far the biggest news of the off season (Favre doesn't count; he's a perpetual news story unto himself).
While that may be the flashiest and the most polarizing of his moves, that was only part of a very busy summer as he overhauled the roster.
In total, the Broncos signed 17 free agents including S Brian Dawkins, RB's Correll Buckhalter, J.J. Arrington and LaMont Jordan. They also brought in QB Chris Simms, WR Jabar Gaffney, and CB Andre Goodman to replace last year's starter Dre Bly.
Two new Broncos the coaches hope to list as the starters on opening day—QB Kyle Orton, who came over in the Cutler trade; and Knowshon Moreno, drafted 12th overall in this year's draft—are already question marks.
Orton has been inconsistent in the preseason and Moreno is battling injury that's hampering him from competing for that starting spot.
Fantasy Info Nuggets:
The Good
WR Brandon Marshall; He's the top fantasy threat on the Denver roster...for now. He's been whining and moaning all summer long about getting a new contract, wanting a trade, etc. etc.
It's the Anquan Boldin situation part deux. The only difference is that Marshall is far more annoying and immature. He's had a number of off the field problems already and he has a piss poor attitude.
If it weren't for the Cutler fiasco, I'm confident Denver would've traded him already. He's a Javon Walker injury or Lawrence Phillips legal issue away of crapping out of the league.
But as long as he's a Bronco and on the field, they're going to throw him the ball.
WR Eddie Royal; After a fantastic rookie campaign (91 grabs, 980 yards, 5 TD's), Royal will come back as a more polished receiver. That bodes will for both Denver and wily fantasy owners.
The problem with both Royal and Marshall is their QB, who for the time being is Kyle Orton. Take him late but take him with a grain of salt.
The Bad
DEF Denver; They've made some changes on defense but when you finish 29th overall, it's going to take some time to fix things. The only way anyone picks up this defense is if they're Broncos fans and they think God wears Elway jerseys on Sundays.
RB Knowshon Moreno; The Broncos are so loaded with able bodied, potential starters at the RB position, that I think it's safe to assume the Broncos running game will be a frustrating committee effort once again.
Mike Shanahan is gone but it seems his recent tradition will continue. The only way this changes is if Moreno takes a stranglehold of the job. So far he hasn't, as injuries have slowed him a bit.
TE Daniel Graham; Neither of the two TE's listed atop the depth chart, Graham and Tony Scheffler, caught more than 40 passes in 2008. With the arrival of McDaniels and a new QB still getting comfortable, I have to assume the numbers will increase.
Unfortunately, these are both capable pass catching TE's so it's had for me to endorse either one. In general, Scheffler has been a fantasy football favorite in the past. Neither player has done much to change that trend thus far.
The Ugly
QB Kyle Orton; So the Broncos finished 7-9 with Pro Bowl QB Cutler at the helm, who broke a John Elway club record for passing yards. Are we really supposed to believe they'll be better with Orton behind center?
This is the same guy who not too long ago was in a tight battle with the human turnover Rex Grossman.
Orton technically should be better; the offensive system around him is an improvement over what he had in Chicago. But then again, Jay Cutler technically should still be the Broncos QB.
Kansas City Chiefs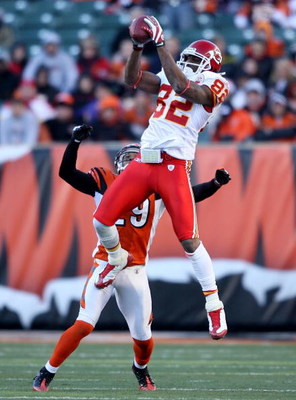 Last season, the Kansas City Chiefs finished 2-14 and fielded a 20th ranked offense and a 31st ranked defense by the end of 2008. Yet they still managed to beat the Broncos once and the Raiders once.
That has to count for something with fans when you can beat a rival team even if your own club is awful.
To be honest, once you get past the numbers, KC wasn't as bad as their record indicated. They held leads after halftime in several games but just couldn't close their opponents out. They lost seven games by seven points or less.
The bright side of all this was the team was incredibly green. They had rookies and second year players starting. The silver lining was the youth on this team was getting real world experience and could only get better.
The question surrounding the team in 2009 is this: Will the new regime with its influx of new schemes and new personnel hamper the expected development of this young team?
Fantasy Info Nuggets
The Good
QB Matt Cassel; Early reports out of KC are that Cassel is struggling. That is to be expected on some level; new team, new coach, new system.
For now, I have Cassel tentatively listed as a good pick, albeit in the late rounds, based on his numbers from last season. He's also playing for an offensive minded coach and has a decent receiving core.
The loss of Tony Gonzalez is huge for the Chiefs but not for Cassel; he never played with him. In addition, Cassel needs to cut down on getting pummeled by defenses.
He led the league with 47 sacks last season. As the undisputed starter (for the time being), he's going to get his chances; it's a matter of what he does with them.
WR Dwayne Bowe; He's no Randy Moss but he has the tools to be a talented understudy. Bowe has had a good first two years. He should build upon that success to become Cassel's best option every play and an even better fantasy producer that he already was.
The Bad
DEF Kansas City; Did you read the opening paragraph? 31st is second place for worst in the whole league. They were actually dead last in sacks with 10. They put absolutely no pressure on the opposing QB.
That explains their paltry 13 INT's. They did add some veteran leadership with LB's Mike Vrabel and Zach Thomas, but two old guys won't turn around the worst defense in one year. If anything, play your best QB's, RB's and WR's against this defense every chance you get.
The Ugly
RB Larry Johnson; LJ is a sleeper of sorts this season. He ran for over 1700 yards in 2006, but that was three years ago. Since then, he has yet to play a full season and regain his old form.
I think if he stays healthy, this is the year he crushes LB's and foolish DB's who try to get in his way. After all, he's on the cusp of that dreaded 30 year old mark and he has a young, hungry Jamaal Charles on his heels.
TE Any of Them; Allow me to be completely naive for a moment: I didn't know KC had any other TE's besides Tony G. I mean, I know it's not logically possible to have only one TE on an NFL roster, but still, who else knows who these people are besides their mothers?
Wait until one of these players steps out from Tony G's massive shadow and proves themselves.
Oakland Raiders
As long as Al Davis runs the Raiders, Oakland will continue to suffer through Black Hole jokes and will be a joke franchise itself.
Nonetheless, they have some quality players on the field; including Darrius Heyward-Bey. Hey guess what naysayers? Heyward-Bey is practicing with his teammates, learning the playbook and should be a starter on opening day. Michael Crabtree won't.
I was one of the first to shout from the cluttered peanut gallery and shout to the heavens what an idiot Al Davis was for passing up Crabtree. Well, the wily old bastard looks to have won this round.
As for expectations for the rest of the team, they should do better than last year's 5-11. They're young, talented, and hungry. And I believe that for each loss, every player on the team gets punched in the face by Tom Cable personally.
Fantasy Info Nuggets
The Good
RB Darren McFadden; He wasn't fully healthy last year so that impeded any progress he was making. He did show some flash and pizazz occasionally, but nothing like he displayed at Arkansas.
I've seen McFadden going high in early drafts, somewhere near the bottom of the second and round and the top of the fourth. People have high hopes for him in 2009, as they should. He's a dynamo that gets to play soft Denver and Kansas City defenses twice each.
TE Zach Miller; Miller was Oakland's top receiver in 2008 with 56 grabs for 778 yards. Unfortunately, since the Raiders hate to score touchdowns, Miller only had one TD all season. He's definitely worth a draft pick in the mid rounds, especially after the top four or five TE's are gone. He's the Raiders' top weapon in the passing game, which is sad for them but great for you.
The Bad
QB JaMarcus Russell; Russell is entering his all important third year in the league; the year starting QB's are expected to make leaps and bounds.
I've never been impressed by him and I don't know many who are. But even if my expert *chuckle* opinion isn't enough, the numbers don't lie. The Raiders were 32nd in passing offense. They went a whole month without scoring a touchdown last year.
Their leading receiver was a TE with 56 catches. You where I'm headed. The Raiders are not...good. Russell is not a fantasy option at this point.
The Ugly
WR Darrius Heyward-Bey; This man can absolutely fly but, he's a rookie—and a raw one at that. He'll get his chances, but very rarely do rookies shine their first year.
It's foreseeable that Russell launches one 60 yards and lets Heyward-Bey go get it, but this is the NFL, not a kids against adults Turkey Bowl.
San Diego Chargers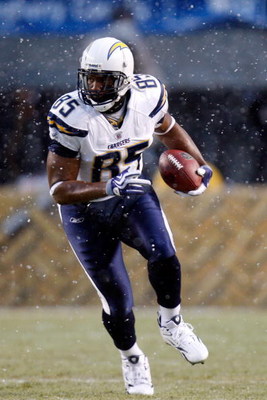 Well, somebody had to win this division last season and that someone was underachieving San Diego with an unimpressive 8-8 record.
Injuries take a toll on every NFL team season after season. San Diego was hit especially hard in 2008. Several Pro Bowl players missed significant time or were never at one hundred percent at any point during the season.
The biggest loss was Pro Bowl LB Shawne Merriman, who missed every game save one last season with a knee injury. Without him in the mix, the Chargers defense finished 25th overall leaving the offense to do all the heavy lifting.
That fact was prominently featured when the Chargers secured the AFC West title after 52-21 walloping of their division rival Denver, a team at the end of a dramatic free fall by seasons end.
Fantasy Info Nuggets:
The Good
QB Philip Rivers; It all starts here with the $93 million dollar man. He had his best year last season with 4,009 passing yards and 34 TD's. It was a testament to his ability, the talent he's surrounded by and the weak defenses in his division.
There are about 10 to 12 QB's you can depend on to start for your fantasy team every week and Rivers is in the top half of that list. I think the odds this year that he tops last season's numbers are favorable.
You know he wants to justify the contract extension and he doesn't want to be the only first round QB from 2004 without a ring. Rivers is ready to shine.
TE Antonio Gates; All reports indicate that his pesky big toe is finally healed. In 2008, Gates had less than 70 catches for the first time in five years. He played every game but he wasn't all there. This season looks promising.
He's arguably the top TE in the draft this year because remember, as long as he's healthy, he's the number one receiving option for Rivers.
RB LaDainian Tomlinson; It's crazy the difference a year makes. Heading into last season, LT was the consensus number one overall draft pick in damn near every league. This summer, I've seen him drop to the bottom of the second round.
Yes, he played hurt last season and wasn't the scoring machine we've come to expect, but he wasn't a complete dud, either. Despite battling a bruised knee and a torn groin during 2008, he still managed to top 1,000 yards and score 12 times.
All signs from training camp and preseason point to him being his old self. He's a steal right now where he's being picked.
The Bad
DEF San Diego; How much will Merriman's return impact the San Diego D? I think it'll be tremendous but he need's to stay healthy and away from the juice (cost him a four game suspension in 2007).
Don't get me wrong, I don't think the Chargers won't be a formidable defense this season, but they weren't a great point scoring defense (28 sacks, 12 INT's) and that's what counts here.
The unmistakable asset on this squad is the KR/PR prowess of Darren Sproles. You can get this D late and it may pay big dividend's or it may not, but it's worth a shot.
WR Chris Chambers; I watched Chambers make amazing catches for years as a Miami Dolphin and I'm sometimes puzzled he doesn't post higher numbers with the Bolts.
I suppose it boils down to opportunity and he just doesn't get him. Nonetheless, every year I end up drafting him in at least one league "just in case".
The facts are against me every time, but I've seen what he can do and I'm hoping one of these days the Chargers coaching staff will love him as much as I do.
The Ugly
WR Vincent Jackson; Jackson had career highs in '08 in every category; 59 catches, 1,098 yards and seven TD's. Don't expect the same production in '09.
With Gates and Tomlinson back at top health, Jackson might be the first string WR on the depth chart but he's by no means the first option for Rivers.
I'll still draft Jackson, as should you if you have the chance, but not until the middle rounds. He's another player, like LJ with the Chiefs, that could have sleeper qualities—meaning he'll put up numbers much higher than expected.
Keep Reading