Beane Counting: Evaluating Possible Mets GM Candidates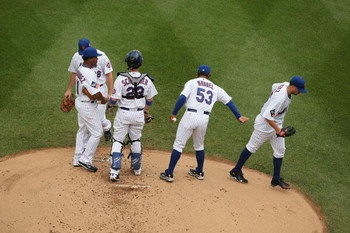 Calling this season a long summer for Mets fans would be an understatement.
So much has been written already about the trials and tribulations of the team that there is no need to recap it again...leaving Mets faithful without faith in the management of the team.
Omar Minaya, who already tested the patience of fans after 2007 and 2008, appears to have lost most of his support in the fan base (however, Wilpon seems poised to keep him... for now.
Buster Olney on his ESPN.com Insider blog suggests the Mets look for a "Bill Parcells"...a trusted name who can take over the situation and survive the New York media.
He suggests seven names, four of whom have experience as GM's - Billy Beane, Doug Melvin, Pat Gillick, and Mark Shapiro.
Using my system of measuring GM's I developed in my article "Beane Counting: How to Grade a General Manager" (which you should read in order to get an idea as to my methodology) as well as subjective observations, I will evaluate these candidates (and the incumbent Minaya) to see if any of them are good fits to put the Amazin' back into the Amazin' Mets.
Current Mets GM Omar Minaya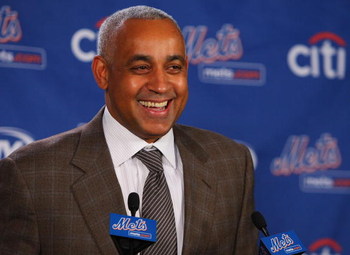 Resume -
Age: 50
GM Experience - Montreal Expos 2002-2004, New York Mets 2005-present
Accomplishments: 1 Playoff Appearance, 1 Division Title (2006)
Grades for each season -
(As explained in the article, these are based on a GM's ability to win games at his relative level of payroll. These scores are given in school grades between 50 to 100 where 75 is average and now also in SAT scores between 200 and 800 with 500 as average.)
Montreal 2002 - 81.0 (570)
Montreal 2003 - 77.1 (530)
Montreal 2004 - 65.5 (390)
NY Mets 2005 - 79.0 (550)
NY Mets 2006 - 80.9 (570)
NY Mets 2007 - 75.9 (510)
NY Mets 2008 - 77.5 (530)
NY Mets 2009 (projected as of 8/26) - 60.8 (330)
Pros -
* Already familiar with the Mets roster and players
* Has support of Mets ownership (albeit tenuously)
* Rates above average in all but one previous season (2004)
* He tends to spend aggressively and likes to win immediately, making him a good fit for a large market club
Cons -
* Has failed to put together a great season (highest score for him is around 81 or 590, not particularly impressive)
* Has lost support of Mets fans and media recently
* Only one playoff appearance in seven seasons (likely eight)
* Teams tend to have poor farm systems and lack depth, meaning injuries tend to hurt his clubs.
Certainly Minaya's resume has its strong points, and calling him the worst GM in the league would be foolish, in fact, he's been the Mets best GM since Frank Cashen.
However, this season has been a disaster, and the only three seasons where a Met or Yankee GM scored worse, he was fired.
Minaya's style could work in a big market, but it seems to only bring limited success. No team he has led put together a great season (the 97 win 2006 Mets should have won only about 91), meaning he is unlikely to be the guy who can make the Mets a World Series caliber ball club.
Couple that with the good PR with fans firing him would likely create, hiring a new GM would probably be a wise move.
Oakland GM Billy Beane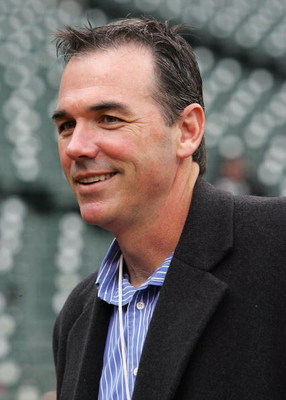 Resume -
Age: 47
GM Experience: Oakland A's 1998-present
Accompishments: 5 Playoff Apperances (2000-3, 2006), 4 Division Titles (2000, 2002-3, 2006)
Scores for each season:
Oakland 1998 - 75.1 (500)
Oakland 1999 - 82.9 (590)
Oakland 2000 - 89.3 (670)
Oakland 2001 - 100.4 (800)
Oakland 2002 - 92.6 (710)
Oakland 2003 - 89.6 (680)
Oakland 2004 - 80.5 (570)
Oakland 2005 - 87.6 (650)
Oakland 2006 - 80.7 (570)
Oakland 2007 - 73.8 (490)
Oakland 2008 - 74.8 (500)
Oakland 2009 (projected as of 8/26) - 73.4 (480)
Pros -
* Has (by a significant margin) the best career average score of any GM with at least five seasons
* The most well known GM in baseball and one of the most well respected
* In 2001, recorded the highest score for a single season (dating back to 1988)
* Although comfortable in Oakland, he was a Mets draftee and has history with the organization
Cons -
* Even at his peak, either due to luck or poor design, teams have not been successful in the playoffs
* Forced to change his strategy after league started to value his methods, and has been less successful
* Merely pedestrian from 2007 on...is he past his prime?
* When he has had money, has squandered it, meaning he may not be a good fit with a big market team
* Comfortable in Oakland with incredible job security and may not want to leave
Beane is certainly an intriguing candidate for the job (he is either the best GM in history or tied with John Schuerholz) and that should be enough to put him high on any wish list.
Despite never winning an Executive of the Year award, during 2000-2003 he had a four-year run of incredible seasons and despite almost no resources, put together teams that could have brought a championship in Oakland (but ultimately did not).
Giving him the keys to the Mets could easily mean 95-100 wins with his talent and the team's resources.
However, he has hit a rough patch lately, as he has done merely a pedestrian job the last two years as well as in 2009.
This is leading some to speculate that he may have been overrated as an evaluator and developer of young talent...as well as perhaps the league learning from Beane, limiting the amount of underrated talent he can get.
At age 47, he is certainly young enough to turn it around, as much older GM's have; he isn't the perfect fit for this job, it would be foolish not to talk to him about the job.
Brewers GM Doug Melvin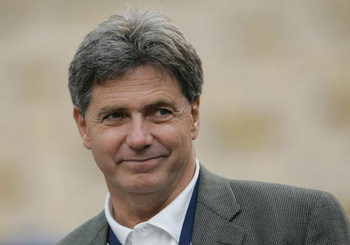 Resume -
Age: 57
GM Experience: Texas Rangers 1995-2001, Milwaukee Brewers 2003-present
Accomplishments: Executive of the Year (1996), 4 Playoff Appearances (1996, 1998-99, 2008), 3 Division Titles (1996, 1998-99)
Grades by season -
Texas 1995 - 71.8 (460)
Texas 1996 - 83.4 (600)
Texas 1997 - 70.0 (440)
Texas 1998 - 76.4 (520)
Texas 1999 - 75.4 (500)
Texas 2000 - 63.1 (360)
Texas 2001 - 65.7 (390)
Milwaukee 2003 - 65.8 (390)
Milwaukee 2004 - 68.0 (420)
Milwaukee 2005 - 81.4 (580)
Milwaukee 2006 - 68.5 (420)
Milwaukee 2007 - 78.4 (540)
Milwaukee 2008 - 81.5 (580)
Milwaukee 2009 (projected as of 8/26) - 72.7 (470)
Pros -
* Turned around two franchises that were in playoff droughts
* Likes to build from within, but certainly not afraid to make a big trade
* Will spend his money, could serve him well in New York
* Three of his four best seasons have come since 2005
* Would be the easiest to acquire among the four options
Cons -
* Executive of the Year season grades as solid, but hardly spectacular
* Has a number of below average or poor seasons on his resume
* He has recently come under fire due to his handling of Ryan Braun's comments
* Could be fired by the Brewers after this season anyway
Quite frankly, I can't understand why Olney suggested Doug Melvin as a good hire for the Mets. He described Melvin as "one of the elite GMs in the game," but there is little in his resume to suggest that is true.
He led both Texas and Milwaukee to the playoffs, but none of the four teams that got there were particularly special or dangerous...I'm not sure he, even at his peak, would be much of an improvement over Minaya.
This is compounded by the fact that Minaya only has two seasons on his resume where he scored below average - while Melvin has seven with this season becoming a probable eighth; roughly half of his seasons.
There are worse GMs in baseball, and some team should take a chance on him if the Brewers let him go. But the Mets have the resources to find better candidates than Melvin.
Former Phillies GM Pat Gillick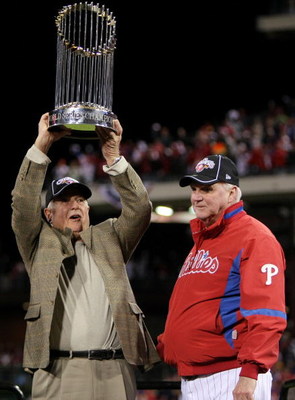 Resume -
Age: 72
GM Experience: Toronto Blue Jays 1977-94, Baltimore Orioles 1996-98, Seattle Mariners 2000-03, Philadelphia Phillies 2006-08
Accomplishments - Executive of the Year 2001, 3 World Series Championships, 3 League Championships, 9 Division Titles, 11 Playoff Appearances
Grades for each season (since 1988)
Toronto 1988 - 84.5 (610)
Toronto 1989 - 78.8 (550)
Toronto 1990 - 82.9 (590)
Toronto 1991 - 81.7 (580)
Toronto 1992 - 67.7 (410)
Toronto 1993 - 76.3 (520)
Toronto 1994 - 57.5 (290)
Baltimore 1996 - 71.8 (460)
Baltimore 1997 - 81.6 (580)
Baltimore 1998 - 69.9 (440)
Seattle 2000 - 84.4 (610)
Seattle 2001 - 98.7 (780)
Seattle 2002 - 83.1 (600)
Seattle 2003 - 87.4 (650)
Philadelphia 2006 - 77.9 (530)
Philadelphia 2007 - 79.7 (560)
Philadelphia 2008 - 84.8 (620)
Pros -
* Has experience as a GM dating back before my system can measure
* One of the only possible candidates with multiple World Series titles
* Toronto, Baltimore, and Seattle have had most of their recent success under Gillick
* Likely familiar with the Mets, as they were one of their most recent division rivals
* 2001 Mariners season scores as the second highest in history
Cons -
* At 72, he's at retirement age and likely has, few, if any, seasons left as a GM
* Unlikely to go to Mets after bringing Philadelphia a World Series
* System not impressed by 92-93 Jays, thinking that their success was more good fortune than a dynasty
Gillick's resume stands out, as he is clearly one of the best GM's in the history of MLB. He has had a number of outstanding seasons with four different franchises (with his work in 2001 ranking as historic), and although he has had down years, he has shown an ability to bounce back from them.
He has enough experience that unlike many other GMs, he would be given a lot of patience and leeway, even under the New York microscope.
However, at 72 years old, agreeing to come to the Mets as their GM would be a huge long shot.
It's hard to find GMs with three rings on the open market, but I doubt that another GM job is in his future. The Mets could use the stability of a younger GM anyway, making this hardly an ideal fit for either side.
Indians GM Mark Shapiro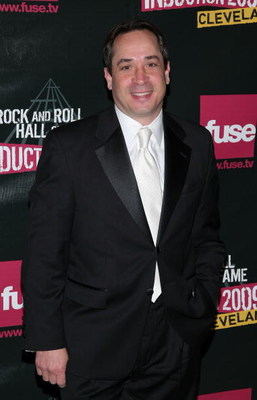 Resume
Age: 42
GM Experience: Cleveland Indians 2002-present
Accomplishments: 2 Executive of the Year Awards (2005, 2007), 1 Division Title, 1 Playoff Appearance (2007)
Grades for each season:
Cleveland 2002 - 64.8 (380)
Cleveland 2003 - 70.9 (450)
Cleveland 2004 - 79.1 (550)
Cleveland 2005 - 92.2 (710)
Cleveland 2006 - 84.6 (620)
Cleveland 2007 - 86.8 (640)
Cleveland 2008 - 79.8 (560)
Cleveland 2009 (projected as of 8/26) - 73.7 (480)
Pros -
* Good mix of youth and experience
* Already won two Executive of the Year awards by age 40
* Capable of rebuilding a team as well as keeping it winning
* Highly regarded in baseball as a top GM
Cons -
* Only one playoff team, despite many talented and capable Cleveland teams
* His teams sometimes struggle with injuries
* Never worked with a large market team or high payroll
* May be hard to lure...under contract until 2012 and in good standing with ownership
Mark Shapiro may not be as well known as a Beane, Schuerholz, or Theo Epstein, he has built up quite a resume at a young age.
Cleveland was successful before he arrived, but old, and he managed the task of facilitating a youth movement and getting the team back to being competitive.
Cleveland has been a trendy playoff pick the last few seasons, and they have been disappointing in that regard. But after building the team back up, Shapiro has had strong and fairly consistent success, and he is certainly capable of bringing a championship to the Mets...if he can be convinced to leave the Indians.
The Right Choice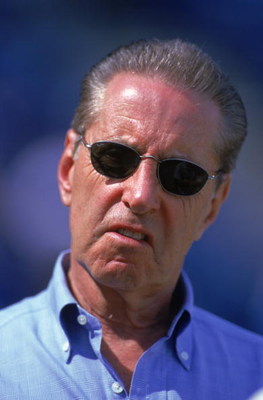 My recommendation to Fred Wilpon -
Omar Minaya, although he has done a decent job, has lost credibility with the fans and certainly deserved to be fired based on this season.
He will latch on with another team and could be reasonably successful, but the goal is a championship, and he hasn't shown himself to be a championship caliber GM.
Among the candidates Olney mentioned, only Pat Gillick has brought his team a World Series, but at age 72, he's not the long term answer. Doug Melvin wouldn't bring you a title - but Beane and Shapiro can, and both are young enough to be there for the long haul.
Beane is a legend in the game, the best executive of the last 20 years and will bring you instant credibility, but Shapiro is a little younger, doesn't have as many bad contracts to his name, and hasn't had the same struggles the last three seasons that Beane has.
Honestly, it's a matter of preference; the legend who may have already peaked or the younger GM who will be great, but probably never the same kind of icon.
But there is one thing that's clear: if your goal is a title, it's time for a change.
Keep Reading

New York Mets: Like this team?