Baby Got Backups: The 10 Second-String Running Backs With the Most Fantasy Value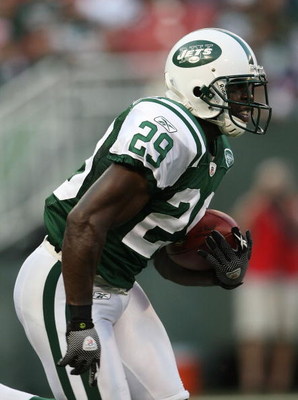 Every NFL team has three sometimes four running backs on their roster. It used to be that when it came to fantasy football, only one of those would be worth owning in a league. Times have changed.
There are several teams in the league that use the "running back by commitee" system and dozens of others that give their back up 10-15 touches a game. By lowering the work load of their primary back these teams have helped preserve the health of their studs much longer into the year.
By giving these other guys a chance they have also given them ample time to become legitimate big league running backs.
This change of heart among NFL coaching staffs has opened up the pool of RBs that are worth owning in fantasy to around 50 rather than the old school pool of no more than 30.
There are tons of guys who will get you around 10 points a week by making the most out of their limited touches. When you throw in the guys that also catch passes and return kicks you have a group of late round sleepers that can end the year with as many points as your early round studs having a down year.
The other way a back up can have value is if his starter gets injured and he is plugged into the situation full time. This makes the backups for injury prone guys more valuable than the RBs stuck behind iron men on the depth chart.
The following list is compiled of ten guys who have a very good chance of helping your fantasy team even though they are classified as a "backup" and should go late in fantasy drafts.
NOTE: I recently wrote a column on the top ten steals in the later rounds in fantasy and in that column I talked about Leon Washington, Ahmad Bradshaw and Peyton Hillis.
All those guys deserve to be on this list as well, but in an effort to not be redundant with information, I have kept them all off this list. However, know that all three are great fantasy options this year as third running backs even though they are technically backups. Enjoy...
10) Rashard Mendenhall
You could make a case for this guy to be higher on the list but because he failed to really show anything last year I am hesitant to bump him.
Don't be surprised if this is the year he officially passes Willie Parker on the depth chart but remember that Parker, like backups like Bradshaw and Washington, has the ability to score from anywhere on the field with his breakaway speed.
Mendenhall should get a lot of the goal line carries and thus, should put up pretty solid fantasy numbers. The Steelers run the ball a lot and have never really given the ball to Parker inside the five.
Draft Mendenhall late and you could possibly end up with a high No. 2 running back value because more so than a lot of the guys on this list, he has a chance to become the starter by season's end.
9) LeSean McCoy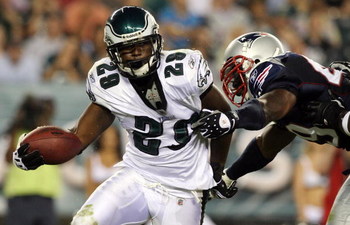 If Westbrook is healthy all year than McCoy should still get a good amount of time on field to rest Brian as well as inside the goal line. The majority of his value however comes as a handcuff to Westbrook.
If you draft Westbrook in the second or third round you definitely want to scoop this guy too. If you don't have Westbrook but steal this guy late in the draft you can bet that there will be one or two games where Westbrook sits and McCoy puts up No. 1 stats.
In the event that Westbrook goes down with something serious, you lucked into getting a No. 1 or 2 quality performer in a really late round. You never want to hope someone gets hurt but I guarantee you McCoy owners this year will have their fingers crossed that Westbrook slips on a banana in the cafeteria.
8) LenDale White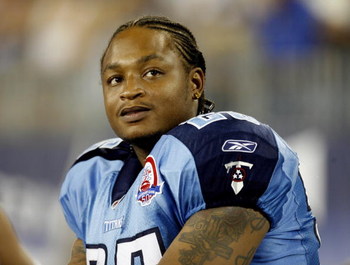 Some of you might be wondering why LenDale "touchdown machine" White is only number eight on this list. Some of you might be wondering why he is on this list at all because out of everyone on this list, he is probably the least like a true backup running back.
Although gets far less carries than Chris Johnson, he gets the majority of the goal line carries. Last year he went about eight weeks straight with 2 TDs a week.
Now, in fantasy, even if you don't get 20 yards that is still great production from a RB. He is so low on my list because he is going to be one of the first backups off the board and you have to use a sixth to eighth round pick on the guy.
Having lost a ton of weight in the off-season by cutting tequila out of his diet there is a very good chance White gets more carries this year and more yards.
If he somehow manages to get even 3/4 of the TDs he had last year than he will be a very valuable No. 2 running back. It's all about the value here cause you can get almost everyone on this list much later in a draft.
7) Le'Ron McClain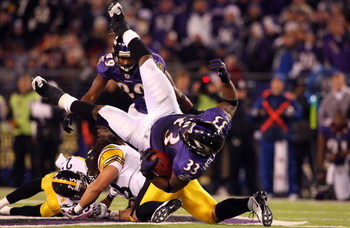 Anyone who had McClain last year knows he was the best fantasy running back, and possibly the best fantasy player in general to come out of Baltimore.
They did the committee thing last year and people who drafted McGahee probably attempted to commit suicide before week five once they realized that McClain was the only guy making a fantasy impact.
If you have ever seen the guy run you know he runs with intensity and that hard nosed attitude the Ravens have become known for over the years with their high power defense and low octane offenses.
He pounds the ball down the middle and gets key first downs and big TDs for the Ravens. With everyone loving Ray Rice so much this year, look for production to go down a little with Leron, but know that he can be very valuable, especially as a late round backup.
Don't be surprised to see him get most of the TDs in Baltimore and have as much fantasy value as any backup in the league. Ray Rice might break out, but McClain is the tough nosed SOB the Ravens need to scare people by the goal line.
6) Tim Hightower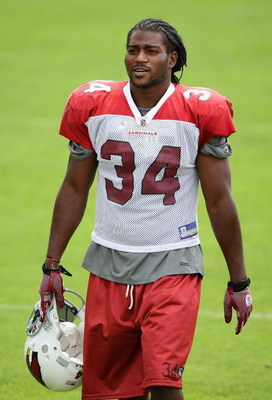 I know, I know, Hightower could be considered the starter in AZ and that's why I think he needs to be on this list because moronic fantasy players across the country are drafting first round pick BEANIE WELLS ahead of Hightower this year even though they might split time, and if anything, Hightower, already acclimated with the offense, has a BETTER chance of getting most of the carries.
Don't be shocked to see Wells down by the end zone but Hightower should make a nice jump here in his second year and he is being drafted as a backup in fantasy.
You could definitely get starter value from this guy and he could end the year as a solid No. 2 fantasy back in an offense that runs the ball a lot more than it seems.
5) Jonathan Stewart
Even with the fantasy league winning season that his teammate DeAngelo Williams had last year, "The Daily Show" was still a top 20 running back in fantasy last year.
The first round pick should get even more carries this year and as long as he is healthy, look for him to be a very useful second running back in Carolina. Even though technically he is a backup this could be a timeshare in Carolina.
Remember, even though Williams won a ton of fantasy leagues for owners last year, Coach Fox could care less about that and he is going to do what is best for his team, and that most likely involves getting his stud second year player involved more.
NOTE: Stewart has been having health problems so be cautious and don't waste too high of a pick on him. As with LenDale White, he is one of the first backups to be drafted in most cases so don't be scared to let him go, but if he falls to you, scoop this guy up.
4) Fred Jackson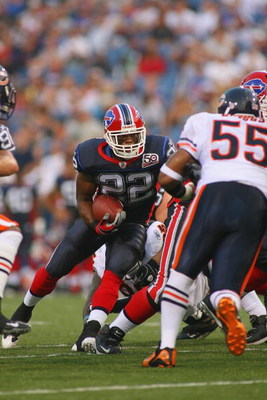 What's awesome about Fred Jackson is that you know for a fact Marshawn Lynch is out for the first three games. Don't be shocked if in those three weeks Jackson is a top 10 running back.
By stealing him late and starting him those three weeks you can go 3-0 and get off to a very valuable hot start. Then when Lynch comes back obviously Jackson will go back to being a backup, but he will still get over 10 touches a game and could be a nice start when your guys are on byes.
Hell, if he is REALLY nasty in those first three weeks they might even up his role a little more. Jackson has shown over the years that he is good enough to be a starter, making the most out of his times to shine in Buffalo when Lynch is on the sideline.
Great value pick here because you're getting a solid backup for the whole year as well as a possible top ten scorer for the first three weeks of the year. If you DO draft Lynch you BETTER get Jackson as well.
If you don't have Lynch, steal this guy late and when you do, make sure you keep your eyes on the face of the Lynch owner. Bet he isn't smiling.
3) Darren Sproles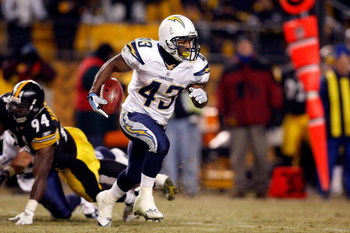 It's too bad Leon Washington and Ahmad Bradshaw couldn't be on this list, but when it comes to the style of running and the role he plays for his team, Darren Sproles is pretty much the same player.
He's a speedster who provides a great change of pace for his offense, and he also returns kicks which if your league gives you those points, could add a couple TDs by the end of the year.
I personally think LT is going to return to old form but if you are on the side of the fence that thinks the former MVP is done than Sproles also has value as the guy who will take over for Tomlinson once he is no longer effective.
Sproles has value as both a backup who sees a lot of touches but also as a potential starter if something happens to the aging LT.
Unfortunately after the show he put on late last year and in the playoffs other fantasy teams will most likely have their eye on him as well so don't be scared to reach for him a round or two early if you really need that extra back.
2) Laurence Maroney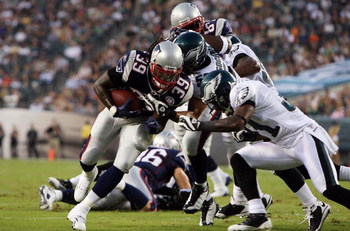 Remember this guy? Former first rounder? Came out the gate looking even more unstoppable than his college teammate Marion Barber III. Then after some injuries and disappointing performances it seems like we haven't heard from the guy in ages.
With Fred Taylor possibly getting the official title of starter in NE Maroney can actually be considered a backup, which, for fantasy value, makes him a nice little sleeper.
If Maroney comes back to old form and actually benefits from having a guy like Taylor taking some of the load, what you possibly have here is a No. 1 running back talent being drafted in the second half of your fantasy draft.
Once again, as I say with a lot of my sleeper picks, do not be scared to cut him completely if after the first four weeks he isn't getting any touches or making anything out of them.
Know that this guy has what it takes to be a star in this league though and taking a chance on him might not be such a bad idea. The possibilities are endless and if Lawrence can actually live up to his potential than he won't be considered a backup for very long.
1) Donald Brown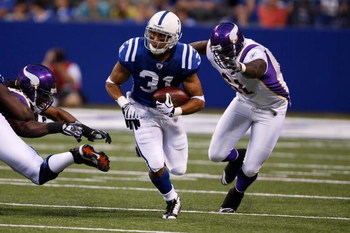 Now I must confess that this is a little bit of a homer pick cause I am from CT and Brown played at Uconn; however I will say that there is much more to my decision to rank him number one than the patch on his college jersey.
Brown walks into the perfect situation for a running back in Indy where Peyton and the Colts have produced great fantasy running back seasons year after year.
Whether it has been one guy, Edge, or a group of guys like Joseph Addai or Dominic Rhodes, one thing is certain that between the great offensive line and the short passes to the RB Peyton loves to dump off, RBs in Indy have a great opportunity to put up great fantasy numbers.
Brown is a great between the tackles runner who should enjoy the space created by his experienced line. Even though he listed behind Addai on the depth chart everyone knows that Addai's health is always a concern, and because of that, there is also a chance that he underperforms this year as well.
Addai could be an interesting fantasy player himself this year, as the former first-round pick has slipped down over five rounds due to his lack of production of field time lately. One this is practically certain and that is that the Indy running attack will produce numbers.
Whether Addai can return to his first round status and gather all those numbers himself is to be seen and highly unlikely. What is likely is that either way, as a fill in starter or as a backup, Donald Brown should be a great fit in Indy and get a good amount of yards, even if he recieves limited touches at first.
Look for his performance to ultimately decide how many opportunities he gets as a rookie but if anyone has the chance to break out this year, it's him. WHAT CAN BROWN DO FOR YOU? Draft the kid as a sleeper and find out!
Good luck with your drafts and have a great weekend!
Keep Reading